October | Art & Culture
Waste Age at The Design Museum
The exhibition proving beautiful design can defy disposability
Lauren Cochrane
Waste Age, the new exhibition at the Design Museum looking at design in a world of waste, starts with some sobering statistics when it comes to style. "Europeans use nearly 26 kilos of textiles, and discard around 11 of them every year," the bright green wall reads. "87% of clothing ends up in landfills or incinerators."
If that's enough to make any visitor think about what they buy, and what they do with their clothes once they are finished with them, the rest of the exhibition shows how creatives are thinking about that too. Fashion is a key part of the display and Waste Age features designers who have spent their careers – long and short – innovating. There are those who use waste in new ways – Bethany Williams, Phoebe English, Stella McCartney. Those making things that have longevity, such as Becky Earley and her 50-year shirt, designed to be worn in three different ways over half a decade. And those using materials that can biodegrade. Charlotte McCurdy's dress using sequins made of seaweed is an arresting example of the latter.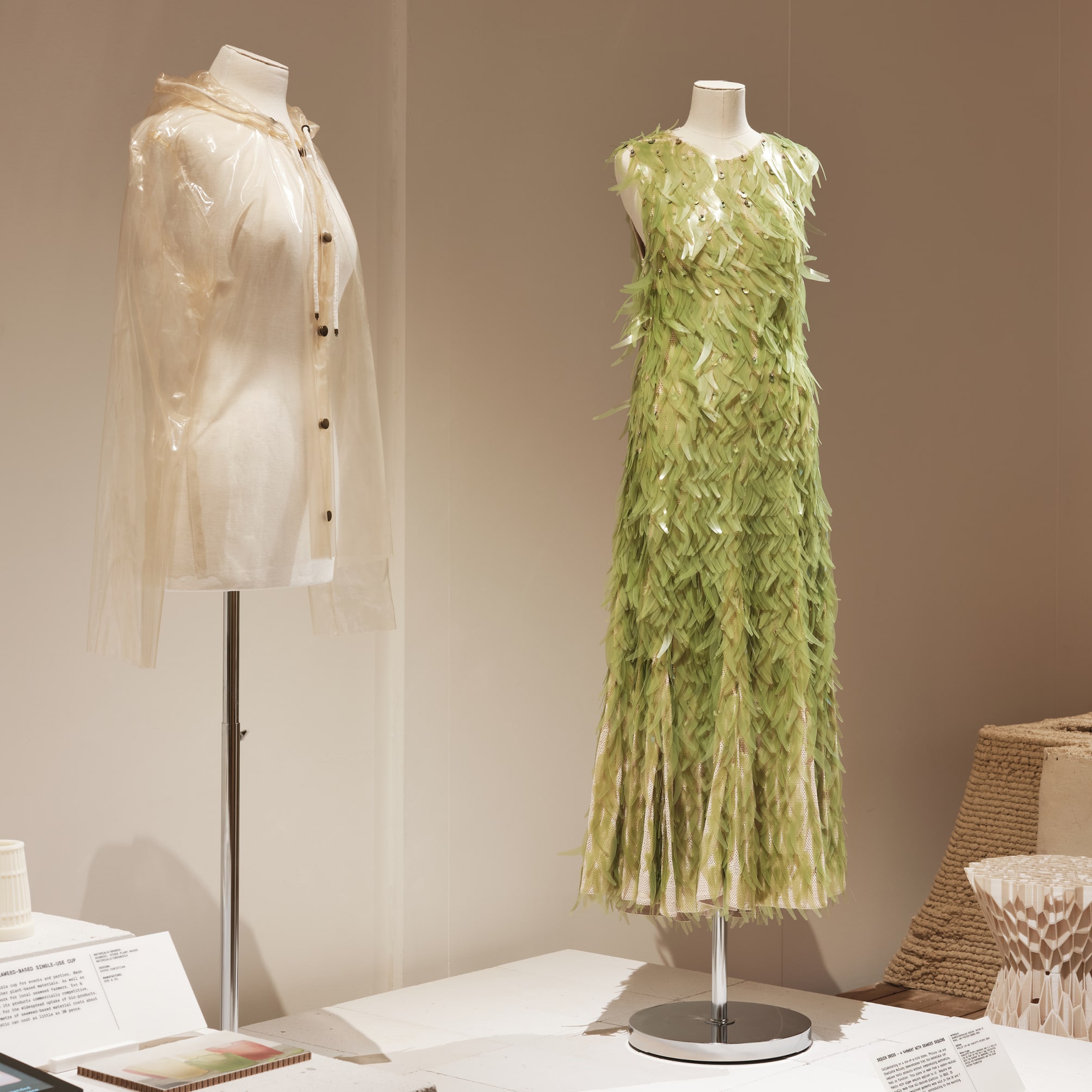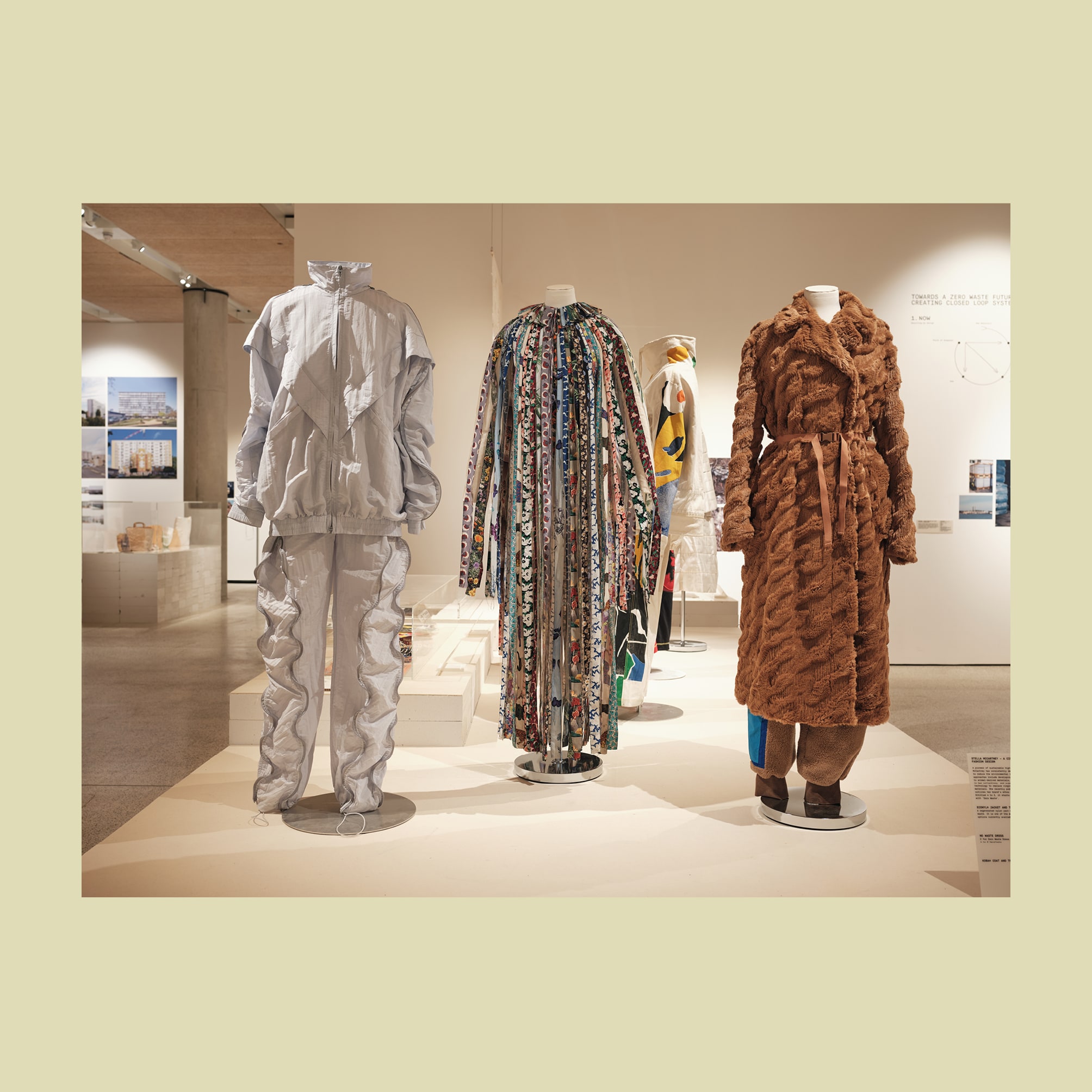 Images courtesy of The Design Museum
"As soon as we know the story [behind them], clothes become so much richer."
Gemma Curtin, curator of Waste Age
Phoebe English says her decision to work predominantly with waste has "been a long process of unlearning everything I had developed and taught myself over the past decade…[It is] responding directly to the materials we can attain rather than inflicting an idea onto a material." As the dresses exhibited in Waste Age demonstrate, however, English's designs are as stylish as they are principled.
The opening of Waste Age came just days before the COP26 conference, where world leaders are set to discuss the climate crisis. Gemma Curtin, the curator, says it's on innovators like English to bring change. "We're both right at the beginning [of innovation]," she says "and we don't have much time." Curtin hopes that consumers will increasingly want to dress in a way that is more sustainable, and that something like one of English's dresses could become a status symbol, because of its purpose, as well as its look. "We get so obsessed with style," she says "but as soon as we know the story [behind them], clothes become so much richer."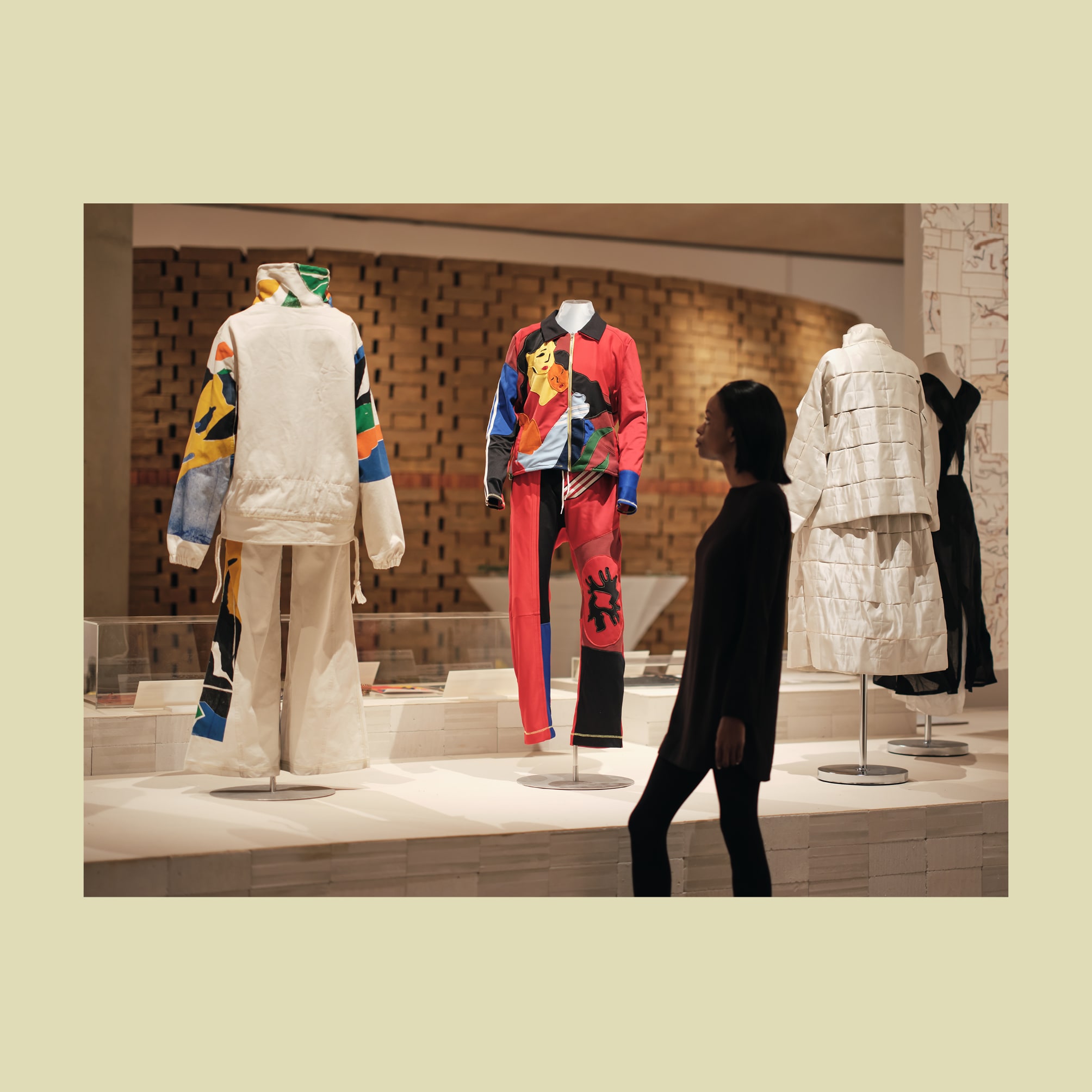 Image courtesy of The Design Museum