November | Calendar Innovator
Onloan founders Tamsin Chilsett and Natalie Hasseck on the rental revolution
Inside the game changing fashion rental brand – and its freshly-launched pop-up
Holly Bullock
At the beginning of the year, Tamsin Chislett and Natalie Hasseck asked more than 850 women what fashion meant to them post-pandemic. 72% ranked 'dressing to feel good' about themselves as their number one goal. And it's an attitude they pre-empted when they founded Onloan two years ago.
Having previously shared no professional common ground, Tamsin, a finance strategist and Natalie, a fashion creative, fused their separate interests in sustainable fashion to form one perfectly timed solution that married their expertise. Set up in 2019, Onloan quickly became a cult favourite – offering chic designer clothes on a subscription basis. With a curated selection bought direct from brands (to support independent designers), it provided newness, without the new.
Having steadily grown in fashion esteem, now the brand's founders have turned their hand to bricks and mortar. Loanerville is Onloan's newly opened east London pop-up, stocked with rentable clothes and independent brands. Here, the pair talk meeting customers, the future of rental, and their personal approach to sustainability…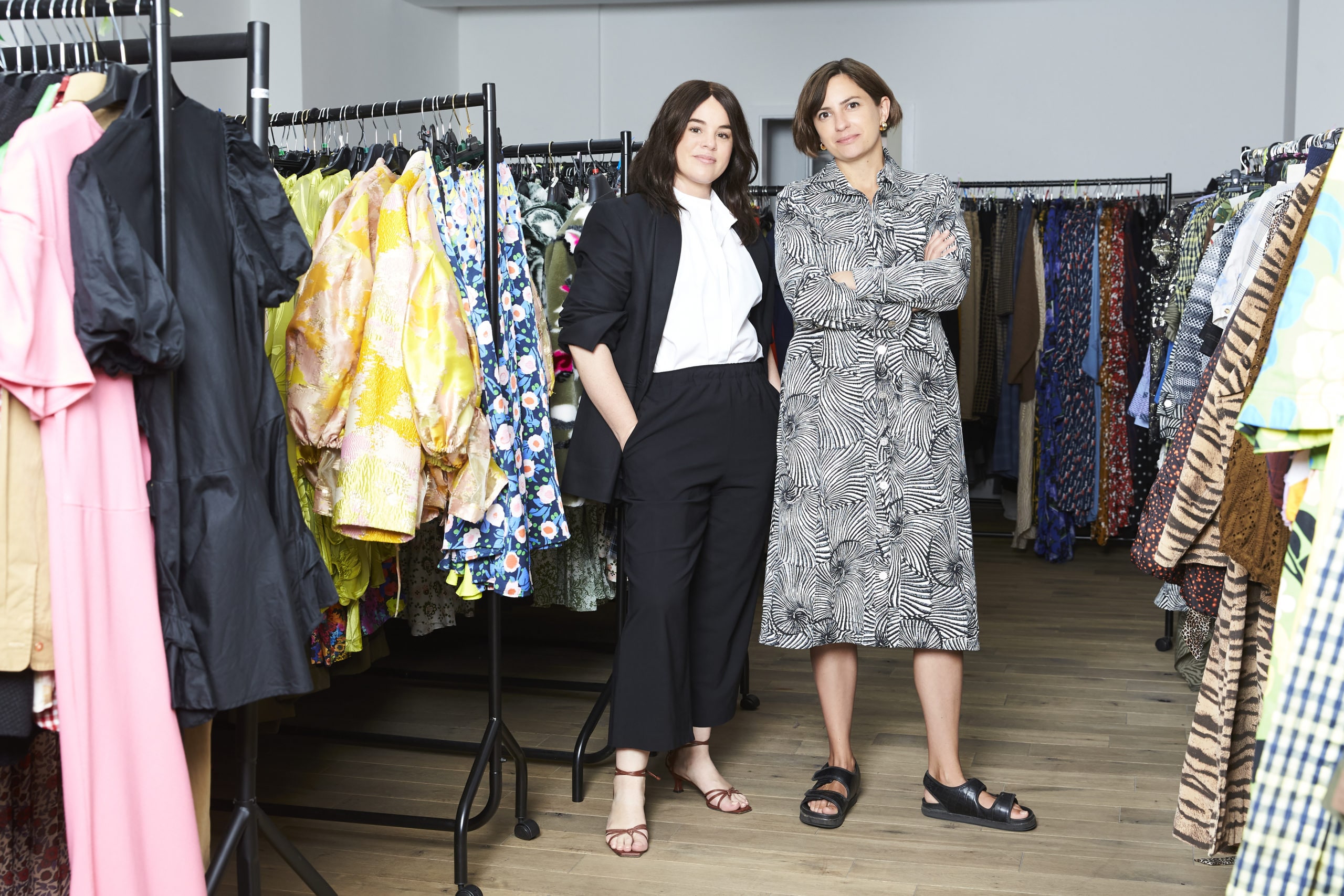 Image courtesy of Onloan
I started Onloan…
Tamsin: To help women enjoy fashion again. We wanted to encourage a move away from impulse purchases fuelled by fast fashion and encourage a love of clothes without the waste.
Natalie: After I'd worked in fashion for many years and had started to fall out of love with the industry. I didn't feel there was enough innovation, manufacturing had become too rapid and throwaway, designers had to become celebrities and the culture of clothes had become unhealthy in every aspect. I was really ready to walk-away from fashion but Tamsin presented me with the idea of building Onloan and I had to pursue it. Today, I couldn't be more thankful that she convinced me – it was a brilliant way to solve a lot of the issues in the industry.
The reason Onloan stands out is…
Natalie and Tamsin: That it's an entirely new way of enjoying clothes. It tackles the biggest problems in fashion (overproduction and overconsumption) by offering a way to get newness without actually buying new. In particular, our collection isn't about 'hype' Instagram-favourites. We're exclusive rental partners to some brilliant designers – Shrimps, Stine Goya, Mother of Pearl, Rejina Pyo, Sea New York and more – and it's about really great clothes that will be enjoyed again and again.
The biggest challenge has been…
Tamsin: Taking the worry out of the rental process. Initially, people were a little apprehensive. The number one concern was 'what if I damage it?'. We quickly decided we'd never charge damage fees because we really believe rental should be as easy breezy as online shopping – plus, things get damaged a lot less than people expect!
We've launched a London pop-up because…
Natalie: We wanted to invite our customers into our world. Our pop-up, Loanerville, is our fashion vision for the future. We've tried to create a joyful environment where we'll be able to meet our Loaners for the first time, and showcase our ethos IRL. We're not stopping at the clothes, though. There is going to be an action-packed schedule of events from embroidery or candle painting workshops to breakfasts, parties and some amazing panel discussions.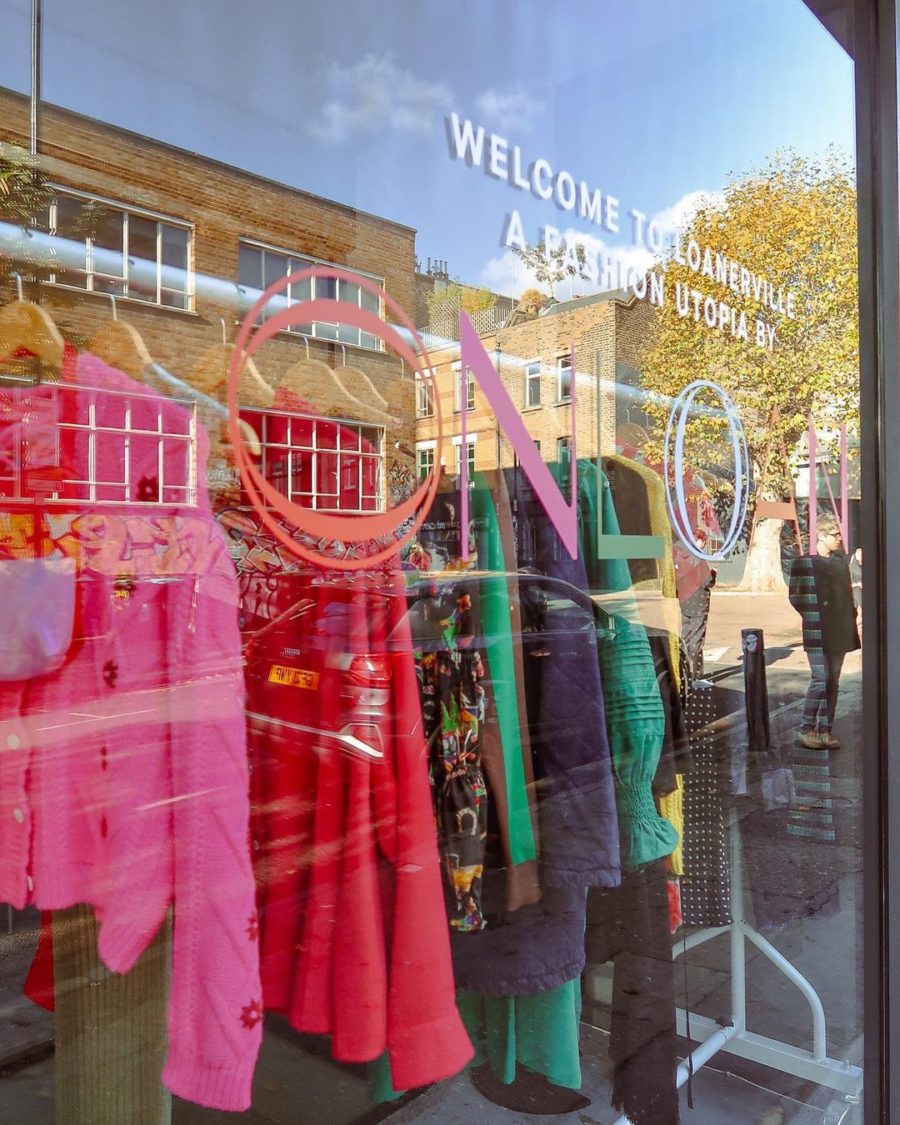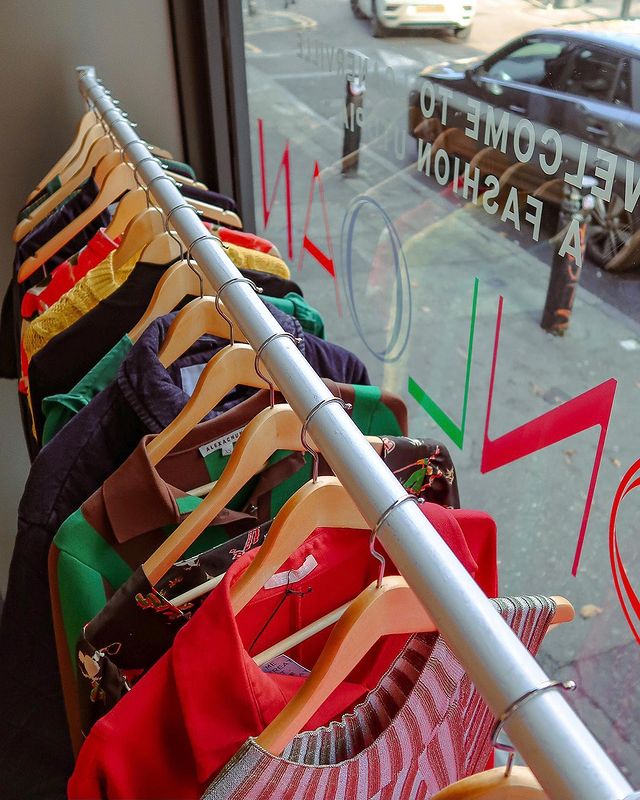 Images courtesy of Onloan
The future of fashion rental is…
Tamsin: Changing rapidly. People used to see it as a solution for event-wear only but, now, they use it to switch up their style for everyday use. There's more awareness than ever of the impact of purchasing behaviour, both at an environmental level and an emotional level, and rental allows use to experiment – it's switching up impulse purchase behaviour. The potential of the industry going forward is huge and we see ourselves at the forefront of that, leading the fashion industry to its rental future, where clothes are truly celebrated and enjoyed again.
My number one sustainability tip is…
Tamsin: To avoid low-quality and poorly made clothes. In my mid-20s after a year working at a cotton factory in Uganda and just after the Rana Plaza disaster happened, I decided to quit fast fashion. To find brands that really care, do your research and look for the companies that are talking about their sustainability agenda or their ethics all the time.
Natalie: The three Rs: rent, recycle, repair. I use these to avoid dipping into impulse purchase territory – and team them with looking for second hand. Between us, Tamsin and I have 4 children under 5 and they can burn through clothes, so trying to be mindful about what we put them in is also important.
I'm inspired to innovate by…
Natalie: Our customers. Facilitating dressing for pleasure rather than for status is the backbone of our brand ethos and, when we started Onloan, it was really important for us to think about how we made our customers feel. It's why we positioned our business model as a subscription, which makes it possible to really live in pieces before swapping for something new. For us, wardrobe freedom is an exploratory sense of self, not about who you need to impress that day.
Onloan's pop-up, Loanerville, is open from 6–21 November at 9 Club Row, Shoreditch
The collection is available to rent from onloan.co