October | Essay
All the beautiful things, where do they go?
Imagine if our clothes told stories. As recommerce grows, Tiffanie Darke unveils the future of the digital garment ID, and the secrets it might reveal
Tiffanie Darke
Clothes have stories. We know this, because when we look down the rail in our wardrobes, through the photo library on our phones, or at the pictures on our walls, we see the moment, and what we were wearing at that point in time. That old Richard Nichol dress I wore for a charity auction (we raised over £100,000 for MENCAP that night but I got drunk and bid the car on a Sam Taylor Wood); the Prada dress I unearthed at Bicester Village for my cousin's wedding in Lisbon, (my husband said 'he didn't understand it', my sister in law loved it); the Chloé velvet tuxedo I fall back on literally every time I'm having a What To Wear Crisis. Now my daughter is beginning to borrow my clothes too, adding her own stories and moments.
I say this because this weekend I also had a moment mourning the clothes I lost. The Rick Owens dress that went to a rental company and never came back, the Henry Holland trousers I sold on Vestiaire, the Mulberry Roxanne I gave my friend when she moved to the country. They moved out of my life, but I know they are in someone else's now.
As luxury companies grow, (Kering sales were up 23% this year, LVMH 28% and Richemont 12%), we need to think about what is happening to all these beautiful things. They can't just sit in the back of the wardrobe waiting for an occasional outing. They must live on – but what if they could take their stories with them?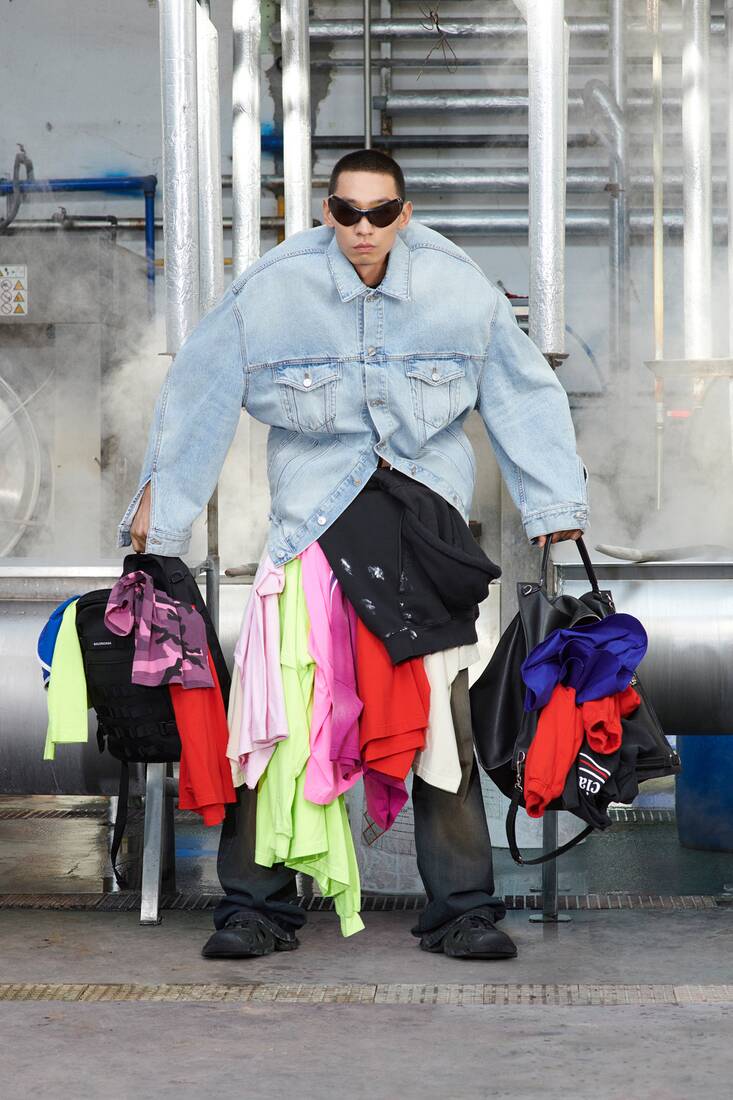 Balenciaga Resale
A next generation radio frequency ID tag would allow a brand to trace all its product, wherever it is, at any moment in time. "Then the brand could be rewarded with a kickback royalty chain every time it was resold." Imagine that - like a radio play for a pop record, garments could go on to earn royalties for brands as they lived on.
Rachel Reavley
All of this could be about to happen. A digital identity tag is becoming a necessity in today's burgeoning world of resale. How else to guarantee that the Loewe Puzzle bag is not a knock off? But beyond certificates of authentication, a new generation of tags are able to tell us how the garment was made, where the materials came from; the story of its very birth, if you like.
One brand doing this is Another Tomorrow.
Set up by Vanessa Barboni Hallik just a few years ago with the purpose of showcasing what a best in class sustainable fashion brand could look like, these principles have been built in from the ground up. "We launched with authenticated take back and have had digital identification in each of our products since day one," she says. Each product has its own "Provenance Journey," a story the brand is able to tell due to the strict way it manages its supply chains. At point of purchase you are also able to get a valuation on the resale price, which is calculated on how good the condition is. "We also have single checkout of brand new and second hand, which normalises re-commerce," she says. So you can shop new season trousers, and throw in a recommerce knit in the same transaction. Like many brands, she sees the possibilities for growth in this market, as long as she can own the cycle. Barboni Hallik's model means she is now working with the World Economic Forum on circularity and digitalisation.
Another Tomorrow is one huge step ahead of companies like Balenciaga, who announced last month that they were going into resale, in partnership with white label platform Reflaunt. Reflaunt will do the hard yards of authentication, photography and pricing of returned products, before distributing them on its network of secondary marketplaces, which include Tradesy, Vestiaire Collective and Rebelle. Owners can use the sale price as instore Balenciaga credit, (whereas Another Tomorrow offer cash as well as credit). Gucci have recognised the value of iconic vintage items they have managed to collect, reselling them on Gucci Vault, while other brands have entered into partnerships with resale platforms such as The RealReal and Vestiaire.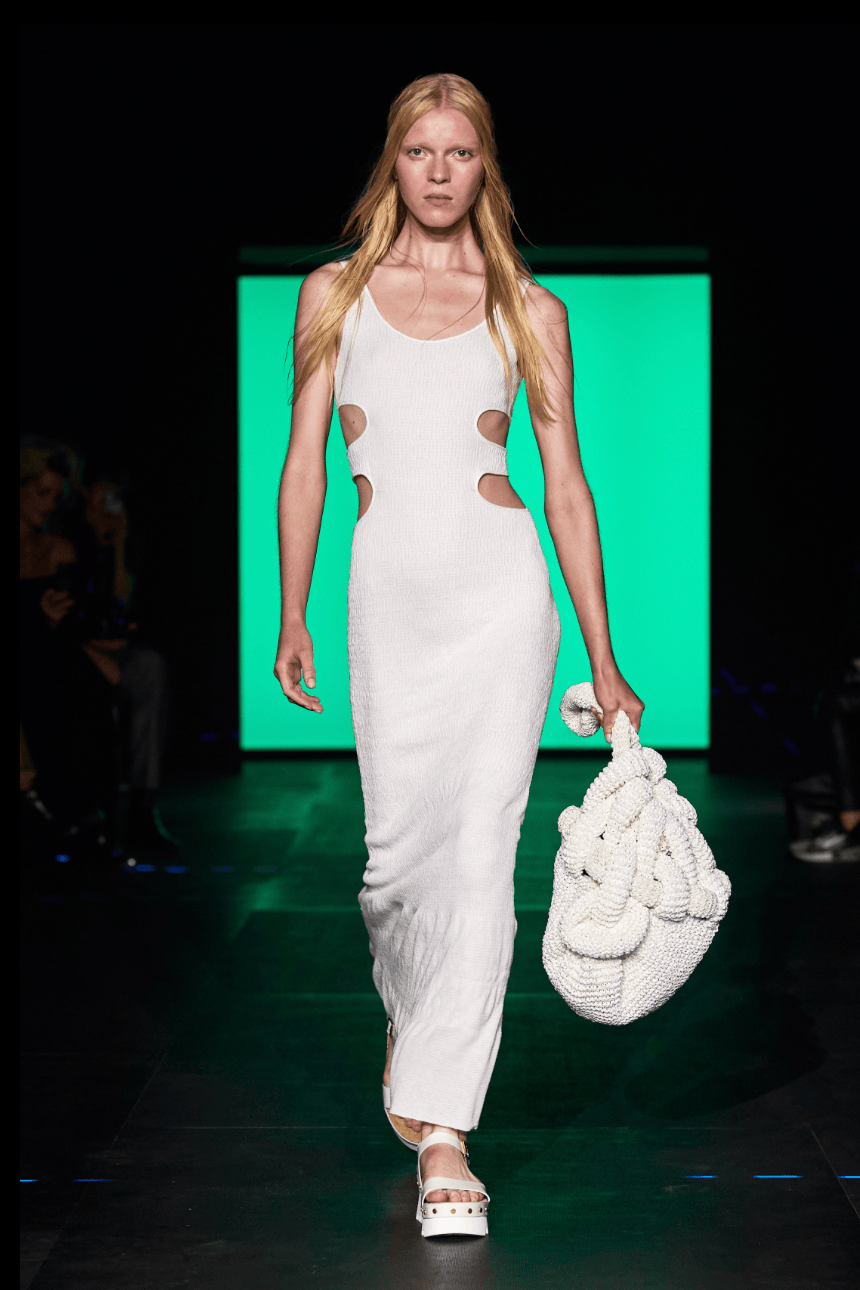 The Chloé Vertical Project
Ideally all these brands would like to own their own second hand marketplaces like Another Tomorrow. But so many of their pieces are already lost, out of the trap. Rowing back on this is Chloé, now under the excellent direction of Gabriela Hearst, the New York fashion designer who has made sustainability her watchword. Next season Chloé launch The Chloé Vertical Project, a commitment to transparency and accountability. Each item in this collection (and so far it is just a capsule linen collection, but you can see the ambition here), contains a digital ID tracking the product's journey from farm to closet. Each ID also contains care and repair instructions, as well as the product's certificate of authenticity and ownership, which will enable rental, resale and recycling. Once you buy a piece from this collection, a QR code will allow you to plug in your ownership details, before taking you on a product journey. In this case all items in the collection have been grown, processed, spun and woven in northern France, with the farms and the factories all named, (trust me, this is a triumph – normally product is flown around the world for each of these different developmental stages), and then taken to a workshop in Slovakia to be made into garments. All factories and workshops are certified for labour and working conditions, and these certificates also form part of the ID. It's a massive leap forward for fashion.
So far, Chloe's and Another Tomorrow's IDs trace provenance and ownership. Imagine if the owner could also plug into that experience too? If the Another Tomorrow collarless jumpsuit currently on resale could tell the story of where it had been worn, and what happened there?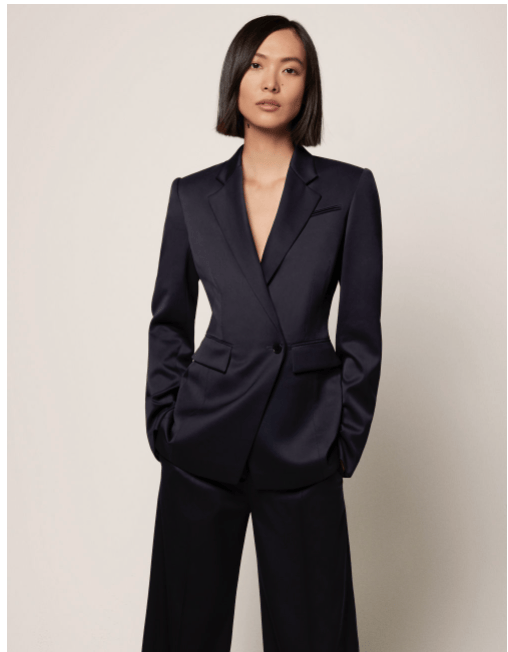 The Duchess of Sussex put this in mind when a few years ago she launched 'The Smart Set' on the rooftop of John Lewis's Oxford Street store. As patron of the charity Smart Works, she persuaded Jigsaw, M&S, John Lewis and more to produce a capsule collection of work appropriate clothing for their customers, and the charity (which helps women back into work by dressing them for job interviews). Every dress or bag bought, was matched by a donation from the brand. Smart Works relies on 'suit drives' – clothing donated at events in offices. She took the moment to encourage people to see clothes as lucky totems, or tools of success that we could gift to each other, giving others a hand up on their journey. "You don't go through your closet and just toss in a box whatever you don't care about anymore," she said. "That's charity. Community is going through your closet and saying, this is the blazer that I wore when I nailed my first job interview, and got my dream job. And I don't need that anymore because I'm where I want to be. But if I'm able to share that blazer and be part of another woman's success story, then that's community."
Rachel Reavley is a veteran fashion consultant whose career at Threads, Net a Porter and Vogue has traced luxury's various incarnations. Her latest project with HEWI has led her right into the heart of the resale world. "We've got to make this a noise, not a niche!" she says, but I suspect readers of Calendar will need no persuading. Like Reavley and Kate Moss, the value of shopping at famous vintage stores like Rellik has long been recognized by the fashion cognoscenti. If you can't face the vintage trawl, get over to HEWI, where, as the name suggests, you will find thousands of designer items that have not only Hardly Ever been Worn, but quite often still have the label in. Reavley has witnessed hair raising quantities of 'second hand' product that women have overbought in several sizes or colours, or big supermarket sweeps of entire collections that have gone unworn and unloved. No judgement: one woman's excessive behaviour is another woman's treasure. Clothes just need to find their value.
Reavley is excited about the new developments in tech that are going to open up the possibilities for resale. "With blockchain and QR codes you can start to tag items at source for full traceability," she agrees, "but soon you will be able to have an RFID built into the garment itself." A next generation radio frequency ID tag would allow a brand to trace all its product, wherever it is, at any moment in time. "Then the brand could be rewarded with a kickback royalty chain every time it was resold." Imagine that – like a radio play for a pop record, garments could go on to earn royalties for brands as they lived on. "That way brands would be rewarded not just on consumption, but on maximising usage and lifecycle, incentivising them to make better quality, or offer repairs. If that becomes a way for a brand to become a business, they can make less, because what they have made goes on to make money."
Then clothes really could tell stories – just like songs, they could witness the emotional moments of so many people's lives. Kim Kardashian may have given us a glimpse of this at this year's Met Gala, when she wore the dress Mailyn Monroe wore when she sang Happy Birthday to JFK. Reavley likes this idea, but then adds. "Isn't discretion meant to be part of luxury?" Imagine if that birthday dress could talk.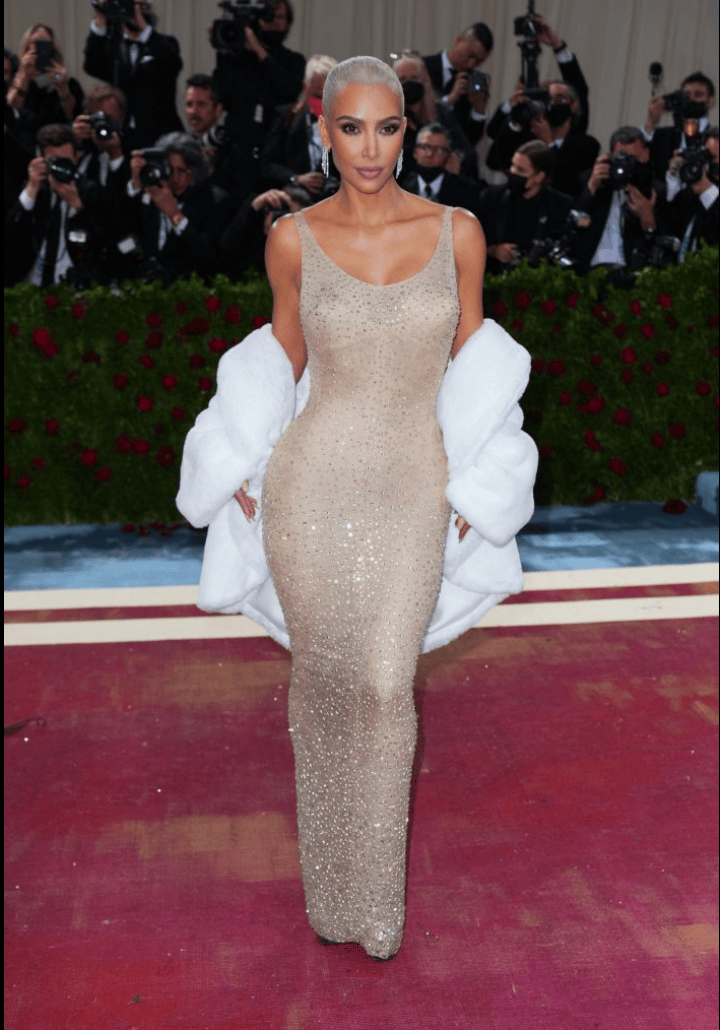 Kim Kardashian at the Met Gala 2022