January | Brands We Love
The 8 Eco-Denim Brands You Need To Know
Discover the labels leading the denim revolution and weaving responsibility into our beloved jeans
Morgane Nyfeler
While we're increasingly conscious of what we buy and how we shop these days – and pre-loved, rental and thrifting is on our collective radar more than ever before – sometimes, a fresh new pair of jeans feels like an essential component to update our wardrobes.
But with two billion pairs of jeans and countless jackets, skirts and accessories produced worldwide each year, the impact of denim on people and the planet can't be ignored. Traditionally made from cotton – a very thirsty crop, intensively grown with pesticides – the twill-weave fabric is often indigo-dyed to achieve the beloved blue colour with a load of toxic chemicals before being 'garment washed' several times to soften and wear it down. We recommend watching the 2017 documentary RiverBlue to know more about the dirty secret behind our favourite item.
The good news is that a huge number of exciting brands are now dedicated to creating denim more responsibly. From sourcing lower-impact materials, such as organic cotton and hemp, to finding circular solutions to make them last longer, there are many ways to reduce the footprint of wearing denim over the years, while maintaining its effortlessly cool factor. Here's our round-up of sustainable denim labels committed to safeguarding rivers and workers' health.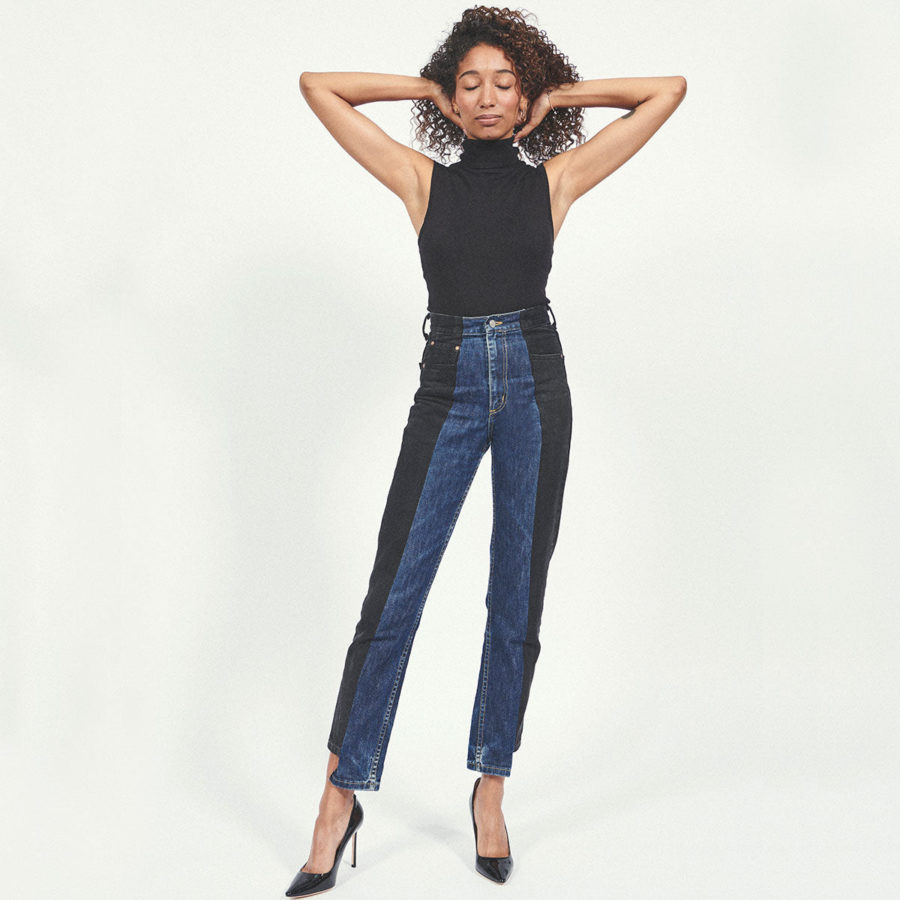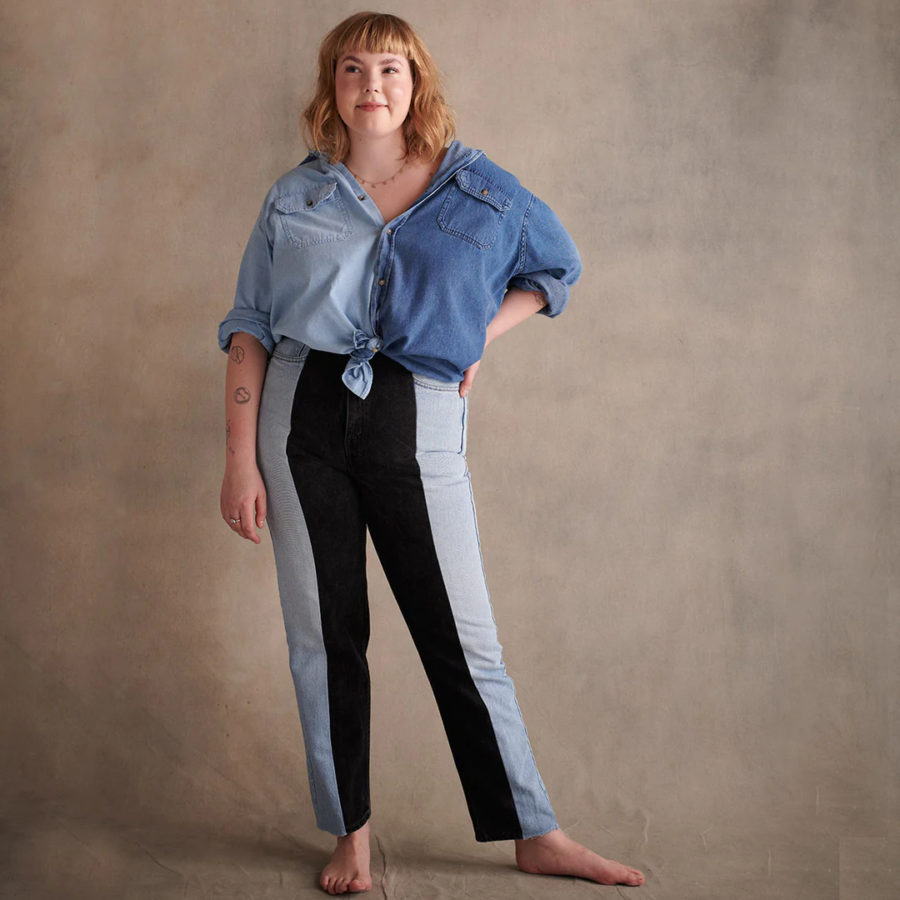 Contrast Straight Leg Jeans by E.L.V. Denim
E.L.V. Denim
As its name suggests, East London Vintage Denim, founded by designer Anna Foster, turns second-hand jeans into new, inclusive 'forever' shapes by working with local ateliers where social responsibility is a priority. Each pair of the label's signature contrast-panelled jeans is unique and celebrates fabrics that would otherwise have gone to waste. We're head over heels for this flattering high-waisted style that elongates the silhouette.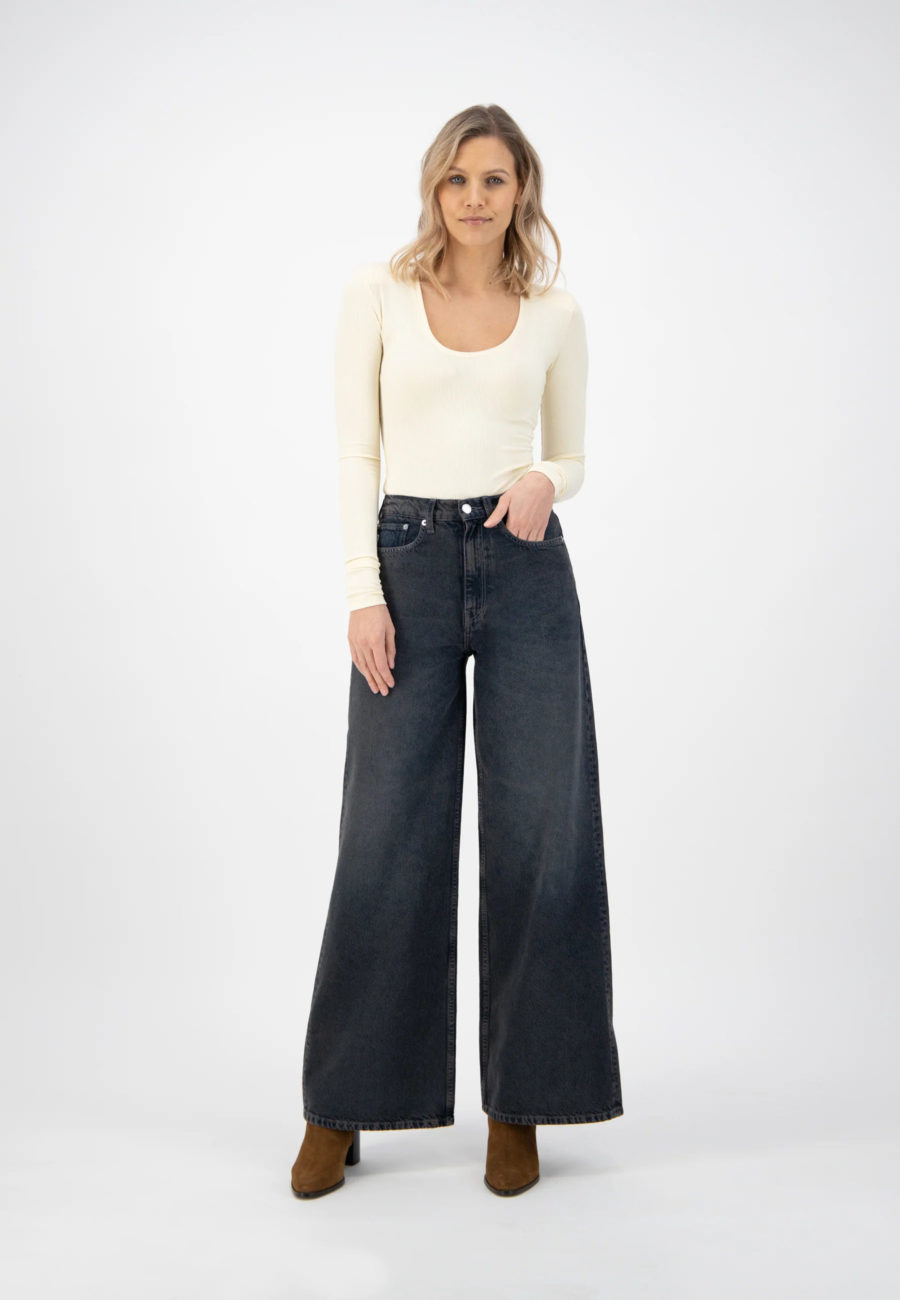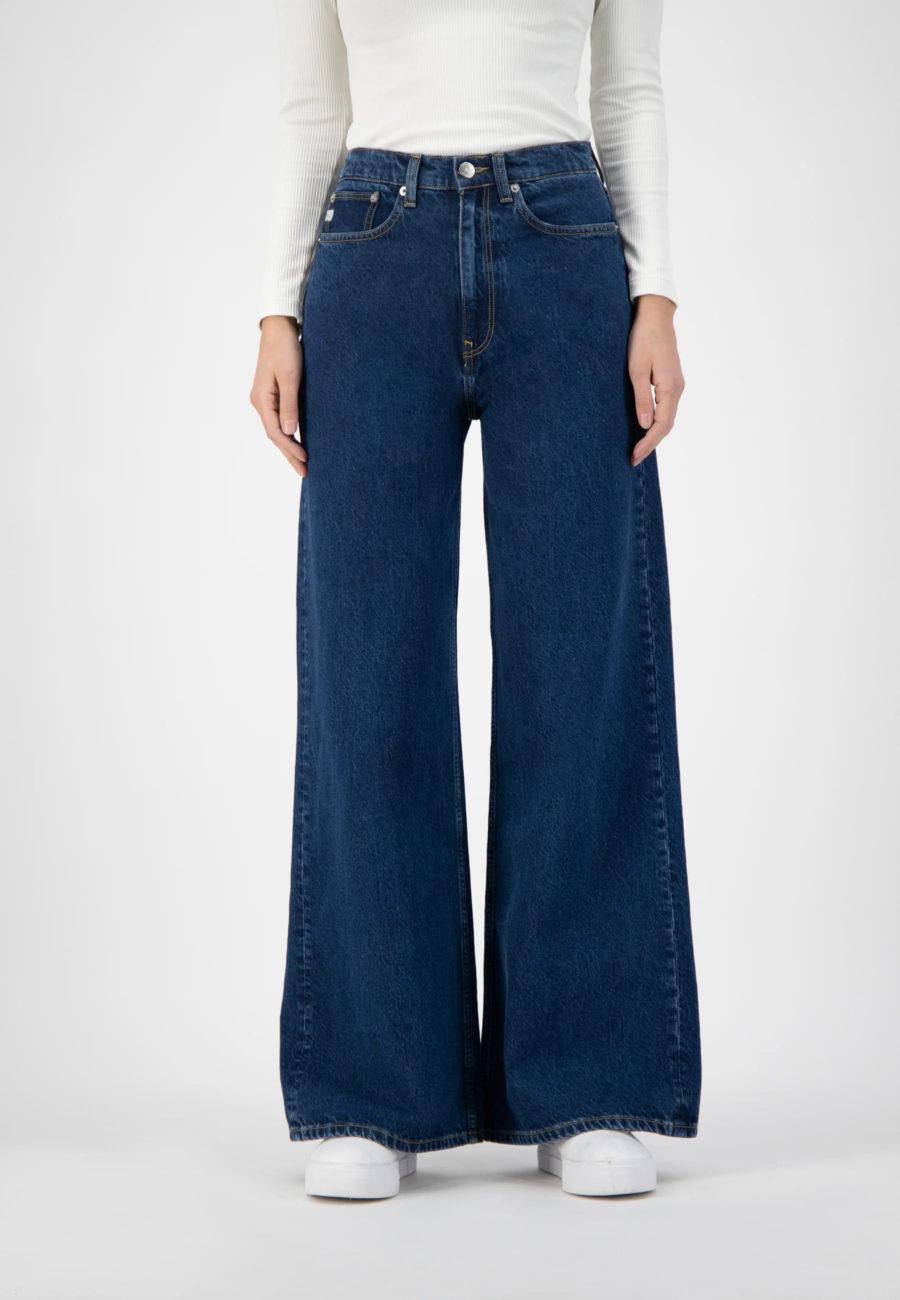 Wyde Sara by MUD Jeans
MUD Jeans
In business since 2012, Dutch brand MUD Jeans is a pioneer in circular denim design. Alongside a mending service dedicated to making your jeans last longer, the label also offers the option to lease a pair of jeans for up to a year so you can keep refreshing your wardrobe with new denim, minus the waste. We're eyeing up the 'Wyde Sara' style, made from a blend of organic and recycled cotton, with its ultra-comfy loose leg for a swift day-to-night transition.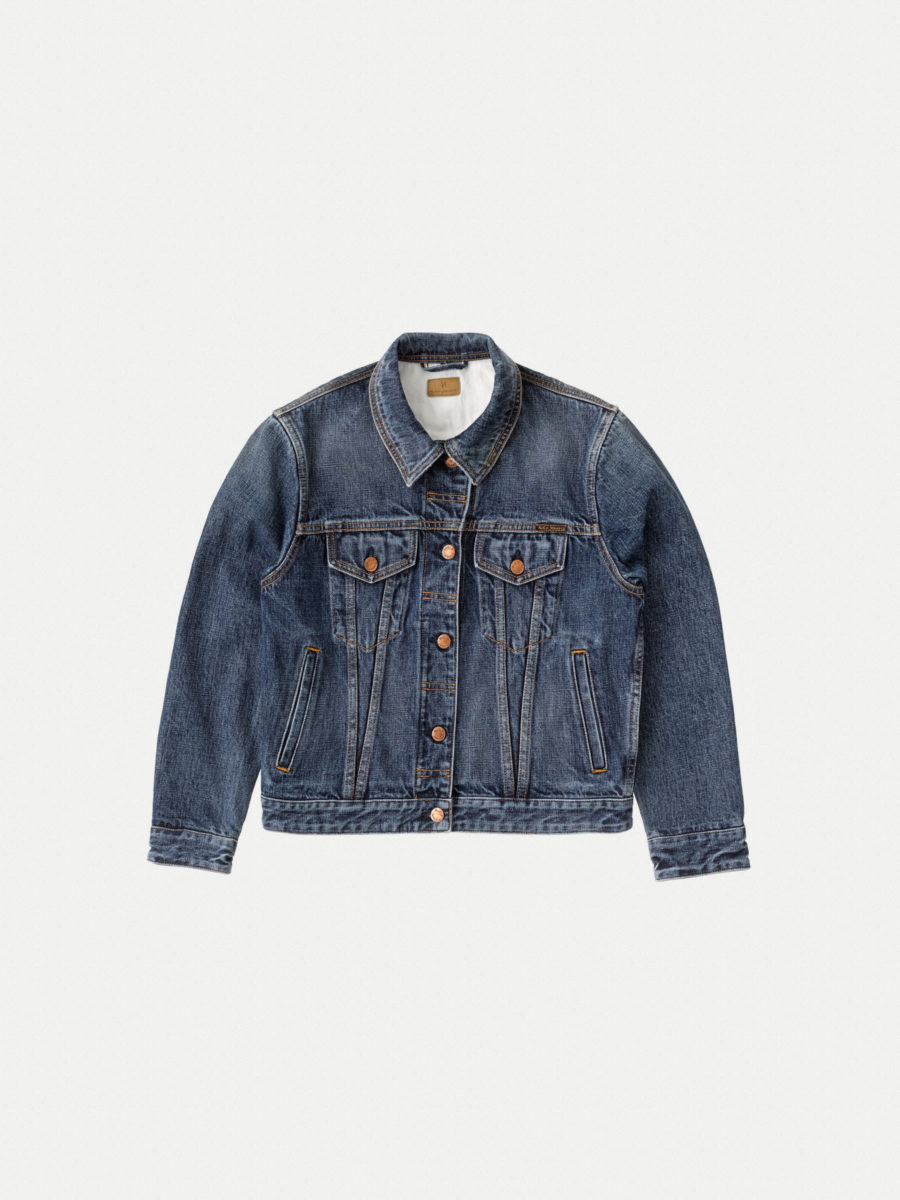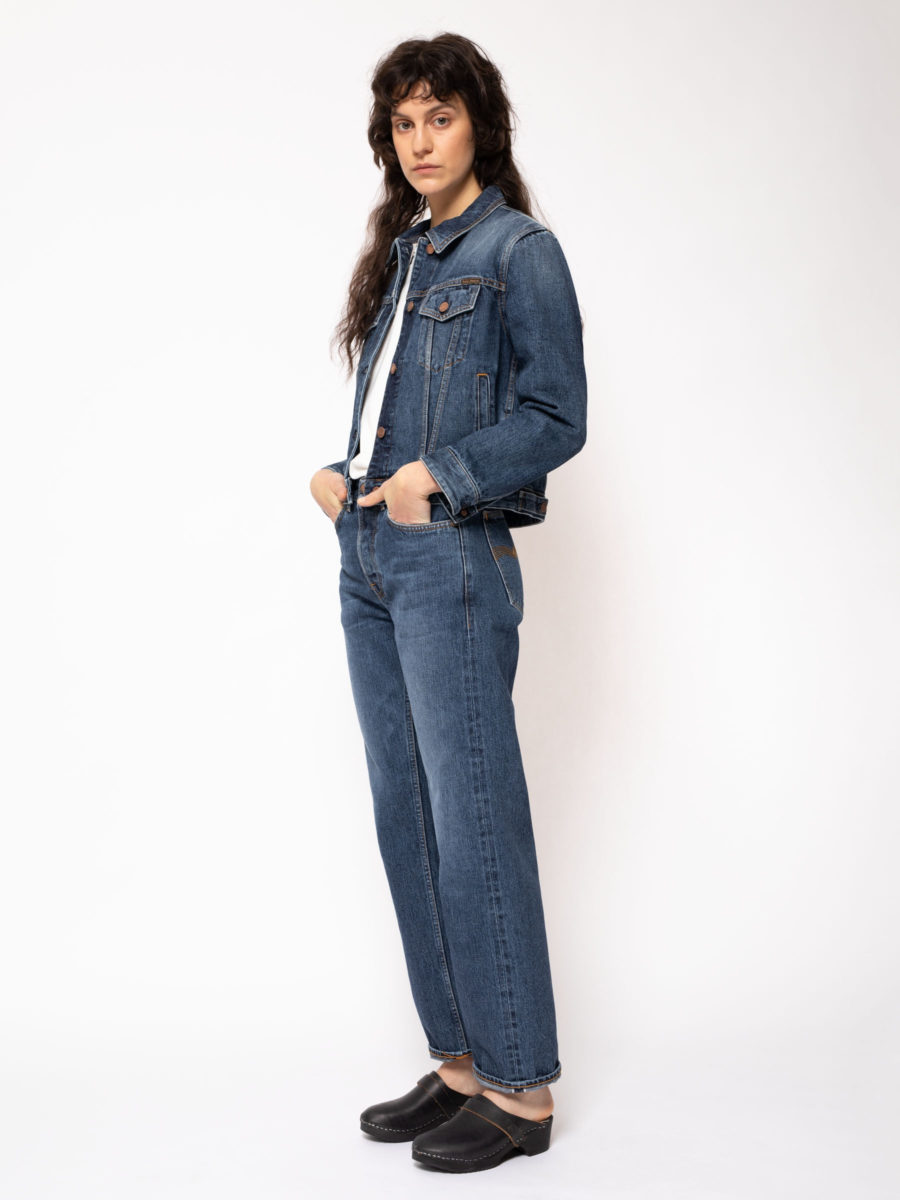 Elina Denim Jacket Ace Vintage Selvage by Nudie Jeans
Nudie Jeans
There is something beautiful about well-worn denim and all the stories they tell. Nudie Jeans encourages us to cherish our jeans by giving free repairs once they've been worn down and uses the fabric from old jeans to make repair patches or turn them into new products. Plus, Nudie Jeans' raw, untreated denim is ethically made with high-quality, 100% organic cotton. Get the Canadian tuxedo look by pairing the 'Elina' denim jacket with any selvedge vintage jeans.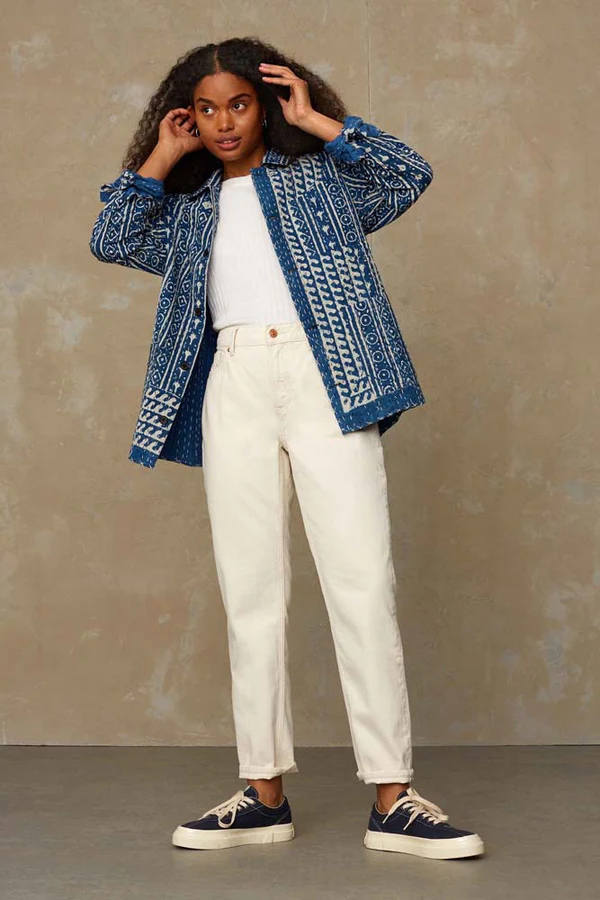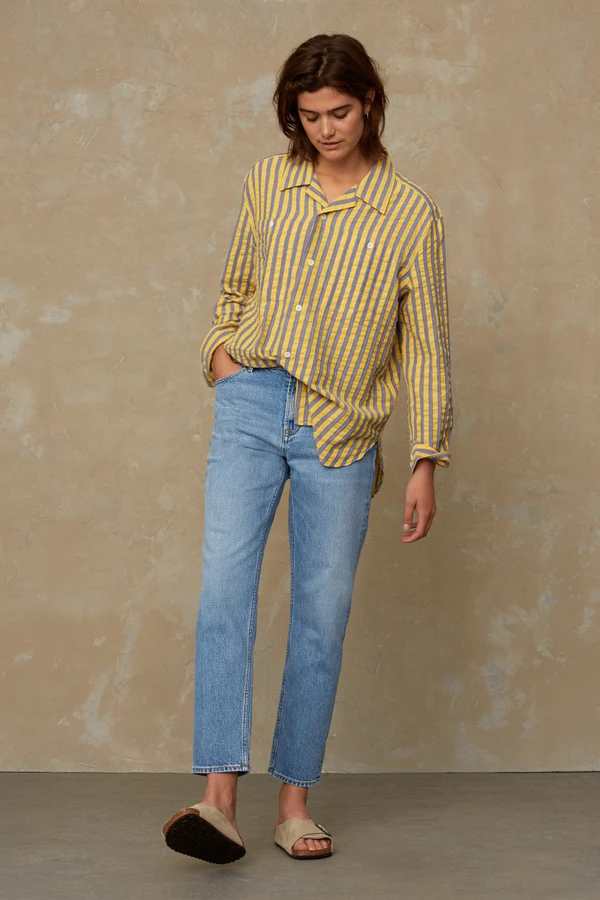 Caroline Cropped by Kings Of Indigo
Kings Of Indigo
Founded in Amsterdam in 2011, Kings Of Indigo has been driving change in the denim space with planet-friendly materials and socially responsible production. You'll recognise its KOI carp logo – alluding to the brand's initials – representing prosperity and wellbeing as the main goals to achieve for a fair fashion future. With a high waist and tapered fit, the 'Caroline Cropped' is a classic 'mom' style that we'll wear day in, day out for years to come.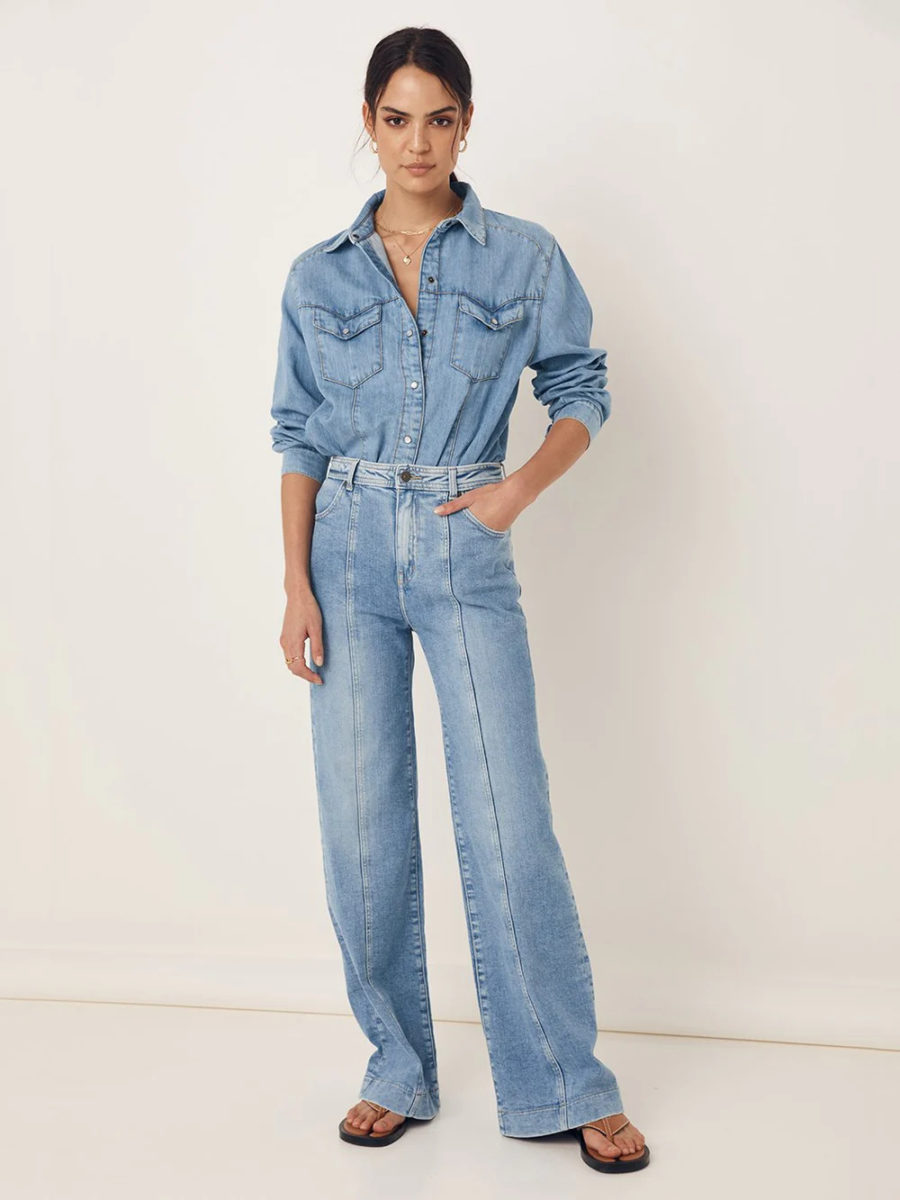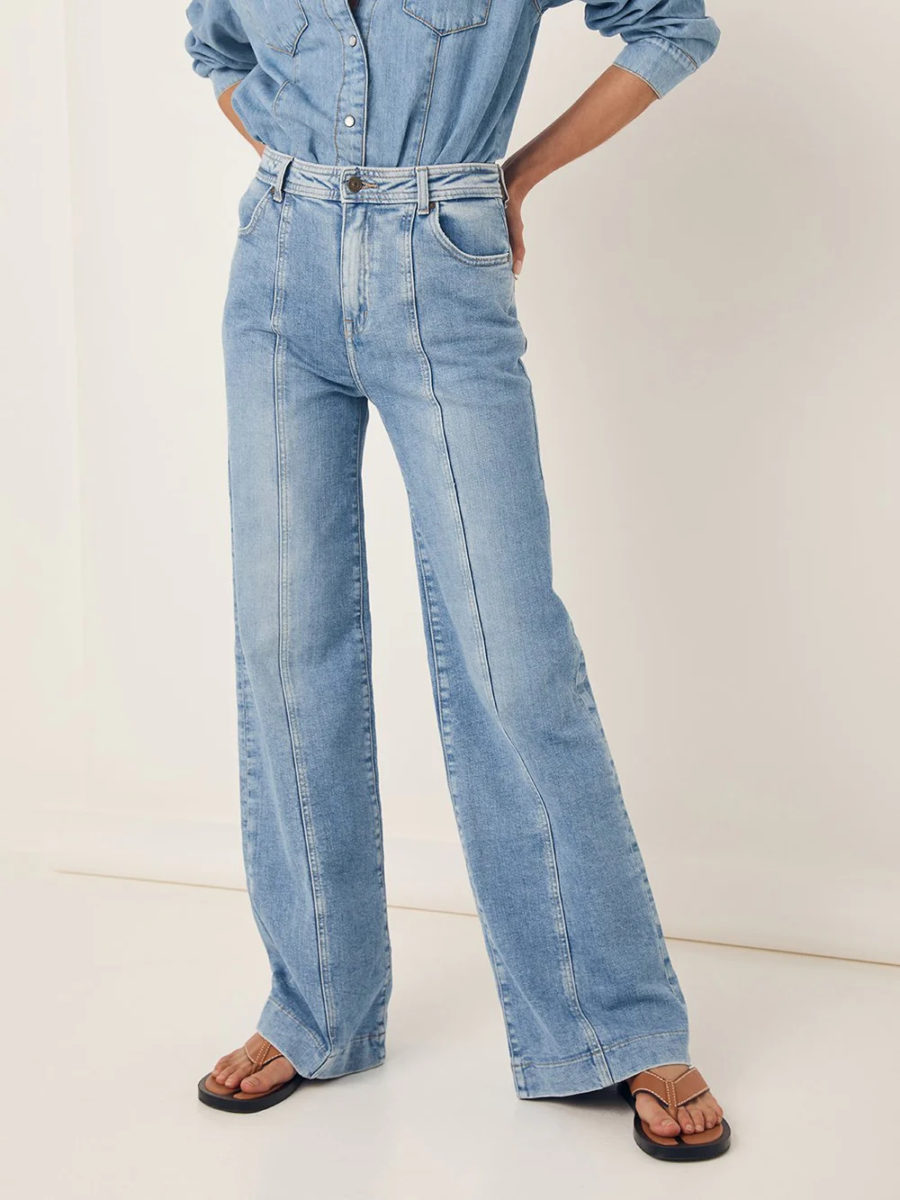 Wide Leg Flare by Spell x Outland Denim
Outland Denim
Outland Denim doesn't just create desirable denim the sustainable way – it also aims to empower female victims of human trafficking in Cambodia and lift them out of poverty by giving them ethical employment opportunities. This wide-leg flared style in a vintage blue shade gives us true '70s vibes.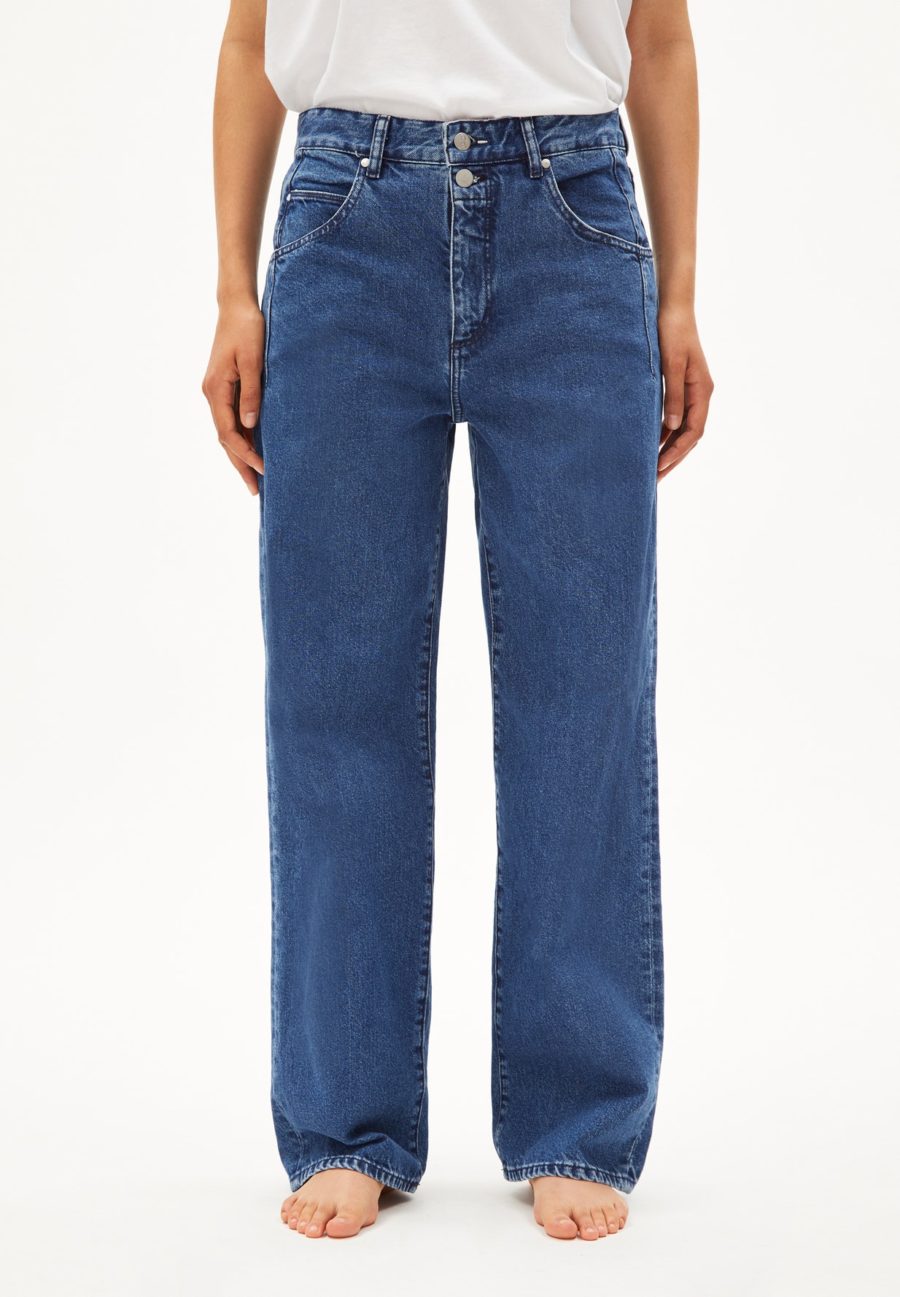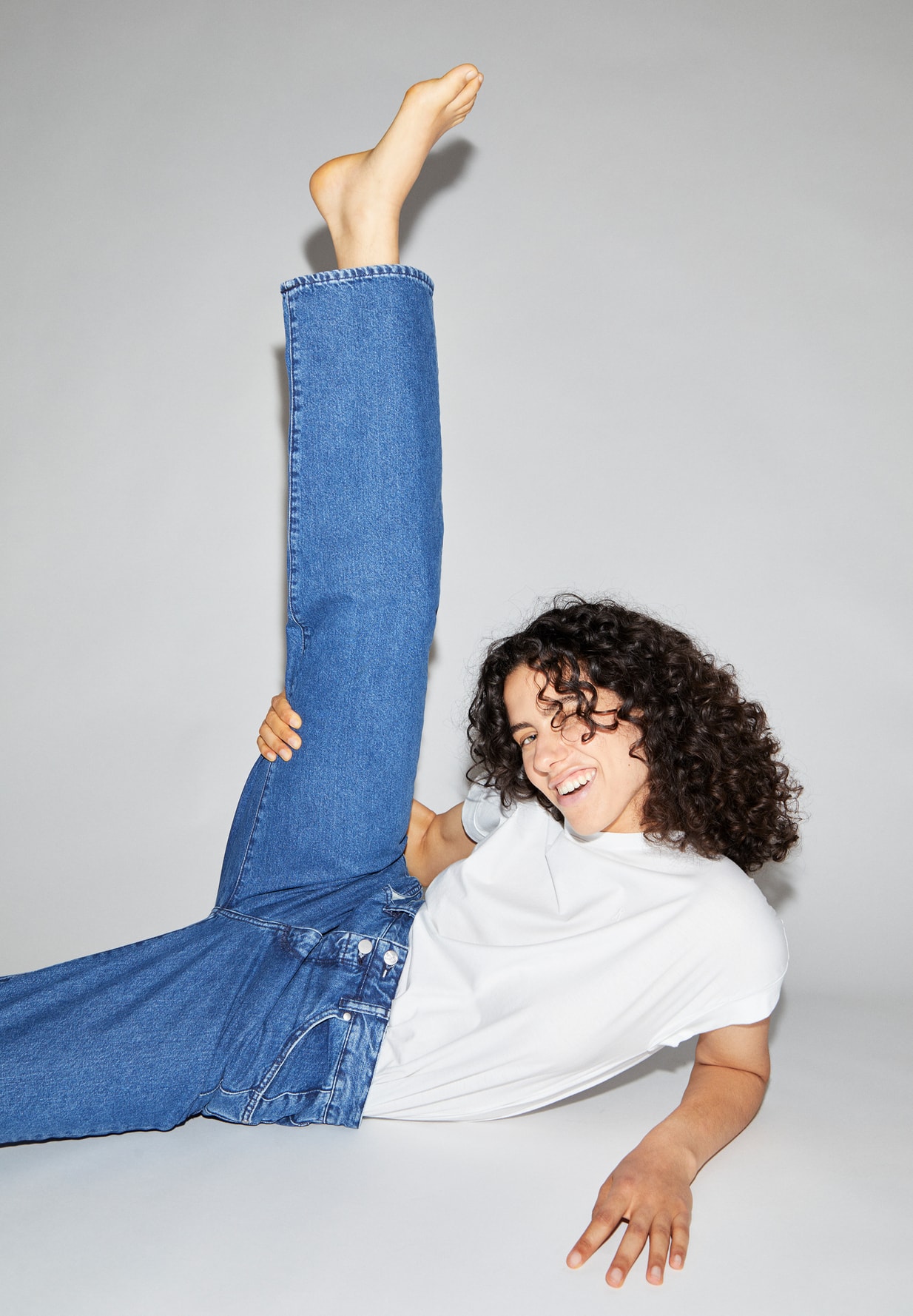 HAAYI by ARMEDANGELS
ARMEDANGELS
Germany's beloved ethical brand ARMEDANGELS isn't exactly focused on denim, yet it has made waves with its DetoxDenims campaign, reinventing iconic styles with 100% recycled cotton that's traceable and transparent. Bold and baggy without being slouchy, the 'HAAYI' jeans, combined with a classic white tee, will soon become our off-duty uniform.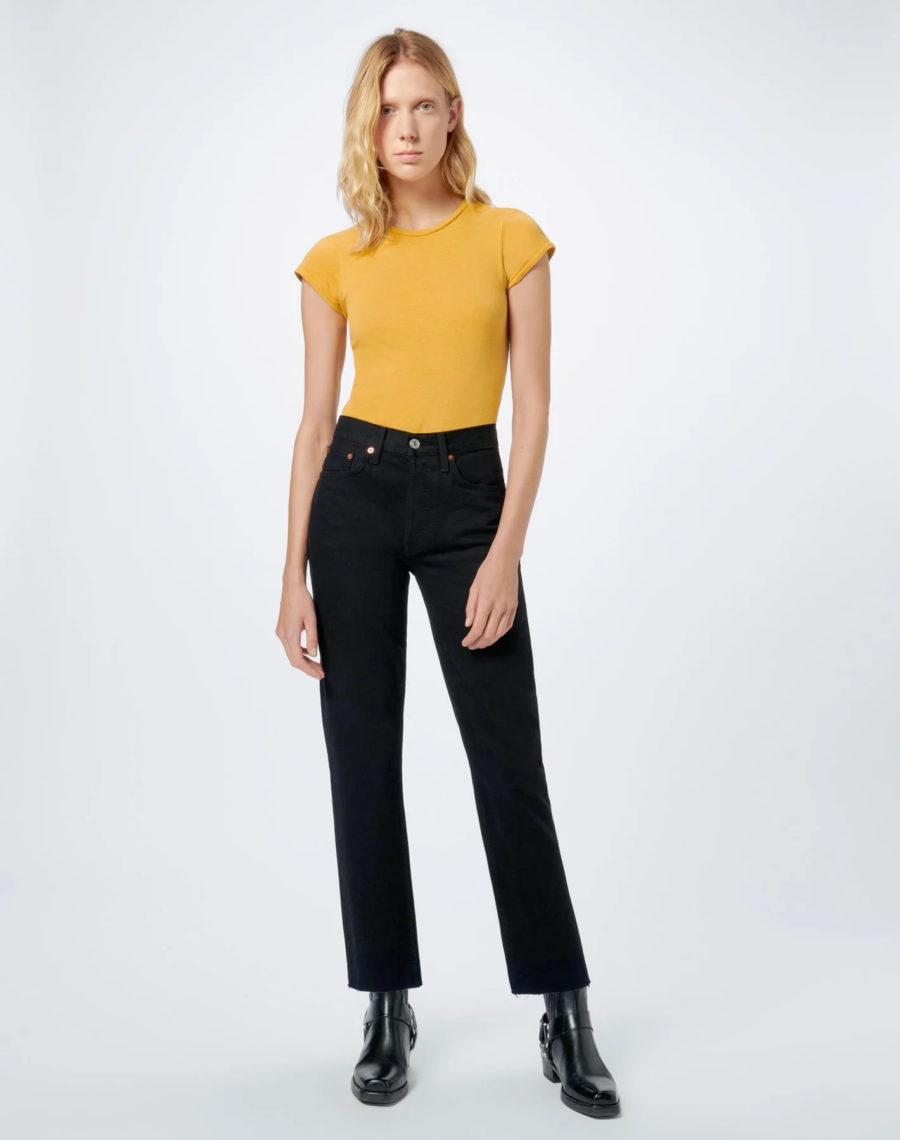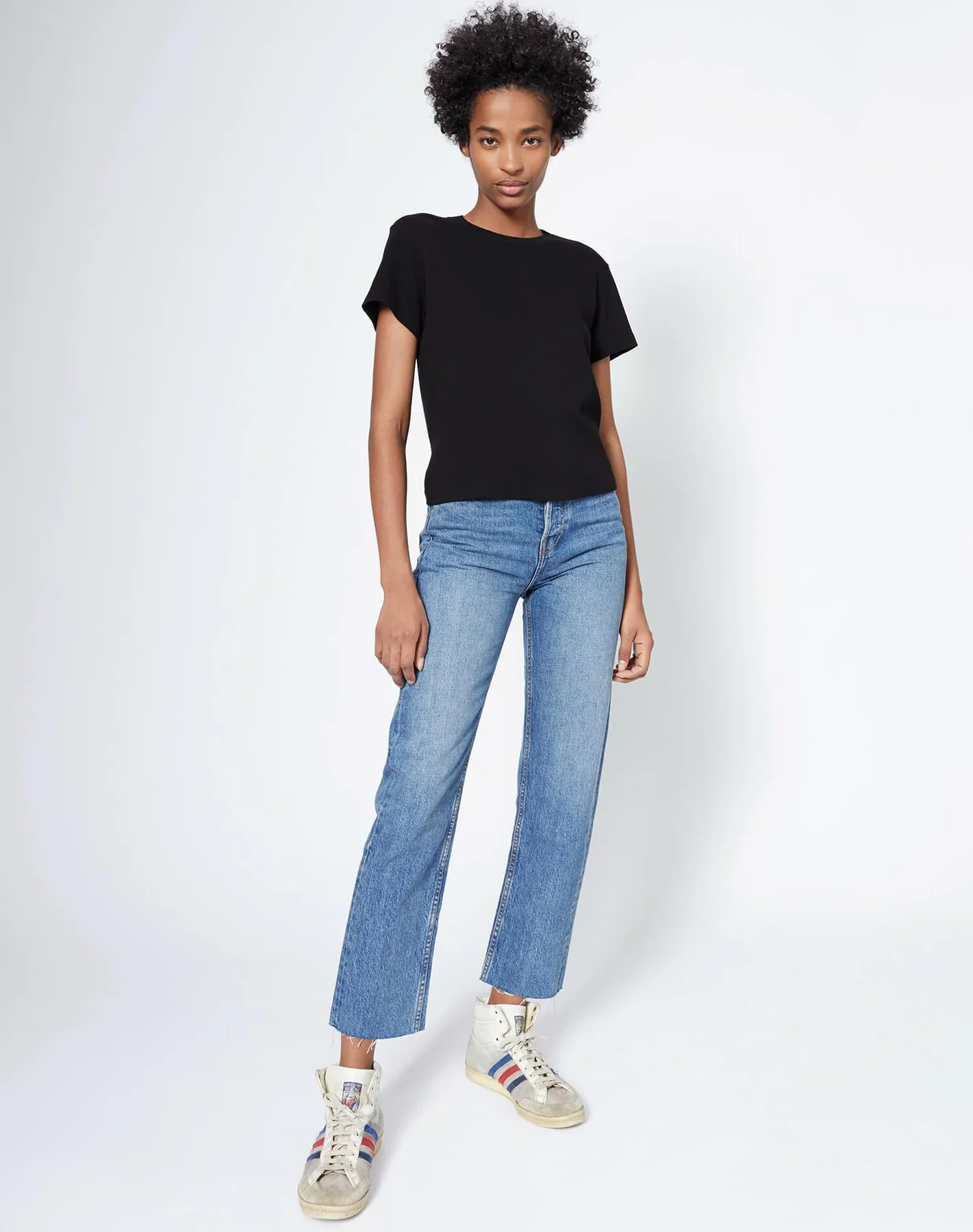 High Rise Stove Pipe by RE/DONE
RE/DONE
With a wide selection of upcycled heritage pieces to choose from, RE/DONE is a denim treasure trove. Since its inception in 2014, the LA-based brand has diverted hundreds of thousands of garments from ending up in landfill – hats off to that! And we think the preloved 'Levi's Stove Pipe' jeans are definitely an investment that will swiftly be forgotten by the cost-per-wear.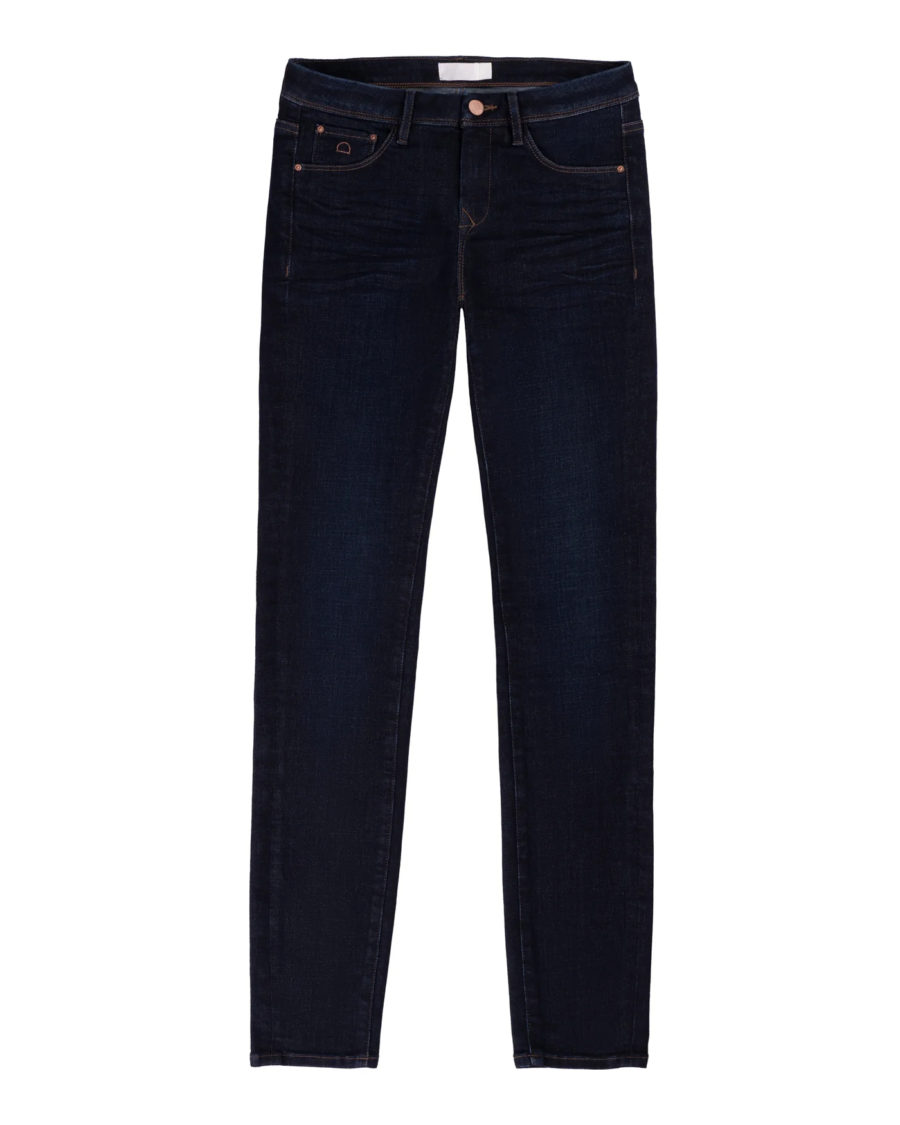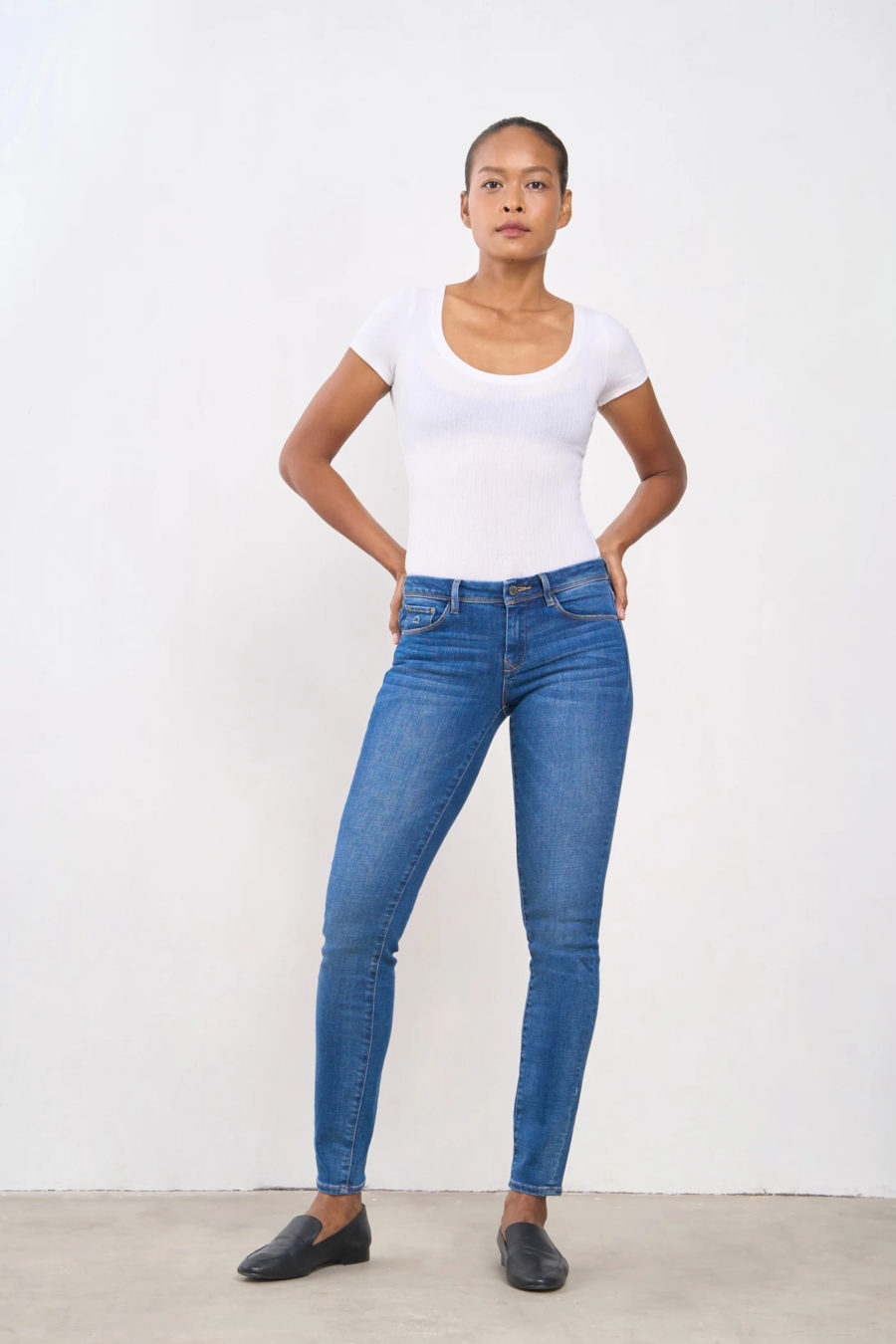 MID SUN Slim Comfortstretch by Dawn Denim
Dawn Denim
Dawn Denim's jeans are designed in Berlin and produced in Ho Chi Minh City, Vietnam, where the brand has established new standards for a fairer industry. Each pair has a QR code tracing its journey back to the factory and the workers who made your jeans in full transparency. With the comeback of low-waist slim jeans, we see bright days ahead for the 'Mid Sun' style, without costing the planet.