May | Travel
Eco Wildlife Stays
Channel your inner Attenborough and take a break where the wild things are
Susan Ward Davies
Green Planet, Blue Planet and countless Netflix nature documentaries have made wildlife nerds of us all. And as studies have shown that even looking at pictures of trees and animals makes our stress levels dip, how much better do we feel when surrounded by the real thing? Just try it and see. Of course, an African safari is the dream: the big open skies, the chilly dawn game drives, cheetah chasing impala, elegant gazelle leaping across the plains… But if eco reasons (all those air miles), and time or cost considerations mean you can't go that far, we have rounded up some of the best wildlife experiences in Europe – from an optical-illusionary stilted lodge in a Sweden nature reserve and wolf-spotting in a Finnish Red-Riding-Hood-style forest, to English manor houses where wild ponies roam, grand estates showcasing some of the Big Five, and even chilling to the sound of bird calls in the 'Hamptons of the Cotswolds'.
SynVillan, Eriksberg Wildlife Reserve, Sweden
Awarded Northern Europe's Most Luxurious Nature Reserve at the World Luxury Hotel Awards 2019, Eriksberg, on Sweden's south-east coast, gets our vote for its 'illusion villa', SynVillan. This is quite definitely the coolest – and strangest – place to stay in Scandinavia's largest wildlife reserve. Built on metal pillars, four metres off the ground, with a roof made of reeds, it has polished, dented steel walls which, by reflecting the surroundings, lend it a mirage quality, almost disappearing into the blue sky. You can wildlife-watch from the deck, or look through the glass floor built above the animal feeding area, to see deer and wild boar grazing below. Overlooking the Baltic Sea shore at Mahraviken, in the Blekinge Archipelago, SynVillan is super peaceful, with just the sounds of birds calling and deer bleating, and the occasional grunt and snuffle of a wild boar to disturb you. You get a cosy bedroom, living room and deck but, with no running water, one or two nights – for the novelty value – is probably enough before decamping to one of the three suites in Eriksberg's main house (sleigh beds, murals, vintage leather sofas), or to the reserve's various stylish villas, lodges, and traditional Swedish cottage. And if you find yourself missing the full nature immersion, there is a scenically positioned glamping tent overlooking the lake.   
Drive around the safari park to see massive European bison, wild boar, fallow deer, mufflon (wild, curly-horned sheep), red deer and soaring sea eagles, or take a guided bike, walking or jeep safari, or even a bison trek to see these powerful beasts up close.
The eco credentials: The reserve is part of the UNESCO Biosphere Reserve Blekinge Archipelago, and Natura 2000 (a network of nature-protection areas). SynVillan is solar-powered, water comes from two small water tanks, you get a dinky gas burner to make teas and coffees, and use an eco-friendly, Cinderella incineration loo. Delicious, game-focused food served in the main restaurant is homegrown or local, and the shop sells their own reared game. 
Sleeps 2-4; book through Welcome Beyond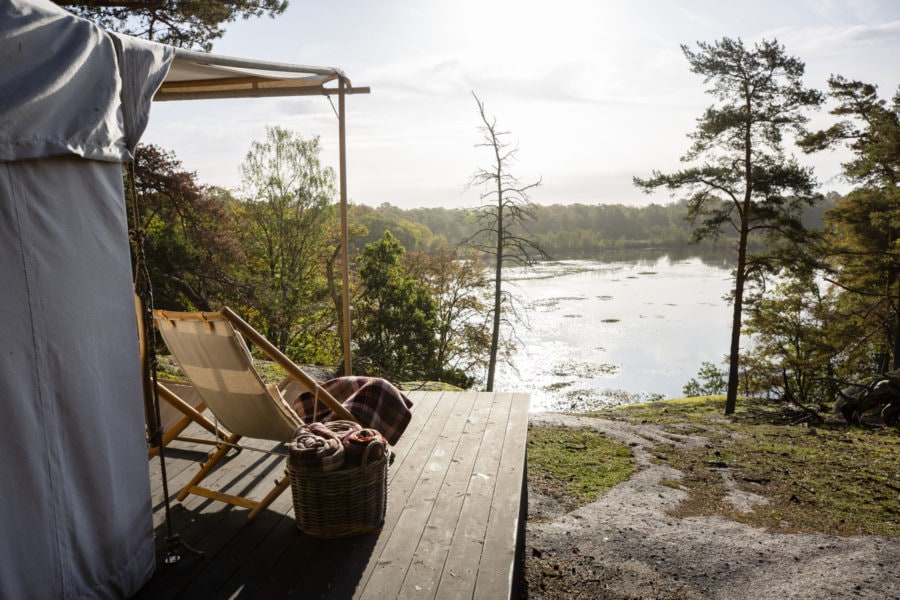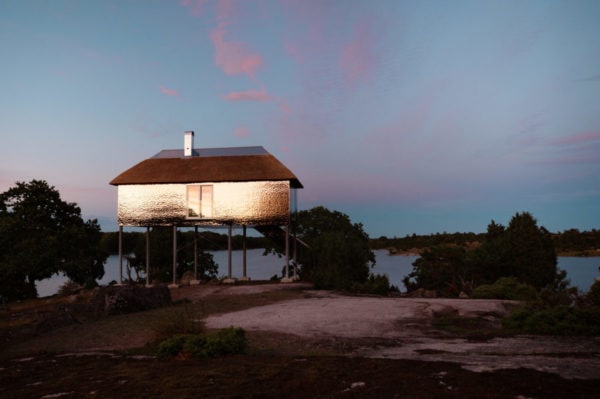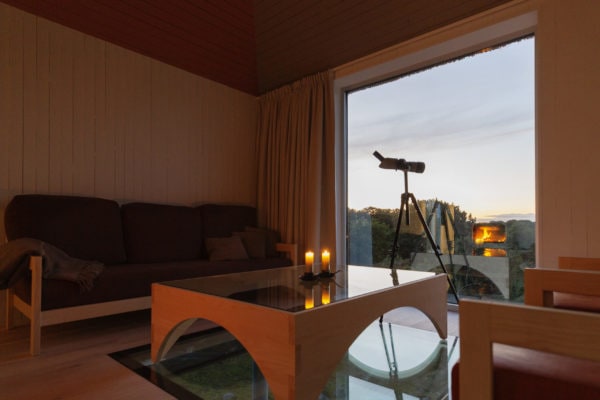 SynVillan, Eriksberg Wildlife Reserve, Sweden by Angelica Zander
Haltia Lake Lodge, Nuuksio National Park, Finland
It may be only half an hour north west of the Finnish capital, Helsinki, but the beautiful Nuuksio National Park covers the site of a prehistoric hunting ground. With 53 square metres of towering aspen, spruce and birch trees, hiking, biking and riding trails, natural ponds and lots of wildlife – even wolves – it feels like Little Red Riding Hood's enchanted forest. You'll find gorges, natural ponds, dawn mist hanging over peaceful lakes, white-tailed eagles and ospreys swooping overhead, and flying squirrels Tarzaning from tree to tree. 
Most people camp, and there are plenty of sites, but why rough it when you can stay in Nuuksio's first boutique hotel? Hidden among the trees, Haltia Lake Lodge opened last October with 20 stylish, cabin-style hotel rooms, plus five luxe canvas-and-wood pods on stilts, which glow like Chinese lanterns in the dark forest nights. 
The eco credentials: They aim to be carbon neutral by 2023, and have already been awarded the Sustainable Travel Finland Label, and Green Key environmental certificate. Furniture was sourced from recycling specialists the Reuse Centre; pods have freeze-composting loos, and everything is recycled or upcycled, with wood chips used to make sinks, and food tins turned into lampshades. Wind energy powers the whole property.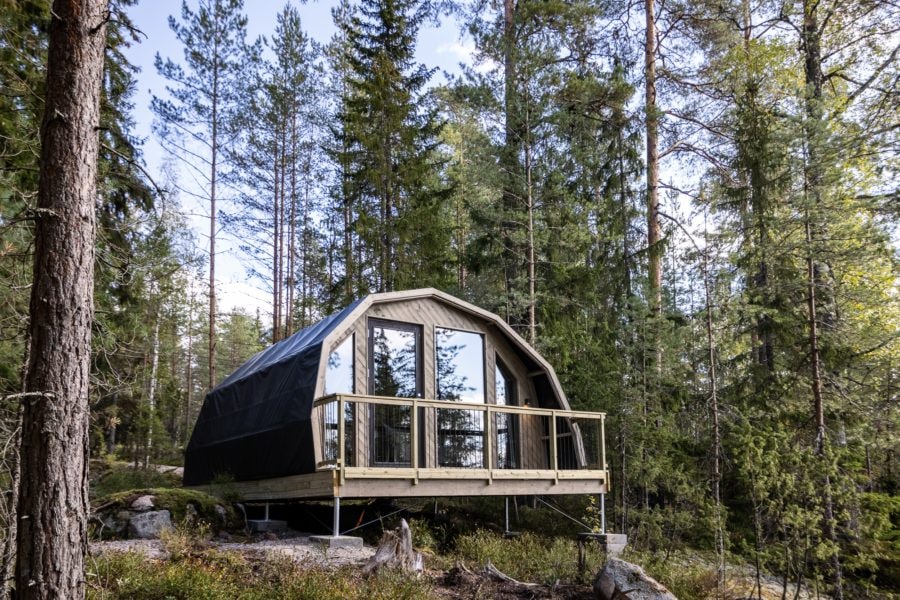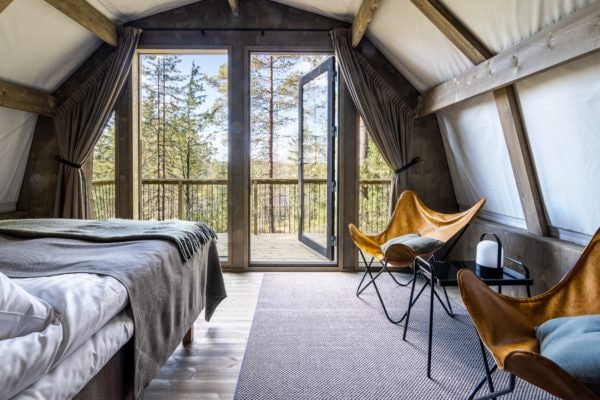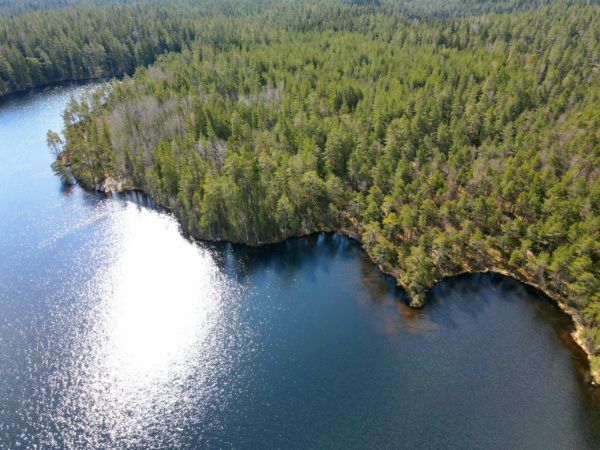 Haltia Lake Lodge, Nuuksio National Park, Finland
Bethlen Estates, Cris, Transylvania
Count Miklos Bethlen, whose family dates back to the 12th century, fled his eponymous ancestral seat during the communist era. He returned in the 1960s to restore it, and now his widow, Gladys, and son Nikolaus are continuing the Bethlen Estate's revival, completing the renovation of their castle (which now has World Heritage status), as well as converting the manor house, farm cottages and outbuildings, in the mediaeval village of Cris, to take in tourists. In these beautifully restored, 300-year-old guest houses, you'll find oak-beamed ceilings, open fires, shuttered windows, and polished wood floors, along with contemporary touches such as Tom Dixon lighting, a swimming pool (open in summer), and a sanarium (Romanian sauna), open all year round.
Romania is the most biologically diverse country in the EU and one of the best for wildlife-watching. At Bethlen, you have it all on your doorstep. With the Carpathian mountains as a backdrop, hike, bike or horse ride among the wildflowers, dense forests and rolling meadows, looking out for bears, bison, deer and the occasional lynx and wild boar. 
The eco credentials: Organic food comes mostly from the surrounding farmland and forests. The houses were painstakingly restored using local materials, and their renovation has brought in tourist money and breathed life back into the area. 
Book with Black Tomato for the best tailor-made trip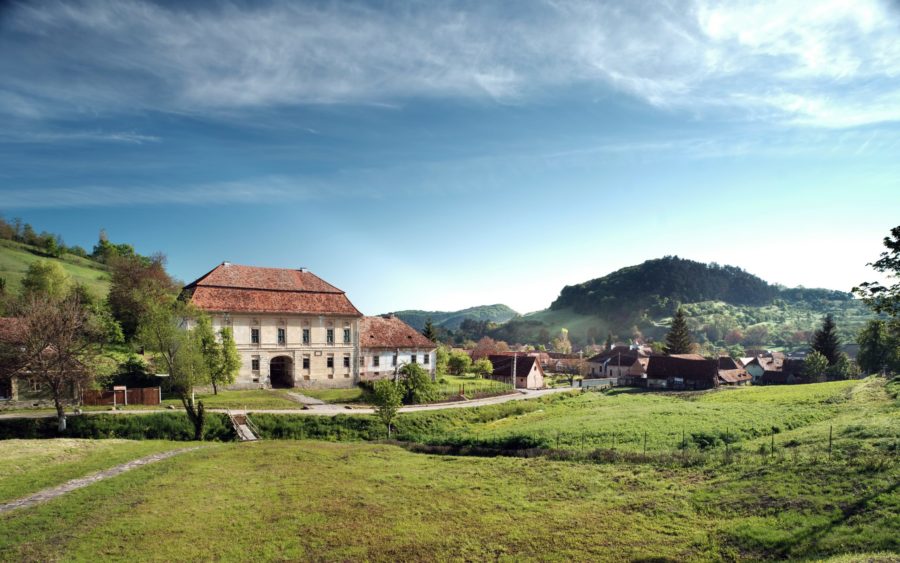 Bethlen Estates, Cris, Transylvania
Sawcliffe Manor, Lincolnshire
This one is a real find, not least because a lot of us (shamefully) might be hard-pushed to pinpoint Lincolnshire on a map. Now, the Elwes family, owners of Sawcliffe Manor, in the north of this overlooked county, are on a mission to change that by tempting us to stay in their restored 11th century country house and cottages. 
The impressive manor can sleep up to 24, so it's perfect for weddings, significant birthdays, and general group fun, especially because, in the grounds, they have one of the largest (60 square metres) yurts in the UK to party in. If you are a smaller group, or a deux, there are three cute cottages – Plum, Rose and Hare – sleeping 6-8. The main house is a glorious historical mash-up of Tudor, Georgian and Victorian, with nine different staircases, an 18th century walled garden, 17th century barn and 15th century dovecot chapel. It's grand but homely (freshly baked cakes on arrival), with an impressive four-poster here, a cosy window reading nook there, some free-standing baths and covetable bathroom tiling. The cottages are a visual treat, too, with flower-sprigged prints, wrought-iron beds, exposed stone walls and hand-painted murals. 
Fronting a wildflower meadow and a 400-acre nature reserve (on reclaimed ironstone mining land), you'll spy wild Exmoor ponies, Herwick and Hebridean sheep, hares and rabbits leaping around, and there is even a 14th century rabbit warren designated an SSSI – Site of Special Scientific Interest.
The eco credentials: Sustainability is a way of life here – all construction was done using natural building processes (such as lime plastering and rendering), and the buildings furnished through a mix of repurposing, recycling and local sourcing. Grazing sheep and ponies take care of land fertilisation, and tree and hedge planting encourages more native species. 
The spa is totally off-grid and built from local oak, larch and spruce, the latter used to make the wooden hot tub for its antimicrobial properties. Book a twilight copper tub milk-and-flower bath and watch the ducks and geese dipping into the pond while you wallow.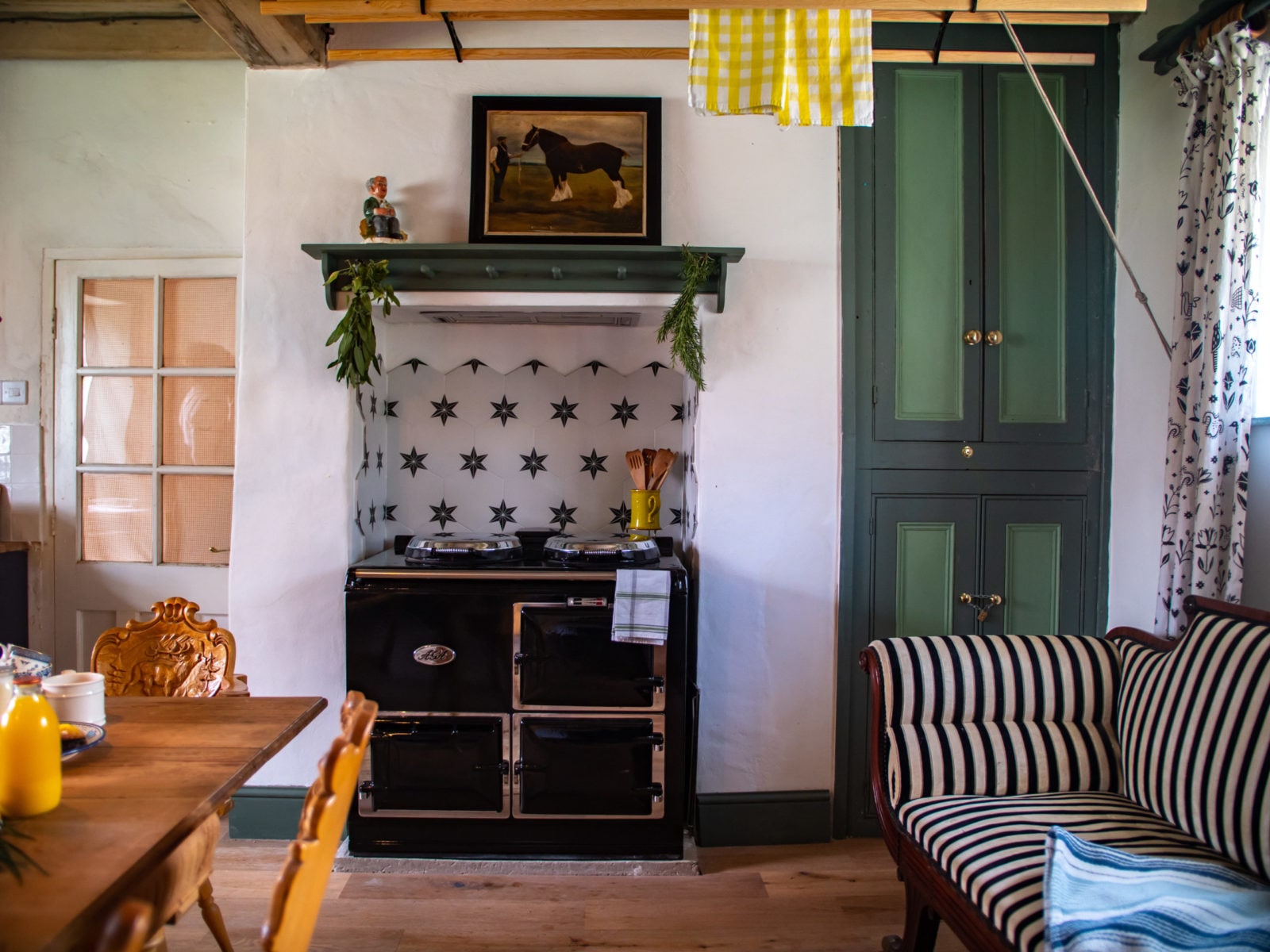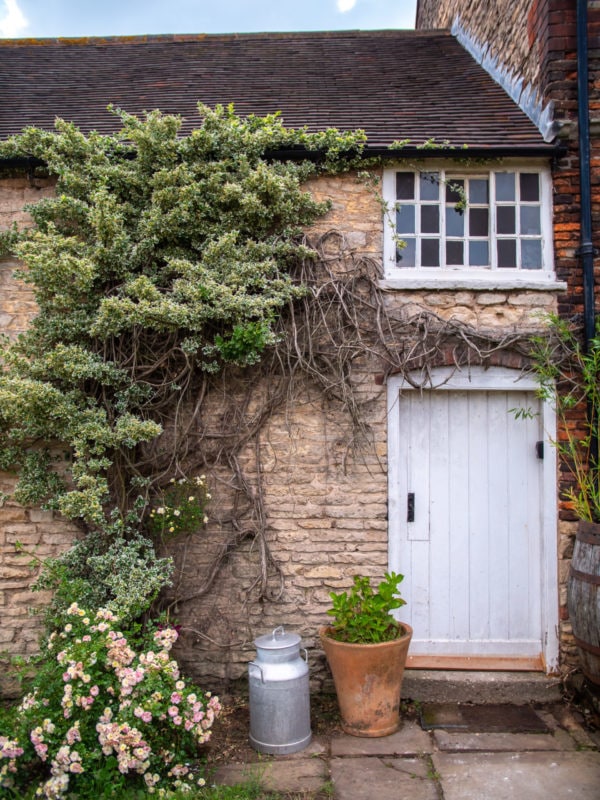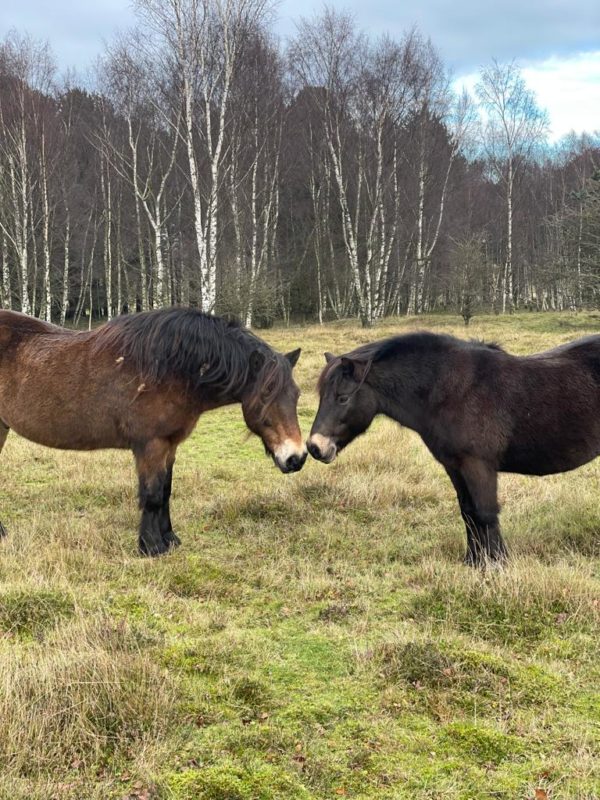 Sawcliffe Manor, Lincolnshire
The Sawmill at Glen Dye, Aberdeenshire
If remote, rural and romantic with a touch of luxury is what you're after, Glen Dye Estate ticks all the boxes. Overlooked by the massive granite tor of Clachnaben, and at the northern end of the spectacular Cairn o' Mount mountain pass, it is set among woods, moorlands and hills, where you can spot red kites, owls, sea eagles, badgers and red and roe deer. The private 15,000-acre estate, on the banks of the river Dye, has 10 gorgeously designed guest cabins and cottages scattered around the grounds. It's a push to choose between them but, for going peak hermit, you want The Sawmill, which is a cleverly designed reworking of the old sawmill site, festooned with fairy lights, where they have parked a gleaming 1950s airstream trailer among the pine trees. You may be in the wilds of Scotland, but comfort is everything, and as the adjacent old seed store houses your living room and kitchen, the trailer can fit in a sumptuous king-size bed. 
And that's not all; there is a shed that opens to reveal a hotel-grade shower room, an outdoor, log-fired hot tub, a pizza oven, fire pit, and a Green Egg Barbecue, which, for the uninitiated, is the king of alfresco-grilling hardware, lined, as it is, with NASA-inspired ceramics – which just says it all about the quality and attention to detail here.
All guests can use the wood-fired sauna, stationed next to the vegetable garden, buy local meat, fish and store cupboard basics from the little shop, and if you're feeling sociable, take your own booze to the cute, onsite pub, The Glen Dye Arms,  complete with stone-flagged floor, dart board and roaring fire, and get to know your fellow wildlife-lovers. 
The eco credentials: They have their own private water supply and grow a wide range of vegetables in the kitchen garden, with any that are not used or sold turned into soup. Guests can collect eggs from the hens, some of which are rescues.
Venison, which is culled on the wider estate, is used in casseroles and burgers – it is the country's most sustainable meat. The estate uses local suppliers, they compost everything they can and recycle virtually everything else. Cleaning products are environmentally friendly, too, and they have a super-fast, electric-car charging facility, so you can drive there in an EV.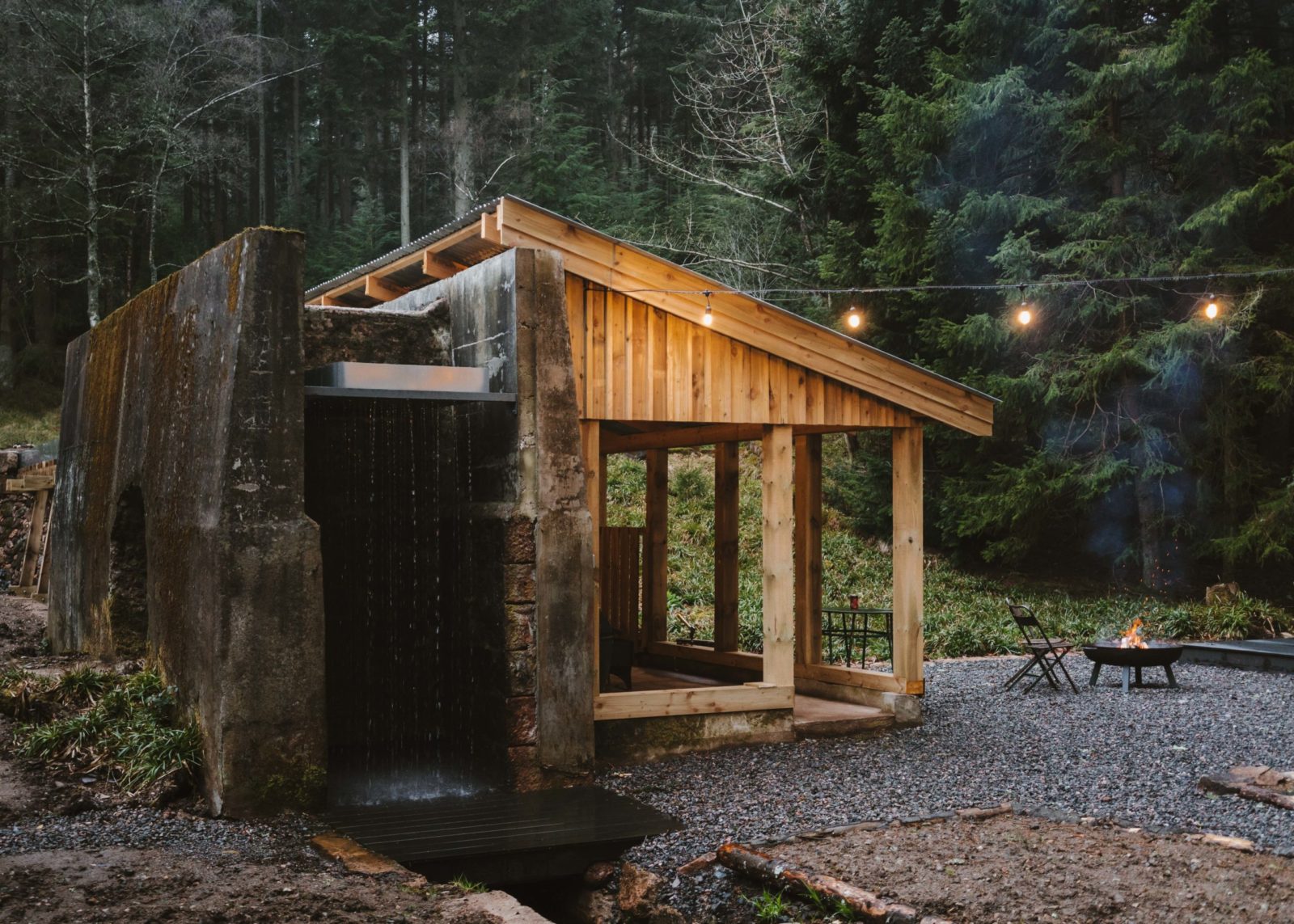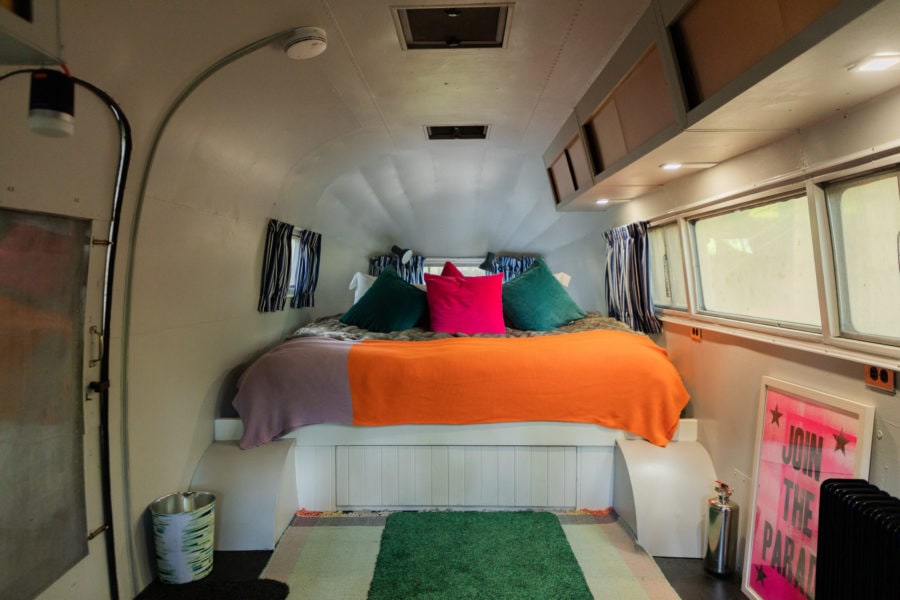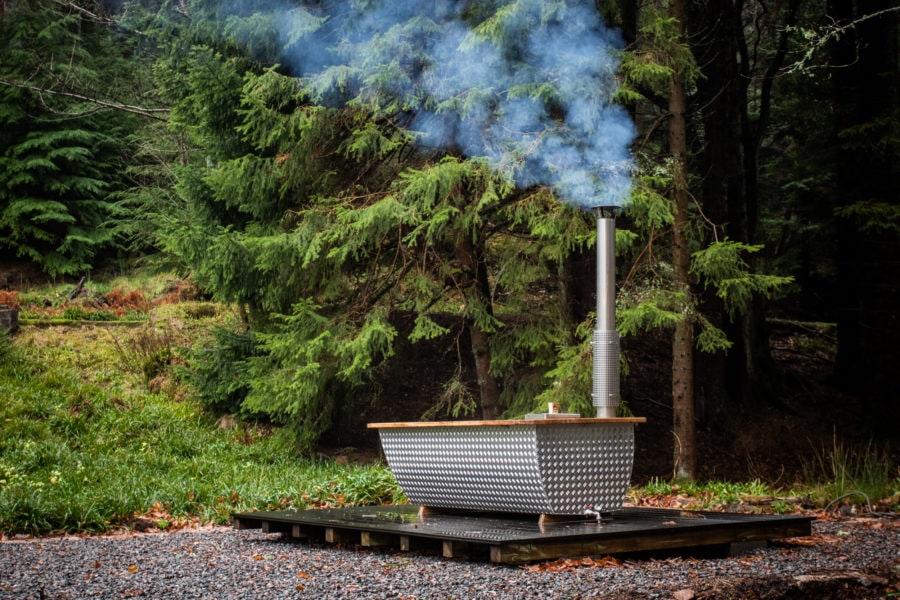 The Sawmill at Glen Dye, Aberdeenshire
Lakes by Yoo, Lechlade on Thames, Cotswolds
With its luxuriously designed lakeside homes, this exclusive Cotswolds retreat has, until now, been mainly a rural escape for the rich and famous. This summer sees the launch of new, more affordable cabins and apartments, so more of us can experience what has attracted the likes of Kate Moss, Jade Jagger and Elle Macpherson for so long.   
Designed by Yoo, the successful Philippe Starck/John Hitchcox partnership, which transformed the former gravel quarry into a kind of Cotswolds 'Hamptons'/nature playground, the results are, inevitably, discreetly and stylishly luxurious: timber-framed houses with huge windows, scenic waterfront verandahs, and arty interiors with wood-burning stoves and red velvet armchairs.
With 850 acres of lakes, woodlands and meadows, the houses (both owned and rented) and cabins are spaced out with privacy in mind. Although the great-outdoors concept appeals to families with its kids' club, woodland trails, farmyard and rescued rare-breed pigs, when you consider the canoeing, kayaking and zip-wiring, plus a fabulous spa with a 17-metre pool, and mixologists on standby to host cocktail tastings in your cabin (and peaceful lakeside heron-watching to soothe the hangover), you might want to shortlist it for an upmarket, back-to-nature hen weekend or landmark birthday. 
The eco credentials: Designated a Cotswold Site of Special Scientific Interest, it has to be managed according to Natural England regulations, and they actively encourage birds and wildlife. They have a low outdoor-lighting policy for less light pollution, local materials were used in the construction, there is a conservation park with 500,0000 planted trees, and rewilding is a top priority. There is an onsite farm and they cultivate bees, and when the yew trees are pruned, offcuts are sent to be used in cancer medication (who knew?).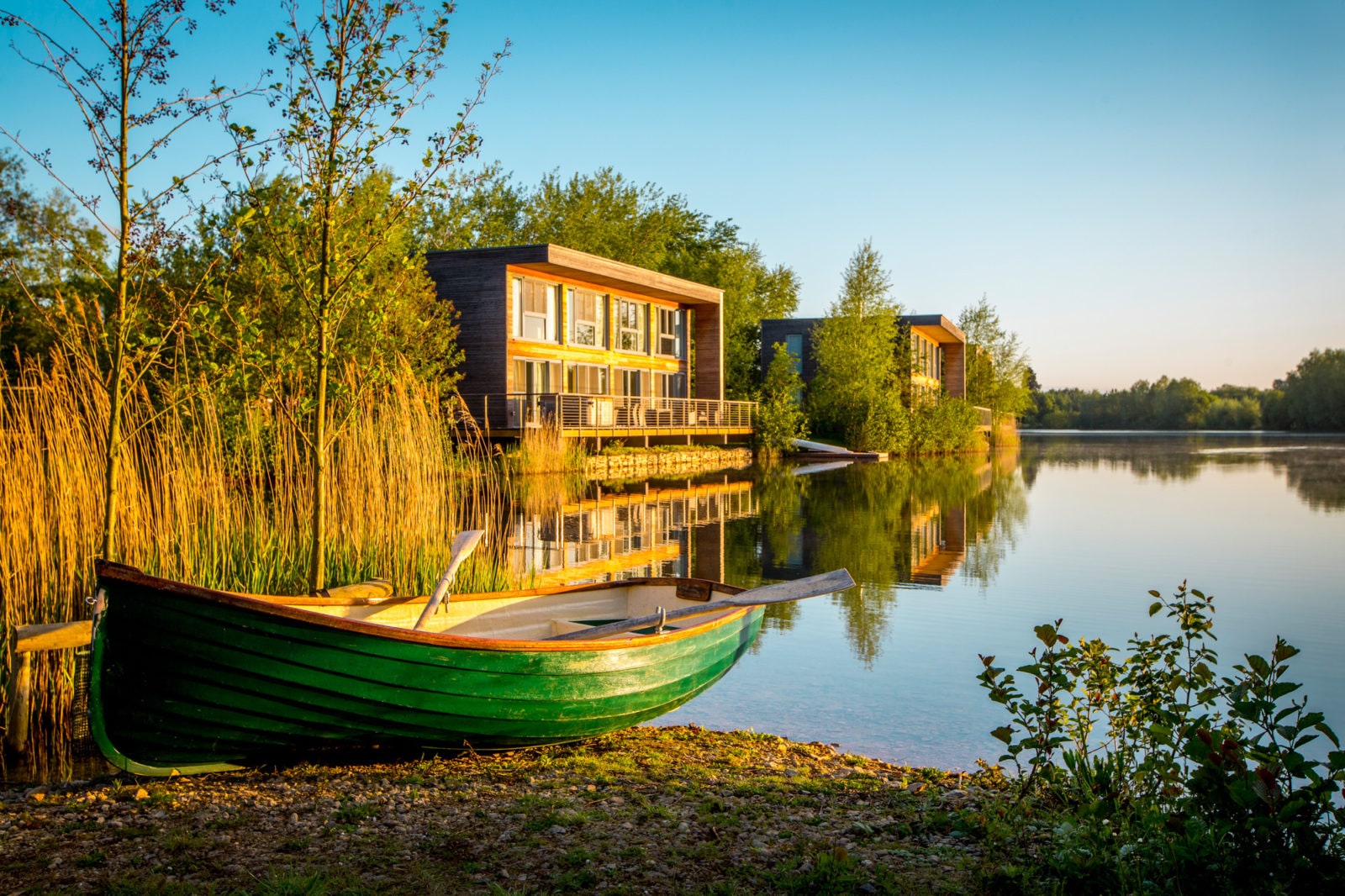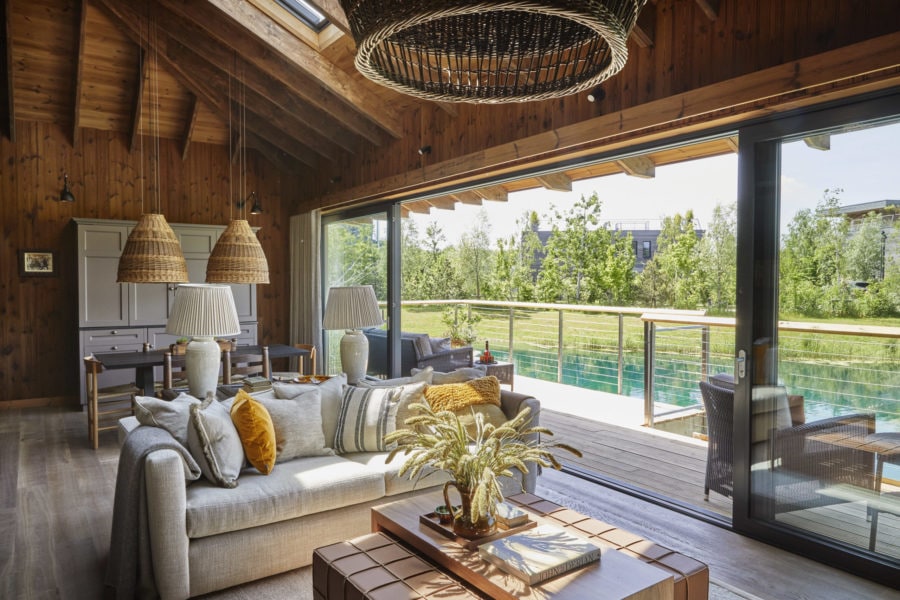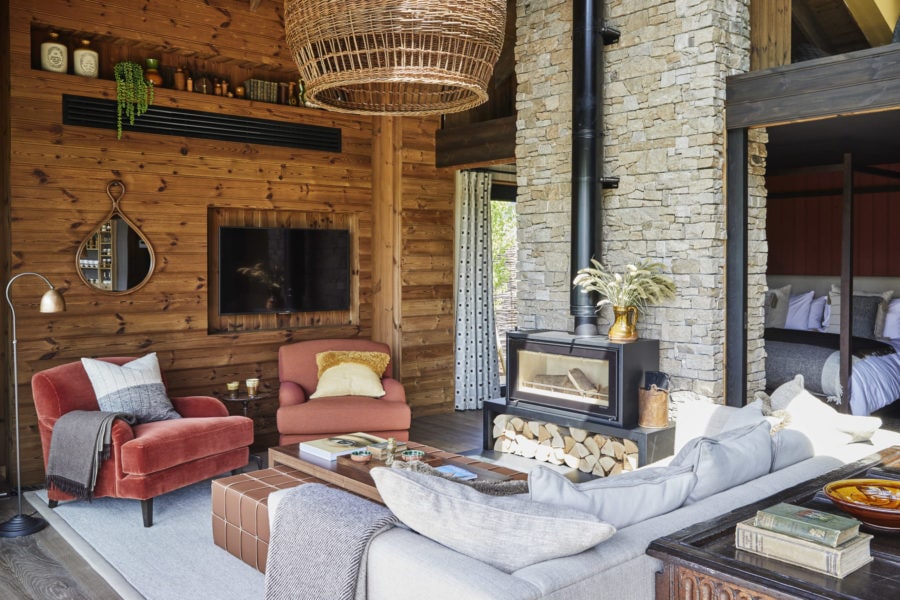 Lakes by Yoo, Lechlade on Thames, Cotswolds
When it comes to English wildlife stays, Longleat is the big one – the long-term safari park in the grand ancestral home of the 8th Marquess of Bath, in the heart of rural Wiltshire. It opened to visitors in 1966, incongruously becoming home to lions, tigers, giraffes, zebras and monkeys, and it is probably the closest thing to an African safari experience you could have on a staycation. Until last year you could only spend the day here, watching hippos in the lake from a steam boat, riding the miniature train that pootles through the magnificent 900-acre park, or thrillingly driving right in among the lions and monkeys (and often losing your windscreen wipers to their quick fingers). In the past you would be sharing all that with thousands of other day-trippers but now you can have the place almost to yourselves by staying the night in one of the seven pretty cottages and lodges in the grounds, and soaking up the atmosphere when the crowds have gone home. For optimum Attenborough vibes, book the Keepers Cottage (sleeps two), or Keeper's Lodge (sleeps 4), both in the actual safari park, meaning you can look out over the East Africa Reserve from your living-room windows to see roaming giraffes, zebra, wildebeeste and ostriches. It's almost like the Serengeti.
The eco credentials: The forest covers 4,000 acres with two SSSI (Sites of Special Scientific Interest) woodlands and the biggest redwood forest outside the US, all supporting flora and a large amount of native wildlife.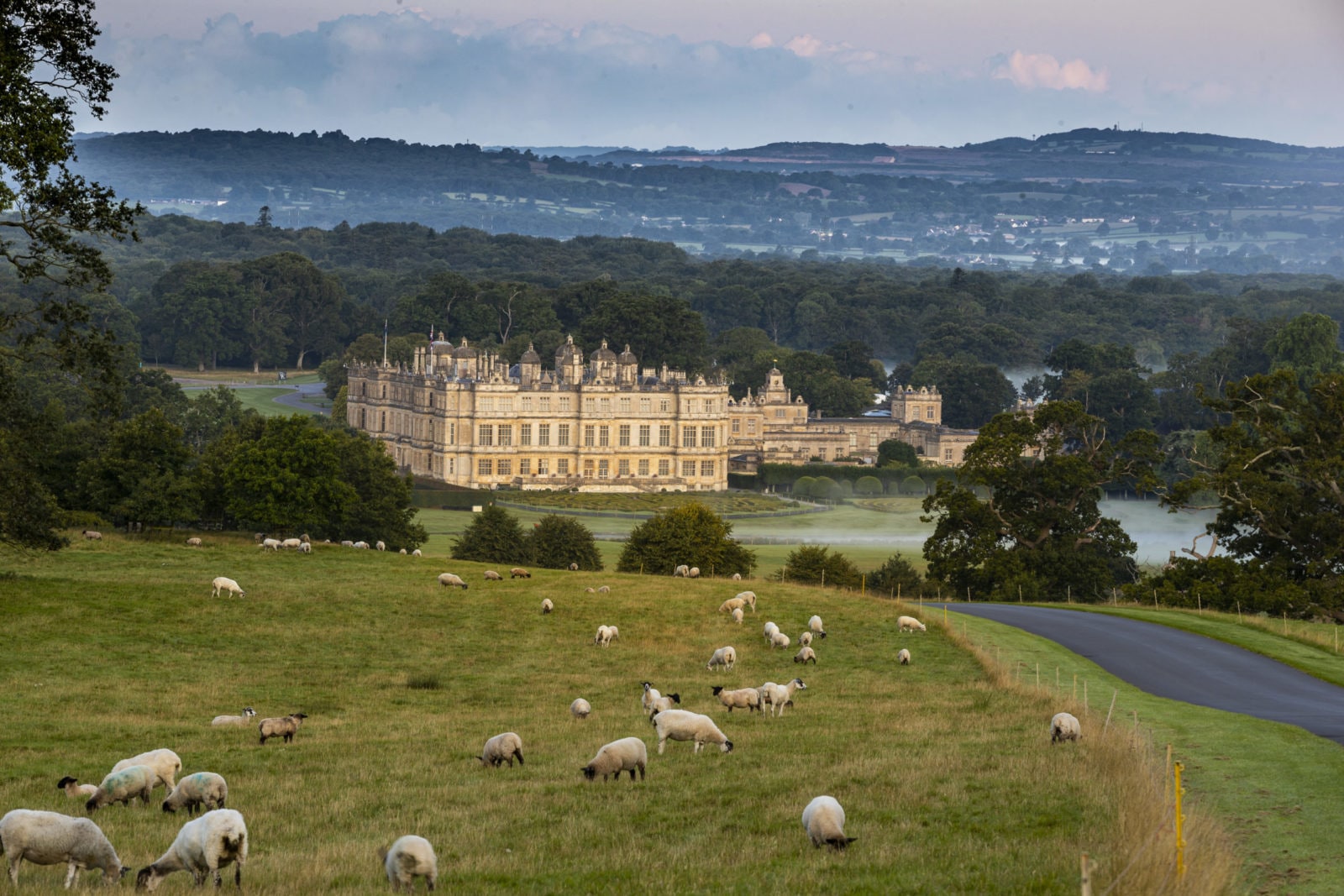 Longleat, Wiltshire