March Issue | Travel
The Eco Short-Haul Guide
From mountain caves to luxury villas, we've got your eco-travel needs covered
Susan Ward Davies
Travelling for pleasure and living a sustainable lifestyle might sound mutually exclusive: on the face of it, any travel could be seen as damaging to the planet. But you have to weigh it up against the benefits that tourism brings: boosting the local economy, creating jobs, even improving conditions for local people, when, for example, the installation of water pipes, electricity and internet for a new hotel means supplying nearby villages, too. And in some countries, tourism might increase awareness of political injustice, or even reduce it.
If you choose your destination wisely, your tourist pound could help fund environmental projects, conservation, reforestation or education, and by always questioning a hotel's sustainability policies, you are encouraging them to switch to greener energy, adopt a zero KM food policy, or protect indigenous plants and wildlife.
As covid restrictions ease to more and more destinations, travel is more accessible again, so we have rounded up some sustainable spring sun spots that you don't need to fly halfway round the world for, and where your holiday does good as well as feels good. 
Lanzarote Retreats, Lanzarote 
It's all about the visuals in beautiful Lanzarote: multi-coloured mountains, lunar landscapes of charcoal grey, white-washed villages, and black volcanic soil pitted with green crops of almonds, grapes and figs. The whole island was designated a UNESCO Biosphere in 1993, so it is a sustainability heartland. The most suitably eco place to stay is on the north-east coast, in Finca de Arrieta's off-grid collection of 17 yurts, huts and stone cottages, just a few hundred metres from sandy Garita Bay. Owners Michelle and Tila Braddock, founders of Lanzarote Retreats, are sustainability pioneers, having created the largest green energy system in the Canaries. The Finca is powered by solar and wind, an onsite desalination plant produces all their drinking water, grey water is used for irrigation, and food waste feeds the animals, with guests encouraged to collect the chickens' eggs for free. Lanzarote Retreats' newest property is Palacio, in Tabayesco, a few minutes' drive from Arrieta, which has room for 21 people in three yurts, a six-bedroom villa and a garden bedroom. With a solar-heated swimming pool, plunge pool, hot tub, pool table, table tennis and tropical gardens, it is perfect for big group getaways. If you want to explore – and you really should – they can sort you out with an EV or a Toyota Hybrid.
Lanzarote Retreats, Arrieta, Lanzarote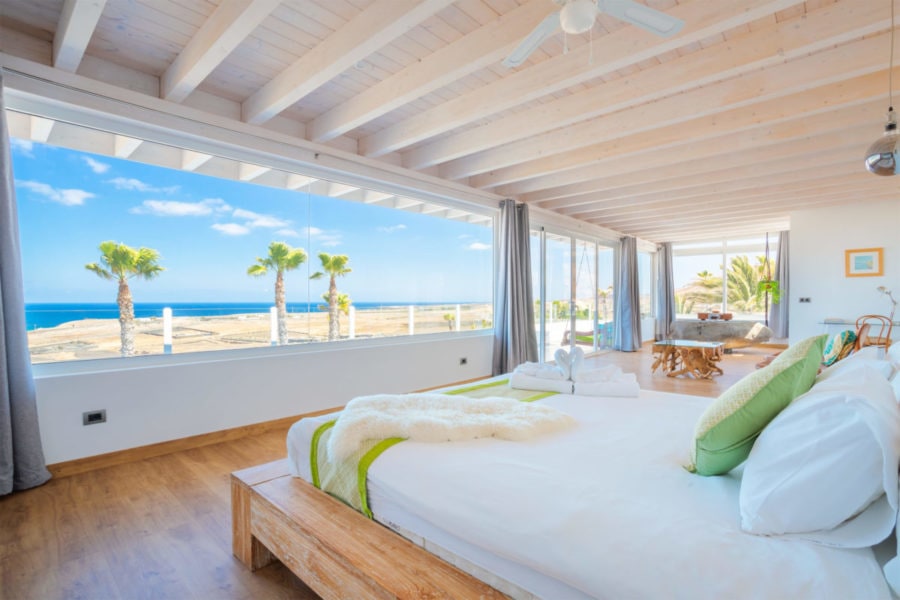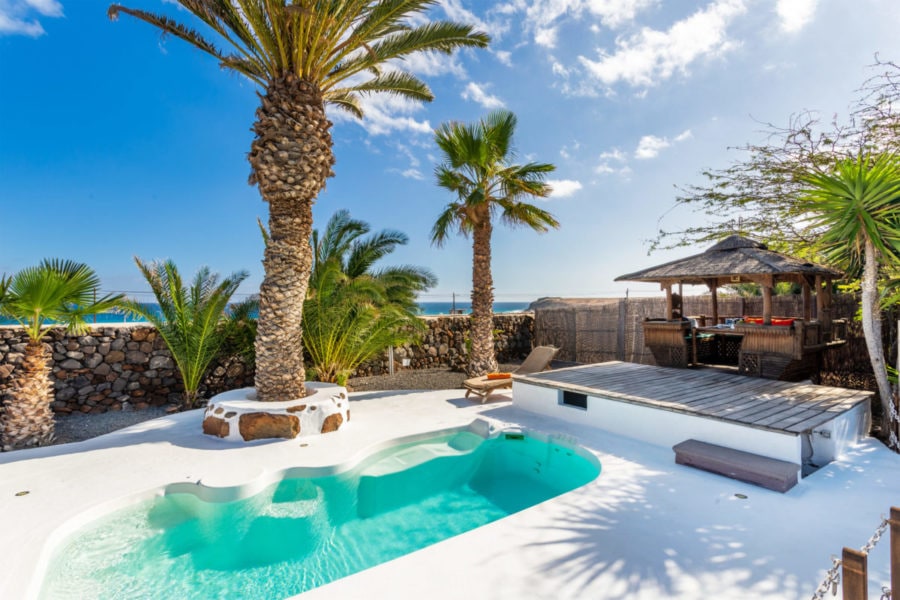 Images courtesy of Lanzarote Retreats, Lanzarote 
Sundy Praia, Sao Tome & Principe
Beautifully hot and humid all year round, the volcanic islands of Sao Tome & Principe are the second-smallest African nation, and one of the least visited countries in the world. Two hundred miles off the West African coast, Sao Tome may be the main island but quieter Principe is where you want to be: think The Lost World scenery with 90% of the land covered by trees, mist hanging in primeval rain forests, peaceful white sandy bays, and just 7,000 inhabitants to share it all with. Stay at Sundy Praia, whose 14 tented villas blend into the landscape with sustainable hardwood decks and earthy tones. A luxurious take on traditional fisherman's huts, the villas have granite bathtubs, vibrant African fabrics and sliding doors that make the most of the sea views. Most of the hotel's staff are local, food is grown on their own farm, and a Conservation and Community Levy is paid by each guest, so you are benefitting the country just by staying here.
The lodge is one of four hotels owned by HBD Principe, founded by entrepreneur Mark Shuttleworth, who is a pioneer in eco travel here. It's all about high-value, low-impact responsible tourism to get maximum benefit for the islanders with minimum disturbance to nature. 
The whole island of Principe is a UNESCO Biosphere, nicknamed Africa's Galapagos for its unique species of birds and plants, and if you are lucky, you can see turtles nesting from November to March, and whales migrating from July to September.  
This may be slightly stretching the 'short' in short haul, but as you have to fly TAP via Lisbon, treat yourself to a stopover, and it is only a six-hour flight from there (and that is short haul in my book).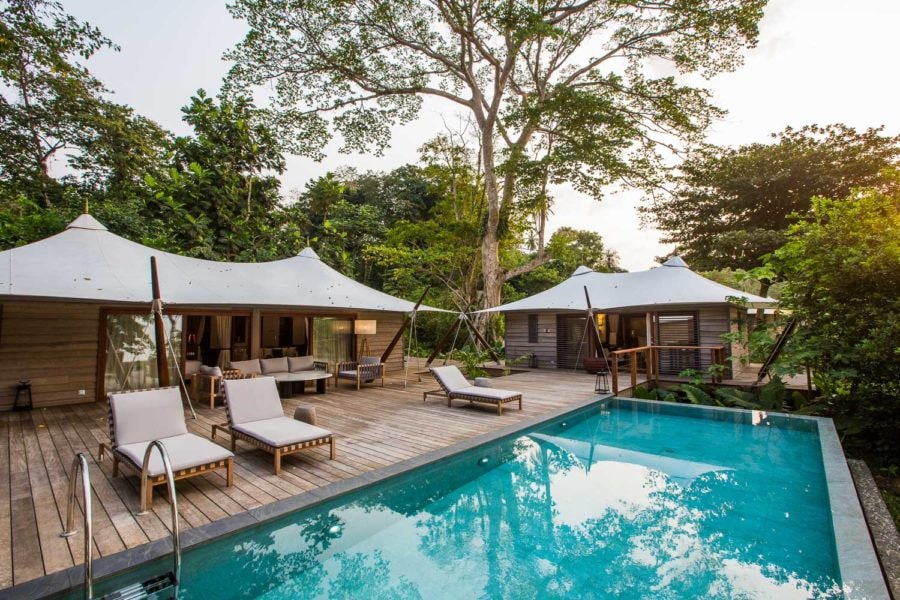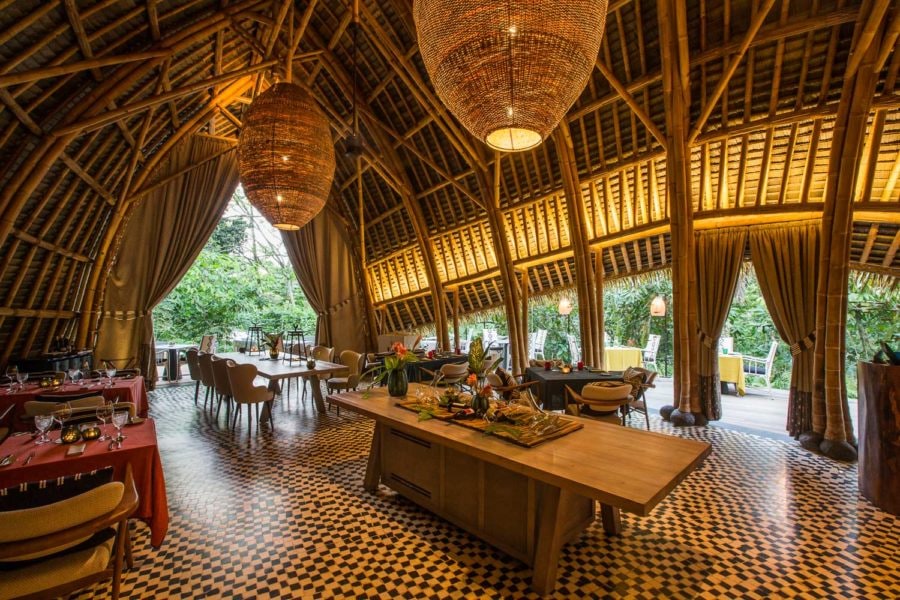 Images courtesy of Sundy Praia, Sao Tome & Principe
Sublime Comporta, Comporta, Alentejo, Portugal  
An eco-chic haven in Europe's coolest beach resort, Sublime Comporta really lives up to its name. Originally a private home, you enter through an unassuming wooden gate to find the main building, guest house, 2-to-5 bedroom luxury cabanas (inspired by the area's traditional rice barns), and stilted suites built over a biological pool – this is cleaned only by aquatic plants, and you can jump right in from your private deck. The rooms are beach-house style with pale wood and lots of white, and set among the cork trees and umbrella pines for which this part of the Alentejo is famous. Sublime's restaurants, Sem Porta, Tasca de Comporta and the Food Circle, are supplied by the hotel's organic garden, as well as by local fishermen and farmers, and they produce their own gin and olive oil.
The spa uses natural products such as local rice and sea salt, plus certified essential and vegetable oils. Most of the hotel is built on stilts for low impact on the soil, and some trees have even been incorporated into the design rather than removed. The resort's heating and hot water is solar powered, and they have charging points if you drive there in an electric car. 
In spring it is all about slow living in this sleepy part of Portugal's west coast, just an hour south of Lisbon, but come summer a fashionable crowd descends (Philippe Starck and Christian Louboutin have houses nearby), enjoying the 37 miles of dune-backed beach, the chilled, boho restaurants, arty shopping and Formentera vibe. Half an hour's drive south, Louboutin is building his own hotel in – for now – quieter Melides. Watch this space.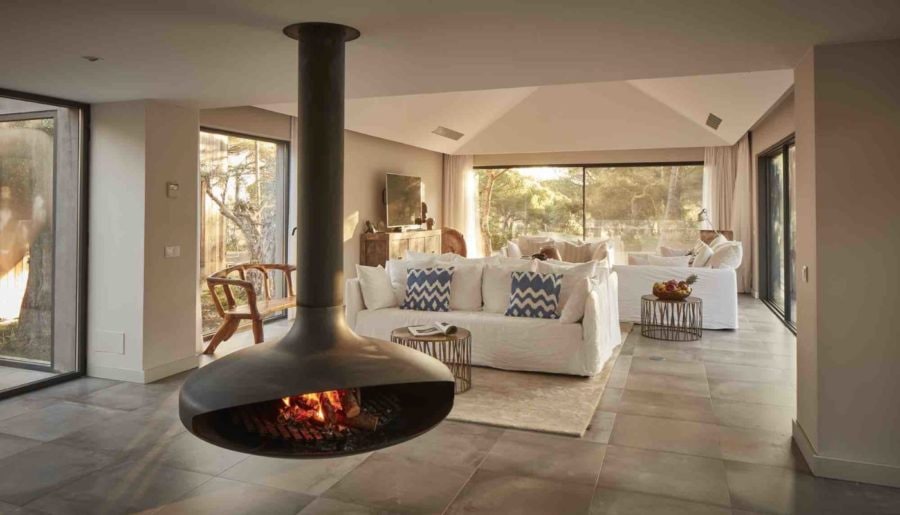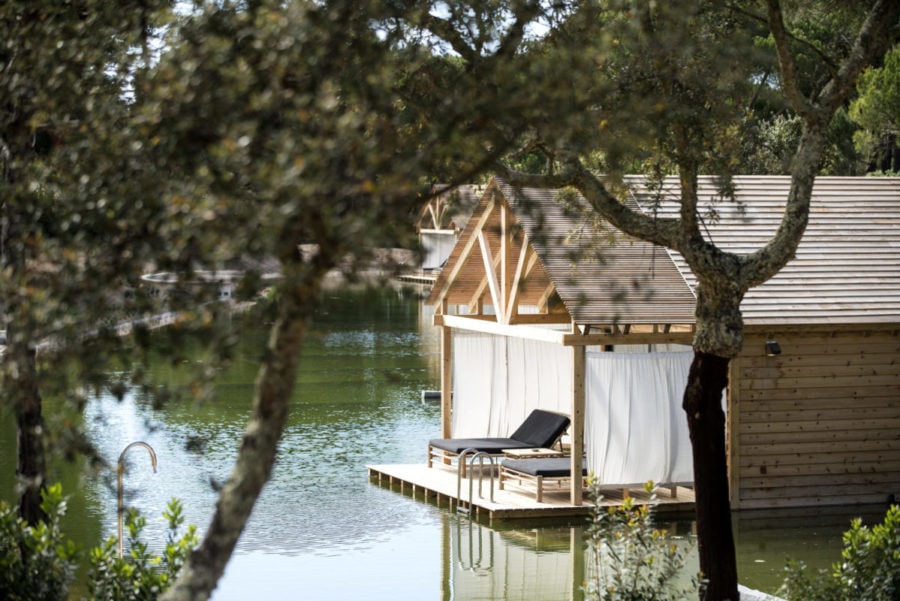 Images courtesy of Sublime Comporta, Comporta, Alentejo, Portugal  
Six Senses Kaplankaya, Turkey
What do we need after a long winter? Sheltered sandy bays, impossibly blue sea and spring temperatures in the early 20s, please.  The sprawling, low-level Six Senses Kaplankaya ticks all the boxes. Surrounded by olive and cypress trees, it is designed to blend into the rocky coastline across the bay from Bodrum, 50 miles south. The 141 rooms and suites are split between the hillside and the main building, and inside you'll find neutral tones enlivened with bright Turkish kilims and furniture fashioned from old olive trees. Six Senses is known for its spas and this one is a beauty. Inherited from Canyon Ranch, which opened here in 2016, it is 10,000 square metres of pampering, medical diagnostics and high-tech gym, with steam rooms, a hammam, hydrotherapy and watsu pools, a salt grotto, and their signature Alchemy Bar, where you can mix your own lotions and potions. 
Sustainability measures are well thought out: there are biophilic walls, which can make buildings more energy efficient, a living roof, a water-bottling system, using glass bottles, not plastic, and delicious farm-to-table food grown in the hotel's organic farm and gardens, supplemented by local suppliers. They track their carbon footprint, practice zero waste, and use eco-friendly cleaning materials – you can find out about all this, and more, in the hotel's Earth Lab, an indoor/outdoor space dedicated to showcasing their local conservation and eco efforts, and how we can all help.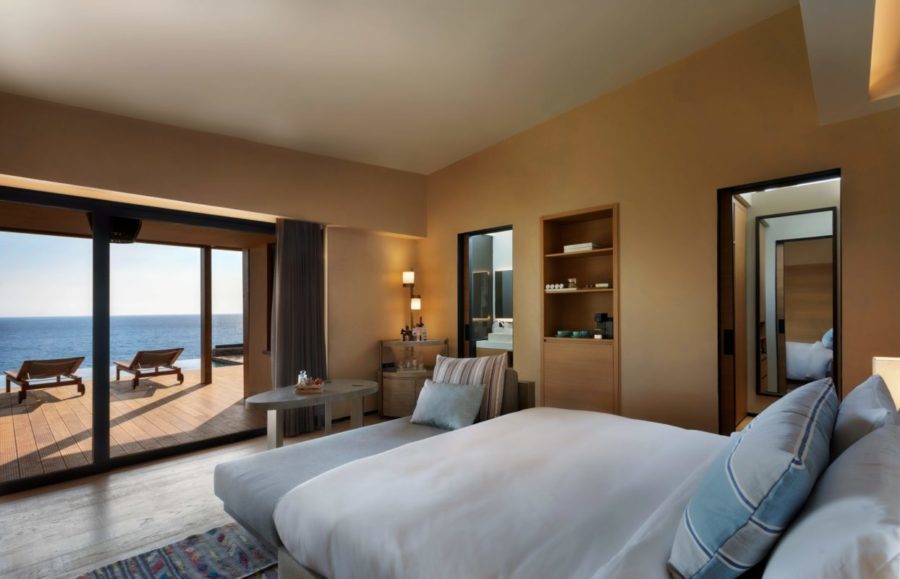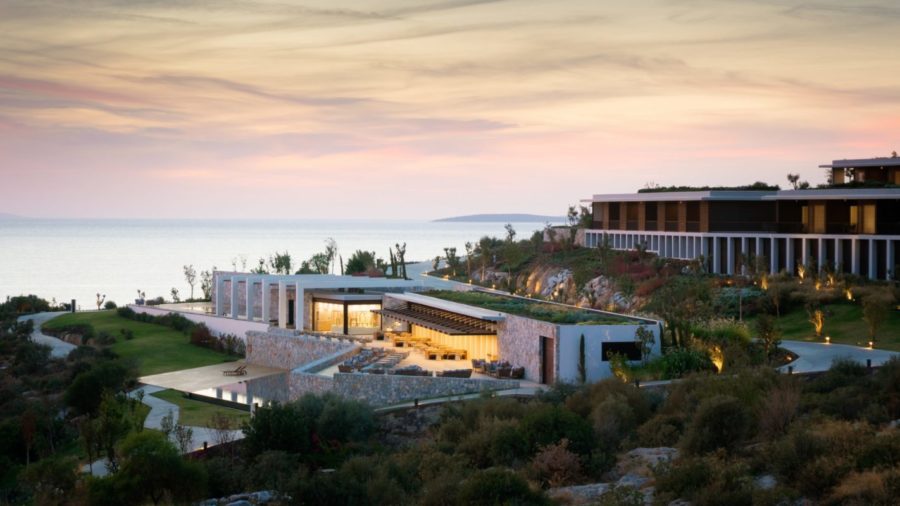 Images courtesy of Six Senses Kaplankaya, Turkey
Redondo Guayedra, Gran Canaria 
Redondo Guayedra, in the beautiful Gran Canaria Biosphere, started off as a passion project, and now has a small farm, an organic orchard and gardens, a restaurant surrounded by mastic trees, tennis courts, a gym and a peaceful pool. You sleep in rustic villas, eco lodges or whitewashed caves carved into the rock, each with its own little kitchen, and if you are craving peace, birdsong, hiking along rugged trails and dramatic scenery of mountains and valleys, you are going to love it. Spread over 120,000 square metres, and with room for only 40 guests, there is plenty of space. For sea swimming, you have the quiet black bays of Sotavento and Guayedra just below the property, as well the gorgeous natural pools of Las Salinas de Agaete, 10 minutes drive away.
The concept was to create a sustainable development model where tourism would help preserve the rural landscape and fund restoration of the old traditional buildings. Electric buggies pootle around the resort, the meals are 100% organic, with free-range eggs from Redondo's hens and geese, their own honey, organic coffee, produce from the garden or local suppliers, and pizzas baked in a stone oven, one of the most eco ways to cook. They employ local workers, used mostly indigenous materials in construction, combine tourism and traditional farming on the same estate and run reforestation projects where you can do your bit by planting saplings – the perfect feel-good/do-good holiday.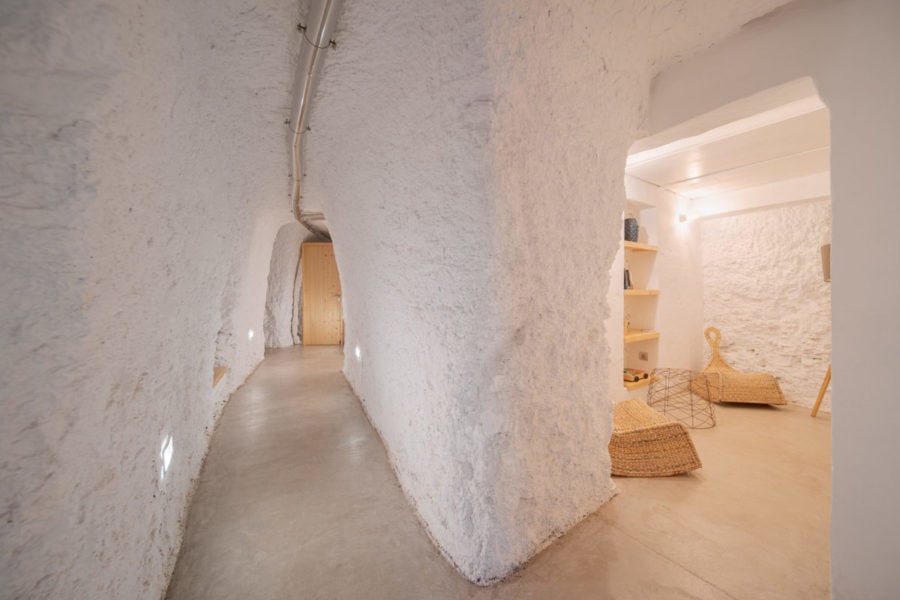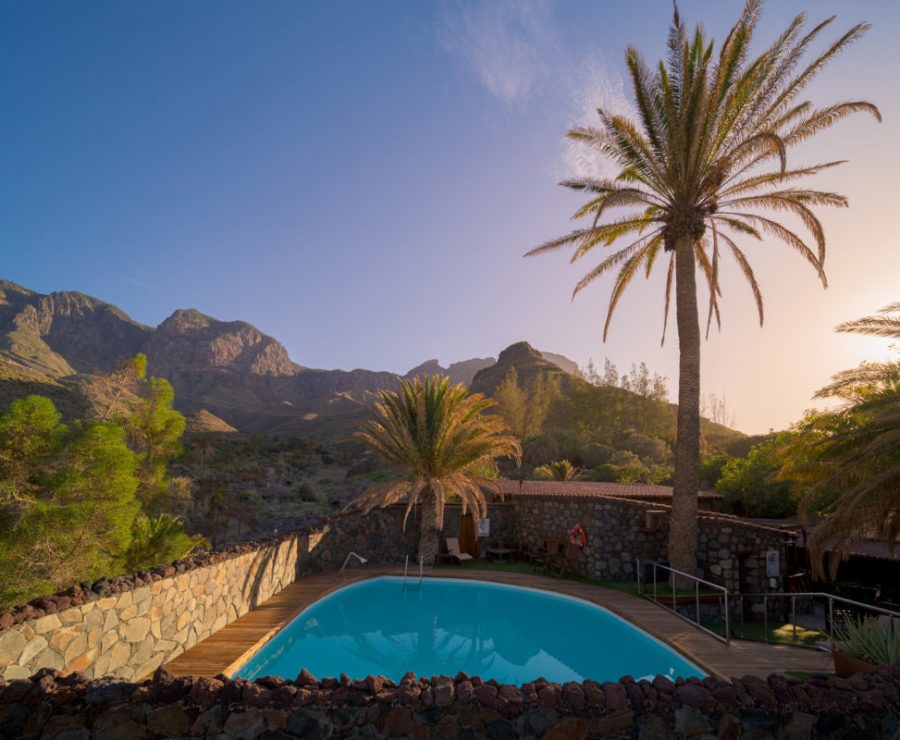 Images courtesy of Redondo Guayedra, Gran Canaria 
La Sultana Oualidia, Morocco
Known as the oyster capital of Morocco for the shellfish that thrive in its almost seven-mile-long lagoon, Oualidia is a small fishing village on the Atlantic coast, between Casablanca and Essaouira, once the site of a royal summer residence. Fronting the lagoon, you'll find La Sultana, a peaceful kasbah-style beach hotel with just 12 rooms, a treehouse straight out of a fairy tale, and gardens full of palms, oleander, cacti, orange trees and bougainvillaea.
Rooms have tadelakt (polished plaster) walls and zellige-tiled floors, and are warmed with wood-burning stoves, as nights can be chilly despite the daytime 20s temperatures in spring/autumn, which shoot up into the 30s in summer. The lagoon makes for lovely views, calm swimming, and, sheltered from the fierce Atlantic waves, is kind to surfing newbies. Sandbars come and go with the tides, endlessly changing the seascape. It is also one of the most important coastal wetlands in Morocco, and a major stopover for migrating birds in spring and summer. You'll see flocks of pink flamingos, white egrets, grey herons, cormorants and storks, and can learn more about them on the hotel's boat safaris.
With its proximity to the lagoon, La Sultana is passionate about conservation and the environment. It is totally self-sufficient with water, the organic garden uses nettle fertiliser and produces most of the hotel's fresh produce, seafood comes straight from the lagoon, waste water is used for irrigation, and  staff – plus volunteering guests – take part in regular litter clearing. So even if you spend your days just chilling on the beach or being pampered in the temple-like spa, with its hammam and argan oil massages, you are, in your own way, contributing to the wonders of nature.  
Offset flights with atmosfair.de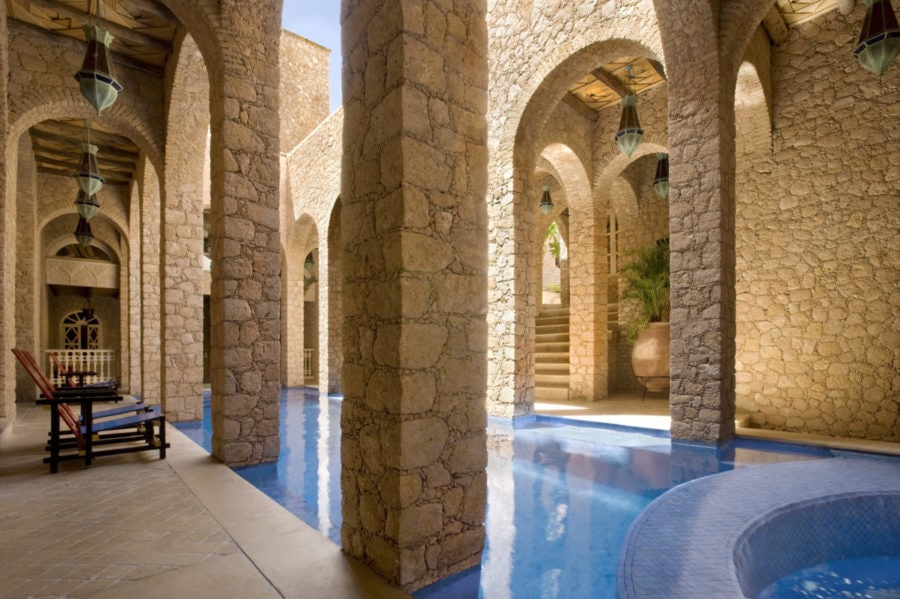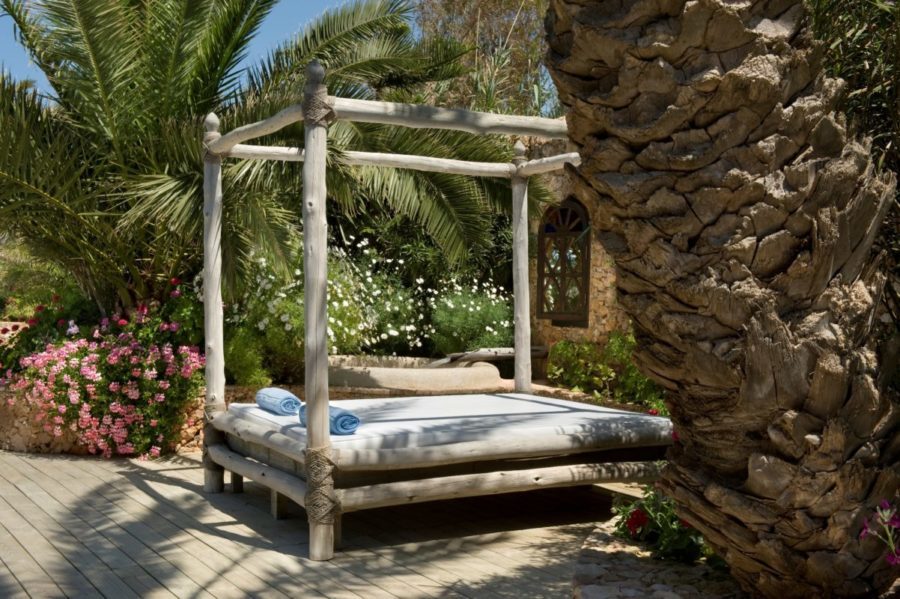 Images courtesy of La Sultana Oualidia, Morocco