September | Designer Focus
Harris Reed's stellar season
"I want to make something that's sustainable but absolutely, breathtakingly gorgeous"
Emma Sells
Things went pretty wild for Harris Reed one week in September. First, he flew to New York where – no big deal – he dressed iconic supermodel, Iman, for the Met Gala in a headline-grabbing gold halo and hair-trimmed crinoline. Just a few days later he was back in London, closing out London Fashion Week with his extraordinary debut salon show. But having a lot going on has become second nature to Reed; the 25-year-old Californian only graduated Central Saint Martins last summer and has already dressed the likes of Harry Styles (for the cover of Vogue, no less), Selena Gomez and Solange, and launched a romantic, ripe-for-layering jewellery collaboration with Missoma. And, honestly, he's just getting started.
Reed describes the aesthetic of his eponymous label as 'non-binary rock and roll meets Marie Antoinette' but its main take-away is the transformative power of self-expression. It's a feeling that's deeply personal to him, inspired by the validation of finding his own sartorial groove in the early days of identifying as non-binary. So, he conjures fluid, flamboyant demi-couture one-offs, all puffed sleeves, cascading frills and his signature glam-rock platform boots, that are designed for everyone, regardless of gender or body shape, who wants to dress with authenticity, instinct and unbridled, joyful glamour. "Everything I do is really about the individual," he says, "and that idea of fluidity, of dressing each person for who they are, not what their gender is or what society thinks they should or should not be wearing. It's for all those people out there that want to wear what they want to wear but feel like they can't and don't feel safe to do so."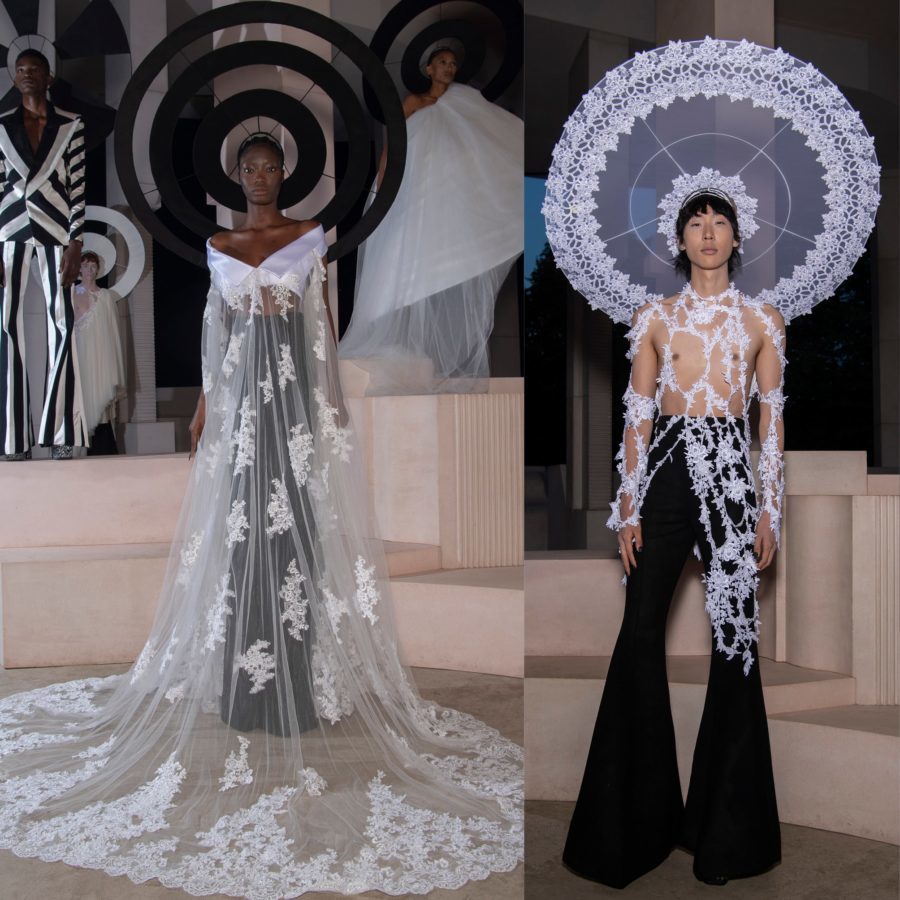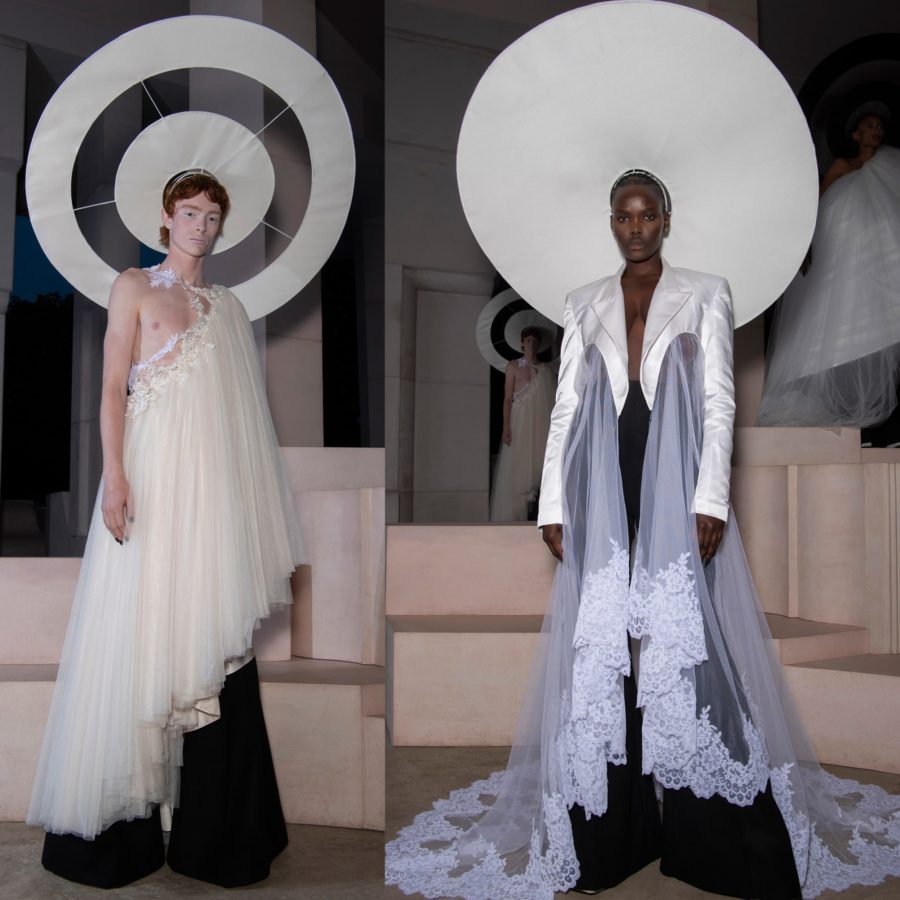 Images courtesy of Harris Reed
He conjures fluid, flamboyant demi-couture one-offs designed for everyone, regardless of gender or body shape.
A self-confessed second-hand obsessive – he treasure-hunts at Portobello and Spitalfields markets weekly and spent lockdown buying everything from first-edition books to records from the Oxfam website – Reed has always loved using deadstock fabrics and found materials; at the end of each collection, he's left with just a small box of off-cuts that he uses to create limited runs of sell-out blouses. His SS22 offering takes the art of repurposing to the next level. He happily trawled Oxfam for couture-grade, vintage wedding gowns and grooms-wear, singling out pieces from now-defunct labels and gowns that had clearly been handmade by someone's grandmother, then lovingly and painstakingly unpicked the seams and pieced them together into incredible new shapes and forms. It took about three times as long as making a dress from scratch but it did have its advantages, not least giving Reed and his team the chance to work with exquisite fabrics and finishes that would ordinarily be far outside the budget of a small label. And, as someone who creates a lot of looks for on-stage performances and red carpet appearances, he was fascinated by the idea of breathing new life into something originally designed to be worn for just one moment. It's already had it's first headline-grabbing moment, too: actress and environmental activist, Emma Watson, wore the asymmetric lace and tulle gown to the first Earthshot Prize Awards in London.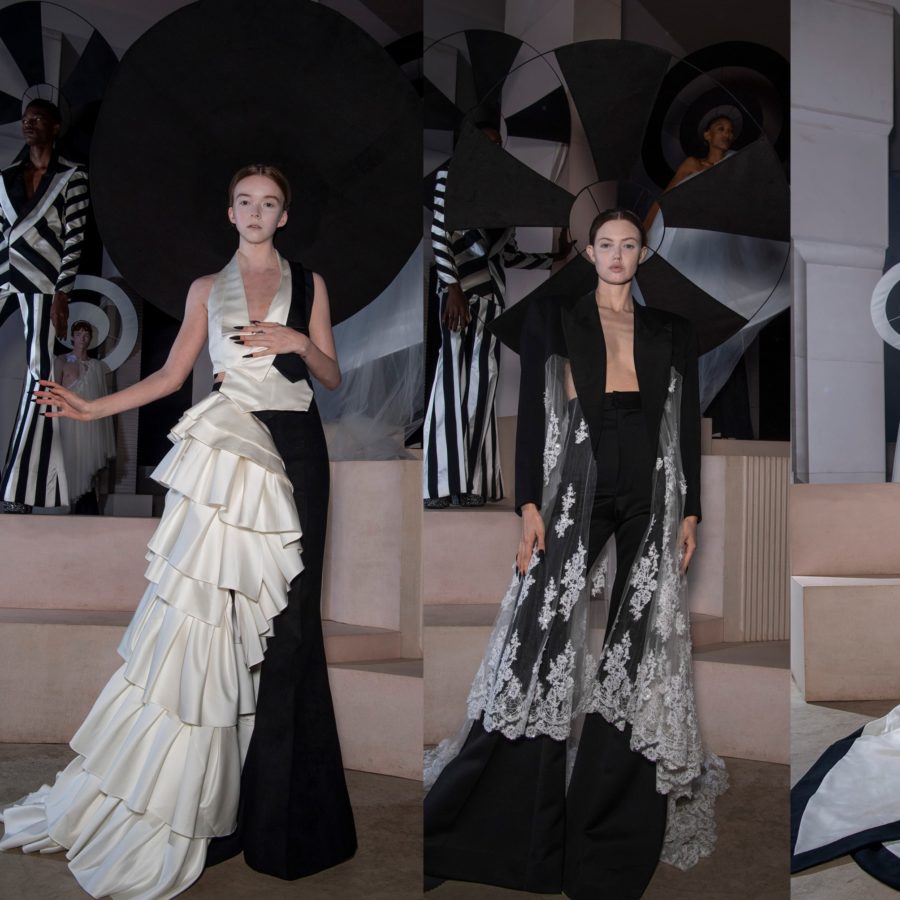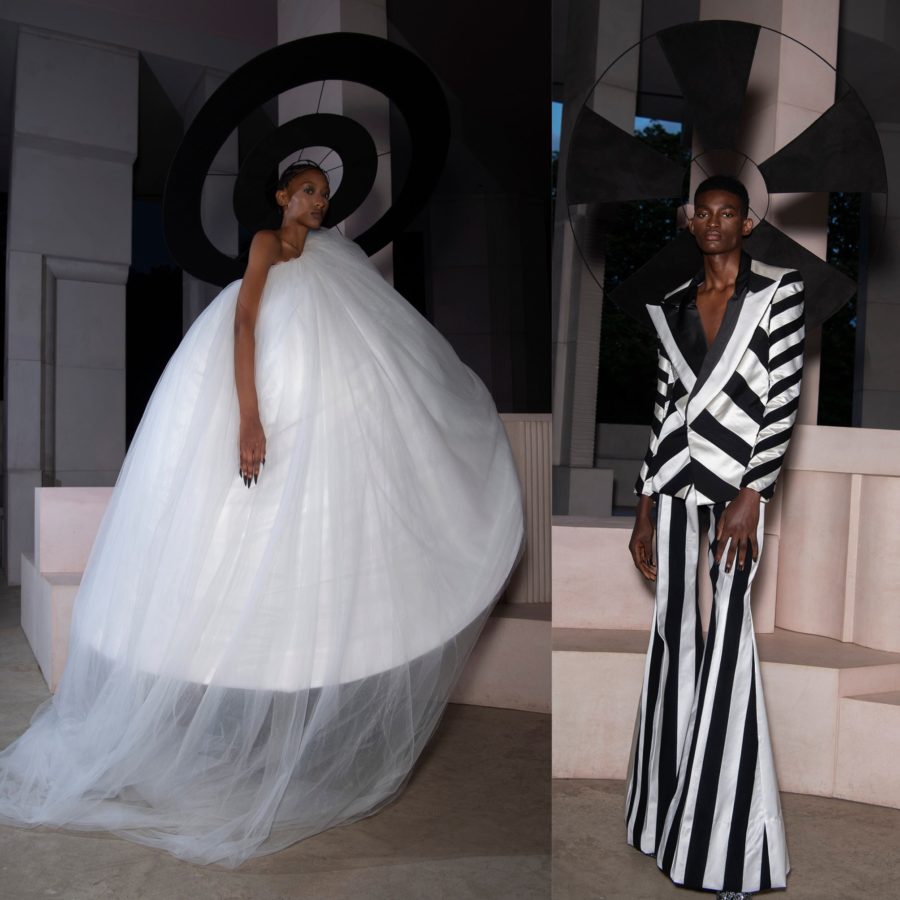 Images courtesy of Harris Reed
With a clutch of projects in the pipeline and big plans, the label is about to go stratospheric. But, while responsibility is hard-wired into its DNA, it's the inspiring, desirable, genuinely game-changing pieces that Reed creates that are connecting on such a grand scale. "I work with big celebrities and musicians, and you want to be putting something on them that feels just as incredible as a Valentino gown but without the waste," he says. "I want to make something that's sustainable but absolutely, breathtakingly gorgeous, something that hasn't been seen before. And more importantly, put out something that really has a strong message behind it."