February Issue
What Amy Did Next
The journey of Mother of Pearl's Amy Powney – from off-the-grid "caravan kid" to Creative Director, CEO and sustainability game-changer – is the subject of a unique documentary feature, Fashion Reimagined. She spoke to Calendar about The Good Life, overcoming camera shyness and finding the true grit required for sustainability's long fight.
Sarah Bailey
It should not come as a surprise that Amy Powney's interview style is as transparent as the game-changing fashion company she helms. "I'm wishing I'd just washed my hair and put my makeup on for a Zoom," deadpans the CEO and Creative Director of Mother of Pearl, speaking to me via video call from her kitchen in Walthamstow.
Off camera, I can hear a handful of Mother of Pearl team members, who have decamped to Powney's home for work this morning, as she flexes between parenting of her two young children and a busier schedule than usual. It's T-minus nine days to the LFW premiere of the extraordinary and surprisingly emotive feature Fashion Reimagined, which documents Powney's three-year journey to transform Mother of Pearl into a sustainable brand, using the BFC/Vogue Designer Fashion Fund prize, which she won in 2017. I should also not be surprised that Powney, who is self-deprecating and collaborative to a fault, baulks at the suggestion that she is the film's star.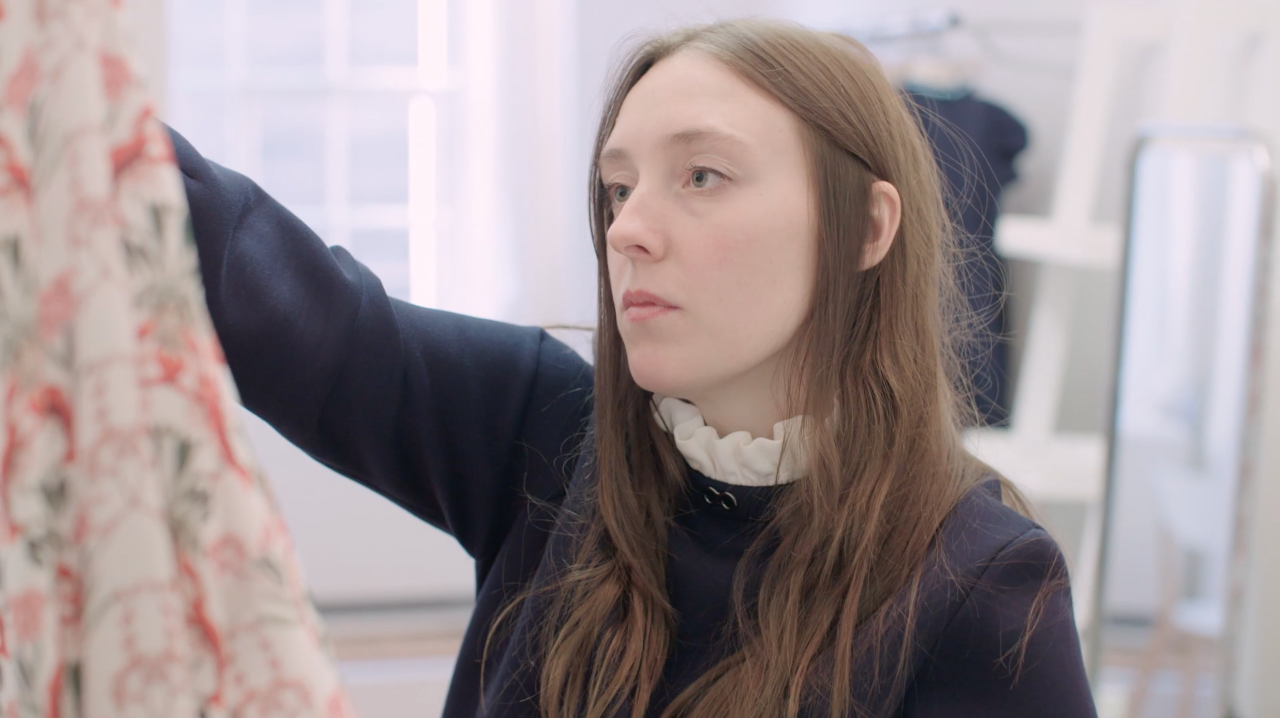 Image courtesy of Fashion Reimagined Ltd
"I think [director] Becky Hutner is really the true heroine of Fashion Reimagined. Because without her, it wouldn't be here. But also, the film is a vehicle for change. It's not about my ego trip. It's about a story to inspire change," she says. "It's her film, not my film. I just agreed to be followed. I very naively said, 'Yeah, sure, follow me on my journey'," she continues, with a wry smile. 
But in truth, Powney's personal narrative (incidentally, Hutner shot 250 hours of Powney on camera) is an important thread of the film, which is masterfully interwoven with the gut-punching statistics about fashion's shameful environmental impact ­– like the fact that three out of five garments go to landfill within a year of purchase – plus a deep dive into complexity of supply chains, traceability and how the industry works on a global level.
"I'm so glad that she wove that third [of the story] of me in there, which I didn't even know she was going to do, but I liked the fact that it's a hopeful and slightly emotional film as well. You watch The True Cost and all those films – they're very valid and they're very important, but they're very hard-hitting and you sort of walk away going, 'The world is ending, what am I going to do?' Whereas with this, I think you do feel like that, but you also feel, 'If she can do it, I can do it'. That's my favourite part of it," Powney says, smiling. "The fashion industry has never really seen a film like this."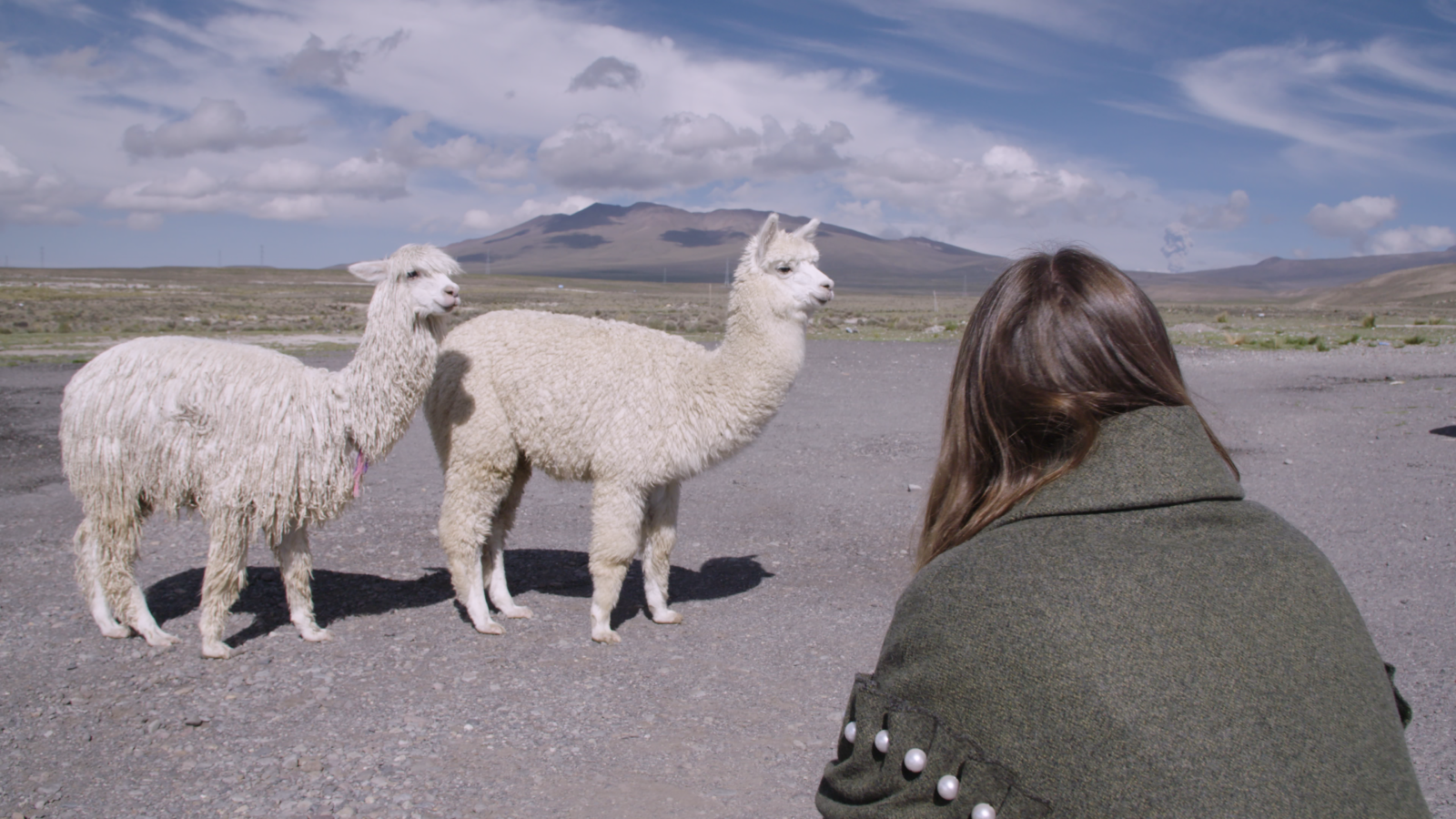 Courtesy of Fashion Reimagined Ltd
"I think [director] Becky Hutner is really the true heroine of Fashion Reimagined. Because without her, it wouldn't be here. But also, the film is a vehicle for change. It's not about my ego trip. It's about a story to inspire change"
Amy Powney
Environmental activism is in Powney's DNA. Growing up in a Lancashire village in the 1980s, her parents decided to opt out of their hard-grind, conventional existence to live 'off-grid' in a caravan. "They were very young parents with not much money. I think they wanted to try and escape from the rat race… I know they watched a lot of The Good Life, which may have had something to do with it."
Powney is the first to admit she did not appreciate her parents' 'Barbara and Tom' conversion at the time. "I didn't share my parents' ideals. Me and my sister hated it. We were young, we were teenagers – I didn't want to go and live in a caravan. I wanted to hang out with my mates, so therefore I wanted water and electricity, and I didn't want to live an hour's walk away from anybody else, down a dirt track," she says, grimacing slightly at the memory. "I mean, I'm so glad in hindsight it happened to me, but it wasn't what I wanted back then."
As for fashion? "I think my relationship to fashion was very much a fusion of my born desire to be creative ­– my happiest memories as a kid were me and mum making stuff – and then my understanding of what clothing meant in your social status. I wanted to be like the rich kids in school and have my Adidas tracksuit and my Umbro backpack… I had none of that and I became quite fascinated with clothing and shopping at that point and started working on local farms to earn my own money to have that life."
Later, while studying fashion at Kingston University, Powney joined the army of (mostly) unpaid future fashion stars, cutting their teeth in the studios of London's small fashion labels. She remembers she and Christopher Kane happened to be interns for Giles Deacon at the very same time. "Giles was in his heyday, and there was I, literally this Northern caravan kid, suddenly in the midst of Katy Grand running around, Linda Evangelista in the studio," she recalls with a grin. After Powney graduated, she took a modest, three-day-a-week, junior position at Mother of Pearl in 2006, a label founded by Maia Norman, who also happened to be Damien Hirst's partner (the pair split in 2012). "I would be lying if I said it wasn't exciting," she says. "Damien's Christmas parties were, like, epic. The summer parties were epic… Even though the brand wasn't very desirable [at the time], there was stuff going on that was."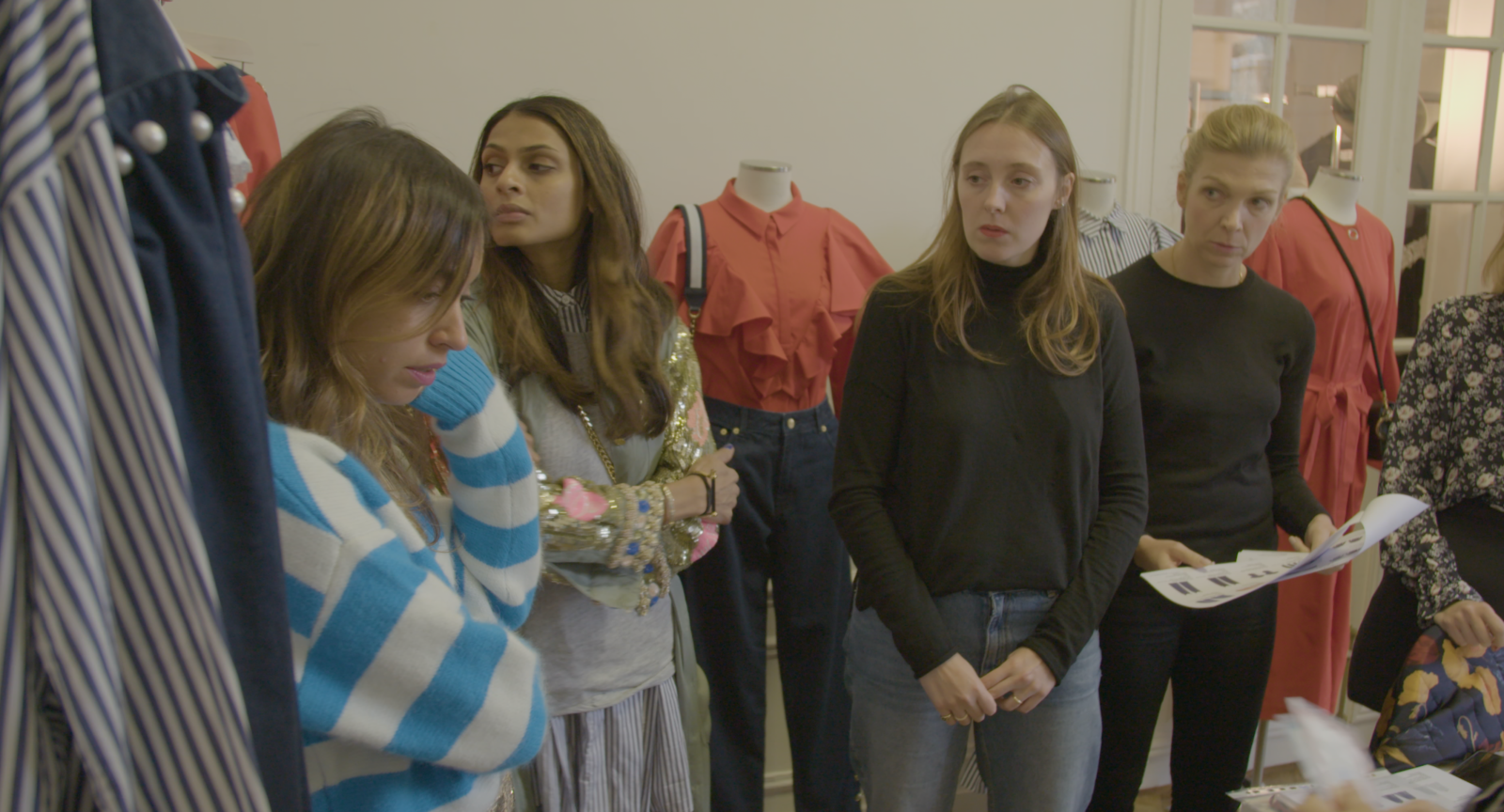 Courtesy of Fashion Reimagined Ltd
If Mother of Pearl had been a passion project for Norman, adjacent to the decadent Brit Art scene, by 2015 when Powney took on the position of Creative Director, things had changed dramatically. "I guess at that point it was fight or flight…I had to run the business with a different hat on. [The business has not received investment since Powney took over 10 years ago, a conscious choice]. I had to think about what I was going to do as a creative director, but also make sure it could be funded. It wasn't a game anymore."
What happened next reads like a textbook example of how to strategically build a value-driven fashion company with an unmistakable hero design signature: Powney invented the famous, frilled, embellished 'Pearl Shoulder' detail (her 'Louboutin red sole'); in 2018, the brand launched 'No Frills', its first fully sustainable line of core classics, and it pivoted away from the frenzy of multiple collections and fashion show razzamatazz, to a pared-down digital-first model – she insists it all felt much more hesitant and precarious, in reality. "It took me quite a while to find the confidence to say, 'Okay, this is what I'm going to do with the brand'. It was only after winning the Vogue prize, or maybe just before it, that I knew it was my time and all I wanted to do was focus on sustainability, because that was my passion and my dream. And I guess that's when I changed the brand – and when I guess the brand became me."
The grit and conviction to throw it all up reminds me of her parents' own epiphany and life change. "Everything just sort of unfolded after that. I've been happier and the brand has been more successful." I wonder who has been there to advise her on business strategy? "I think one of the saddest parts of my career is that I never really had a mentor. I never really had someone to look up to. It's been a self-learning, self-healing, self-exploring journey. Emotionally, it's been quite hard at times. It's hard to know if the decisions you are making are the right decisions, for all the people who work for us. But luckily, I have an amazing family. My partner Nick works with us. My colleague Chloe, who is in the film, has been such an integral part of it all, a continuous sounding board. And the team we have today is incredible. It makes a massive difference."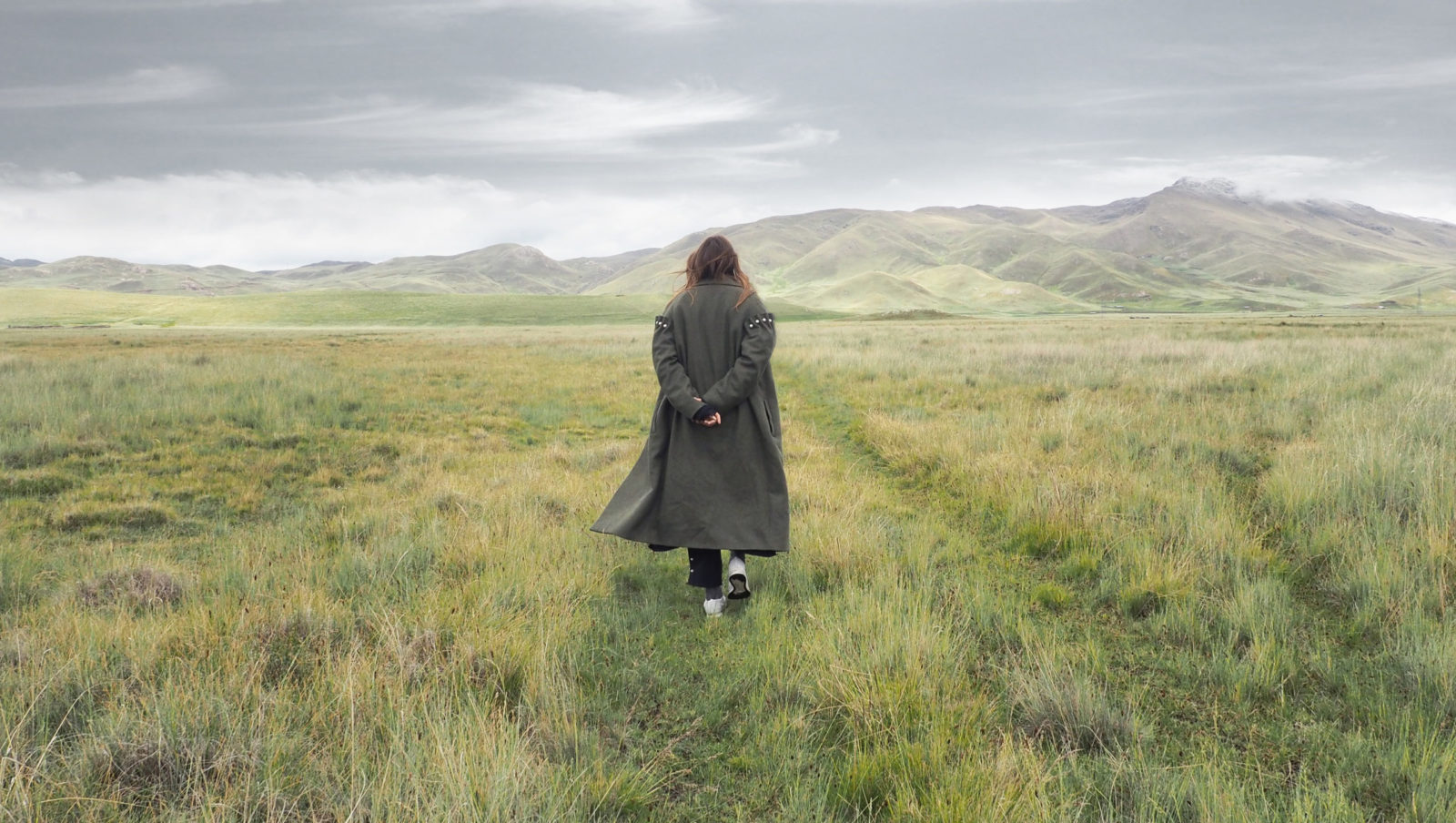 Amy Powney by Nick Prendeville
"The fashion industry has never really seen a film like this."
Amy Powney
Today, Powney is an energetic advocate for sustainable and ethical sourcing and manufacturing across the fashion industry. Last year, she was named as a UK TENCEL™ brand ambassador and now uses TENCEL™ fibres within more than 60% of Mother of Pearl products.
The brand is no longer part of the giddy fashion show merry-go-round, and she does not hide her dismay about the environmental profligacy of the luxury houses post-Covid, pursuing ever-more opulent novelty presentations, seemingly the more far-flung the better. "It just depresses me, honestly. When I watch Couture [Week] and everybody flying off and more shows, more shows, more shows, more shows… I just can't look at it anymore. I just feel sad. I feel angry, as well."
She takes a breath and explains that she is striving to channel that anger into projects and platforms where she can make an impact. Fashion Reimagined, the film in which she almost reluctantly stars, is a case in point, of course: inspiring, provoking, democratising the fashion narrative.
"I like the fact that another Northern kid could be watching this right now, someone who thinks, 'I can't do that, because I don't know anyone'. I hope that it tells your average Joe, I've done it and you know, you can do it too. It just makes it accessible, and I guess that's the bit I'm most proud of." Spoken with true grit.
Fashion Reimagined is in cinemas from 3rd March and available on Sky Documentaries and streaming service Now TV from 9th April