November | Take 5
Julie Pelipas
With her upcycling label BETTTER, former Vogue Ukraine fashion director Julie Pelipas is on a mission to fix fashion's overproduction problem, and make women feel incredible in her practical and effortlessly cool suits in the process
Emma Sells
Julie Pelipas is a woman on a mission. The stylist and former fashion director of Vogue Ukraine launched her game-changing upcycling system, BETTTER, in 2019. Not content with transforming deadstock men's suits into irresistible and empowering tailoring for women, she and her team have also set themselves the task of upcycling the fashion industry's waste at scale, and changing the way it produces clothes altogether. No small feat, especially while they've also been managing the extraordinary challenges of relocating operations from Kyiv to Portugal then London, in the face of the war. As she launches an exclusive capsule collection for Browns, inspired by the joys and practicalities of living in London, Pelipas tells us what she loves about how suits make her feel, why she has drastically streamlined her wardrobe, and why changing the world is easier when you're a natural-born risk taker.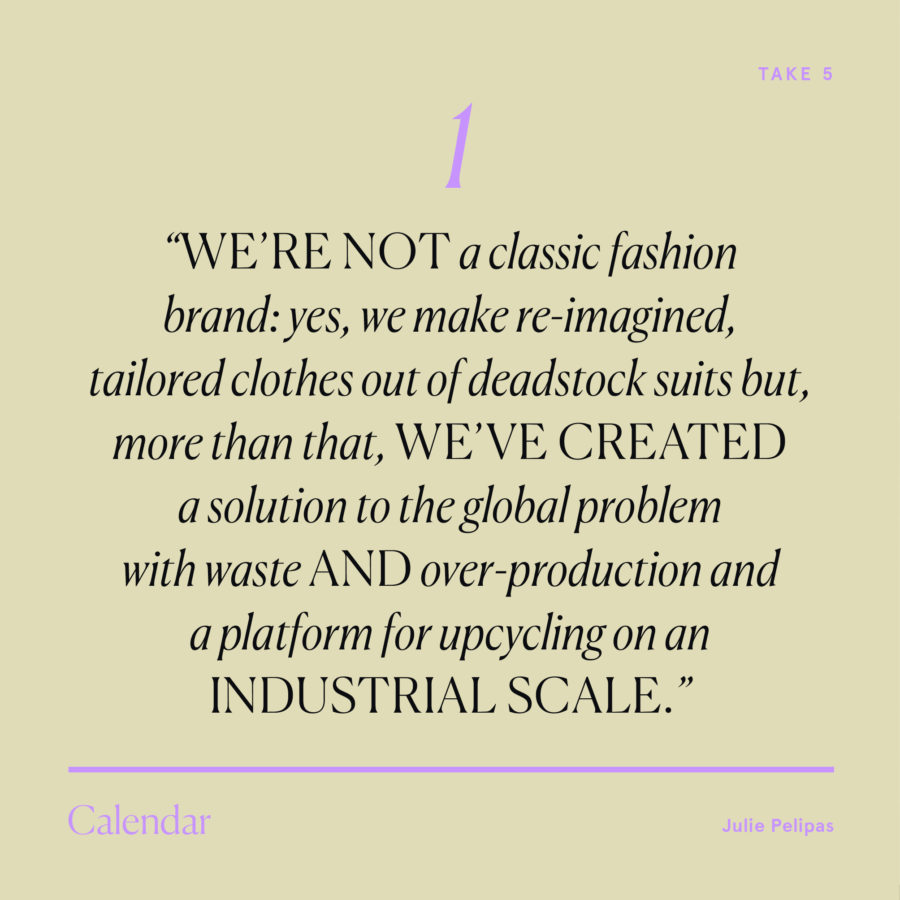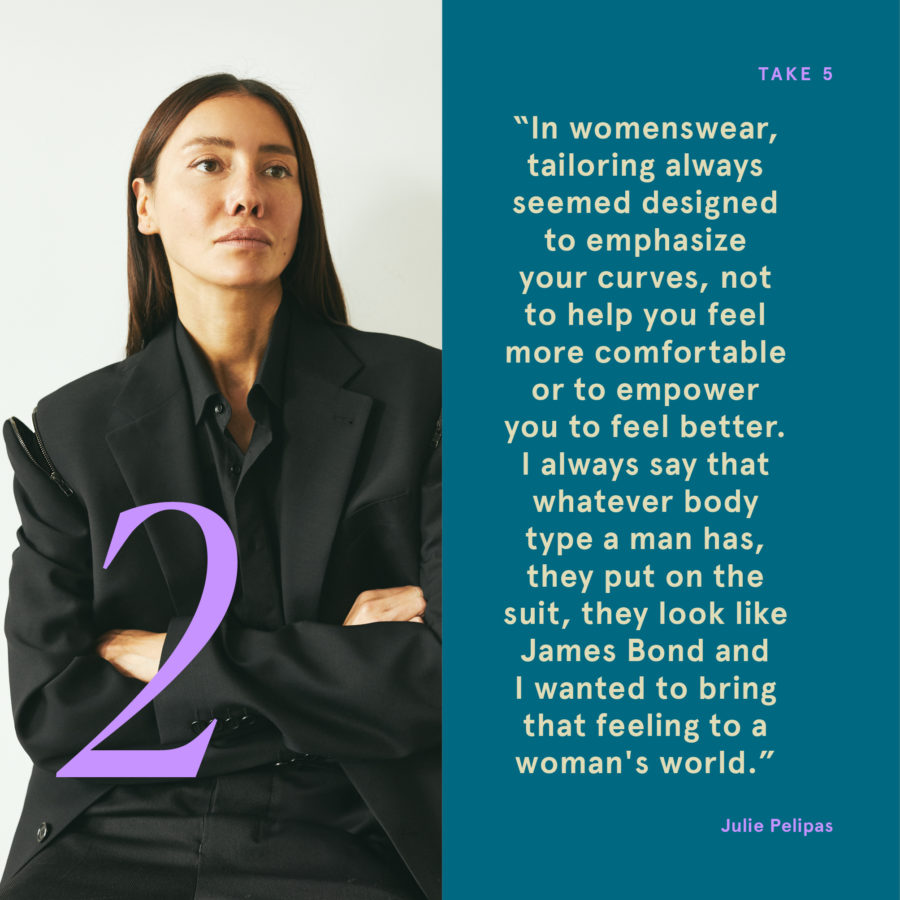 What is BETTTER and what makes it tick?
We're not a classic fashion brand: yes, we make re-imagined, tailored clothes out of deadstock suits but, more than that, we've created a solution to the global problem with waste and over-production and a platform for upcycling on an industrial scale. BETTTER is a completely new way of doing things: the way we produce, the way we communicate about the products, the way we sell it is all completely new. But it's focussed on exactly what a modern woman needs right now: honest communication and really good quality products that she can love, keep and wear on a daily basis, forever.
Where does your love of tailoring come from?
I have it in my DNA: there were real seamstresses and technically skilled tailors in my family, generations of women would create clothes for themselves. My mother could sew a trench coat for herself in a few hours. But there was never any kind of fashion in my childhood because I grew up next to the sea on a farm in Mariupol and there was only nature, only fishing with my grandfather and nothing on top of that. It meant that I always leaned towards anything special, anything different, anything beautiful. So, I started to upcycle my grandfather's suits when I was 12 or 13 and they looked and felt fantastic.
What sparked your desire to transform menswear for women?
I was always confused by how badly women's suits were made compared with men's. There's such a history behind men's tailoring, the construction is so smart, everything is done so beautifully and precisely. In womenswear, tailoring always seemed designed to emphasise your curves, not to help you feel more comfortable or to empower you to feel better which is what I think the function of suits should be. I always say that whatever body type a man has, they put on the suit, they look like James Bond and I wanted to bring that feeling to a woman's world.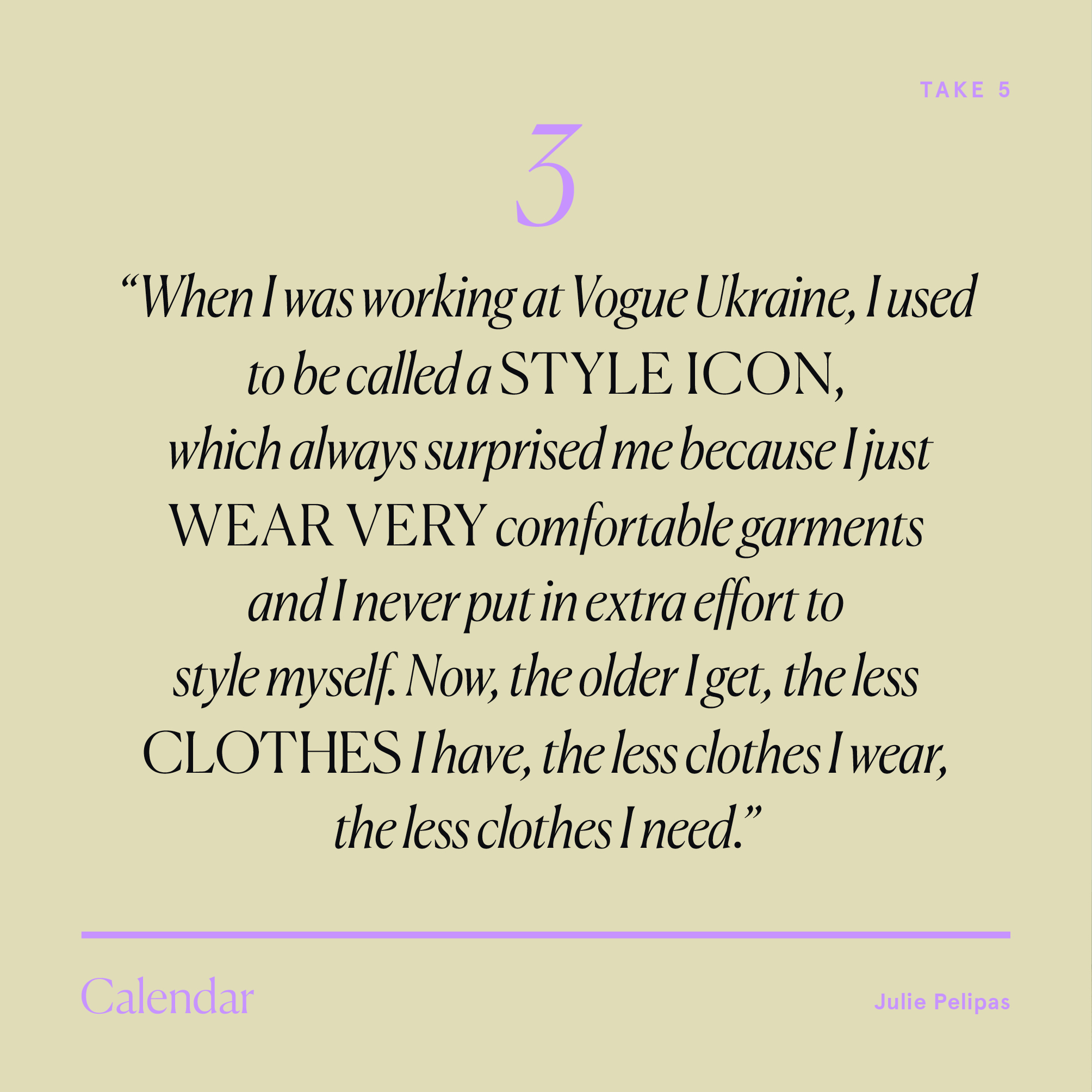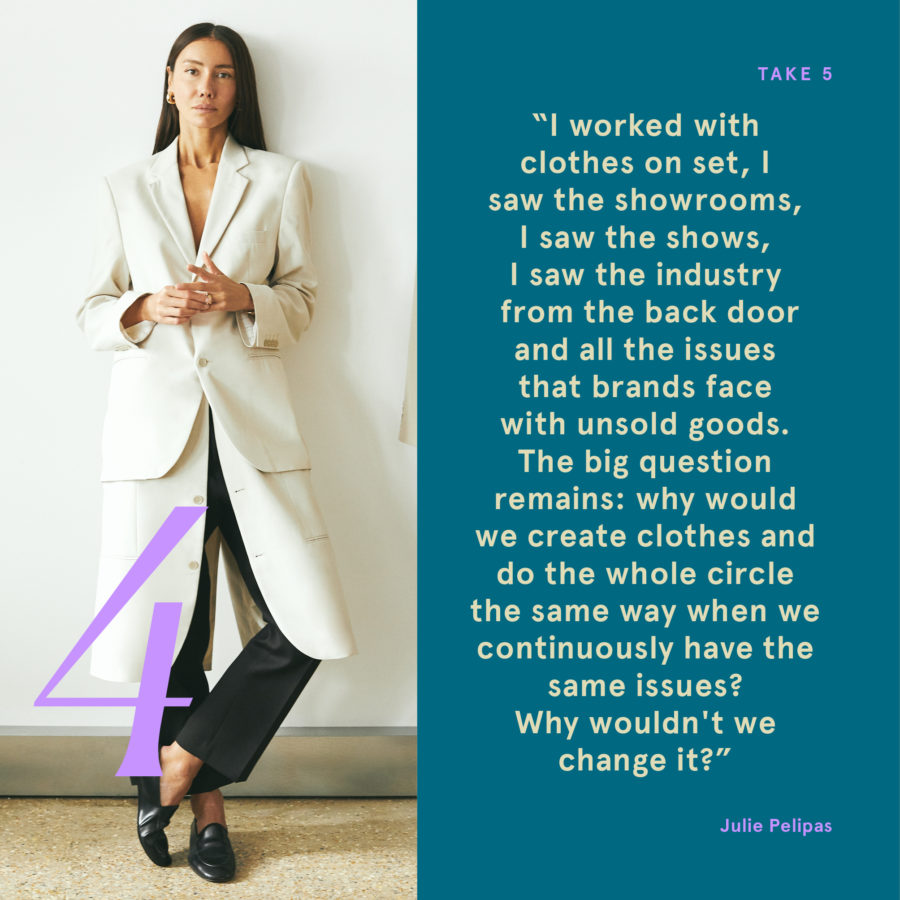 How would you describe your day-to-day style?
My personal style is really evolving along with me. I recently realised that a lot of the clothes that I've bought in previous years don't feel like me anymore. I've put aside a whole closet of clothes that I want to sell and my wardrobe has become very minimalistic: I have literally five suits that I'm wearing all the time, for evening wear, for my work, for the school run, for special occasions – that's it. When I was working at Vogue, I used to be called a style icon, which always surprised me because I just wore very comfortable garments and I never put in extra effort to style myself. Now, the older I get, the less clothes I have, the less clothes I wear, the less clothes I need.
How does your wardrobe influence the clothes that you're making at BETTTER?
Fortunately or not, BETTTER is a genuine continuation of me. The fact that I surf brings these sparks of sportswear with colour; the fact that I'm working a lot means that I really need suits, and that I want them to be a uniform of the sort that won't attract attention or show off, but instead will make me feel really comfortable. The fashion industry is so often focused on making people stand out from the crowd but I feel that it's so good to have a garment that just lets you be a bit invisible, be alone with yourself and camouflage you from people.
What sparked the idea to create the BETTTER system?
My experience as Vogue Ukraine's Fashion Director and as a stylist. I worked with clothes on set, I saw the showrooms, I saw the shows, I saw the industry from the back door and all the issues that brands face with unsold goods. The big question remains: why would we create clothes and do the whole circle the same way when we continuously have the same issues? Why wouldn't we change it? The answer, I think, is that the industry tends to stick to the same patterns in how they produce, sell and communicate. There's comfort in doing things the same way, it's expensive to change and it's mostly the previous generation at the helm of industry, so I honestly felt that it would never change.
Luckily, I have the kind of character that means that I find it easy to take big risks which is why I encouraged myself to leave the Vogue family and make the step into an unpredictable future with an idea that I strongly believed in. It's a really grey area in the industry but the deadstock volumes are huge; my team and I truly believe that we can redesign and upcycle it, hopefully, in one generation and that we can clear up the issues with overproduction and have a healthier system.
How does each piece of deadstock get reimagined into something new?
It's different from the classic process of designing because we don't come with abstract ideas or beautiful moodboards and try and fit them to what we have on hand, we start with the deadstock and go from there. First, we analyse the metrics and construction of each garment and upload them into our system – it means that we can use our smart design algorithms to automatically match the deadstock with designs that we've already created and filter out anything that we can't immediately use.
Then, we do a second selection based on visual style to make sure that, together, all the finished clothes are going to look like one, beautiful collection. And then we start designing: it's literally about taking that blazer or those trousers and seeing what they could be modified into while keeping the original heritage and look. It's a transformative process.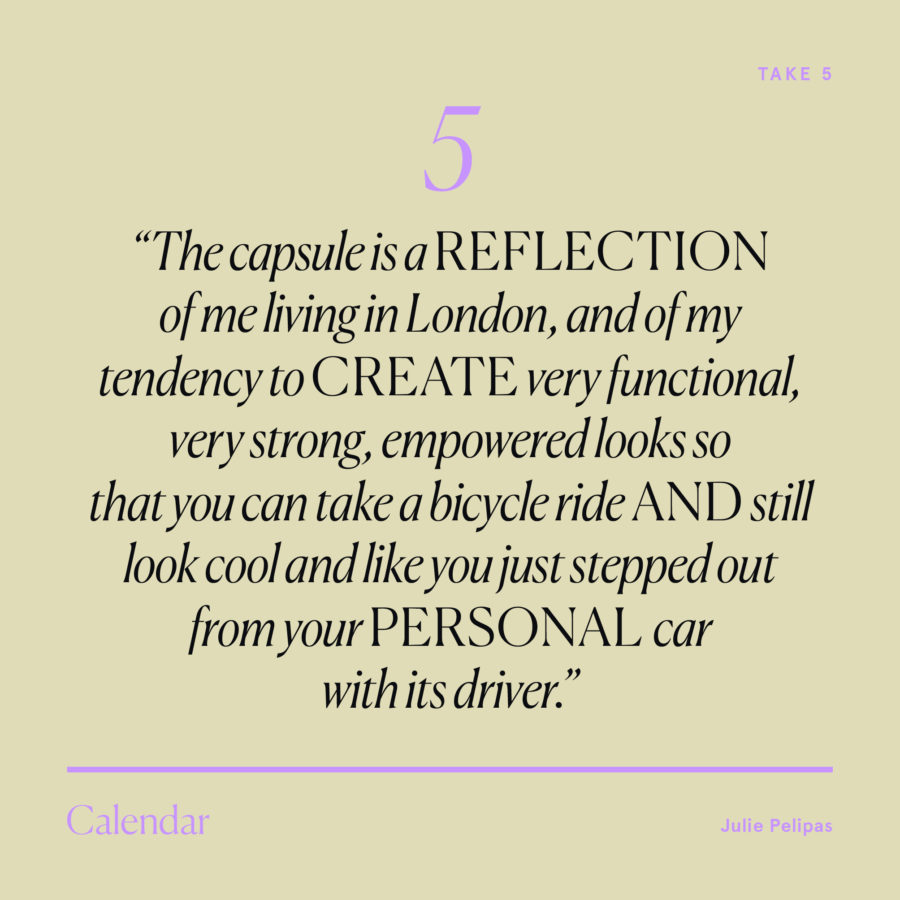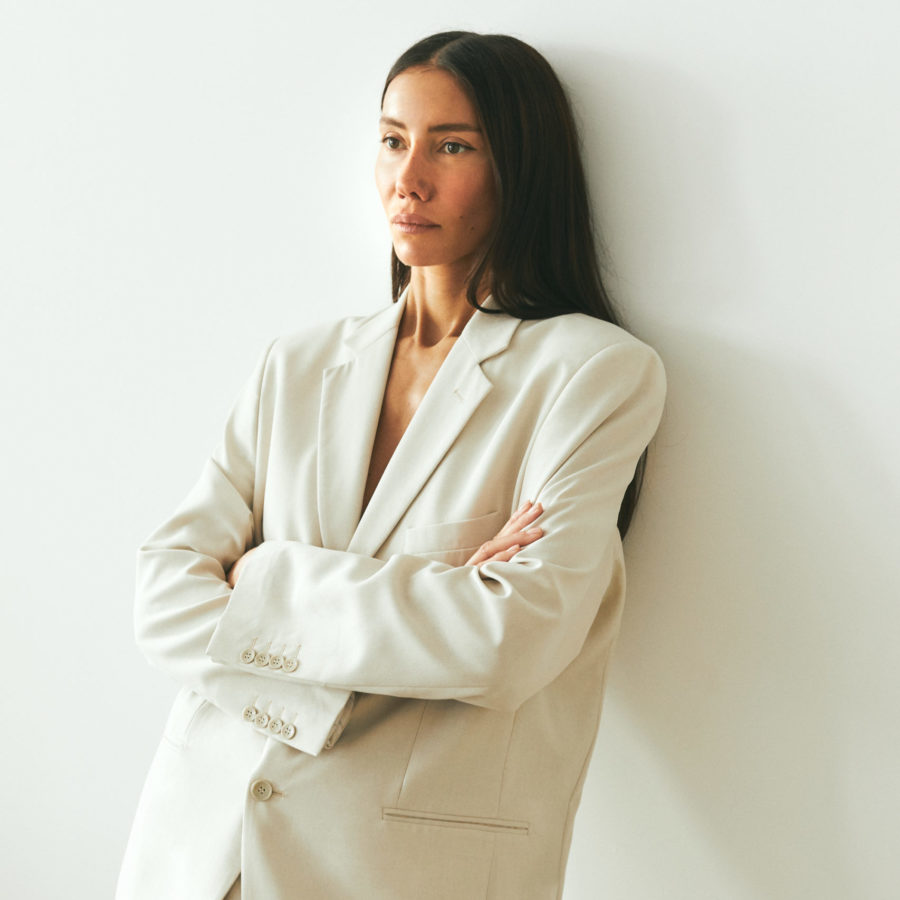 Did you always want to work in the world of fashion?
No, it was never my goal. My very first dream was to be a news reporter in hot spots around the world so I studied journalism and publishing. For five years when I was a student I also worked on TV doing a culture program, but TV journalism is such a messy, toxic space and I remember vividly a day when I decided to quit that world and never go back.
I decided to try styling instead. I had a friend who was the director of a model agency and he gave me the opportunity to do the test shoots for new girls. I did it every day and I was so addicted to it that I decided that I would step into the fashion world. But it happened very naturally, without any education, internships or assisting anyone. And then Harper's Bazaar came to Ukraine and I was brave and risky enough to go to them and say, "I am a stylist and I want to work with you". And they just took me. That's how it started.
How have you navigated the enormous challenge of having to relocate BETTTER from Ukraine
My team of 30 women and I moved to Portugal in the first months of the war because I was very worried, I didn't want anything to happen to them. But they got depressed there, they wanted to come back home and they convinced me so we relocated back to Kyiv. By then it was really dangerous because of the drones being used to attack us – our warehouse caught fire, there were so many things happening and I decided it was not safe so we relocated back to Portugal, and then to London. It's been a fight.
Everything felt and looked much more organic and healthy when we were in Kyiv with our own facilities and we didn't have to struggle. I'm a bit tired now, but I can always see the big picture and the final goal for BETTTER. I found my passion and that's what drives me; I'm very happy to be fulfilling my dream and my mission, especially when I see the product come into the hands of women who wear it and send us beautiful emails with such warm, honest feedback on how happy and unique they feel in the clothes. It makes all the hard work worth it.
What inspired the capsule that you've designed exclusively for Browns?
It's pretty much a reflection of me in London. We met with Ida and started the conversation about it just after I moved here almost three years ago, so it's synced with when I started to discover the ethics, the culture, the rules of the city where I have had to re adopt and re-establish myself for a new life. London's completely different to Kyiv and, when you're a stranger in a city, you perceive its character very strongly and vividly.
The collection is about the many galleries, museums, and fantastic spaces you can visit where you feel so good; in the right suit you kind of feel like you're merging with that art space, like you're part of the narrative of the objects. It's also a reflection of my tendency to create very functional, very strong, empowered looks so that you can take a bicycle ride and still look cool and like you just stepped out from your personal car with a driver. It's rainy and windy all the time here (the weather conditions are quite horrible!) but you still have to step into whatever meeting or event and look great.
What made you decide to offer eveningwear for the first time?
Last year I had to create a look for myself for the British Fashion Awards. Next to my son's school there's a vintage shop that I drop into a lot. It's run by a fantastic guy, he's an actor, a very old gentleman and I assume he has this community of gentlemen in the neighbourhood who bring him frock coats and tail coats, all the suits they have, because he has an amazing collection. I picked out a Seventies frock coat for myself and when we deconstructed it and opened the lining I was amazed; it had the most beautiful, handmade elements inside, I've never seen anything like that. There was a whole world under the lining.
We upcycled that one for me to wear on stage and it was so beautiful that many people asked me how to buy it or to create one for them especially. I thought it would be nice to make it a part of this collection dedicated to London for Browns, our very first offline launch. It's a very special part of the collection because each dress is handmade from vintage jackets so they're all slightly different.