November | Designer Focus
Phoebe English
She considered giving up fashion over concerns for the planet, but designer Phoebe English has channelled her climate anxiety into making her label a beacon of the circular economy and slow fashion – and made irresistibly beautiful clothes in the process
Emma Sells
Six years ago, as environmental movement Extinction Rebellion was starting to grab headlines and Donald Trump was setting about pulling the US out of the 2015 Paris Agreement, Phoebe English was considering shuttering the eponymous womenswear and menswear label she had founded in 2011. In the grip of climate anxiety, "which I wouldn't say I have emerged out of", and faced with the stark realities of fashion's environmental impact, the London-based designer started to question everything about what she was doing in the studio each day.
Instead of closing its doors, however, English decided to take an arguably more radical approach. "I tried to turn that fear and anxiety into very urgent activity in terms of my work," she says. "I began to see different practical solutions that we could explore and that would actually make me feel empowered, even though we were so small and even if I didn't really know where it might go or what I was doing. So I went into the studio and announced that we were going to be banning plastic from it, and that was just where we started."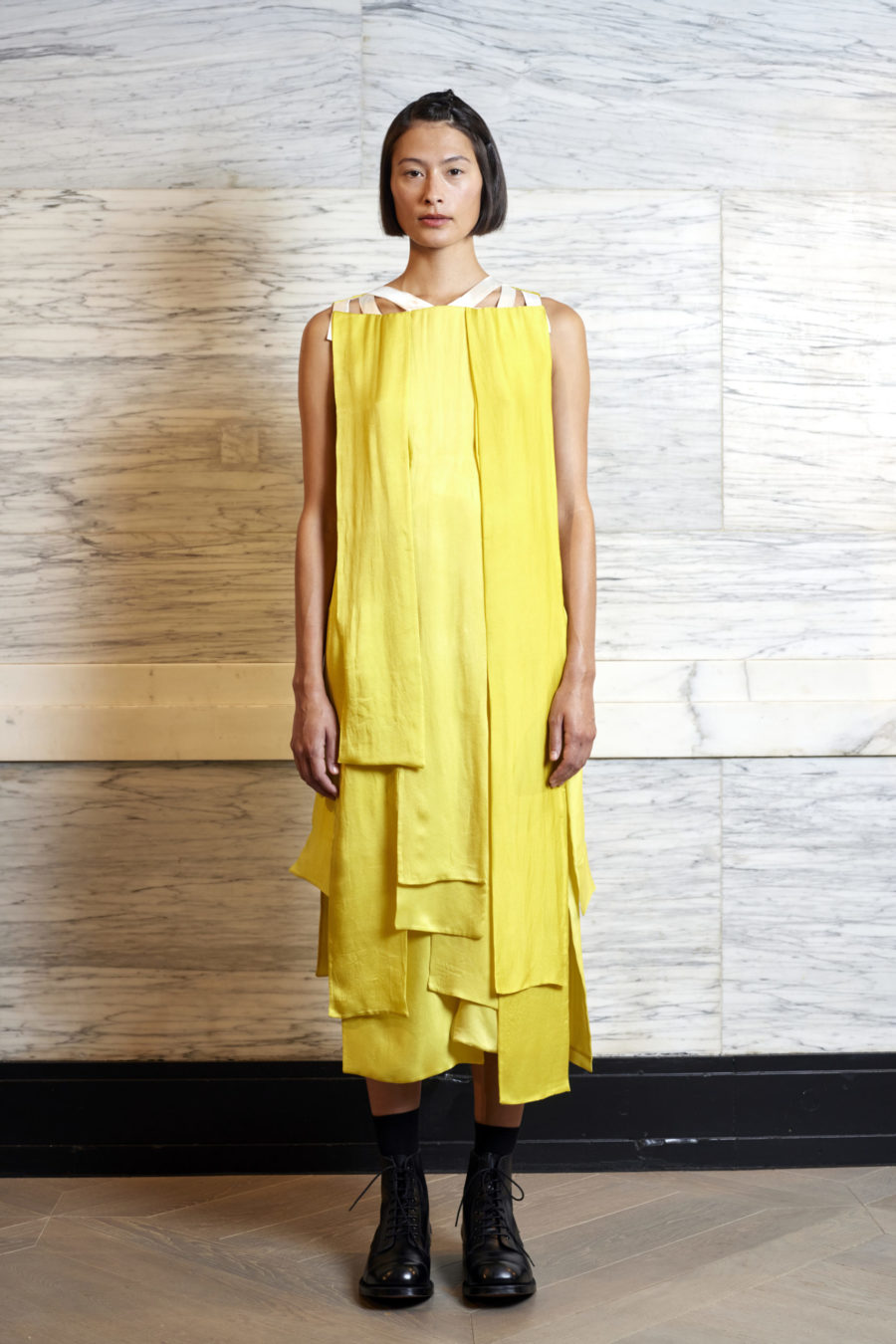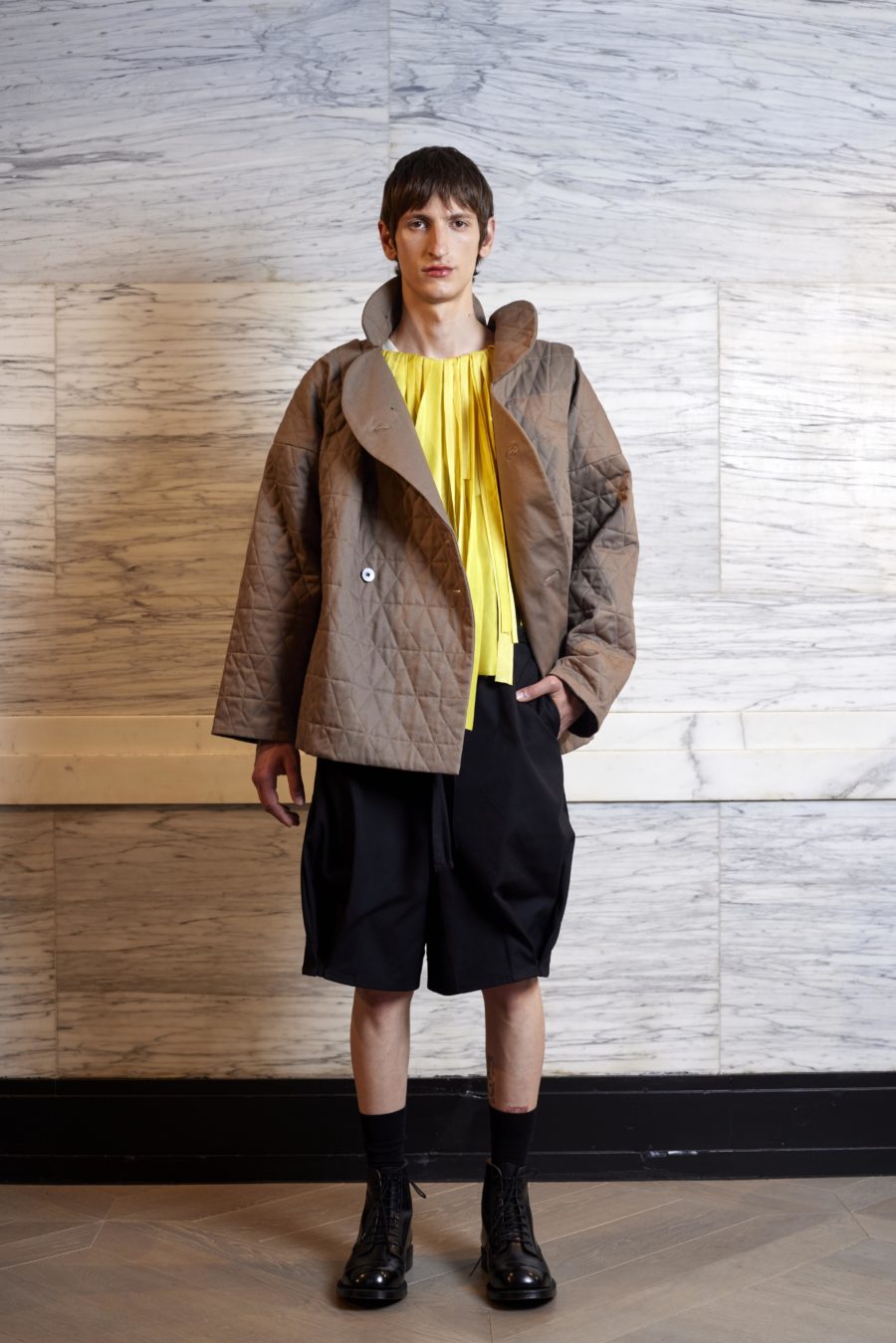 Phoebe English, Memory Shapes
Today the designer is regarded as a thought leader in responsible design and production, the label a sartorial beacon of hope that is setting a blueprint for others to follow, as evidenced in The Fashion Awards 2021, when the label became an honouree of its Leaders of Change award. As part of its continuing sustainability journey, the brand has produced just one collection a year since its Nothing New Part One collection in 2020, alongside custom-made bridal pieces and reissues of archive pieces to order, all made in England. The label retains its signature aesthetic – a neutral-led palette, tactile surface texture and voluminous layers, all conjured with an air of gothic romance. The focus, however, has shifted to something slow, thoughtful and innovative.
"It's almost like a laboratory or a place of exploration where we can experiment and then try to pass on our knowledge," explains English. "We look at the collections as an opportunity to test and trial things and see if they work for us." The label then shares findings with fellow brands and university students through its consultancy, in the hope that its successful methods and experiences can become default practice within the design community.
The latest annual Phoebe English collection, unveiled at London Fashion Week in September 2023 during the SS24 shows, was – as with the past few collections – referred to by its name, Memory Shapes, rather than by season. It was a masterclass in beauty, creativity, diversity and sustainability, from the luminous yellow dress – crafted from upcycled strips of silk naturally dyed with weld flowers – to inclusive casting that included sustainable-fashion writer Aja Barber. There were also collaborations with Suffolk-based heritage company Lavenham and Yorkshire-based vintage-clothes company Glass Onion. English became a mother last year and the experience was referenced in the collection with bodice-like 'heart shields', including versions in reclaimed silk organza dyed with red madder.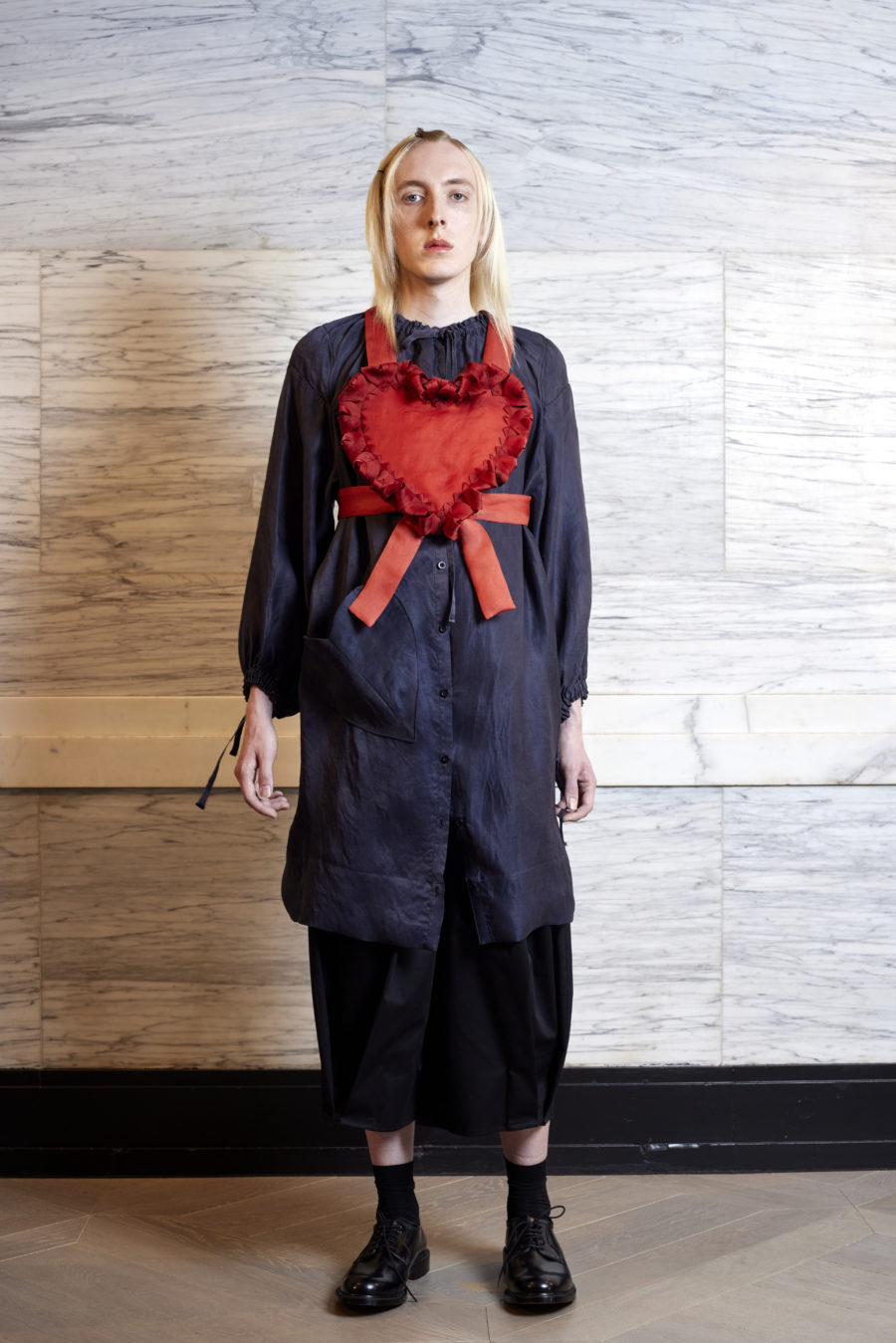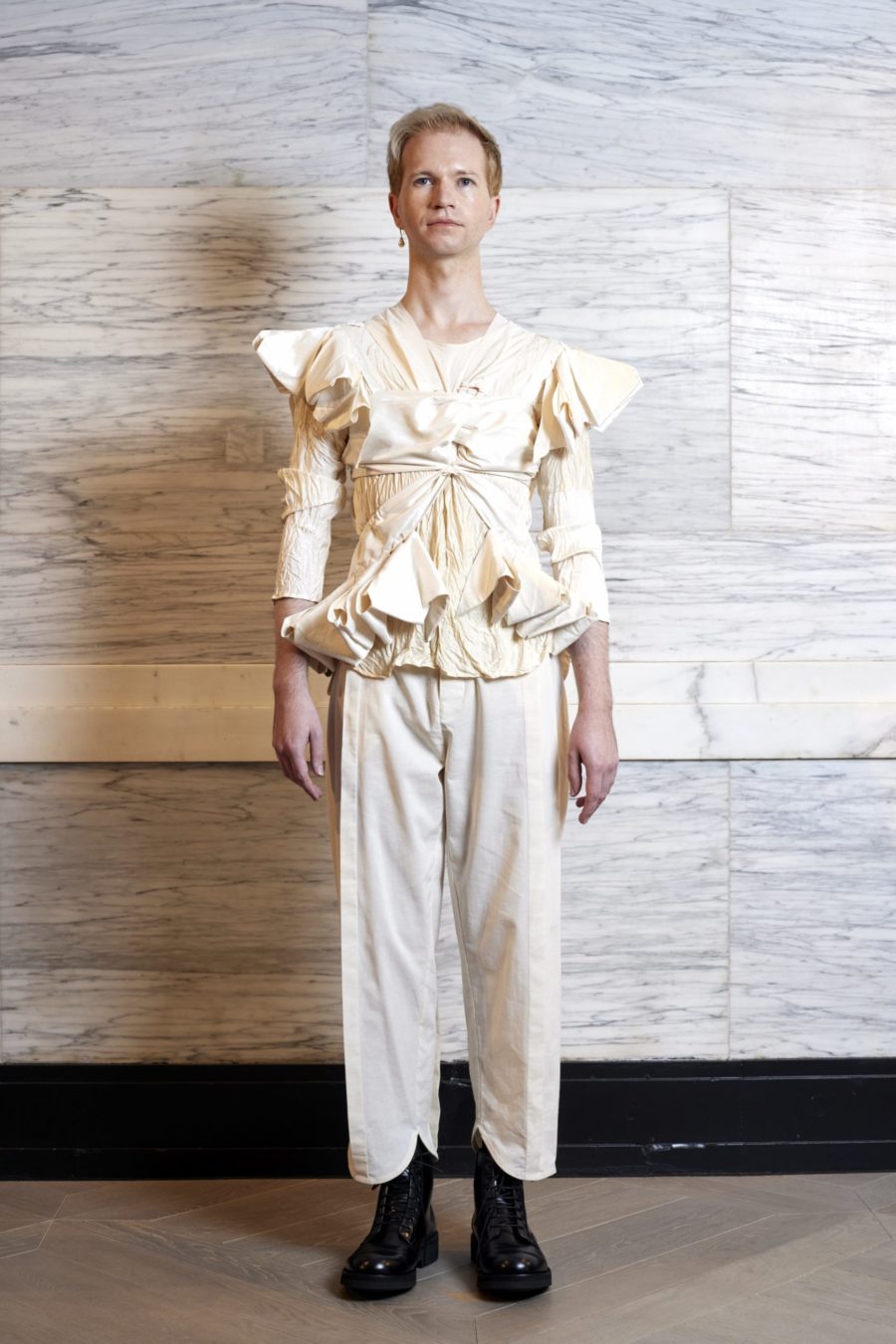 Phoebe English, Memory Shapes
"I tried to turn my fear and anxiety into very urgent activity in terms of my work. I began to see different practical solutions that we could explore and that would actually make me feel empowered, even though we were so small and even if I didn't really know where it might go"
Phoebe English
Unintentionally, the Central Saint Martins-trained designer has evolved a way of working that echoes her first teenage steps towards becoming a designer, growing up in a creative household in Stratford-upon-Avon. Her mother was an art teacher who would collect bags of fabric offcuts from the Royal Shakespeare Company's costume department: chamois, saddler's leather and suede from a production of Henry V, say, or two-tone shot silks and ethereal chiffons left over from A Midsummer Night's Dream. English would raid the bags for treasures before they were whisked away to school and they were an education, sparking her love of textures and surface detail and giving her an understanding of materials, their weights and characteristics. With no pattern-cutting knowledge, English would make clothes based solely on the shape of the offcuts in front of her – which is pretty much how she and her team work now.
A large chunk of the prep time for each collection is now spent sourcing new like-minded partners and fabric waste streams. The label has collaborated with hotel chains that can offer reams of double sheets and bridal ateliers that save small offcuts of precious silks and lace. The brand has also worked with a sustainable digital-print company for boxes of silk used for test printing – English and her team worked around the tricky business of print copyright by developing a natural black dye from the logwood dark enough to obscure the patterns beneath.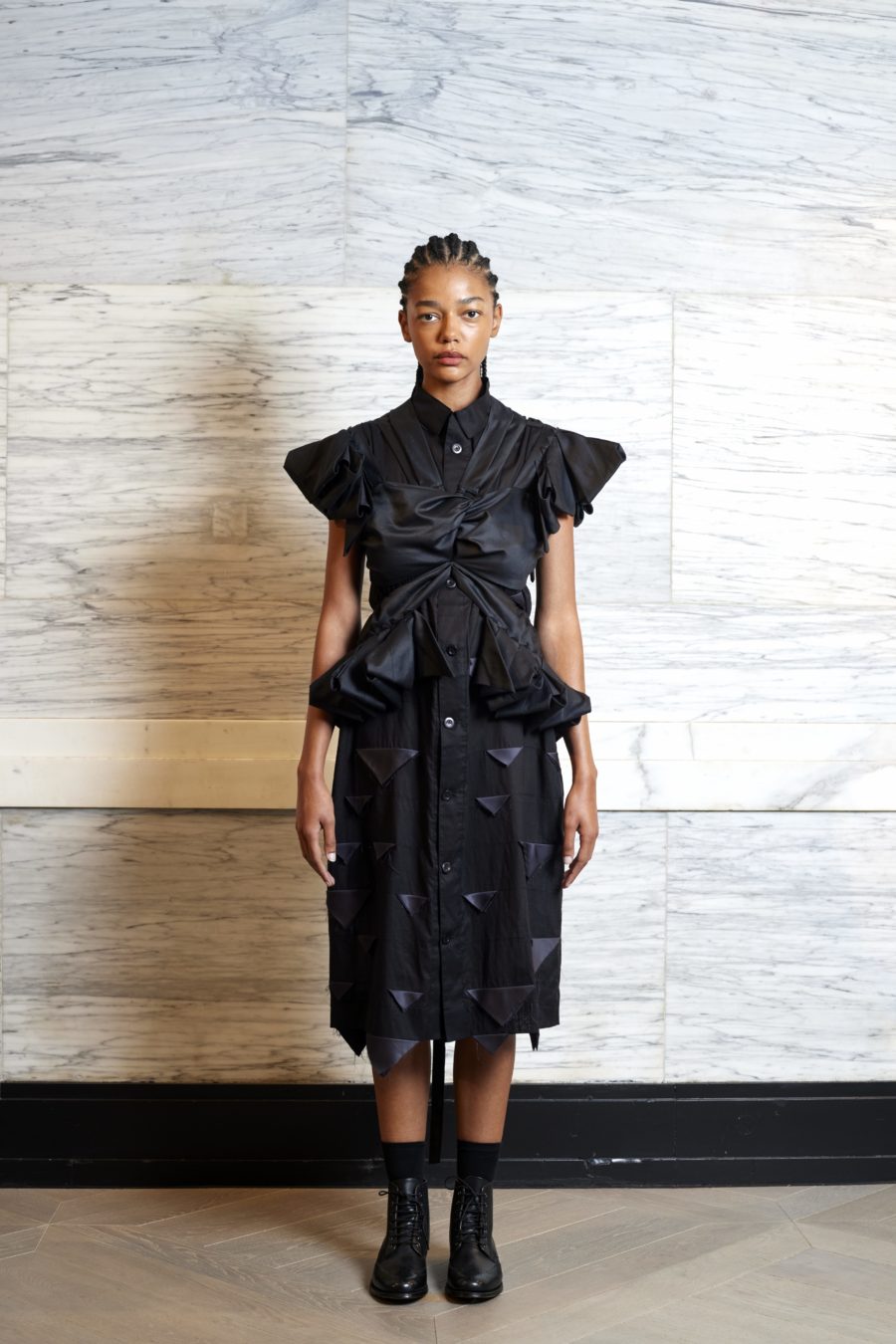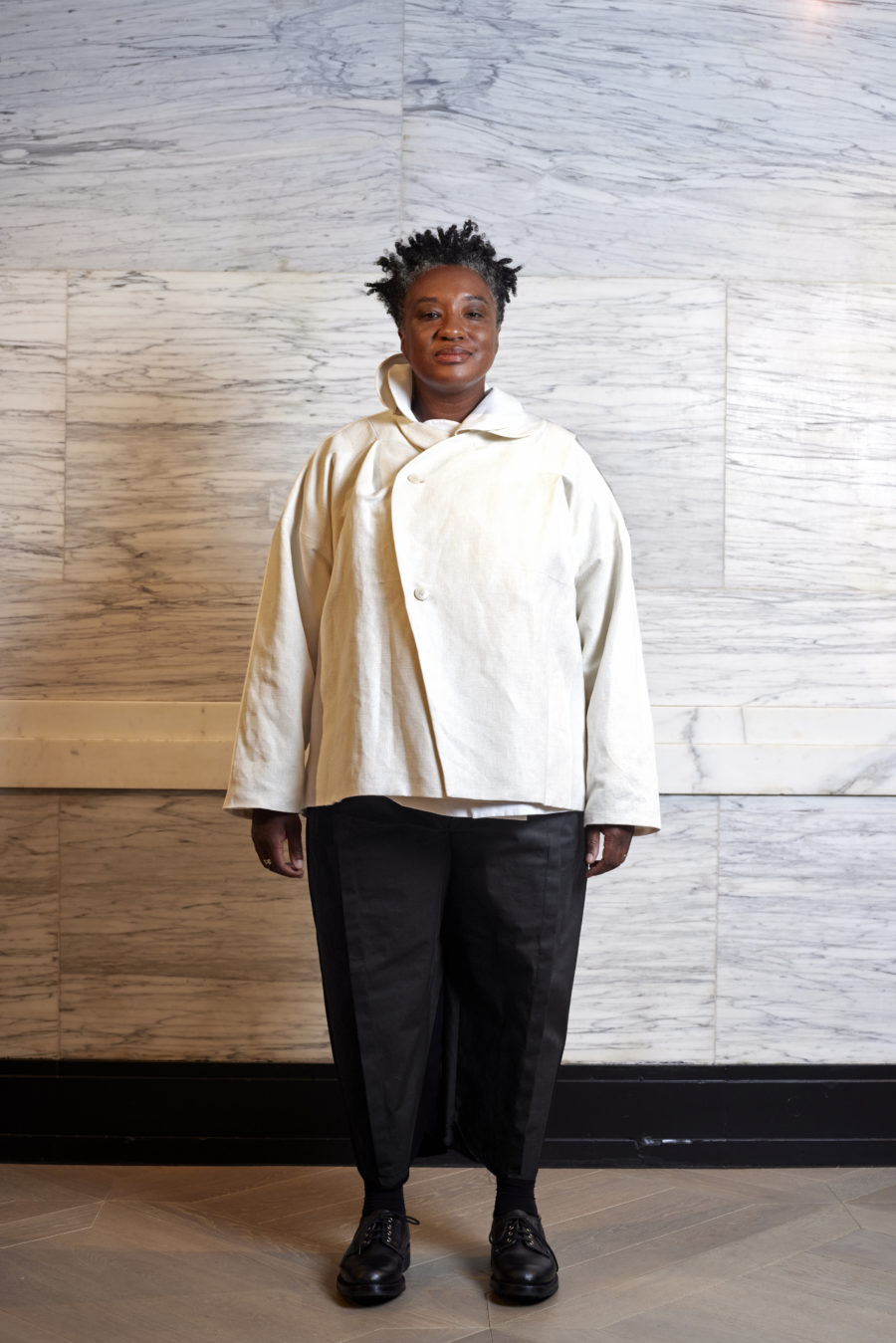 Phoebe English, Memory Shapes
The team has further been exploring the exciting possibilities of plant dyes – "they're so active and alive and beautiful, they're really breathtaking," says English – and how, despite its urban studio base in Deptford, southeast London, the label can forge links with agricultural practitioners who support biodiversity. The idea is to build longevity into these partnerships, working with and supporting them for years to come, rather than for a one-off season.
Creating in this way is labour-intensive. Every item that comes into the studio has to be edited and examined, and the collections are built around the fabrics and quantities that the team has on hand. It's very different to the traditional design process. "It's literally taking the waste stream – looking at its quantity, its aesthetic, its materialistic behaviours and the regularity we might be able to get it in – and then applying that to design," says English. "You have to be quite creative with it, it's very technical and logistical and it can feel long and annoying. But it's so satisfying to think about what you've used up and put back into circulation. It feels good in a different way to how I made collections before, when I was just making clothes that people thought were nice. It's great when people enjoy the clothes, but it's really great when the clothes are actively doing something else as well."