February | Fashion Week
The London Fashion Week Round-Up
From Mother of Pearl's documentary and Oxfam's second-hand-filled runway to Paolo Carzana's beautifully hand-dyed pieces – we run down the most thoughtful and considered moments and collections from LFW
Emma Sells
This season's LFW started ahead of its official opening: on Thursday evening, Harris Reed, Mother of Pearl and Oxfam kicked things off last night with an inspiringly responsible spirit. Reed enlisted Florence Pugh to open his spectacular show, a theatrical ode to the transformative power of clothes, starring striking looks made from upcycled fabrics. There were familiar faces on the runway at Oxfam, too, with everyone from Erin O'Connor and Daisy Lowe to Miquita Oliver and Munroe Bergdorf styled by Bay Garnett in pieces sourced from Oxfam's stores and available to buy from eBay straight after the show. Meanwhile, Lily Cole introduced the Mother of Pearl documentary, Fashion Reimagined, at its UK premiere. The uplifting film charts designer Amy Powney's quest to make her label as sustainable as possible, and is set to be in cinemas from 3rd March.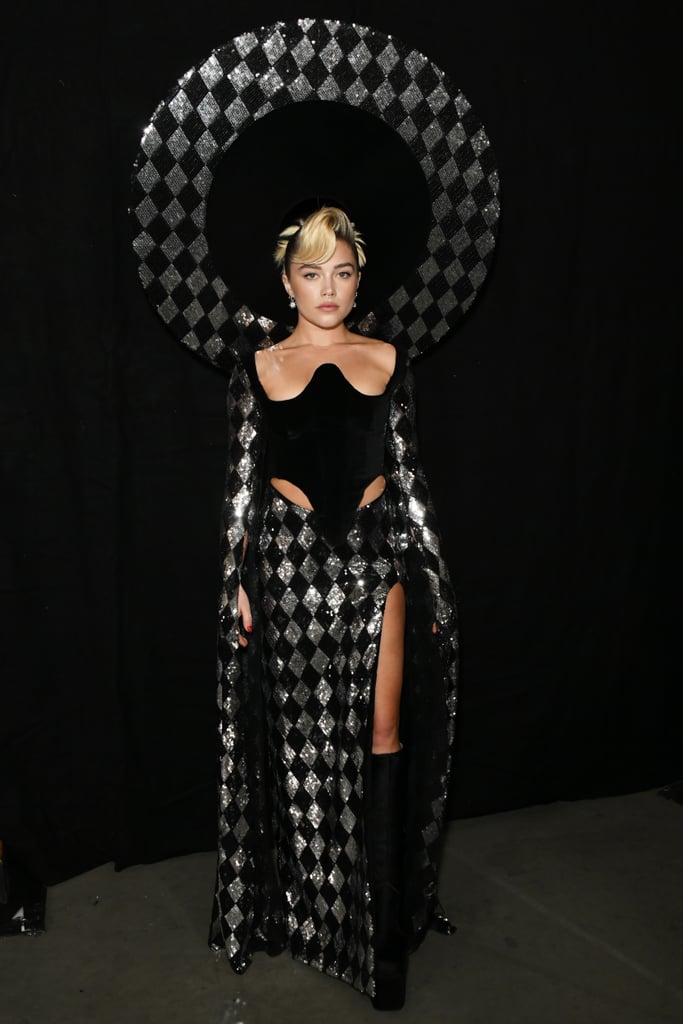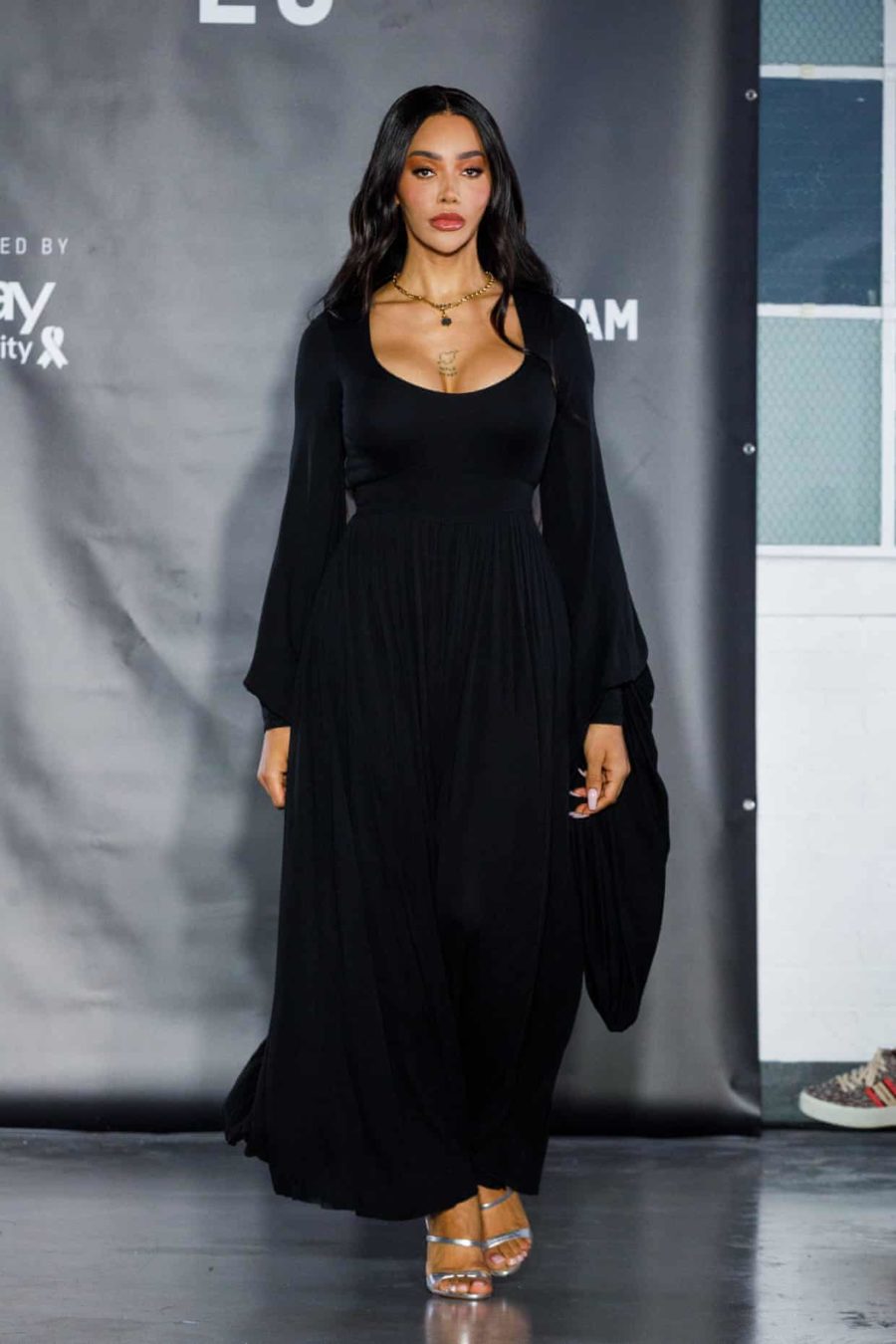 L: Florence Pugh opens Harris Reed AW23 Show R: Munroe Bergdorf walks in the Oxfam show
Day one saw a host of recycled and reimagined collections take to the runway. Conner Ives reworked vintage pieces alongside sustainably sourced fabrics to dress his playful archetypes, offering up tributes to Kate Moss, The Princess Diaries, Diane Keaton and The Parent Trap amongst others. Almost entirely made from deadstock fabrics, Matty Bovan's sci-fi-meets-baroque collection was a multi-layered riot of colour and hand-painted patterns. Edward Crutchley channelled his responsibly sourced fabrics into Harlequin tailoring, cartoon knits and cod pieces in monochrome. Meanwhile, at Fashion East, Estonian designer Johanna Parv riffed on a functional, cycling-inspired theme with carefully considered, wear-forever pieces conjured from durable recycled fabrics. And Ancuta Sarca partnered with Lee jeans, combining repurposed denim with deadstock leather and upcycled faux fur and turning them into retro-futuristic accessories.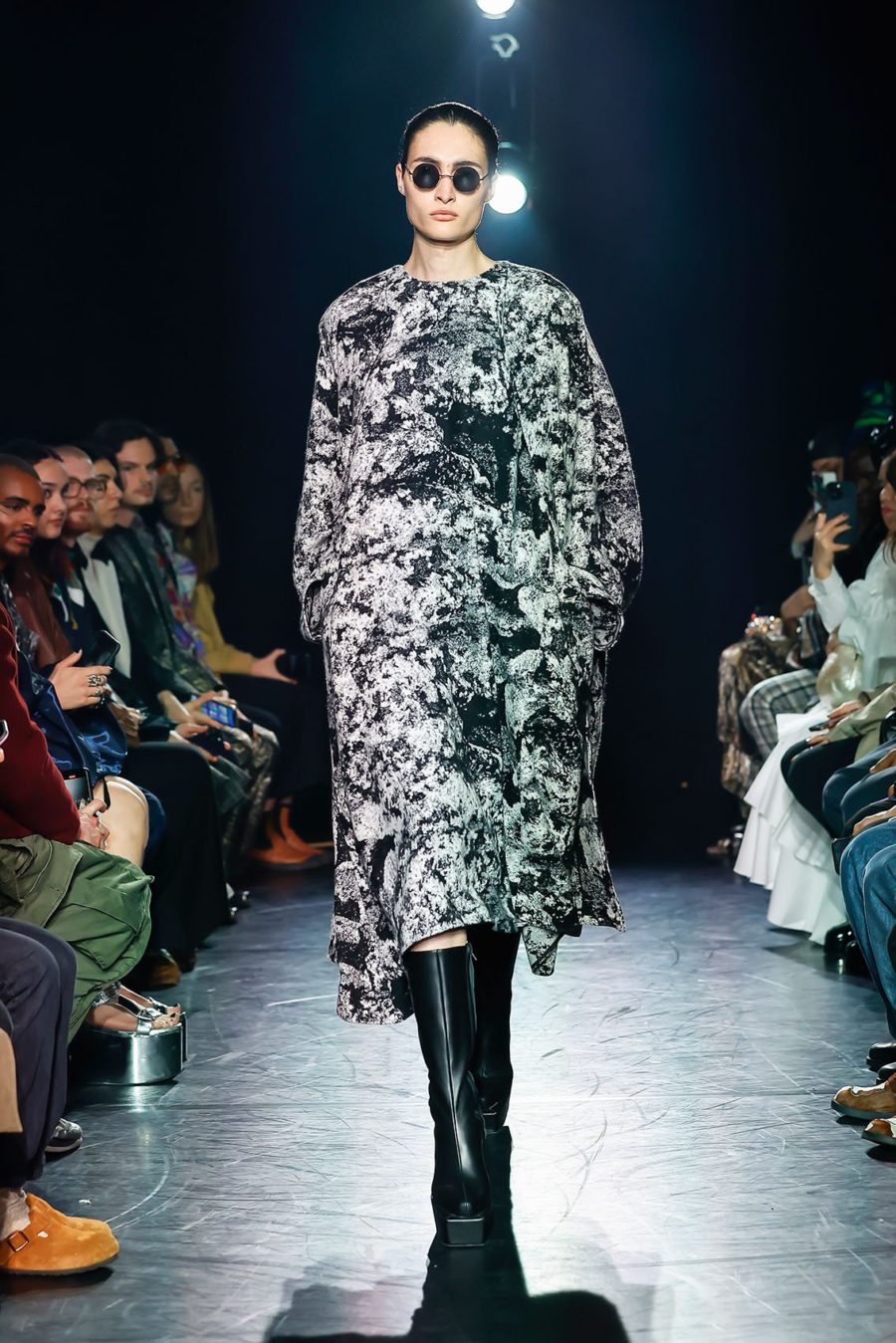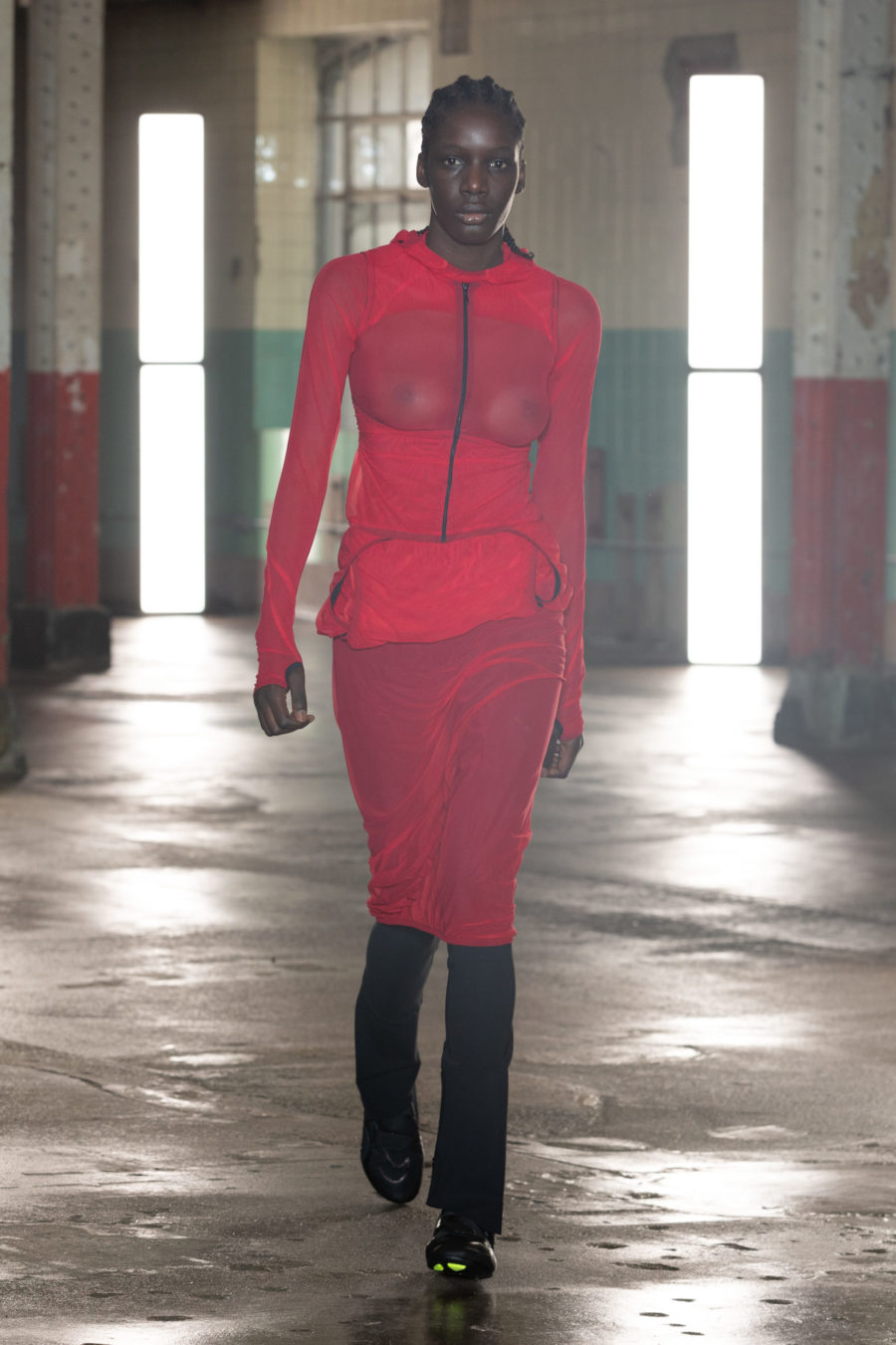 L: Edward Crutchley AW23 R: Johanna Parv for Fashion East
Ahluwalia opened day two of LFW with an uplifting, high-energy collection inspired by the music that's soundtracked Priya Ahluwalia's life – Prince, Lauryn Hill, Tupac and Sade. This season, the designer has turned to technology to help power her responsible approach – for the first time, each piece is set to come with its own QR code, giving customers access to details of where the clothes were made and the fabrics they're crafted from. 
There was innovation, too, at Chet Lo, where the arresting collection was peppered with spray-painted denim pieces, made in collaboration with ISKO from a new fabric conjured solely from recycled and regenerated fibres. And Robyn Lynch, a finalist of this year's International Woolmark Prize, offered up a tongue-in-cheek collection that was green in the most literal sense, inspired by her Irish heritage and centred around certified and responsibly produced merino wool.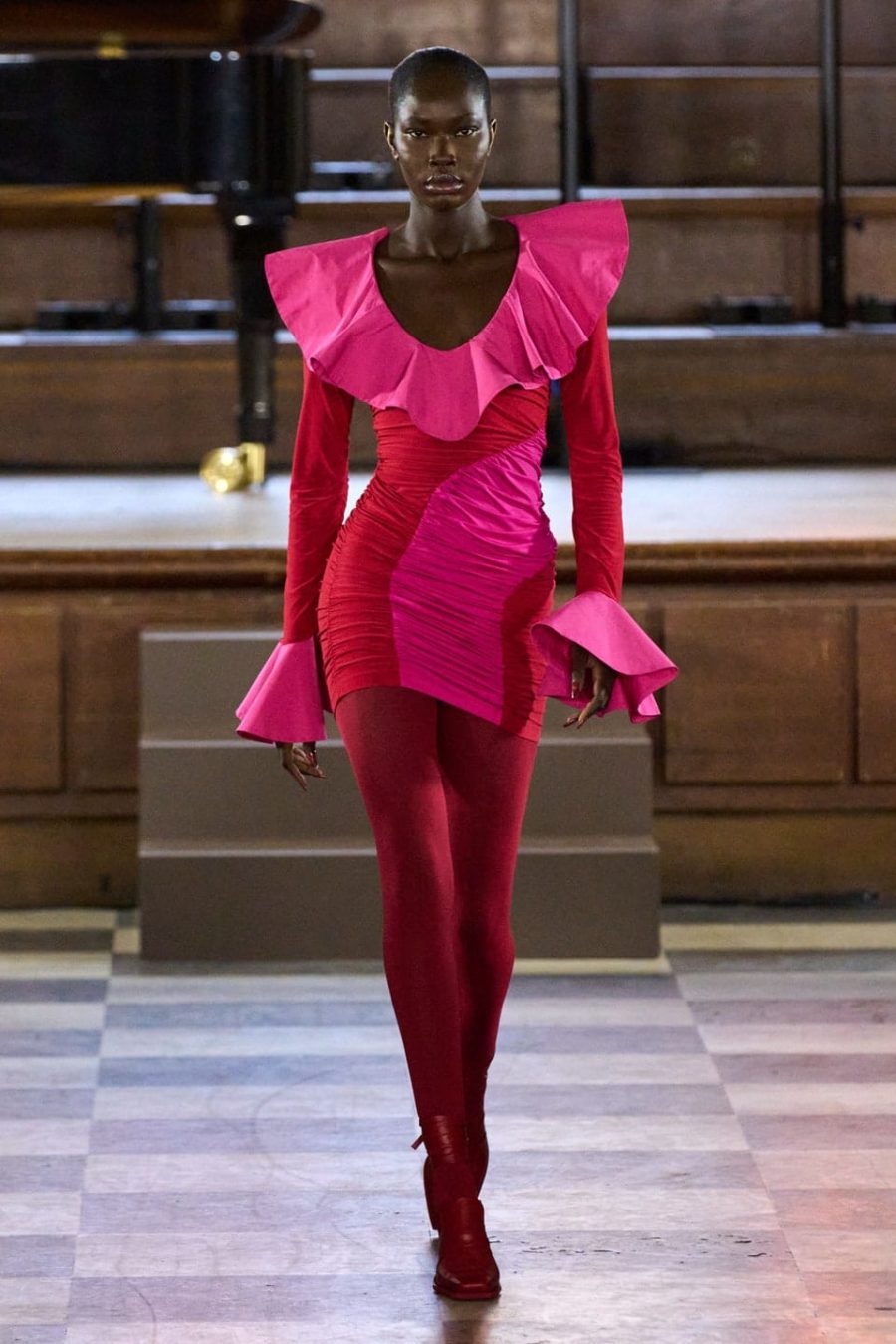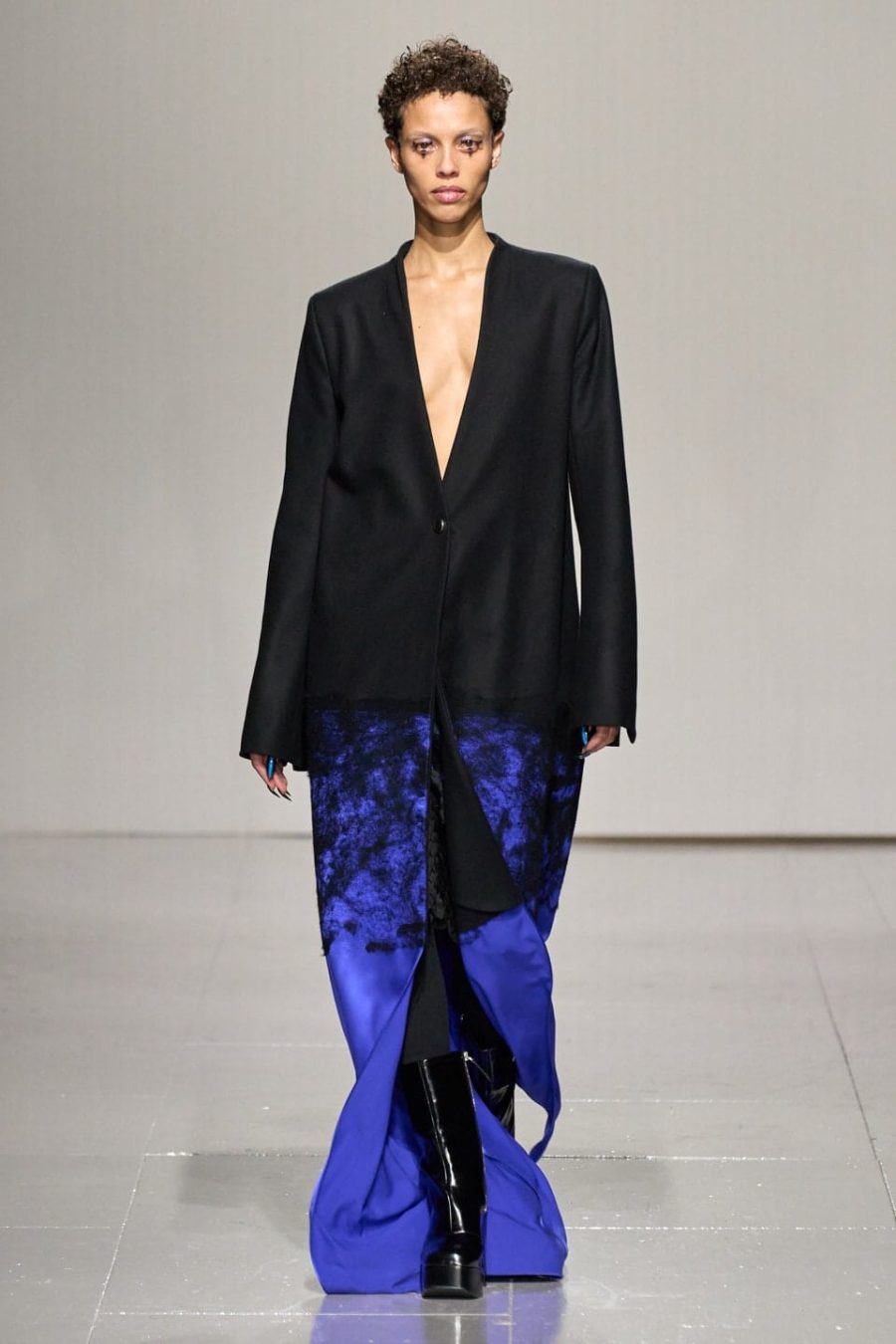 L: Ahluwalia AW23 R: Chet Lo AW23
Day three kicked off with an iconic fashion moment courtesy of Steven Stokey-Daley who enlisted Sir Ian Mckellen to open his Kate Bush-inspired show while reading 'The Coming Of Arthur' by Alfred, Lord Tennyson. Paolo Carzana's deeply powerful collection, entitled 'Queer Symphony', drew on both the challenges that Carzana faced growing up and his Welsh heritage. Deeply rooted in nature and tradition, each of his delicately knotted and tied pieces were hand-dyed in his studio with herbs and flowers. Tove made its LFW debut with timeless, textural, beautifully wearable clothes made from low-impact and organic fabrics, designed to be worn for a lifetime. At Feben, the designer collaborated with artisans in Accra to offer up hand-beaded macrame cylinder bags and figure-skimming fringed dresses. And Helen Kirkum showcased the alchemic process of transforming well-loved, discarded shoes into her signature 'Palimpsest' sneakers, filling her space with the 824 shoes that will be reworked and reimagined into her AW23 collection.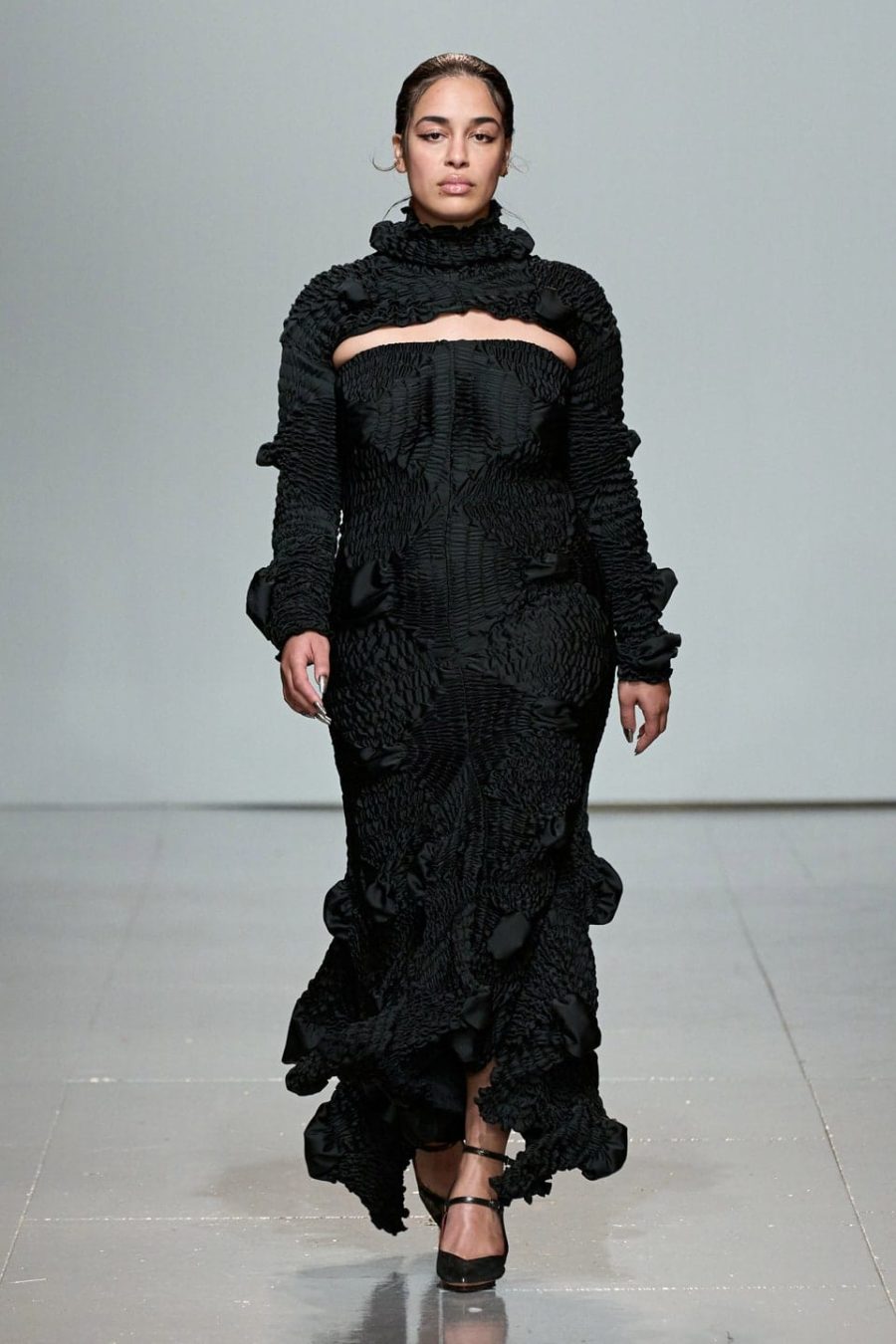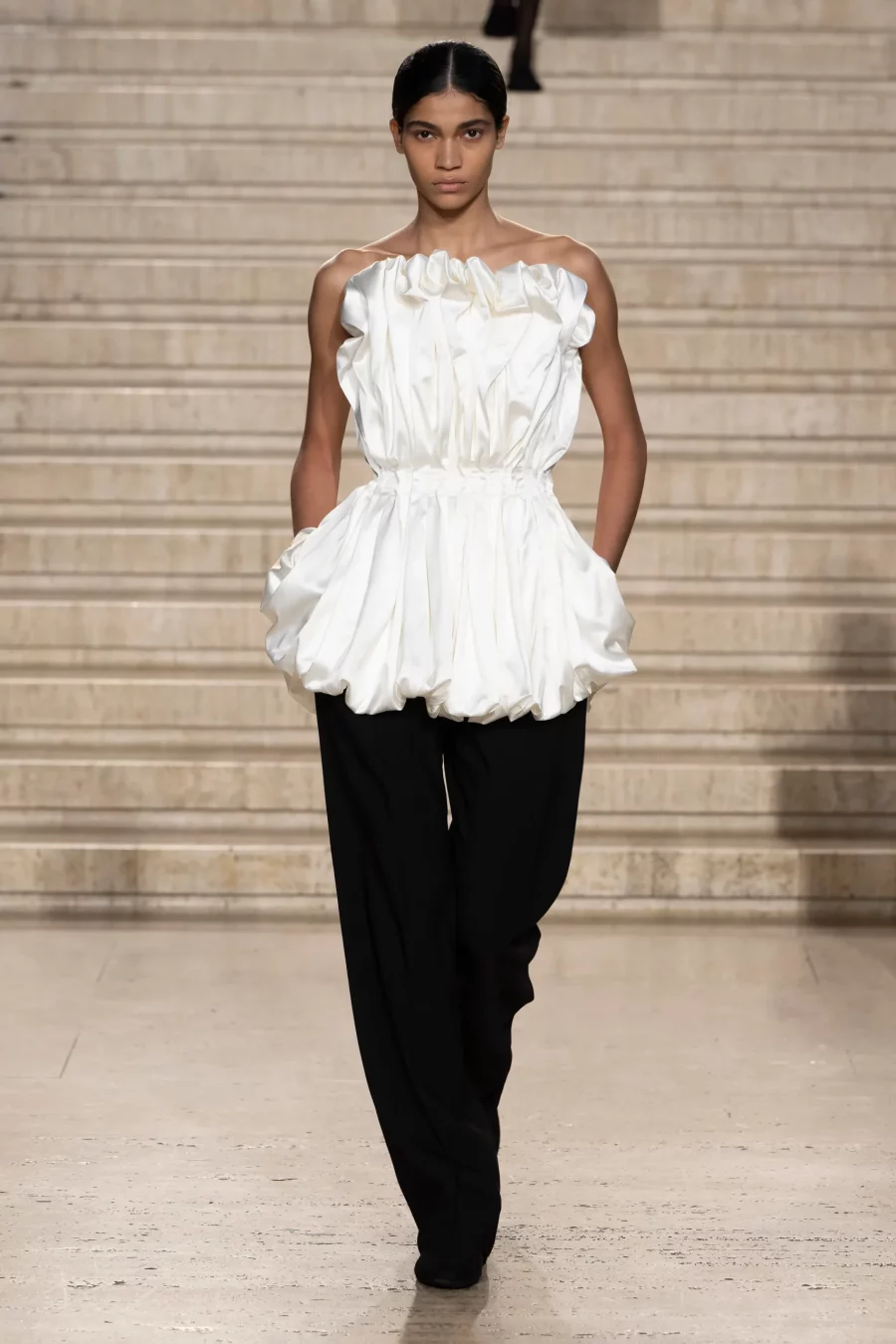 L: Jorja Smith walks in the Feben AW23 Show R: Tove AW23
Sustainability champion Patrick McDowell unveiled his made-to-order collection on the final day, a riff on queer culture and football, titled 'Cinderella Shall Go To The Football'. From jewelled kit and precision tailoring to flowing printed dresses and oversized technical coats, every piece was made responsibly; thanks to collaborations with experts and innovators, he'd used chrome-free, naturally tanned leather, vintage silk, recycled wool, micro-fibre-free Ecodown and more.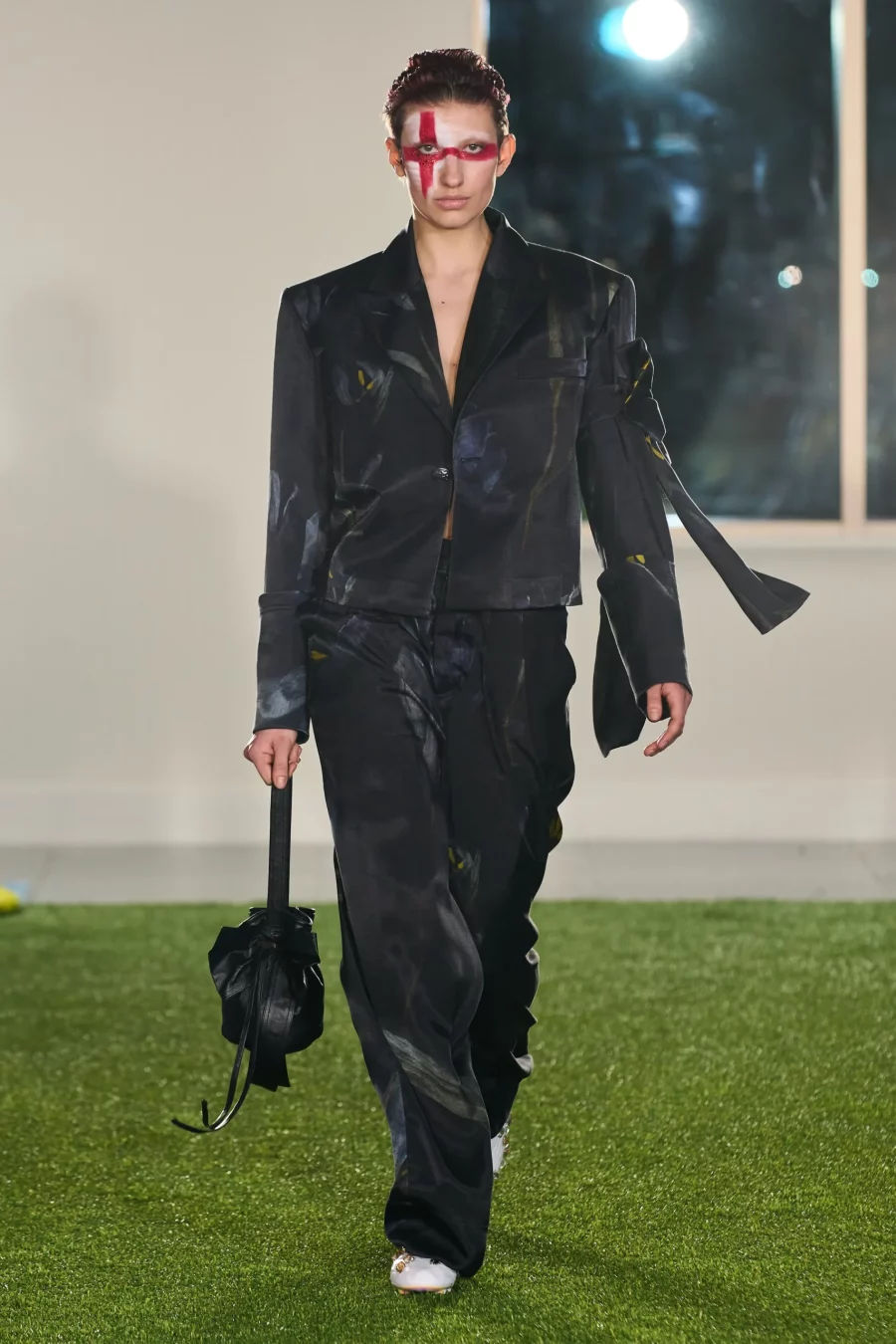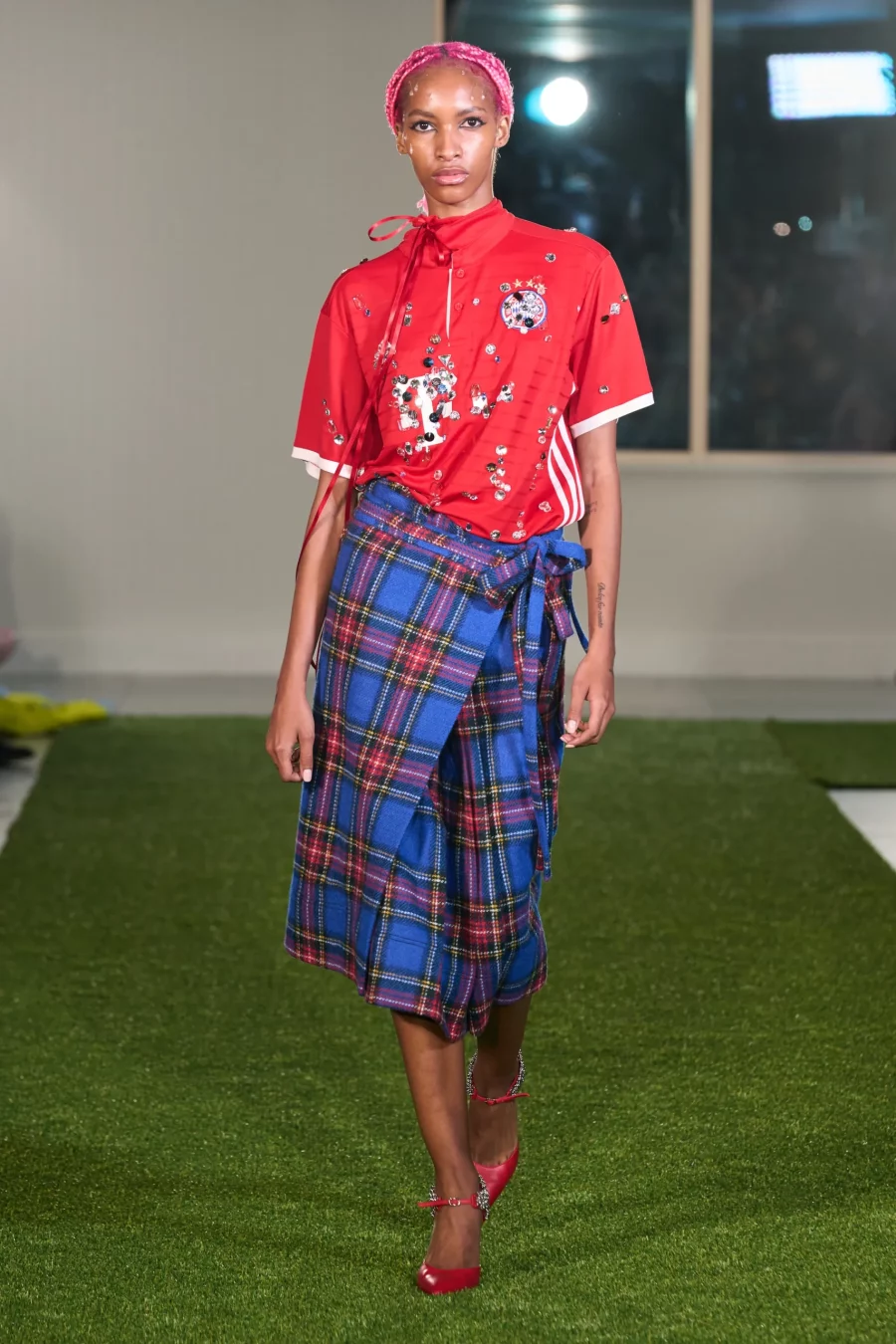 Patrick McDowell AW23
Check back to see what Milan and Paris have to offer.