May | Designer Focus
We talk to Ditte and Nicolaj Reffstrup about how they're weaving responsibility into the DNA of their cult Copenhagen label - and conquering our wardrobes in the process.
Emma Sells
Ganni isn't a clothing label so much as a phenomenon. The much-loved Copenhagen brand's signature easy dresses, all vibrant colours and joyful prints, have not only spawned infinite trends and imitations but captured the hearts and wardrobes of an ever-growing, global community of discerning women wanting to tap into that irresistible Scandi cool. A Ganni piece – a puff-sleeved midi dress with an oversized collar, say, flared leopard print trousers or a smiley logo tee – has become a sartorial signifier, a shorthand for an effortless, cheerful way of dressing, both in the real world and online where the #GanniGirls hashtag is currently clocking in at 87,000 posts.
"It has always been about making people feel comfortable about themselves, it's that simple," says Ditte Reffstrup, Ganni's creative director. "I want people to look great. And I want people to…it's more state of mind than anything else. It's about dressing for you and no-one else. That's what drives the brand. Of course, the collection has been growing and we have more categories so more layers have been added to it but it's still that girl, working with contrast and balance, being herself." Ditte and her husband, Nicolaj Reffstrup, took over the then-defunct label in 2009, starting out with a tiny collection of dresses, t-shirts and knits. Since then Ganni's offering has grown as much as its popularity, expanding to add stand-out accessories, playful denim and masculine tailoring to the line-up. "We've had so many new designers coming in over the last past years and it's super inspiring to work with young people from all over the world, it gives something new to Ganni," says Ditte. "I think you can really see that we have had so much talent and they're much better than I am!"
At the same time the team has been placing a greater emphasis on Ganni's responsibility commitments, too. They're at pains not to frame it as a sustainable label but they're refreshingly transparent about what they're trying to do and what they've already achieved across the label's website and dedicated Instagram account, @GanniLab. "It's very much been on Nicolaj's agenda since the beginning," says Ditte. "When I first met him 18 years ago, he was talking on and on about climate change and global warming. And, to be honest, 18 years ago that was not a topic that anyone was really discussing, it felt like it was only for an elite. I didn't have a clue what he was talking about."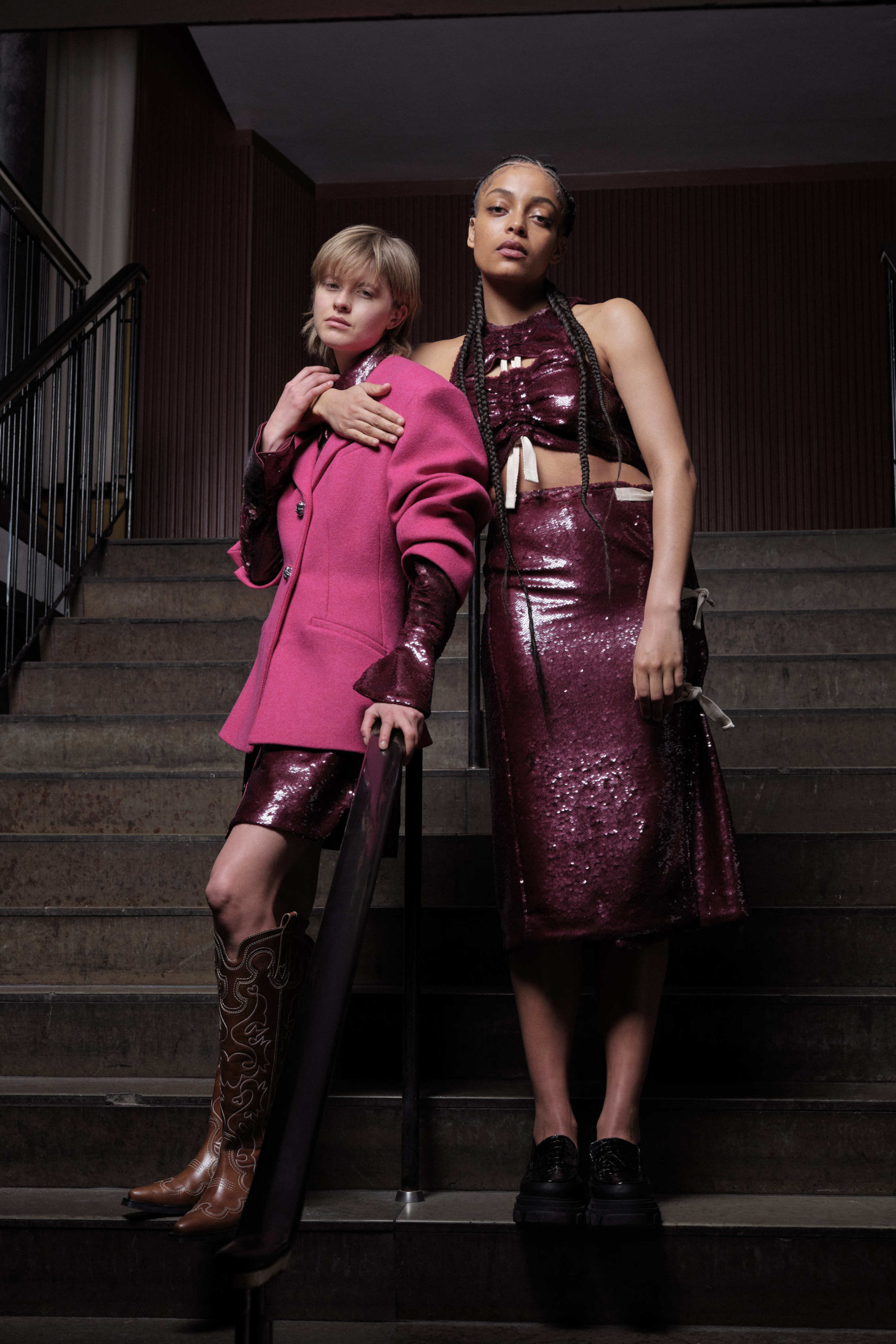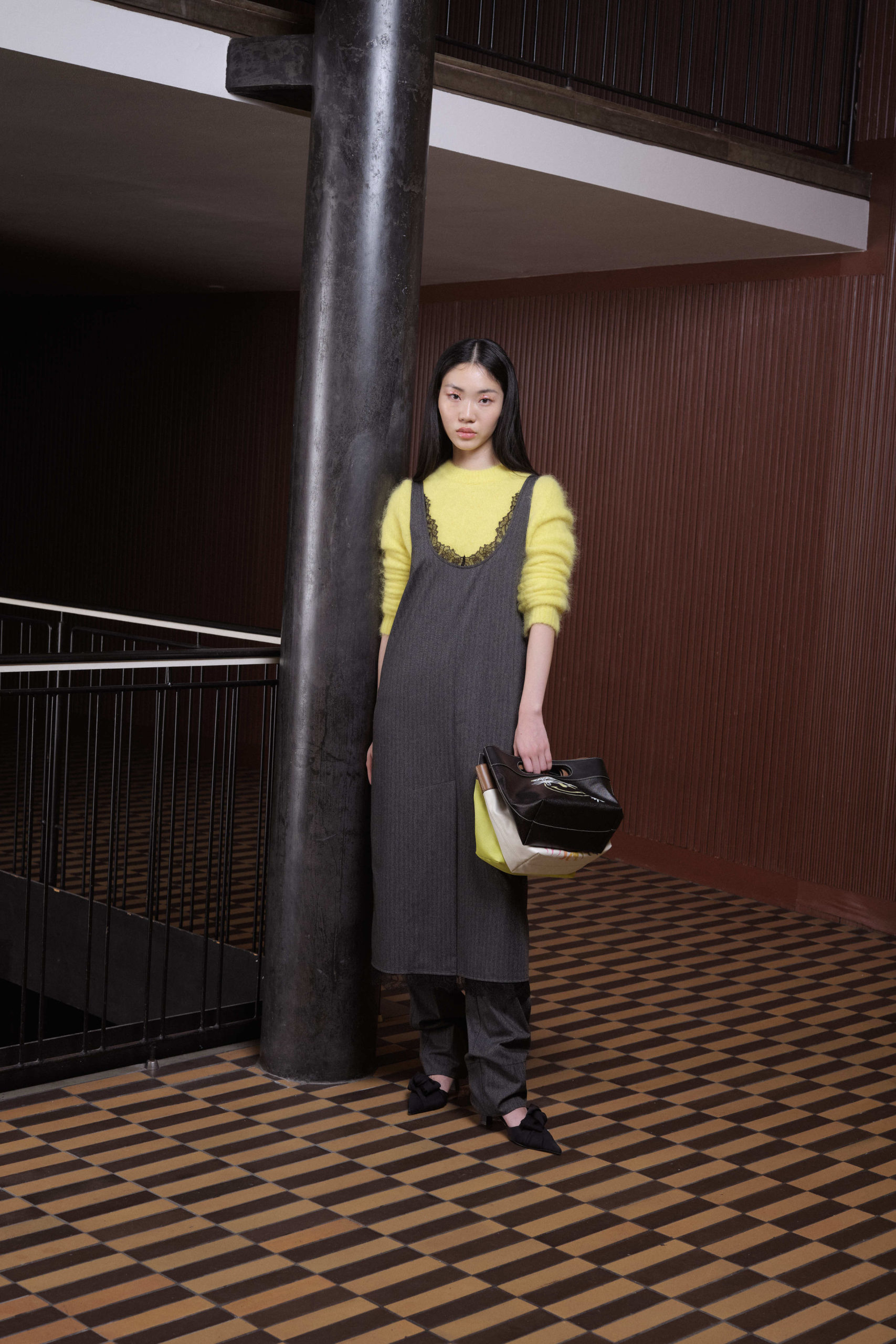 images courtesy of Ganni
"People are still people, we all have these busy lives. Everyone likes to talk about sustainability, we're very aware these days, but even the younger generations still just want to buy those exciting new pieces as soon as they're released. The ultimate goal for us is to create a product where we make the responsible choice seem effortless and seamless."
Nicolaj Reffstrup
At the time Nicolaj was studying Business Economics and Philosophy and on a deep dive into the world of game theory that left him feeling pretty pessimistic about the hopes of human behaviour ever changing enough to temper climate change. But it sparked an interest and passion that has stayed with him and that's meant that Ganni was an early adopter when it came to tackling its environmental impact. The label hired its first Climate and Social Responsibility officer in 2013, started mapping its carbon footprint in 2016 and launched a responsibility game plan in 2020 with 44 goals that it wants to reach by next year. It's investing in innovative new materials too, like the bio-based Mylo leather that it's launching later this year, and working on an ambitious project to completely decarbonise its supply chains. "It's something that we've been working on for a long time but we haven't talked too much about because it was always a bit sensitive," says Nicolaj. "But for some years now, I think it's been easier to talk about it and acknowledge that you are in a bad place but trying to do better. And we found it was a moral obligation for us as a company, and we still do today. I mean, it's not something that's necessarily rewarded by consumers out there because they're not willing to break bad habits or sacrifice convenience or pay a premium for responsibly sourced products. It's just something you have to do as a member of the global society. But it's also super, super exciting and very motivating actually."
In 2020 the label collaborated with 20 female creatives on its A/W collection, from long-time friends of the house to newly-discovered talents, who upcycled Ganni fabrics and created exclusive, sell-out pieces. The process was so fun and fruitful that it kickstarted a run of partnerships with designers and brands alike: to date Ganni has worked on capsules with New Balance, Dr Scholl, Juicy Couture and more but arguably the most influential has been with game-changing London designer, Priya Ahluwalia.  "She's fantastic," says Ditte, "and she's taught the whole design team how to see the opportunities in working with upcycling projects instead of the limitations. We were struggling a little bit in the beginning, it was kind of boring to be honest, working with old fabrics. But it's totally changed now. She has been such an inspiration for us, a true superstar."
Regardless of who they're partnering with, every collaboration they work on has to hit set sustainability targets but, although that comes with its challenges, it doesn't stop the resulting pieces being incredibly desirable. Indeed, the limited-edition nature of upcycled pieces often makes them even more so. Which is of course the point – both Ditte and Nicolaj know that it's how great the clothes are, not what they're made from or how they're made, that ultimately makes us want to wear them. "People are still people, we all have these busy lives," says Nicolaj. "Everyone likes to talk about sustainability, we're very aware these days, but even the younger generations still just want to buy those exciting new pieces as soon as they're released. I mean, all humans have that sense. So the ultimate goal for us is to create a product where we make the responsible choice seem effortless and seamless. It shouldn't be something you have to think about."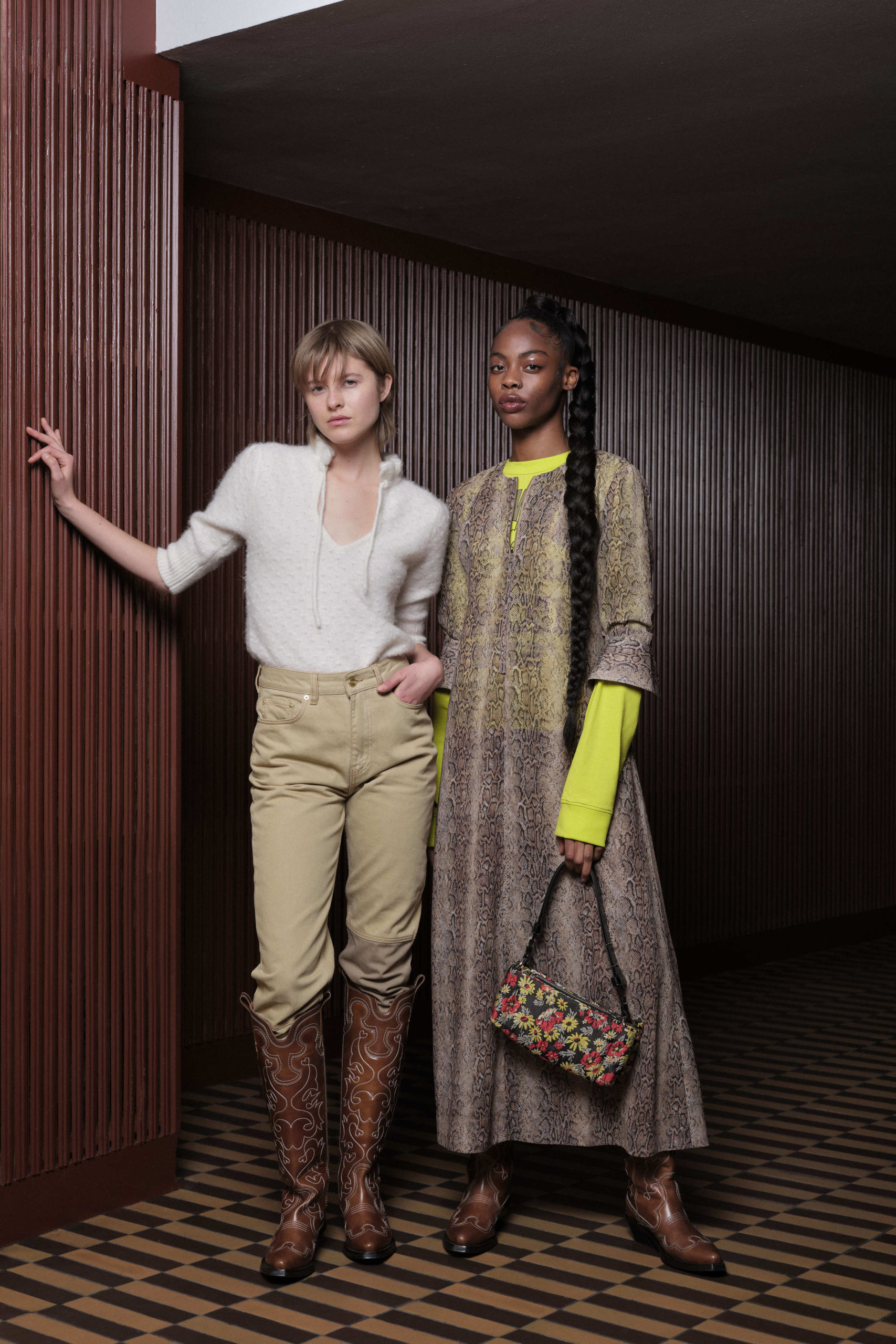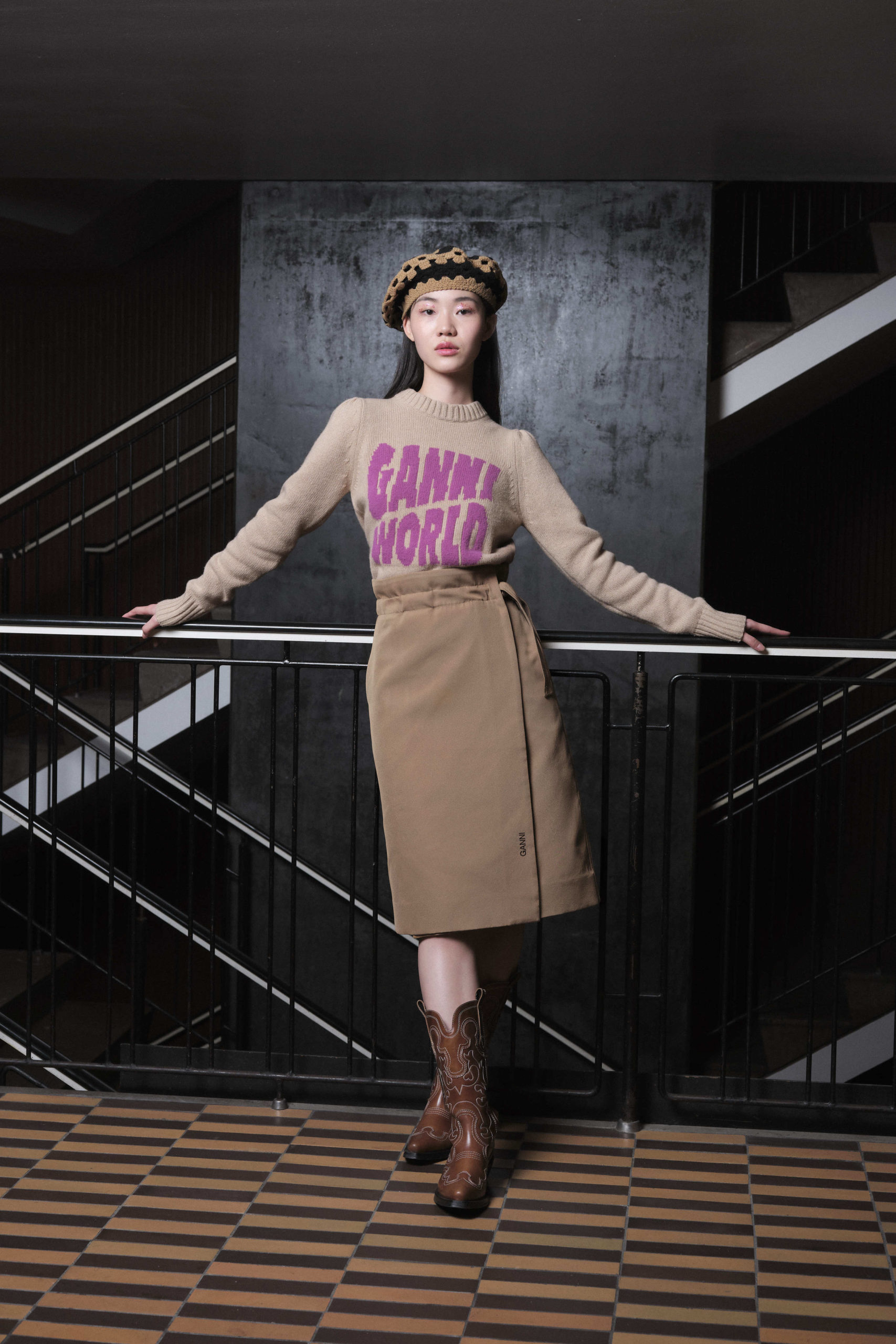 images courtesy of Ganni