February | The Essay
Red Carpet Revolution
With awards season back in full swing (we hope!), stars' fashion choices for their big night have never been more meaningful. Plaudits please for those artists and stylists reinventing the red carpet rules with looks designed to shine a spotlight on sustainability
Sarah Bailey
When Arianne Phillips, the veteran costume designer nominated for her work in Once Upon A Time in Hollywood took to the red carpet at the Oscars in 2020, wearing a glorious sculptural dress in vivid 'Schiaparelli pink' and black for the occasion, it was a déjà-vu moment. The gown had in fact been artfully remodelled by her friend, Moschino Creative Director Jeremy Scott, crafted from another Oscars' showstopper (this by Juan Carlos Obando) that she had worn eight years earlier when was honoured for her work on Madonna's Wallis Simpson biopic WE.
Phillips is a longtime advocate of vintage clothing, both in her costume work and her wardrobe choices, so the dress was a perfect metaphor for her powerhouse career ("past, present and future in the same garment," as she herself put it). But for Phillips, who has been increasingly drawn to activism in recent years (she started RAD, an organisation to promote 'red-carpet activism' in 2019), her reworked gown was also deliberately designed to send a message about environmental responsibility. "The great thing about being nominated for an Oscar was that I had the opportunity to talk about what was important to me," Phillips told me. "We have to come together to make our planet better."
Of course, awards shows, like many other fashion and celebrity high-pomp and glory rituals, have been in semi-hibernation in the past 24 months, since we have been in the pandemic's grip. But that's not to say there have not been flash-bulb-popping moments at film festivals, openings and the many, various permutations of scaled-back, socially-distanced soirees. And what has been evident during this period is an interesting shift in big-night dressing, with actors and stylists breaking out of the usual formula of 'hot-off-the-runway power gown + borrowed diamonds', to let their outfits tell a different story, while showcasing a more sustainable approach.
Take Angelina Jolie and her beautiful daughters, who attended the premiere of Eternals at the LA Film Festival last October, with the girls all outfitted in a selection of vintage and recycled hand-me-down gowns from mum's closet – perhaps most strikingly 16-year-old Zahara in the Elie Saab gown Jolie wore to the Oscars in 2014. It felt both radical (like, when do we ever see megawatt celebs and their entourages do that?) but also perfectly fitting – in tune with the mood of audiences, doubtless still raw from the long pandemic months, who may well have been playing wardrobe swaps themselves, while cooped up in their own family bubbles.
In the past two years, we have also seen upcycling have a high water-mark moment, thanks to new visionaries like Harris Reed, who dressed actor and environmental activist Emma Watson in one of the reworked wedding dresses from his 'Found' collection when she hit the green carpet at the Earthshot Awards last autumn.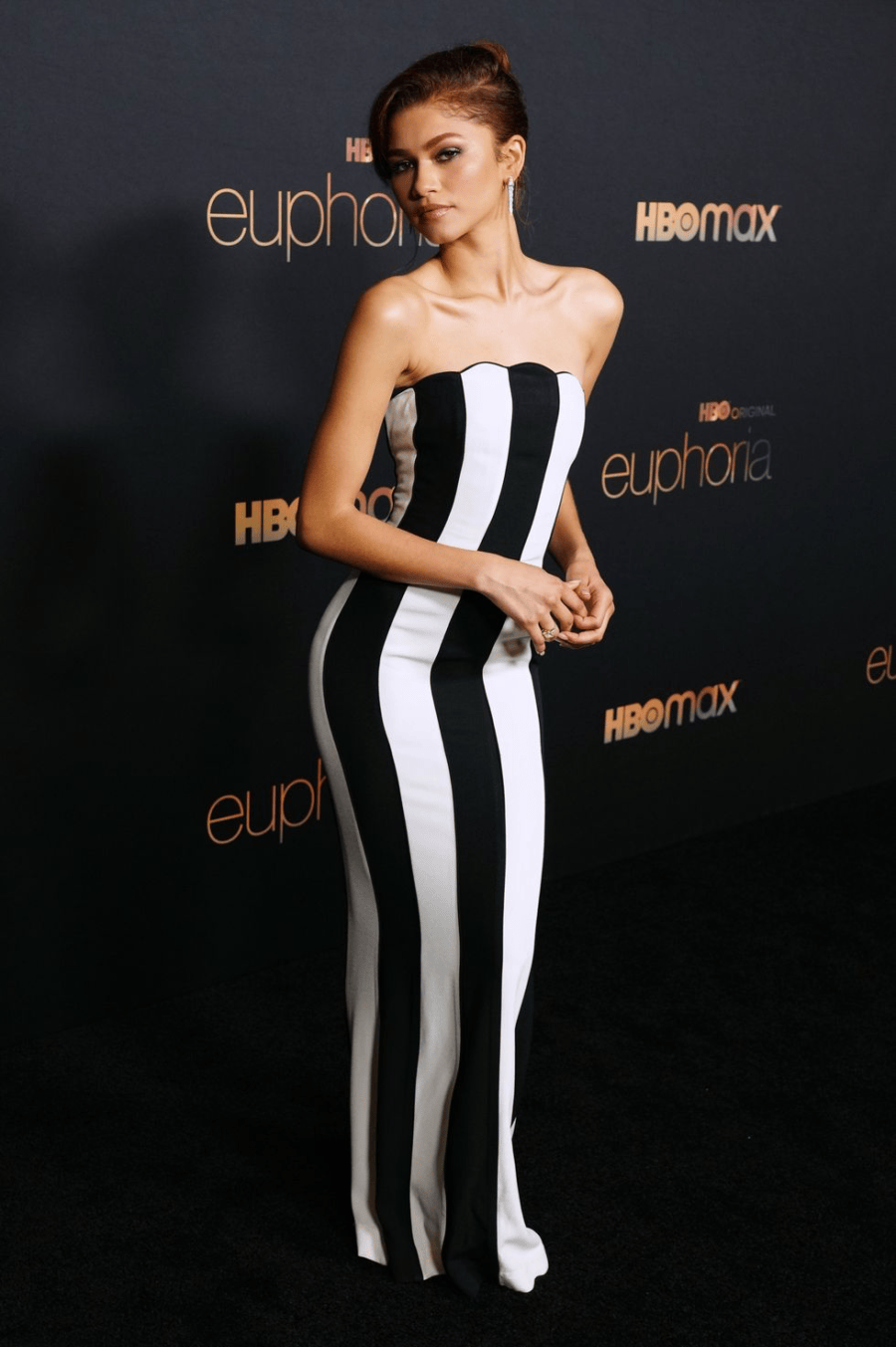 L: Zendaya in vintage Valentino, Euphoria premiere: R: Emma Roberts, 2017 Oscars working with RCGD and Armani
And vintage gowns are also very big news. See Zendaya, who just wore a refined, scallop-neck, column dress by Valentino from the brand's 1992 collection, for the Euphoria season two photocall; and Jennifer Aniston, who presented the virtual Emmys in 2020 in a black, bias-cut John Galliano for Christian Dior vintage slip dress and could not have looked more on-point. The New York Times ran a piece recently about the phenomenon, the last quote of which read like a call to arms: "Now it's almost like: Why haven't you worn something vintage on the red carpet yet? What is wrong with you?"
But as things 'get back to normal' this season, will the high-octane pressures of the ceremonies (not to mention the lucrative endorsement deals on offer from luxury houses) see stars reverting to more conservative glam sartorial codes? Or will the radical wave of more sustainability-conscious fashion on the red carpet continue?
I caught up with British stylist Miranda Almond, who has been working with Olivia Colman (nominated for Best Actress for her role in The Lost Daughter) since the pair met on a Harper's Bazaar shoot in 2019, to get her take. Almond worked with the Stella McCartney team on the sustainable velvet gown that Colman wore for the 2020 Academy Awards ceremony (which just happens to be my favourite Colman look ever). "It's not easy, as most of the outfits you'll see are custom-made and not reworn. Each artist wants to make their own statement, but I think we can make more conscious decisions," says Almond. "The advantage of having something custom-made is that it does cut out a lot of the carbon footprint on the shipping back and forth of options, so I guess in a small way that helps.
"Stella has always used more ecologically minded fabrics and techniques, so it was great to know that this was included in the making of the [2020] gown," Almond continues. "I would love to see more upcycling and re-wearing of gowns… I am very much into the idea of using vintage for the red carpet and will be looking into it more and more as there are so many ways to access it now. It's exciting to see."
One of the new ways to access showstoppers from seasons past is from the burgeoning luxury rental platforms. Stylist Holly White, who works with a raft of British talent (including 2021 BAFTA nominee Vanessa Kirby and presenter of the Green Carpet Awards Sophie Okonedo), is an eager advocate of rental sites like Hurr and By Rotation when sourcing options for her clients. (In fact, a package from Hurr arrives at White's studio, which is abuzz with awards-show prep, even as we are chatting). She explains that her priority is always "to make the client feel confident" on the red carpet, but educating them about the environmental impact of fashion is increasingly part of the consultation process. "I think the first question asked is, 'What exactly does it mean to be sustainable?'" says White, who encourages clients to embrace what feels authentic to them – be that fair trade, circular production, vintage or locally sourced. "A lot of them think, well, if this gets noticed by even one person, then the hope is that they can tell one more person… and then it's like a domino effect." Is it ever problematic working with vintage in terms of fit and fragility? She answers with a smile: "We just make a temporary alteration. Everything I'm using has to be tailored. The look would be nothing without tailoring!"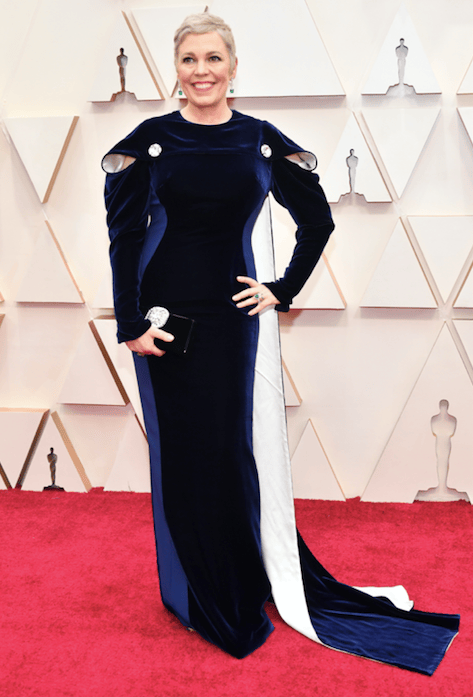 Olivia Colman in Stella sustainable velvet, Oscars 2020
Back across the Atlantic, I track down the legendary vintage dealer and fount of fashion knowledge Cameron Silver, whose LA store, Decades, opened in 1997 and has long been a source of exceptional archive luxury pieces for stars keen to distinguish themselves from the pack at industry awards ceremonies and all the attendant lunches and love-ins that make up a campaign. "Well, in the late '90s and early 2000s, the stylist system was just percolating. This was a time when a celebrity went to a store to buy something… suddenly vintage became a safe haven to find something that they knew would not be worn by a colleague," says Silver, who recalls that loyal client Renée Zellweger "would always come in after Pilates". Later, Nicole Kidman "built a really great vintage collection in collaboration with Decades and with the amazing L'Wren  Scott, who really proposed vintage as an important part of…almost her emancipation from Tom Cruise – owning her own style."
Silver is talking to me via Zoom from Florida, where he is about to host a sustainable luxury pop-up event, selling collectible vintage, while delighting his fans with anecdotes and vignettes from his storied career. He admits that the eco credentials of choosing vintage was not initially the driver for his celebrity clients. "It was more about, 'This looks hot'," he laughs. "Now that we have a consciousness of consumption, we are certainly procuring things with a sensitivity. So I think it really does make a difference."
Whether his clients are collecting vintage – or whether he's helping them shop for new – he encourages them to buy pieces that will rewear: "I always say to people who are scared of vintage or repeating something, look at anybody who's had a retrospective at The Met – Iris Apfel, Nan Kempner… these are women who all repeated, because real style is how you take something and repurpose it!"
Does he anticipate that we will see a new sartorial mood this coming awards season? "I don't know what the red carpet's going to look like this year, because we just don't know what's happening. But I have found, year after year, that more stylists are getting the requests for vintage… If I were famous or nominated? I mean sure, I get the fantasy of wearing Chanel couture, but I think it's so much chicer to wear vintage Chanel couture!"
Someone whose entire professional focus is dedicated to encouraging a more sustainable approach to red-carpet dressing is Samata Pattinson, CEO of Red Carpet Green Dress, a change-making organisation founded by Suzy Amis Cameron (wife of Avatar director James Cameron) in 2009 to advocate for social and environmental change in the fashion industry, through education, design competitions, red-carpet collaborations and an official partnership with the Academy Awards.
I mean sure, I get the fantasy of wearing Chanel couture, but I think it's so much chicer to wear vintage Chanel couture!

Cameron Silver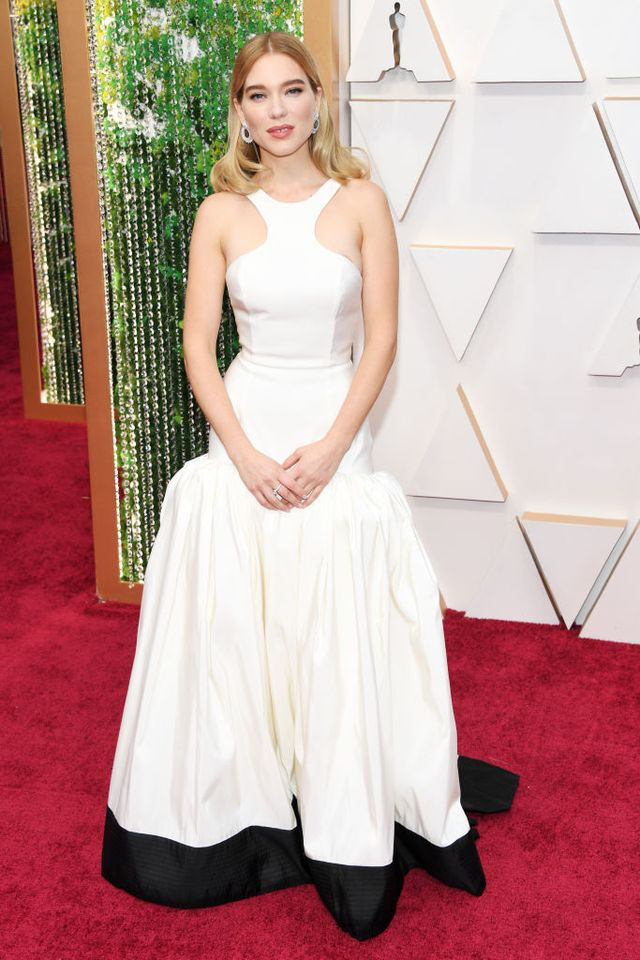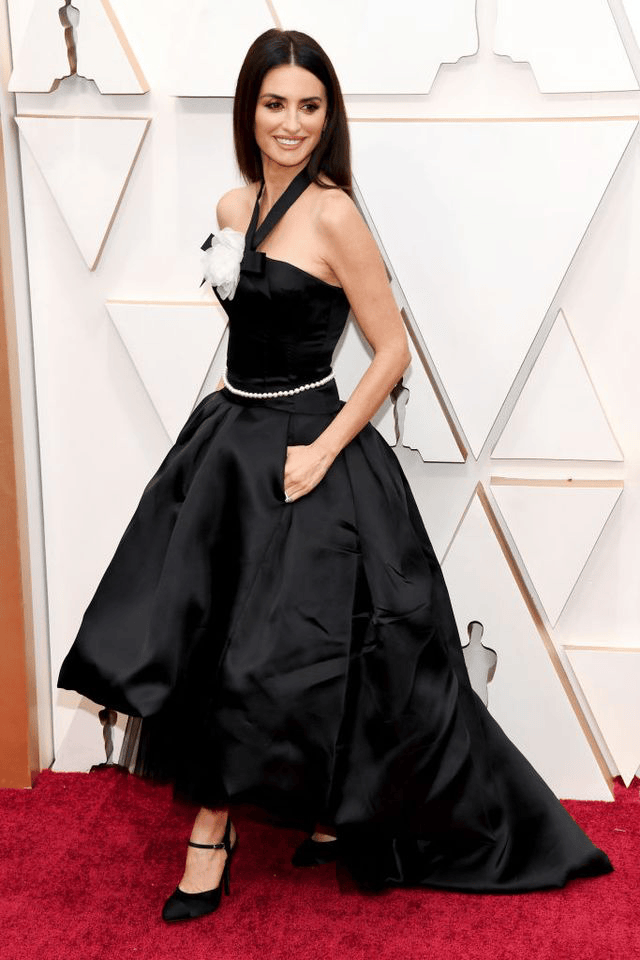 L: Lea Seydoux in a sustainable gown made with RCGD and Louis Vuitton, Oscars 2020; R: Penelope Cruz in '90s vintage Chanel, 2020 Oscars
Pattinson, a British-born Ghanaian, who grew up in the academic milieu of Cambridge loving clothes but discouraged from studying fashion by her family, graduated in economics before cutting her teeth in the London fashion and retail scene. Winning a RCGD competition to design a sustainable dress for the red carpet in 2011 was a life-changing moment, taking her to Los Angeles to meet the Camerons, who were impressed both by her fashion sensibility and her business chops. "It was this really nice organic conversation, 'Do you think you'd be interested in helping us grow [the contest] into something more?'," smiles Pattinson, who has worked for RCGD ever since, becoming CEO in 2019.
Today, Pattinson is clear that vintage can only ever be one part of a sustainable red carpet. "We still have to tackle how the new things being made are made," she says. A flip through RCGD's archive photography, showcasing their bespoke, sustainable red-carpet collaborations is a thing of absolute wonder (see, for instance, Naomie Harris's 2013 Oscars gown, designed by Vivienne Westwood, with sweetie wrappers used as embellishment in the bodice). "The Westwood team have just gone over and above and beyond for us," says Pattinson. "We adore them."
Sadly, RCGD can't reveal who they are working with for Oscars 2022 (even in the utopian world of sustainability, these things are clearly still high-stakes negotiations). When Pattinson and I spoke, shortly before Oscar nominations were announced, she confessed that Hollywood environmental posterboy and Don't Look Up star Leonardo DiCaprio was always on her wish list; but she also made the case for constantly striving to bring new, diverse voices into the sustainability spotlight to avoid it becoming another cosy clique – the same faces being applauded for working with the same brands. "Why can't we look for messengers across ages, across races, across genders, across sizes and across abilities as well? That's huge for us… because you're engaging other communities. And then those communities start seeing themselves in the conversation."
Pattinson is equally passionate about opening up the pool of designers who are creating fashion for the Oscars, looking to bring more global and up-and-coming talents to the attention of the stylist community. Names currently exciting her include Nigerian label Orange Culture, Tokyo James for menswear, and Indian Couture sensation Rahul Mishra. Sharing her discoveries, whether it's a hot new designer or a material science innovation is all part of the RCGD philosophy. Beyond the rarefied world of stars and their dressers, its goal is to bring progressive change to fashion as a whole. "Now we have learned this thing about botanical dyes, how do we make sure others start doing it?" she says. "We're always trying to show, teach, learn, inspire and bring people in."
"It might seem a bit weird to say that the Oscars is the space to do that. But it really is, because the viewership and the audience is so global and they're tuning in to critique, to be inspired, to be excited. So we catch people in this mind space, where they're like, 'What's coming around the corner next?' It's so much more meaningful than just this immediate 'wow moment'. It's a whole conversation!"
So, settle into your armchairs, fashion lovers, change-makers and movie fiends alike. The awards season 2022 red-carpet revolution will be televised… and there will be plenty to discuss.