September | Travel
Indian Summer Eco Escapes
Thought summer was nearly over? Think again – head south and you can spin it out for another couple of months of balmy days and warm seas, with low-season prices as a bonus
Susan Ward Davies
Seesoo Paros, Greece
On the west coast of Paros, known for its sandy beaches and Pinterest-worthy blue and white Cycladic houses, Seesoo is one of a crop of boutique hotels upping the luxury ante on the island. Owned by Austrians Claudia and Christian Bontus, who fell in love with Greece in their teens and recently decided to build their 'authentic bohemian paradise' here, Seesoo's 11 rooms are a boho-luxe mix of white walls and sandy-hued textiles, each with a balcony or terrace, and views of the twinkling Aegean.
Have a dawn yoga session on the deck, breakfast at the Pool Bar, a reflexology session or an aromatic massage in the spa, or a languid dip in Seesoo's little bay – it's the only hotel on the island with a private beach.  And if you're into kitesurfing – a big deal here – Paros Kite Beach is less than a mile away.
Eco Credentials
Designed as an 'eco haven for earth lovers', Seesoo is plastic-free, zero-waste, and has an innovative bio-waste system to clean and upcycle waste-water for the gardens. Rooms are cleaned with environmentally friendly products, have Coco-Mat mattresses (100% natural), organic bed linens and curtains, and towels and linens are changed only on demand. Food is organic and locally sourced and they run on photovoltaic energy – a more versatile form of solar power. They collaborate with Clean Blue Paros, whose aim is to make Paros the first plastic-free island in Greece.
Doubles from around £223, B&B.
Closes end of October till May 15.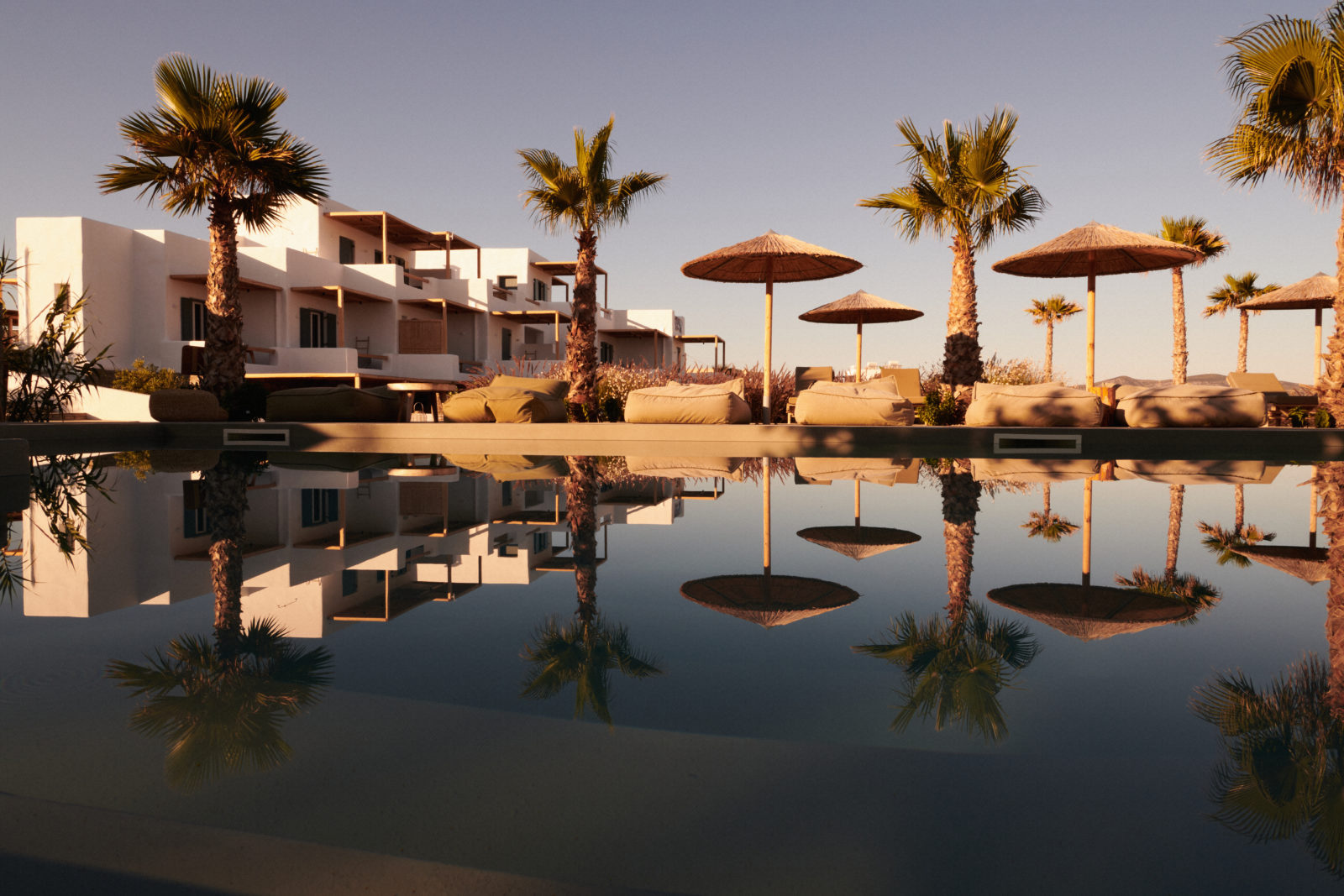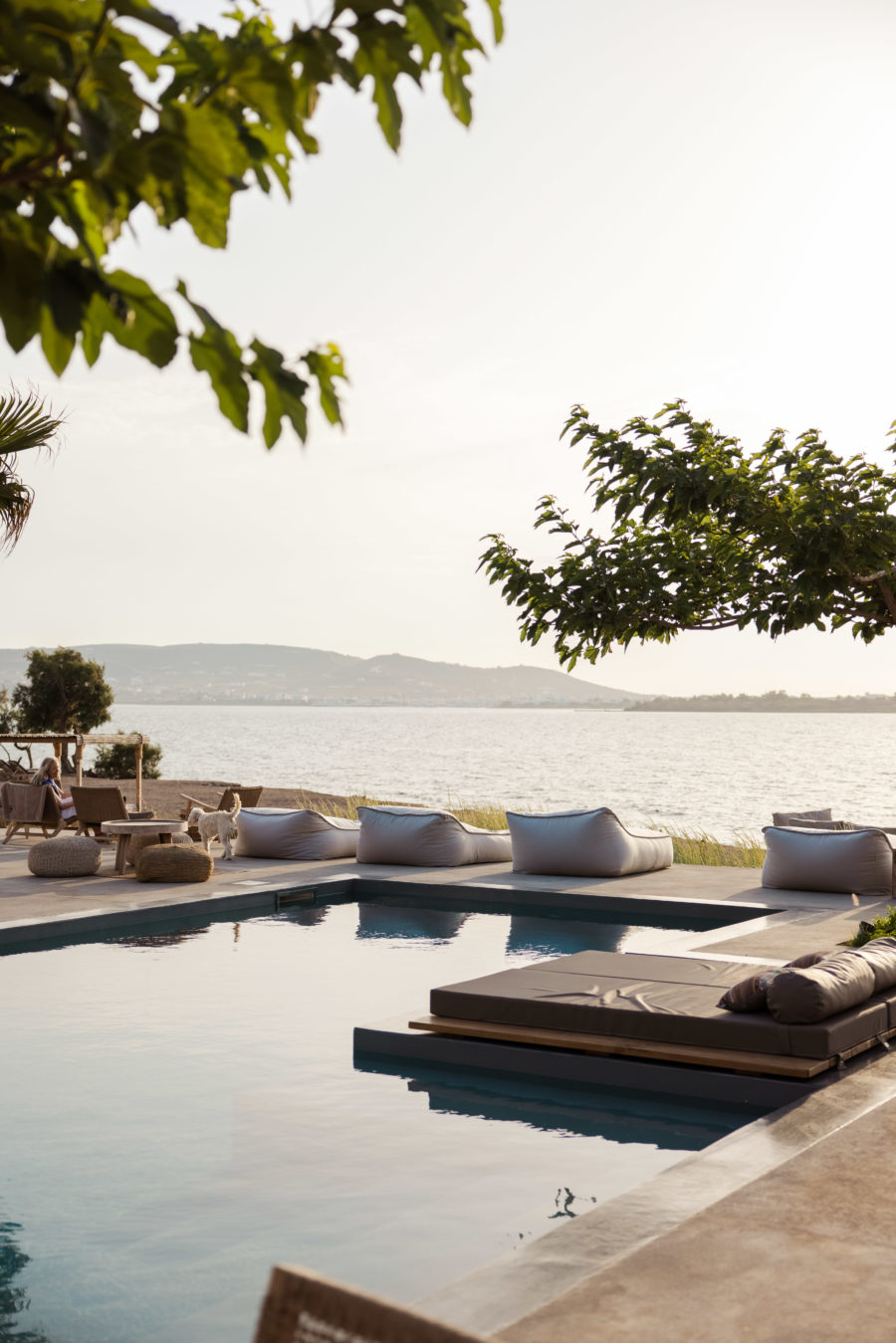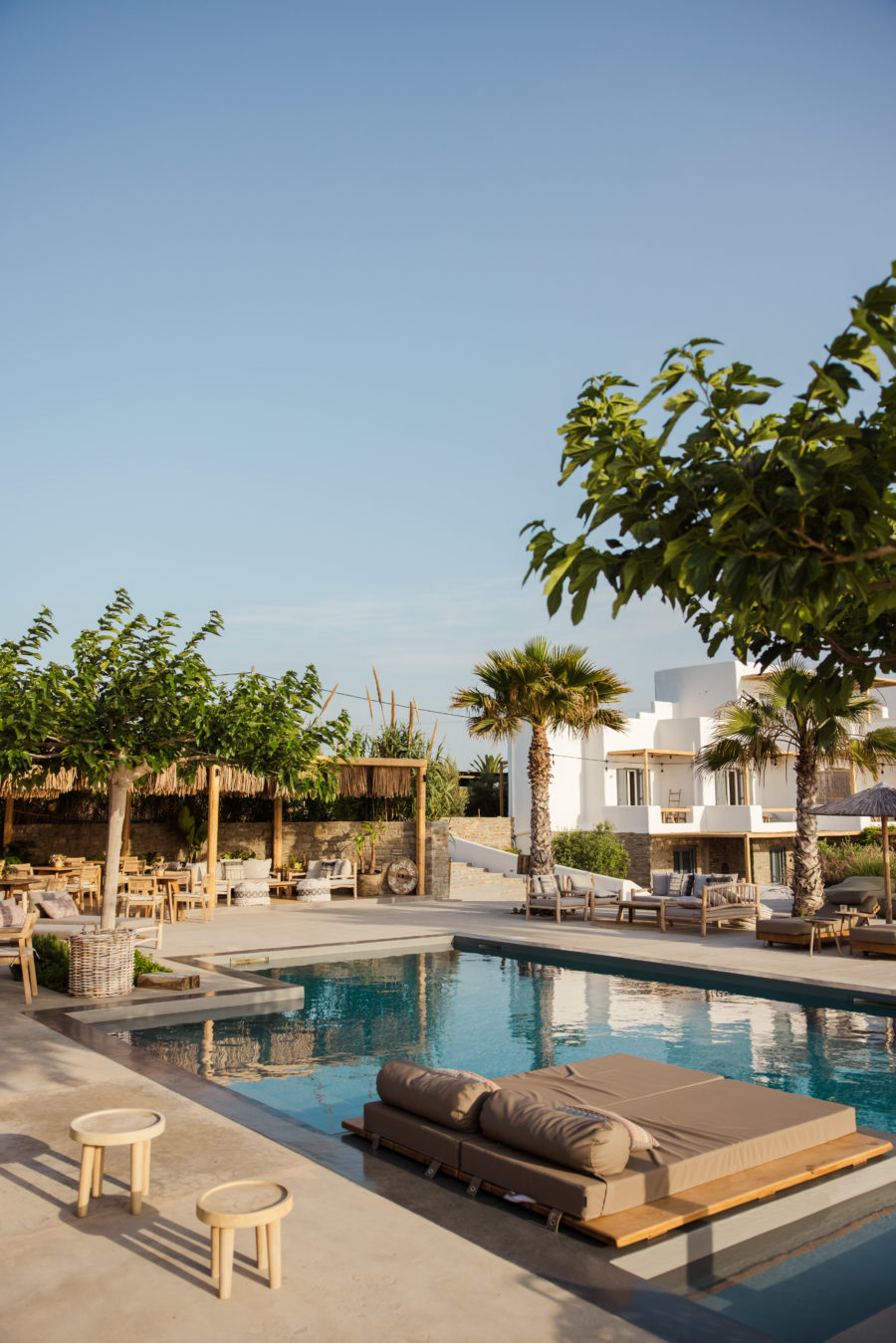 Images courtesy of Seesoo
Eco-Lodge Villa Epicurea, Sesimbra, Portugal
Less than an hour's drive south from charismatic Lisbon, with views over the Serra da Arrabida forest and the distant Atlantic, Villa Epicurea is a sustainably built hideaway tucked among the pine trees. Here, it is all about escape, peace and wellness, with yoga, tai chi and qi gong on offer, regular retreats (mindfulness, fitness, detox), a vegan/vegetarian menu, lots of adventure (mountain biking, dolphin watching, hiking), and philosophically themed walks, such as Discover Your Femininity, and The Power of Life.  And it's small: a maximum of 17 guests spread over two private villas in the grounds and three suites in the main house. Rooms are simple, with floors of polished concrete, cork walls (cool in summer, warm in winter), and lots of white and raffia. You're not right on the beach but there are two beauties nearby, and you can hop on a ferry to the often-deserted sands of the beautiful Troia peninsula, or head further south to fashionable Comporta.
Eco Credentials
Sustainable materials were used in construction, they have a bio pool (chemical-free), solar panels for heating, and a geodesic yoga dome. They have used a lot of cork, which is completely biodegradable, and the trees suck up five times more carbon from the atmosphere when their stripped bark is growing back. Food is all organic, vegan and vegetarian, and from local suppliers. Crockery and bedlinen are sourced locally, and toiletries are organic and homemade.
Doubles from £153, B&B, villaepicurea.com
Book through i-escape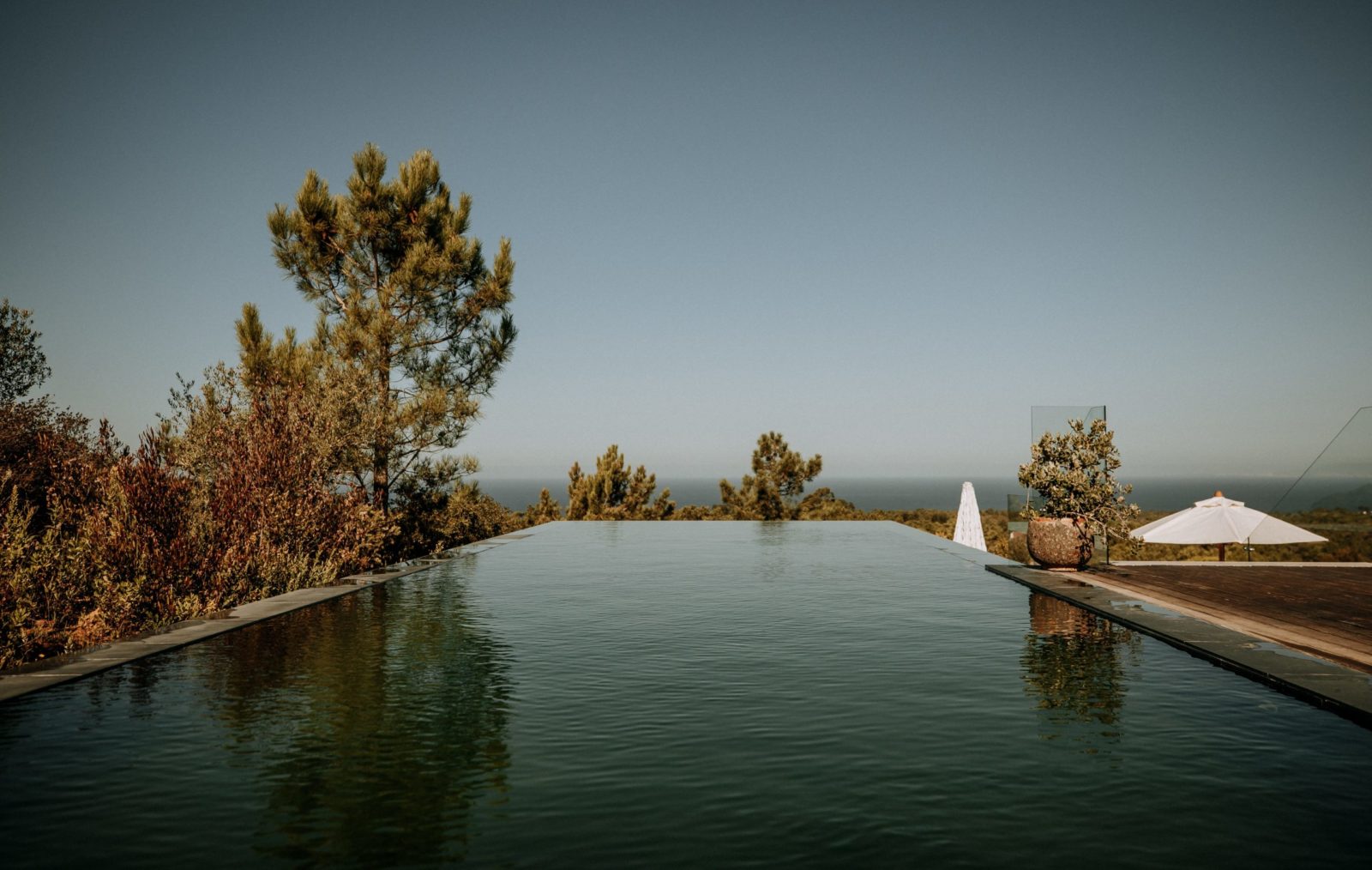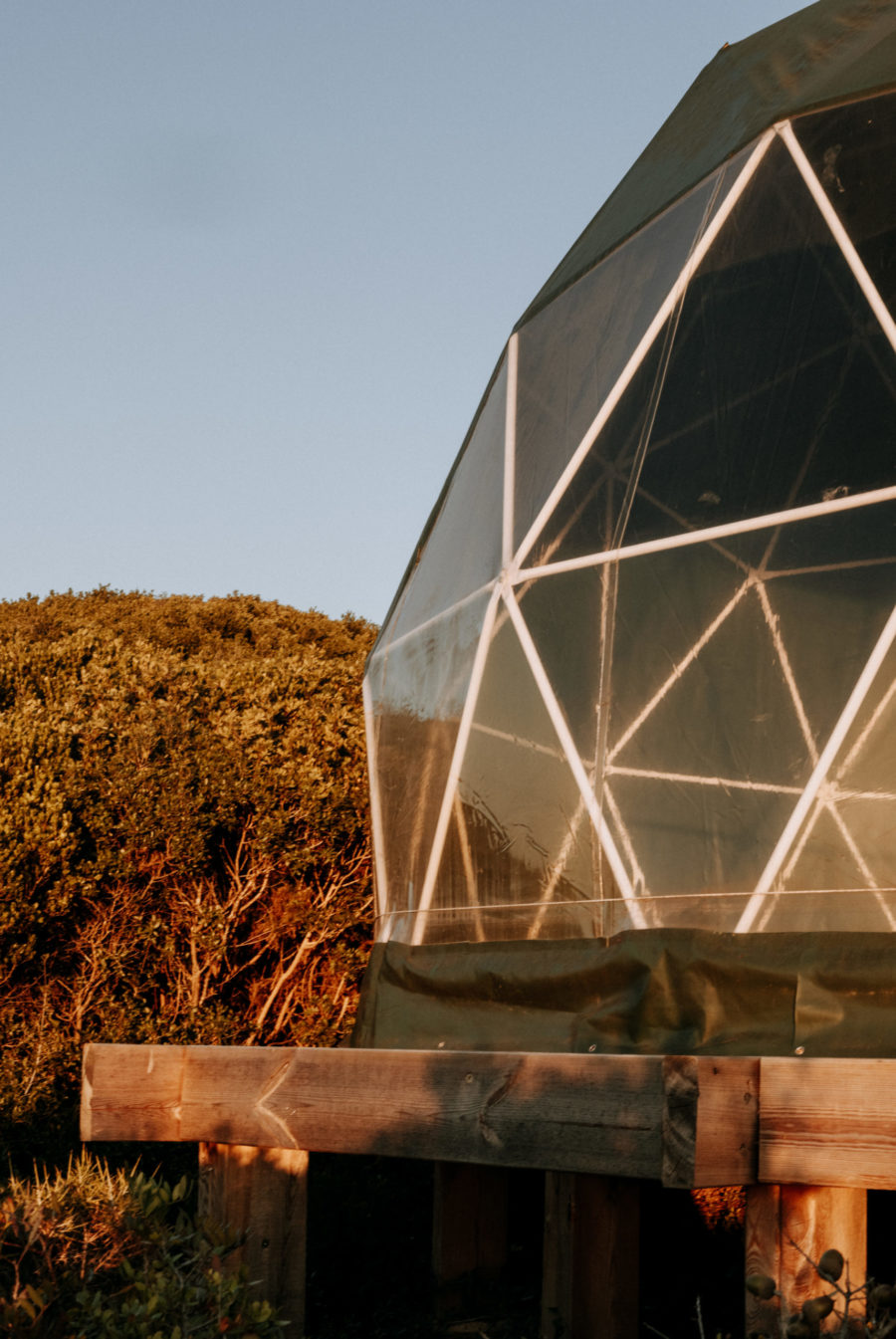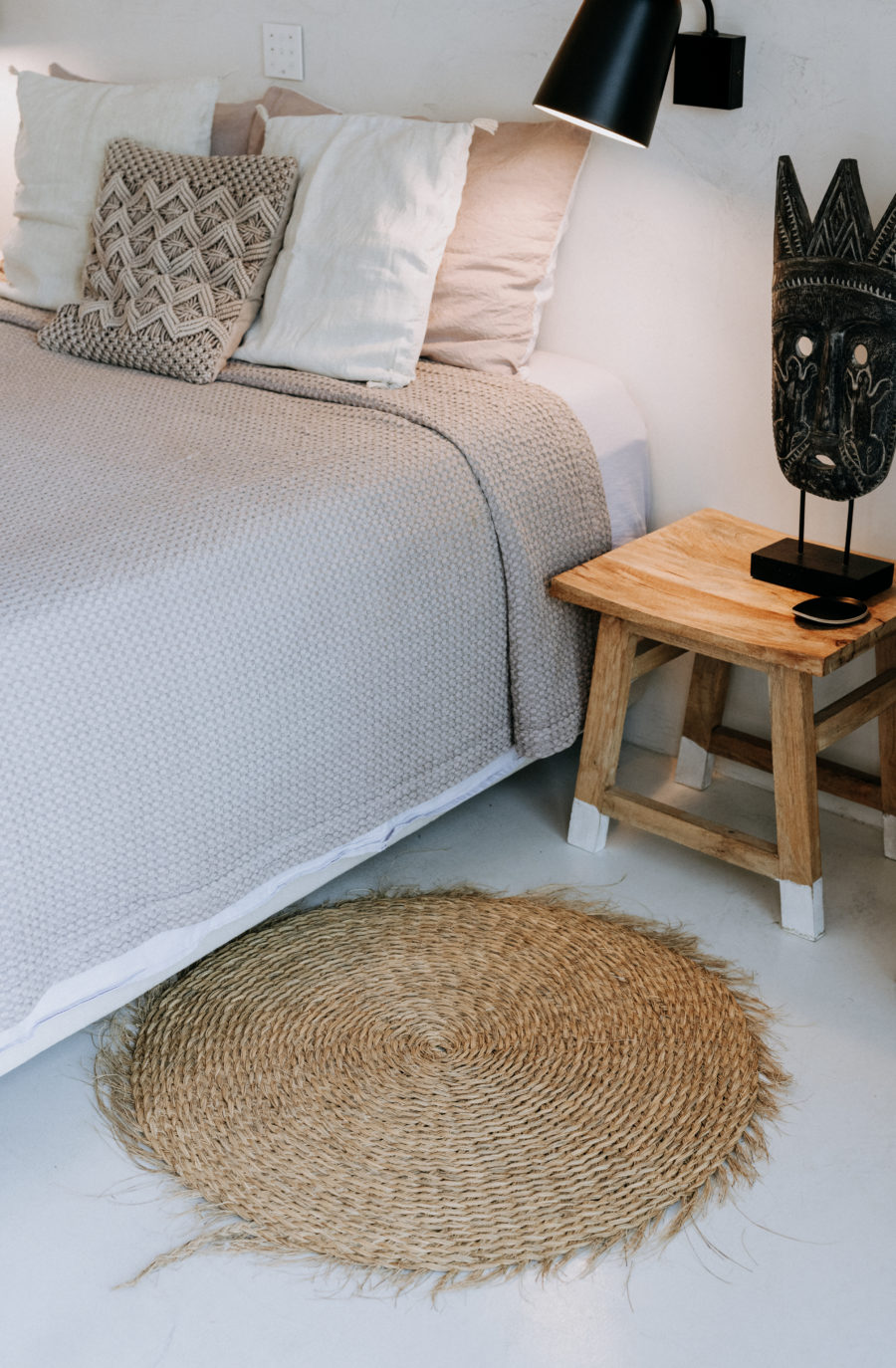 Images Courtesy of Villa Epicurea
Adler Spa Resort Sicilia, Agrigento, Sicily
The wild and wonderful Torre Salsa Natural Reserve, 760 hectares of wetlands, dunes, white gypsum cliffs and a spectacular 6km stretch of sandy beach, all protected by the WWF for its porcupines, turtles and other wildlife, hugs the coastline in the south west of Sicily. Perched on its borders, the Adler Spa Resort is the dream back-to-nature beach escape.
Sensitively and sustainably built, the resort's peaceful vibe is enhanced by linear water channels flowing through communal areas, and a private sandy beach backed by cliffs and umbrella pines. If the idea of three pools, daily yoga, a holistic spa, clifftop sea views and bikes to roam the reserve floats your boat, you are in the right place. 
Interiors are all about the outdoors, too, with each of the 90 bedrooms having its own sea-view, al fresco living space. Inside, unbaked clay walls, cedar-wood panels, and hues of pumpkin, amber and yellow give a warm, earthy colour palette. 
Eco Credentials
Adler gets top marks for eco efforts: opened in 2022, it was built on the principles of bio architecture, with a low-level, single-storey design that blends into the hillside, walls clad in baked Sicilian clay, floors finished in opus signinum – a sustainable mix of crushed bricks and lime mortar – and some buildings clad in volcanic rock from around Mount Etna. Electric-car hire and charging points are available at the resort, and they have their own biodynamic winery. Restaurant ingredients are sourced from the resort gardens and orchards, or from local farmers and fishermen. And, of course, it goes without saying, there is no single-use plastic, waste-water is recycled, and lights are LED.
Doubles from around £230, half board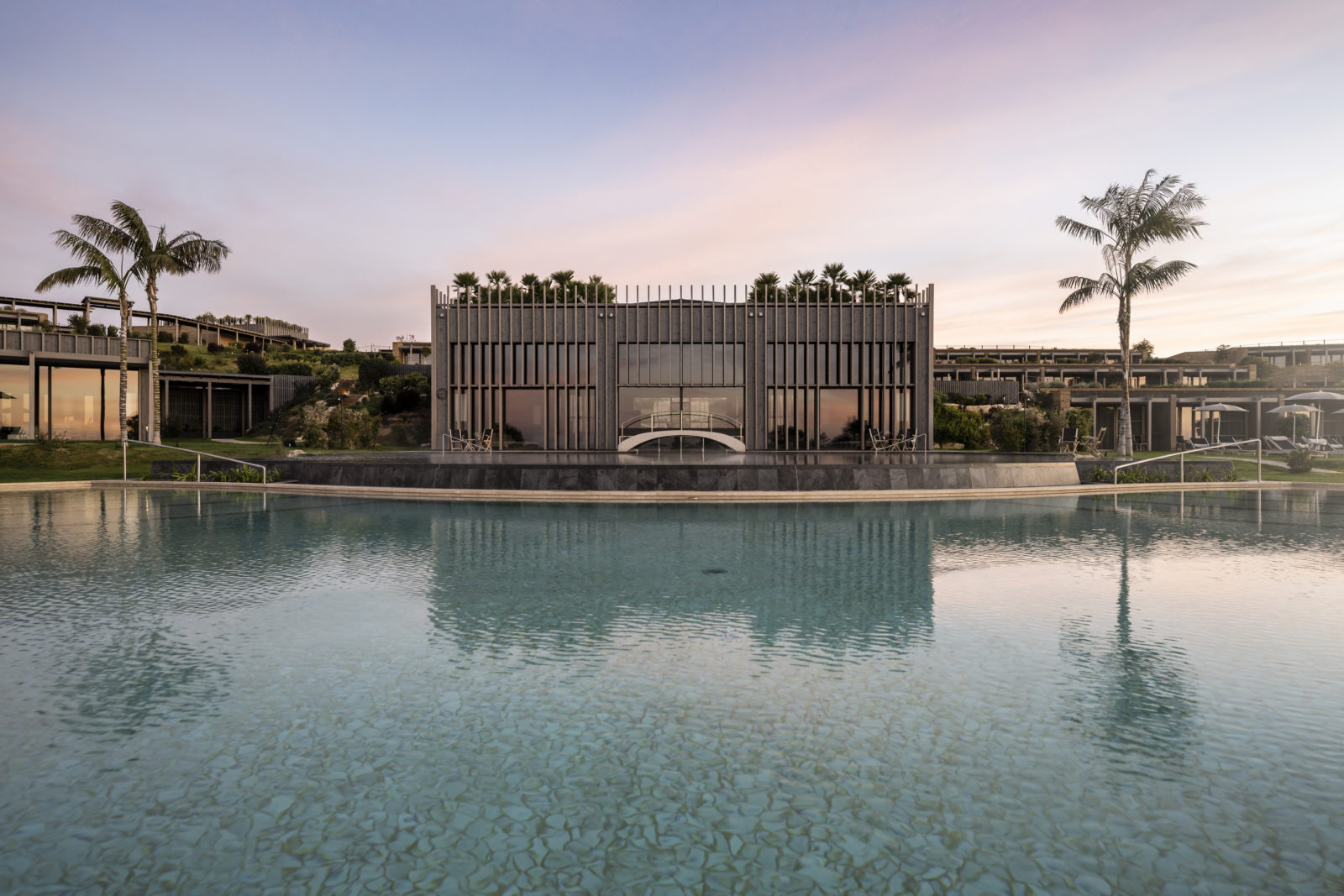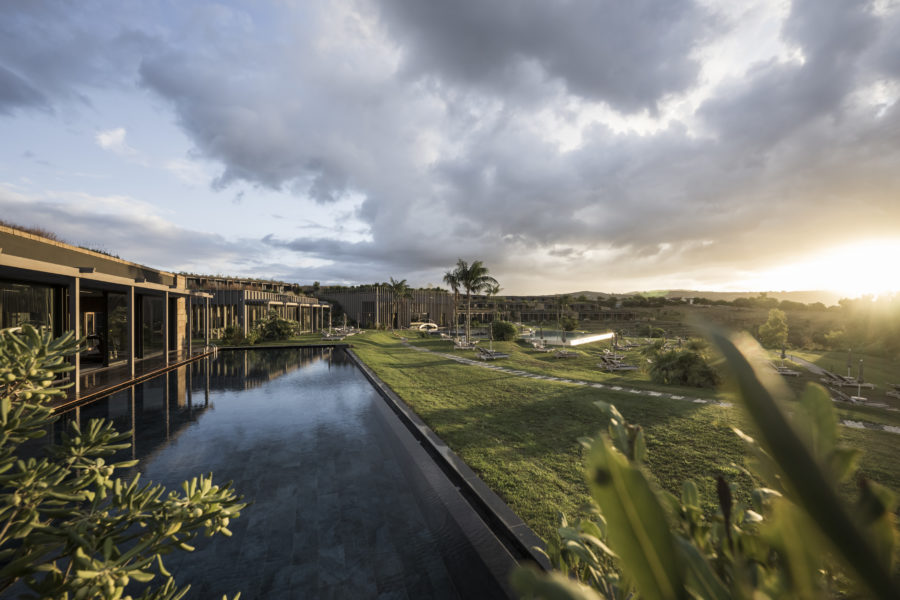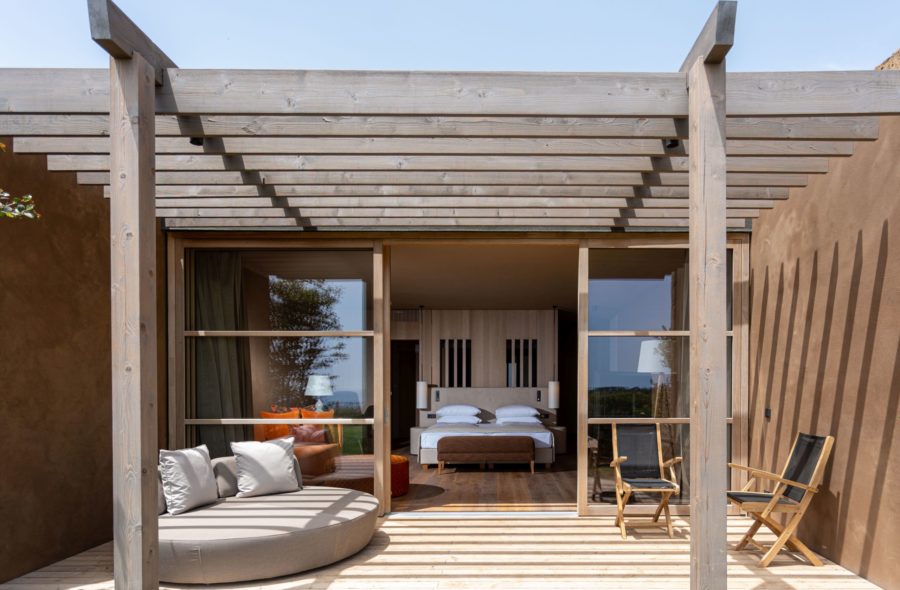 Adler Sicilia ©Alex Filz
Instants d'Absolu Eco Lodge, Auvergne, France
This is getting away from it all and then some. Set on the shores of Lac du Pêcher, in the Auvergne Volcanoes Regional Nature Park (France's largest), this 300-year-old converted farmhouse has 12 TV-free bedrooms and nothing but wild nature for miles. It's a place for hiking, horse riding and nature trails, volcanic-clay body wraps and steam baths in the spa,  deer-spotting in the forest or by the peaceful lake, and spectacular star-gazing thanks to zero light pollution. Inspired by African safari lodges, interiors have travel trunks as wardrobes, cosy log fires and lots of natural textiles. Autumn here is heaven, with mild sunny days, gentle light and lots of wildlife.
Eco Credentials
A shredded (local) wood boiler provides hot water and heating, reducing CO² emissions by around 29 tonnes per year. Cellulose wadding insulation and solar control glazing balance temperature and light, and bathrooms have water-flow reducers, while drinking water and water for the spa comes from their own spring. A permaculture garden uses aquaponics, chickens provide eggs for the kitchen, and much of the delicious farm-to-table cuisine is grown in the garden. Bathroom splashbacks are made from river stones, and bedside tables from fallen trees.
Doubles from £287, half board.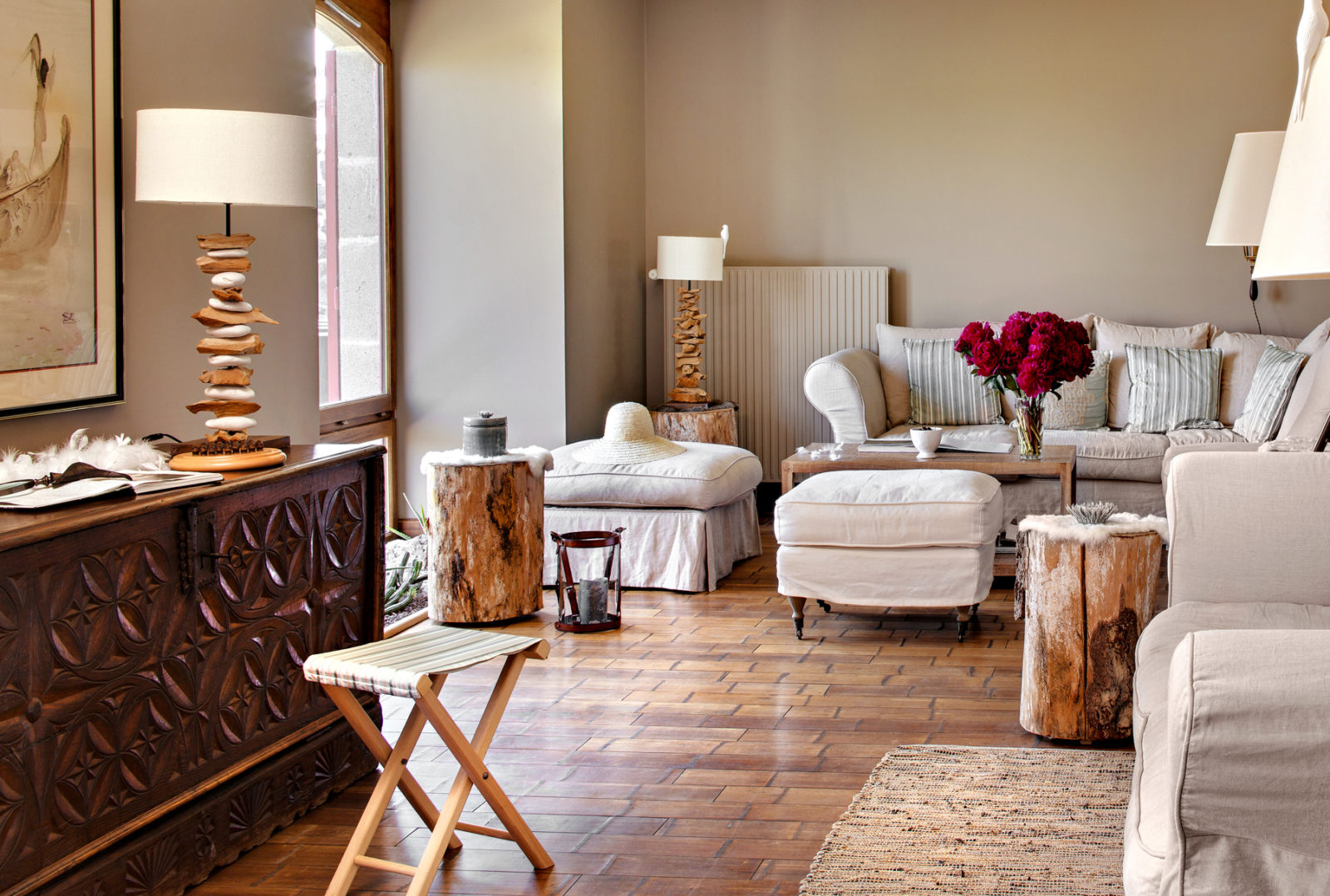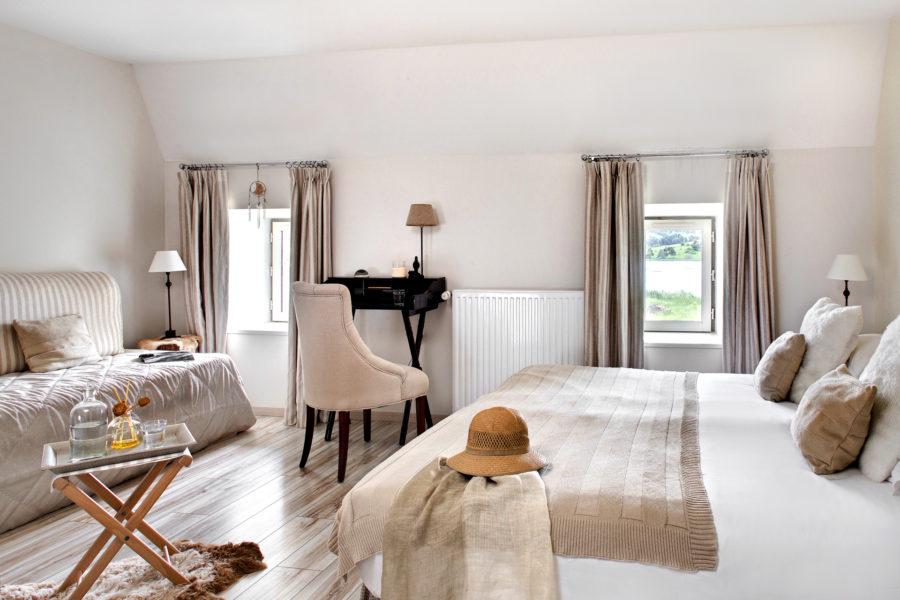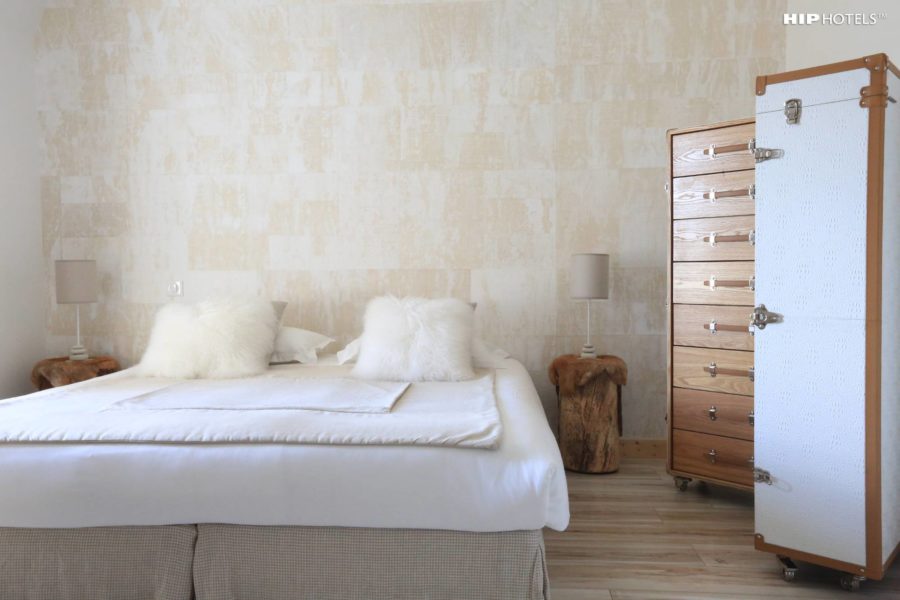 Instants d'Absolu ©Jérome Mondiere
Bellevue Croatia, Dubrovnik, Croatia
On a clifftop overlooking the blue Adriatic but just a ten-minute walk to Dubrovnik's medieval heart, a UNESCO heritage site of gleaming marble squares, cobbled lanes and ancient churches and monasteries, the Bellevue is perfect for a beach holiday with a side order of culture. Given a complete design revamp in 2019, the hotel's 91 rooms are all soothing greys and whites, mostly with sea views and balconies. Swim from the pebbly beach below the hotel or in the indoor pool, de-stress in the 500-square-metre spa, and dress up for the Michelin-recommended Vapor restaurant, where you can feast on Adriatic fish ceviche and prawn-and-ricotta dumplings overlooking the waves.
Eco Credentials
You can tell they take the environment seriously by the impressive length of their sustainability website section. Measures – across the whole hotel group – include certified organic toiletries in recyclable containers, sourcing food from certified suppliers, and Bellevue's chef strives to reduce food miles and support the local supply chain, featuring traditional local dishes.
They work closely with Maritimo Recycling, encouraging guests to take part in beach clean-ups. They use sustainable paper from arcticpaper.com, have water-efficient toilets, and single-use plastics are banned. Staff are trained in best recycling practice, provided with water in reusable bottles, and Miret sneakers – a bio-based Croatian brand with strict eco standards – are part of their uniform. A percentage of the hotel's revenue is ploughed back into the local community and 70% of employees come from the surrounding area.
Doubles from around £123, B&B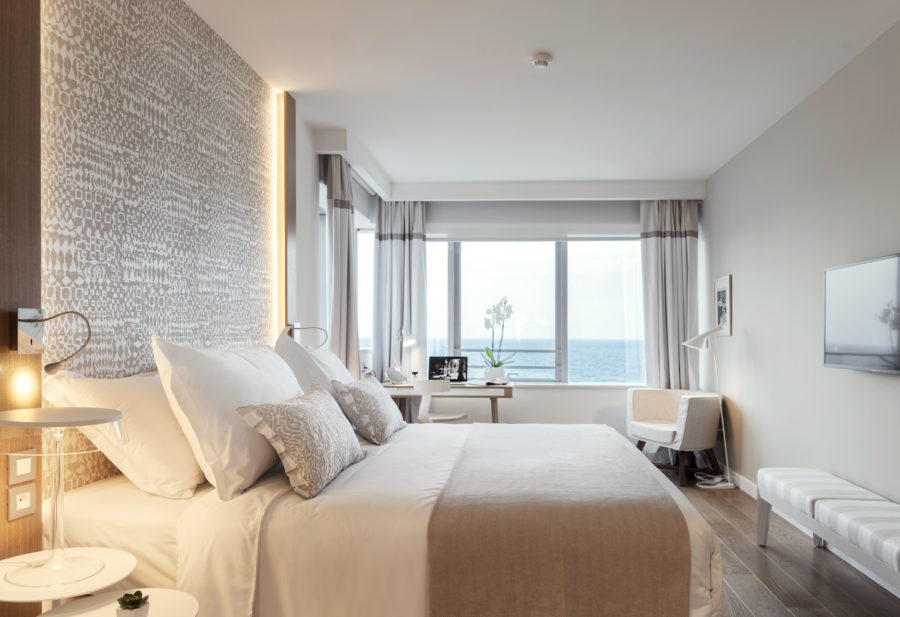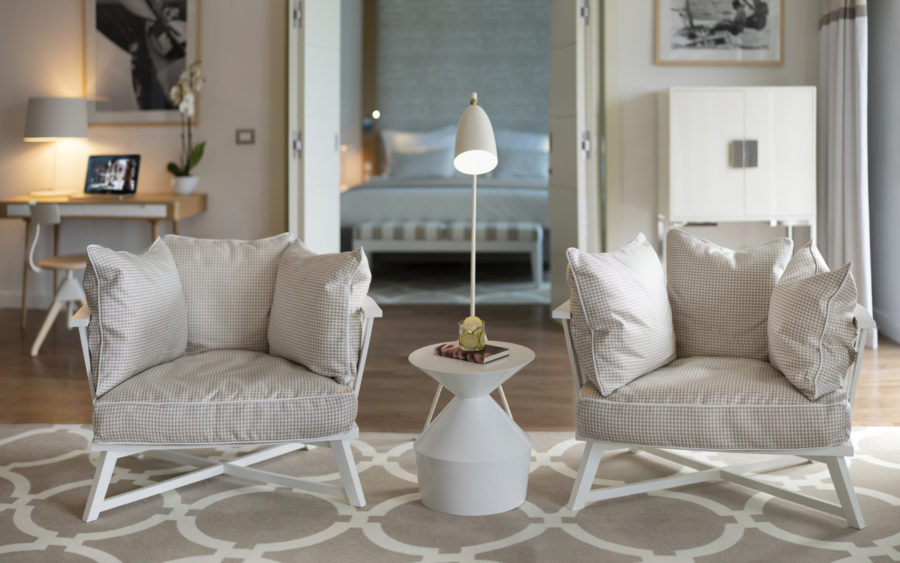 Images courtesy of Bellevue Croatia