September | Travel
Great Train Journeys
From the Peruvian Andes to the peaks of the Rockies, here's how to do slow travel in style
Susan Ward Davies
We love a train ride, and with eco travel a priority, there has never been a better – or more necessary time – to try one. Nothing beats gazing out of a window for hours as the hypnotic clunkety-clunk lulls you to sleep, or waking up in the night for glimpses of strange stations, and flashing past trackside villages as lights flicker from open doorways. There are so many beautiful routes to take but here are just some of our favourites, paired with a sustainable hotel to stay in en route.
Canada
TRAIN:Rocky Mountaineer: First Passage to the West, two days
One of the world's most scenic rail networks, the Rocky Mountaineer has several journeys into and around Canada's epic Rocky Mountains. The First Passage to the West takes you from Vancouver to Banff via Kamloops (where you overnight), on a route that, in parts, was literally carved into the mountains. You'll look down on icy green rivers and white-water rapids from scary single-gauge bridges, pass through dramatic canyons and alongside peaceful lakes, following the wonderfully named Kicking Horse River, and with snow-capped mountains as the backdrop. The train has special wrap-around, glass dome windows for optimum landscape-viewing, but the outdoor platform is the place for selfies. rockymountaineer.com
ECO STAY
Vancouver's Fairmont Waterfront and Fairmont Pacific Rim have the best views in town – overlooking the Strait of Georgia and the city, so you can watch the sea-planes take off from your bedroom. The group has a big sustainability commitment, with Fairmont Waterfront known for its rooftop bee garden with its hives and a pollinator hotel, made from donated and upcycled materials, and known (of course) as the Bee & Bee.
Doubles from £229, room only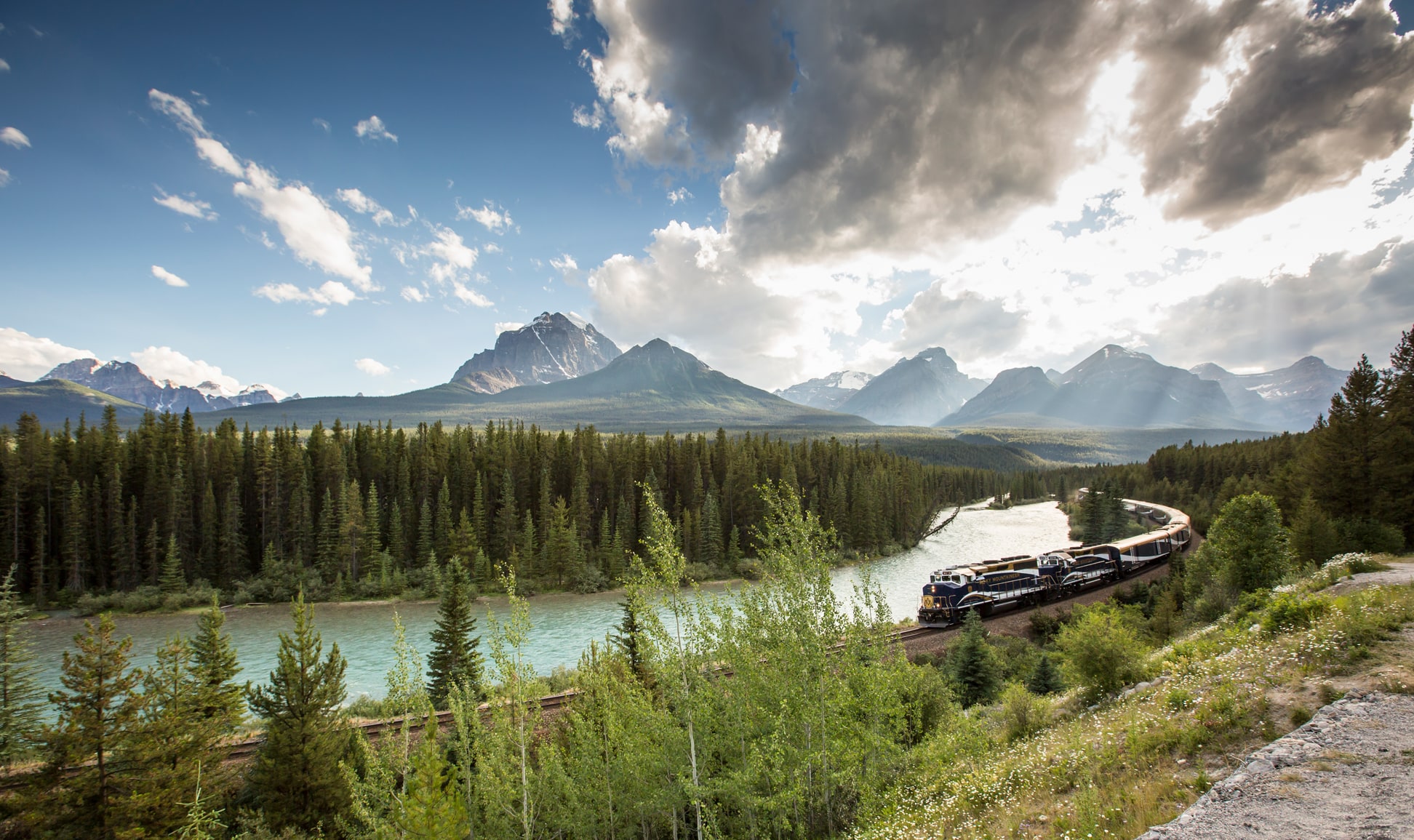 Rocky Mountaineer: First Passage to the West
2. Peru
TRAIN: Belmond Andean Express: Cusco to Puno, 10 hours
The Andean Explorer from Cusco to Puno is a beauty. It's run by Belmond (formerly Orient Express), so of course it is super-luxe: you get armchairs rather than regular seats, a table complete with tablecloth and window lamp, and full-on VIP treatment with three-course meals (think salmon and quinoa salad; crab cakes…), and proper afternoon tea. You pass through wild and wonderful mountain landscapes and heathland, best enjoyed from the open end of the Observation Car. The train's highest stop point, La Raya, at an altitude of 4,312 metres, literally takes your breath away, before descending to Puno, the stop-off point for the wonderful Lake Titicaca. You can leave there or continue to Arequipa, a UNESCO World Heritage Site.
ECO STAY
Titilaka Hotel, Lake Titicaca
From Puno, it is a 45-minute taxi ride to the Titilaka hotel, for views over Lake Titicaca (the world's highest navigable body of water, at 3,810 metres), 18 stylish suites with large windows, innovative Peruvian food, and communal areas so full of art they could double as a gallery. Borrow bikes and kayaks, or take a boat ride to the floating islands of the pre-Inca Uros tribe. The hotel supports the local communities, promotes sustainability and is awarded the Peruvian government's CALTUR certification for tourism quality every year.
Doubles from £864, full board, including some excursions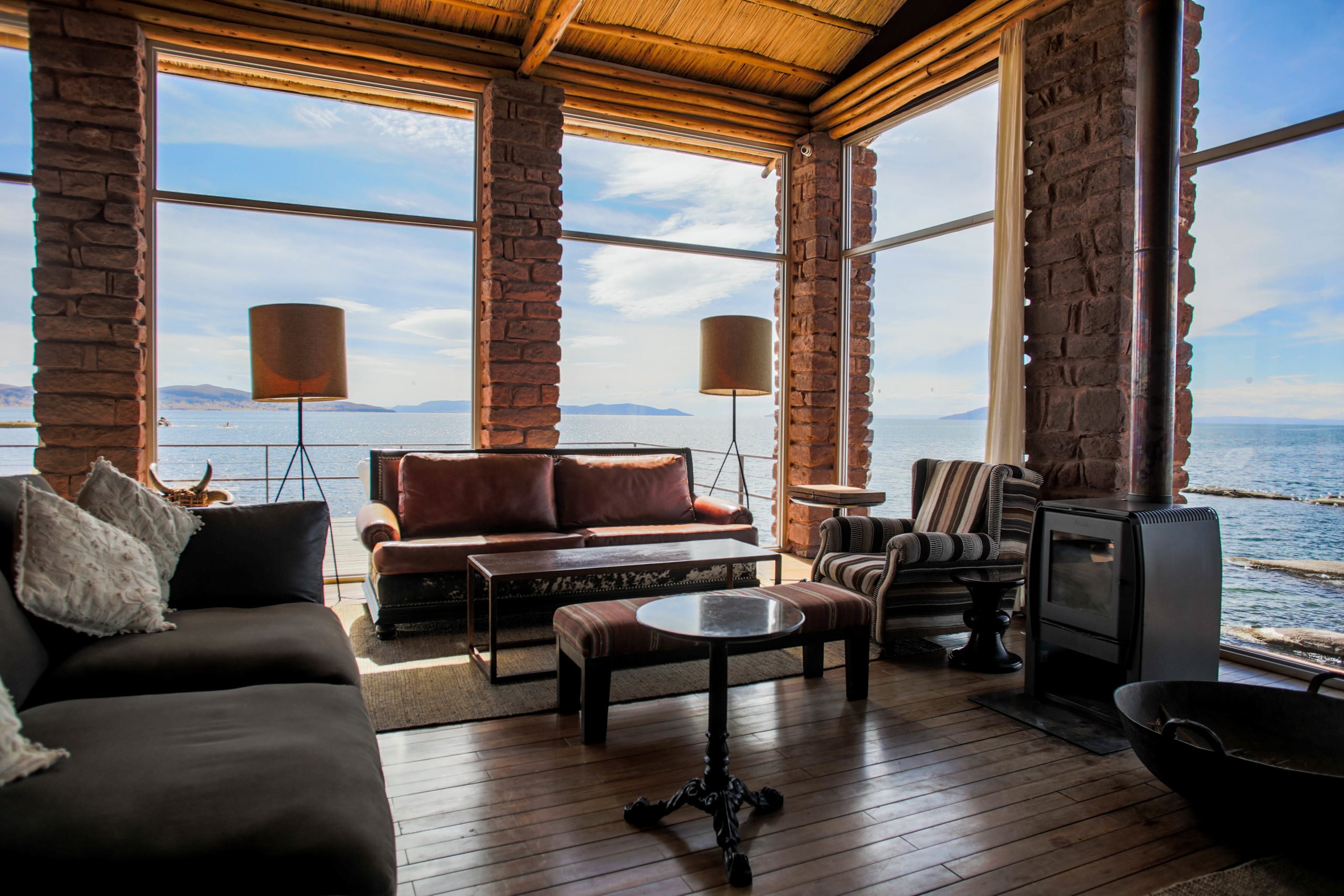 Titilaka Hotel, Lake Titicaca
3. Vietnam
TRAIN: The Vietage: Da Nang to Quy-Nhon, six hours
This luxury carriage, owned by Anantara hotels, is attached to the regular Vietnam Railways train running between the central Vietnam coastal resorts of Da Nang (15 miles north of historic Hoi An) and Quy Nhon. Six booths, each for two people, have rattan walls, small tables, large windows and seats that convert into a bed at night. There is a chic black marble bar in the centre of the carriage, plus a wellness area in the back for complimentary head and neck massages. Food (morning pastries, snacks, three-course gourmet lunch or dinner) and drinks (wines, ethically sourced coffee, soft drinks) are included (extra for champagne), as are neck pillows, eye masks and even slippers. Views are mesmerising with white cranes flying elegantly over green rice paddies, grazing water buffalo and misty mountains. thevietagetrain.com
ECO STAY
Anantara Quy-Nhon
Just a 30-minute transfer from the Dieu Tri station in Quy-Nhon, this is beachside luxury at its finest. Scattered over a hillside above a white sandy beach, the secluded villa suites have sea views, private decks and plunge pools. The hotel has a social involvement programme that supports local artisans and performers, and they focus on water and energy conservation and waste management.
Doubles from around £240, room only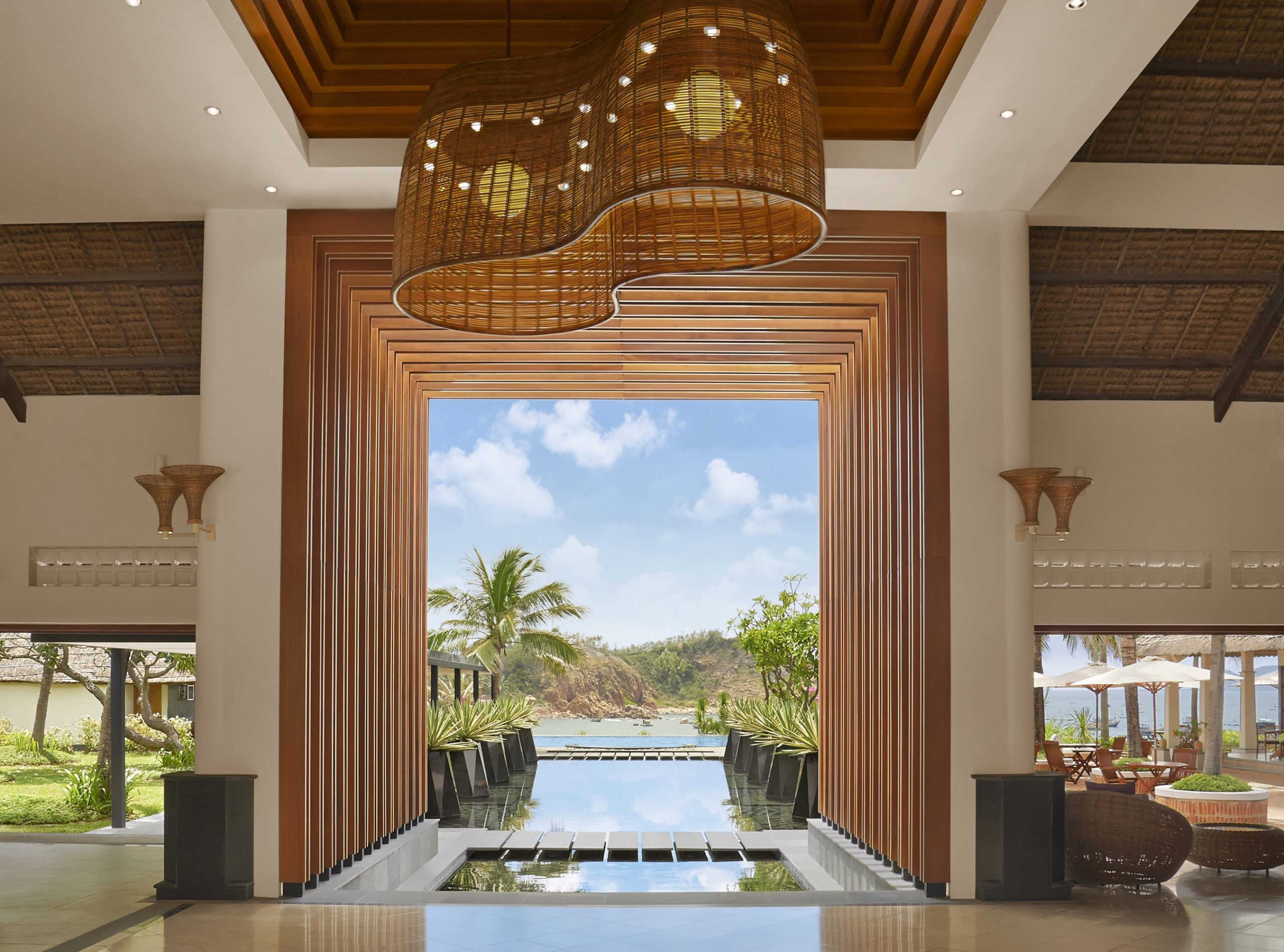 Anantara Quy-Nhon
4.  Wales 
TRAIN: Welsh Highland Railway: Porthmadog to Caernarfon, Snowdonia, one hour
This spectacular, 25-mile steam-train journey starts beneath Caernarfon Castle, climbs to more than 650ft on the foothills of Mount Snowdon, before zig-zagging dramatically down the steep hillside to the village of Beddgelert, in the heart of the Snowdonia National Park. You trundle through the beautiful Aberglaslyn Pass and on to Porthmadog, past wooded valleys, lakes and mountains.
ECO STAY
Ty Mam Mawr, Cynwyd Forest
These two boho-chic, off-grid yurts sit in the heart of the Cynwyd Forest in the Berwyn Mountains, about an hour from Caernarfon. Water comes from a mountain spring, energy is renewable, and owners Shayne and Nathan are on a mission to create a place for change and growth in harmony with nature.
Yurts from £59 a night, sleeping up to 4 or 7 people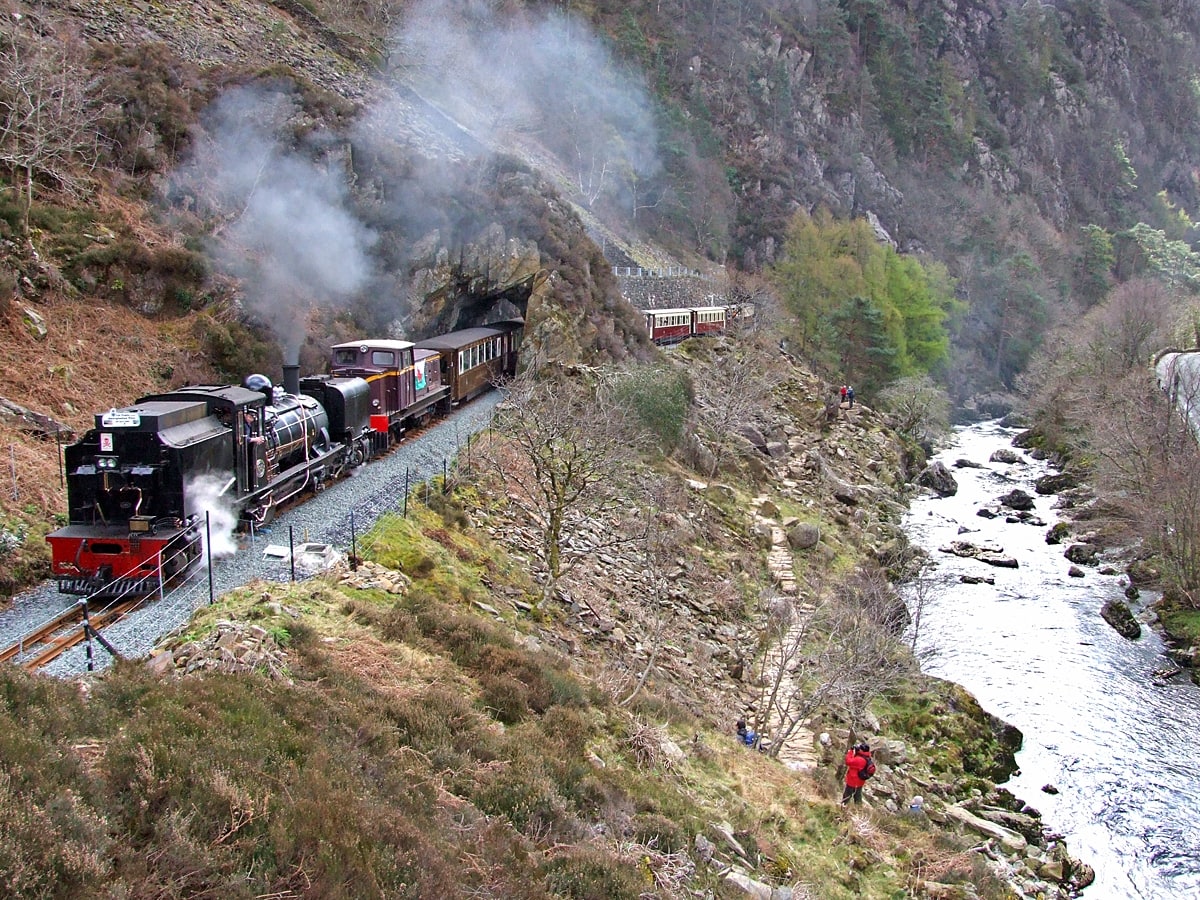 Welsh Highland Railway
5. Norway
TRAIN: The Flam Railway: Aurlandsfjord to Myrdal
The Flam Railway, which runs from the end of Aurlandsfjord to the mountains around Myrdal station, is only 12 miles long but one of the planet's most beautiful rail journeys. You can take the Bergen Line (which runs between Oslo and Bergen) from Oslo station, and switch on to the Flam vintage train at Myrdal, 3,000 feet above sea level. An amazing feat of engineering, it is one of the steepest standard gauge railways in the world, with 20 tunnels, steep drops and heart-stopping 180 degree turns. It is all worth it for the cascading rivers, lush valley, dramatic mountains and spectacular waterfalls.
Original Travel can arrange a 12-day round trip from London by train, including cycling trips, hikes and stays
ECO STAY
A former fishing lodge surrounded by mountains, Aurland 292 has 10 rooms in four buildings, some dating back to the 18th century. In the heart of the fjords in the beautiful Aurlandsdalen valley, they have their own hens, a kitchen garden, serve organic and locally sourced food and aim to preserve nature and the local culture.
Doubles from £263, full board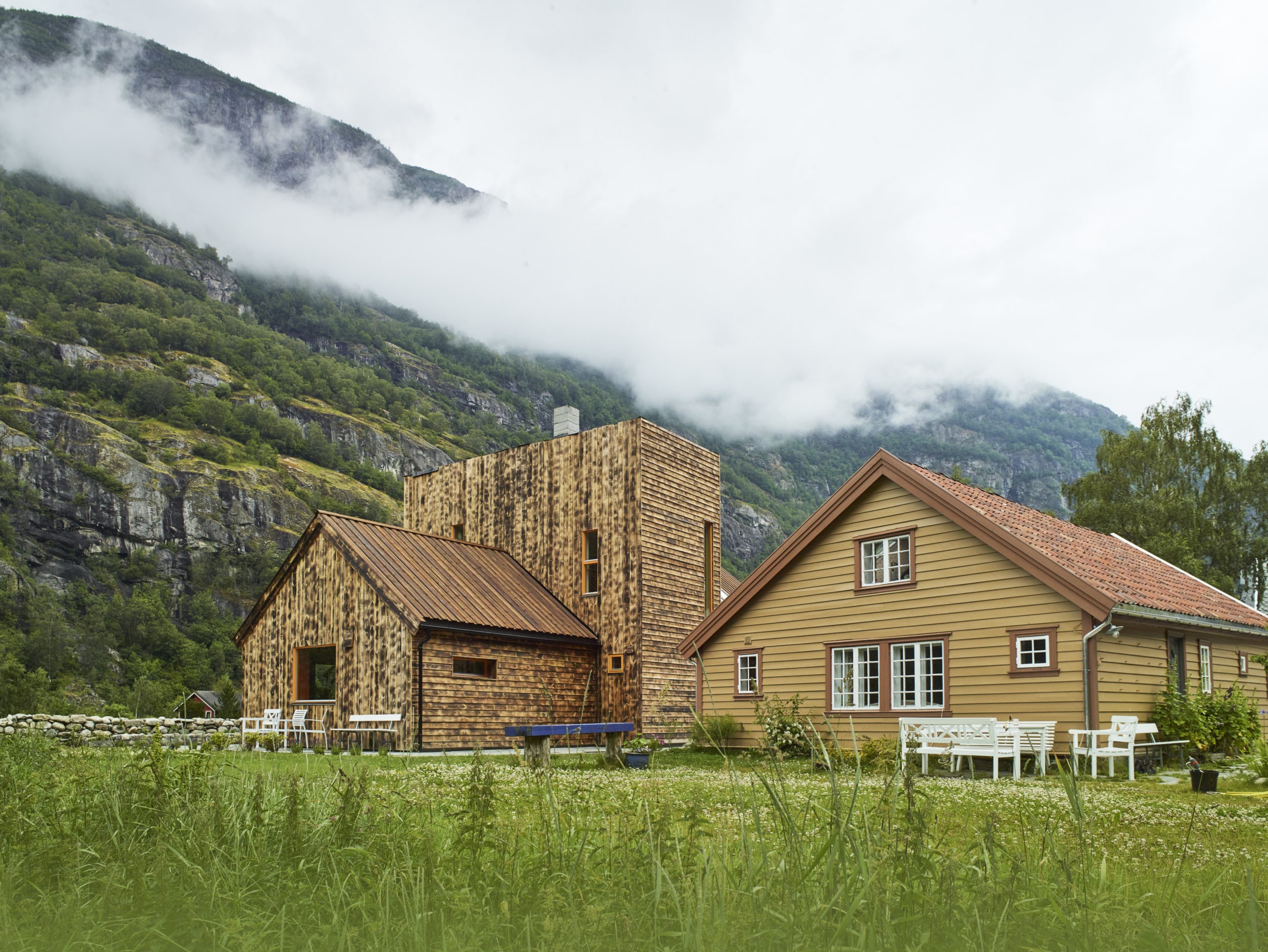 Aurland 292