July | Travel
The Eco Restaurant Guide: London
Want to eat and drink sustainably? Now you are spoilt for choice
Susan Ward Davies
Just because you want to live sustainably doesn't mean you can't have a good time – you just have to choose your venues carefully. It used to be quite a challenge for anyone with an eco conscience to have a gourmet night out in London, but now there are excellent mindful cafes and ethical restaurants popping up all over. We've done the leg work for you and rounded up some of our favourite places for a guilt-free dinner.
Silo, Hackney
The mother of London's sustainable restaurants, Silo was "set up back to front – always with the bin in mind", according to chef/owner Douglas McMaster. Its original incarnation, opened in Brighton in 2014, was the UK's first zero-waste restaurant, and it moved to Hackney in 2019 to join CRATE Brewery in the canal-side The White Building.  
Passionate about their nose-to-tail, farm-to-fork, 'pure food from clean farming' ethos, Silo's kitchen delivers exceptional dishes-with-a-conscience, such as king oyster mushroom with koji porridge and broad beans, or Redwood pork leg with black apple and scarvita cabbage. Feeling inspired to rethink your culinary repertoire? You're in luck: McMaster launched a Zero-Waste Cookery School during the pandemic – now, where do we sign up?
Unit 7, Queens Yard, Hackney Wick, E9 5EN, silolondon.com @silolondon
Eco credentials: too many to list all here but they include having their own flour mill that uses ancient wheat varieties, churning their own butter, and having local farmers collect leftovers for compost.  
Furniture is upcycled (preferably) or recycled, crockery is made from plastic bags, lamp shades from seaweed, and tables from food packaging. Deliveries arrive in urns, crates or other reusable receptacles, and they reduce portions if they see customers are not finishing the dishes. Awarded the Michelin Green Star in 2021 for their pioneering zero-waste work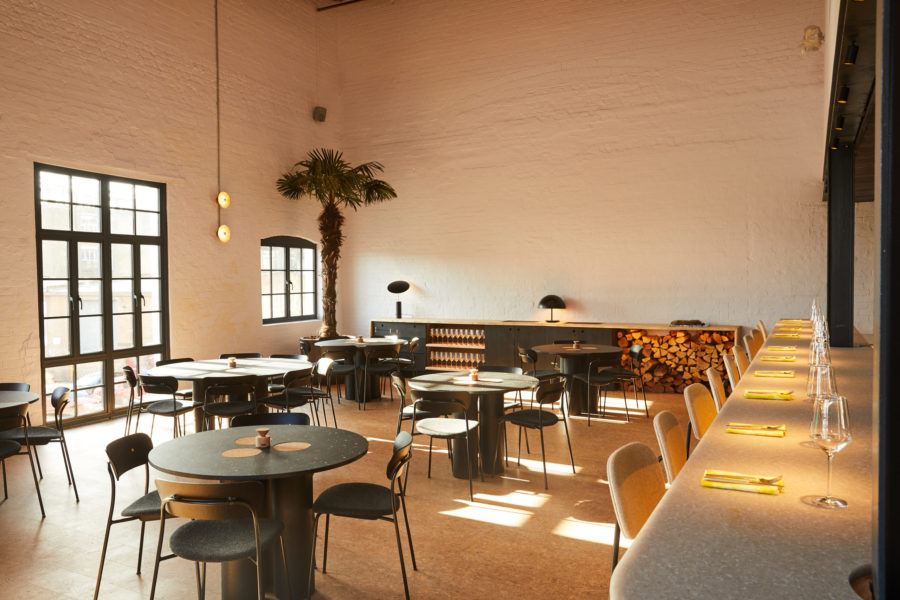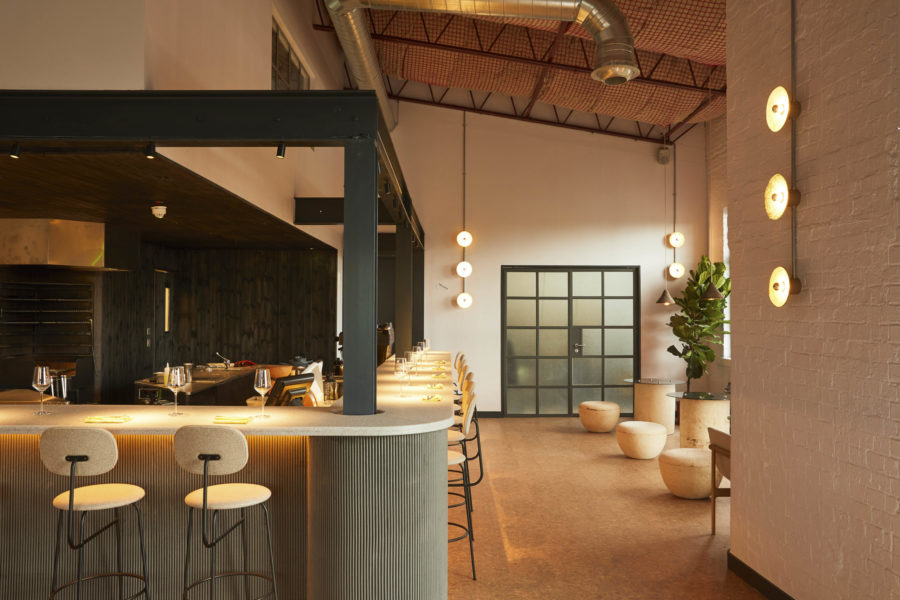 Warehouse,  The Conduit Club, Covent Garden
Set in a former 19th century warehouse on the site of the old Covent Garden fruit and veg market, Warehouse takes up the ground floor of ethically focused members club The Conduit, for 'people who are passionate about driving positive social change.' 
Designed by Russell Sage Studio, Warehouse's interiors set the right eco tone, with lots of large potted plants, rattan lampshades and recycled/upcycled furniture. Brendon Eades, the pioneering head chef previously at Aquavit and Silo (see above), serves up exquisitely innovative treats such as beetroot tartare with sumac and chilli, cuttlefish with broad beans and seaweed, or spelt, shitake and wild garlic.  
And don't leave without trying one of mixologist Walter Pinut's improbably good, hyper-seasonal cocktails, concocted with the likes of foraged herbs, wild sloe berries and coffee grounds. 
Eco credentials: A zero-waste approach and provenance are big things here – ingredients come from sustainable suppliers handpicked for their commitment to sustainability, such as Orkney Craft Vinegar, The Cornish Sea Salt Company, and Margent Farm's cold-pressed hemp oil, all listed on the back of the menu. The designers worked with NGOs in Africa and what they call 'the global south' to source pieces  from community artisans. 
6 Langley St, WC2H 9JA, warehouselondon.com, @warehouselondon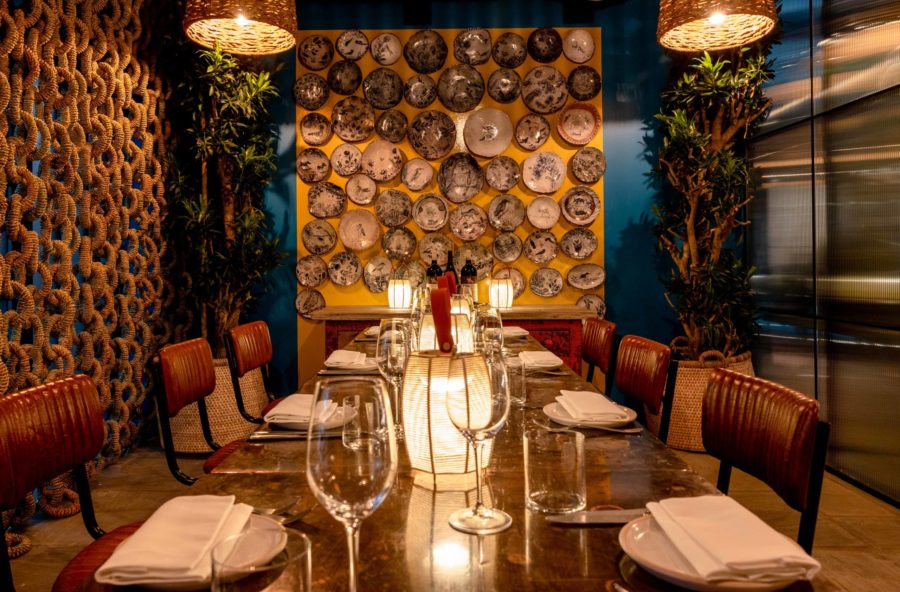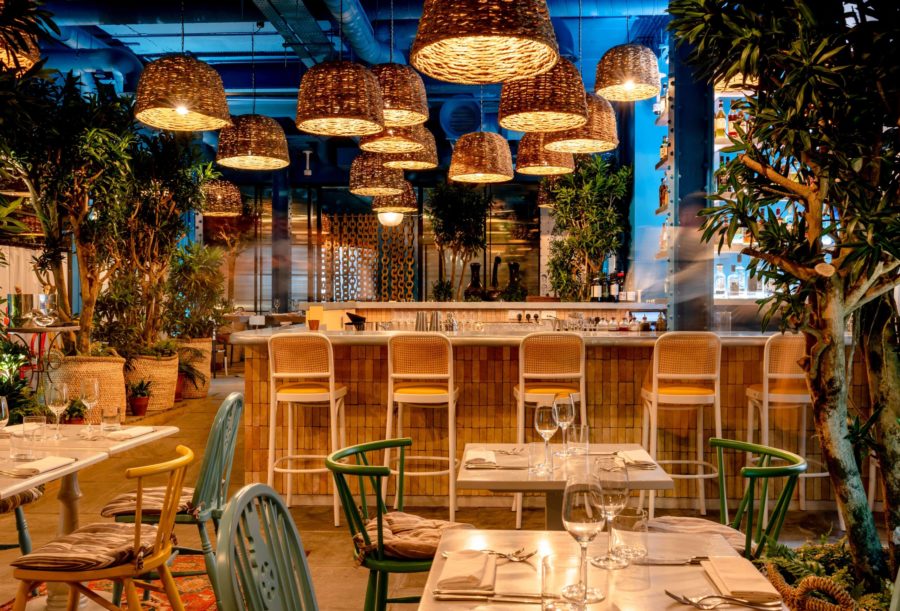 Apricity, Mayfair 
Award-winning chef/owner Chantelle Nicholson has set the sustainability bar very high on Apricity.  Designed by Object Space Place, they have gone all out on the sustainability front, refitting the restaurant with the circular economy in mind, donating or recycling everything they could from the old space, and designing the new so it can be deconstructed, recycled or reused in the future. The name means 'the warmth of the sun in winter', a lovely image conveyed by the soft-hued bare plaster walls, the strands of ivy tumbling from the ceiling and the sheer artistry of the food.  
Although they do cater for carnivores (Devon pork belly and braised ox tongue, anyone?), the stars of the show are the plant-based dishes, such as fig-leaf oat crème with elderflower and gin granita, London red butterhead salad with miso aioli and crispy kale (which is a work of art), or tempura courgette flower with Isle of Wight padron peppers and pickled rhubarb. Pescatarians will be very happy with the cured Chalk Stream trout and Orkney scallops, and dog lovers will love the fact you can bring your best friend for dinner. 
Eco credentials: They favour British produce, use small-scale suppliers, serve low-intervention wines, zero-waste cocktails and regeneratively farmed meat, reduce food waste by incorporating skins, seeds and tops into dishes, and run on renewable energy. They also offer mental health support and have an 11pm curfew so staff can get home safely. Chantelle Nicholson has won a green Michelin star, and aims to create a sustainable community.  
68 Duke Street, London W1K 6JU, apricityrestaurant.com
 @apricityrestaurant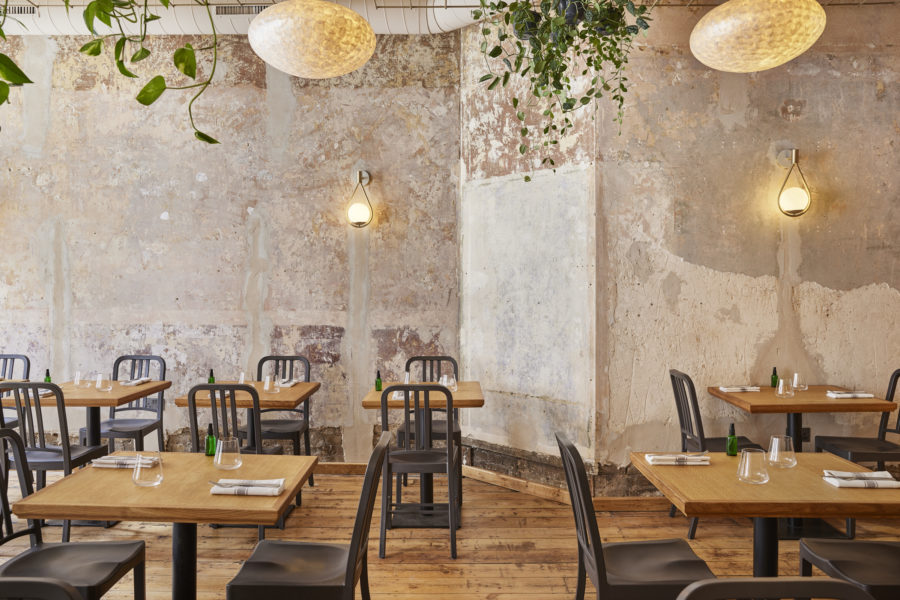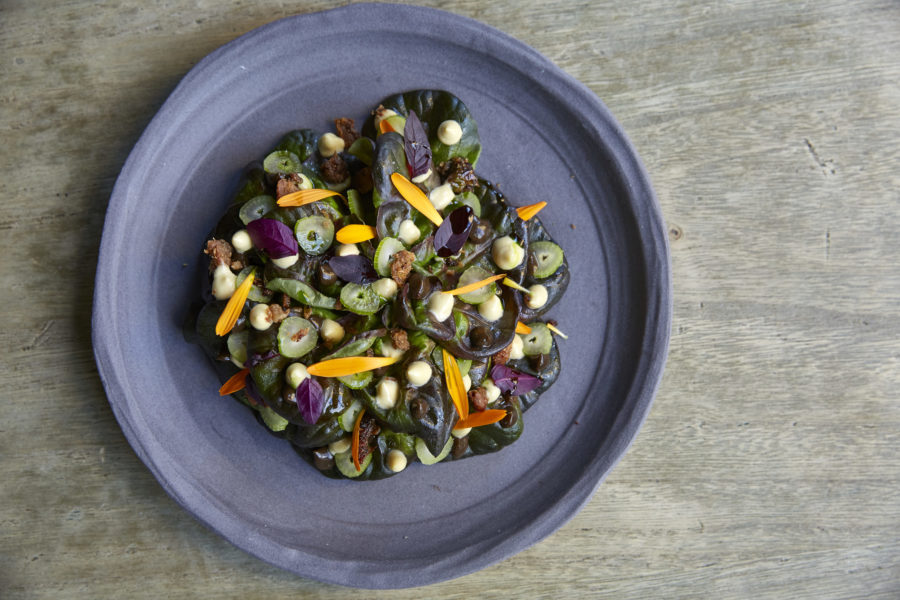 Fallow, Mayfair
Suddenly Mayfair seems to be a hotbed of sustainability – who'd have thought it? Fallow – formerly a Heddon Street pop-up run by chef/owners Will Murray and Jack Croft – took up residence in St James in 2020; not the best time to launch a restaurant, granted, but it has still managed to amass plenty of gongs,  including a Michelin Bib Gourmand and a Square Meal Gold Award. As you would expect from two Heston Blumenthal alumni, who honed their craft at the lauded Dinner at the Mandarin Oriental, dishes are creative and artistically presented, from the sea bream crudo with turnip and almond to the corn ribs with lime to the Guinness and dark chocolate ice cream. Interiors are dark and moody with tendrils of greenery hanging from the ceiling and a seaweed installation.
Eco credentials: committed to becoming zero waste, they use foraged ingredients in the cocktails and grow mushrooms on used coffee grounds in their own mushroom room. It's very nose-to-tail (a whole cod's head in sriracha sauce might be a bridge too far for some). Clever design techniques reuse repurposed materials, such as crushed oyster and mussel shells, into the building materials.
2 St James Market, London SW1Y 4RP, fallowrestaurant.com
@fallowrestaurant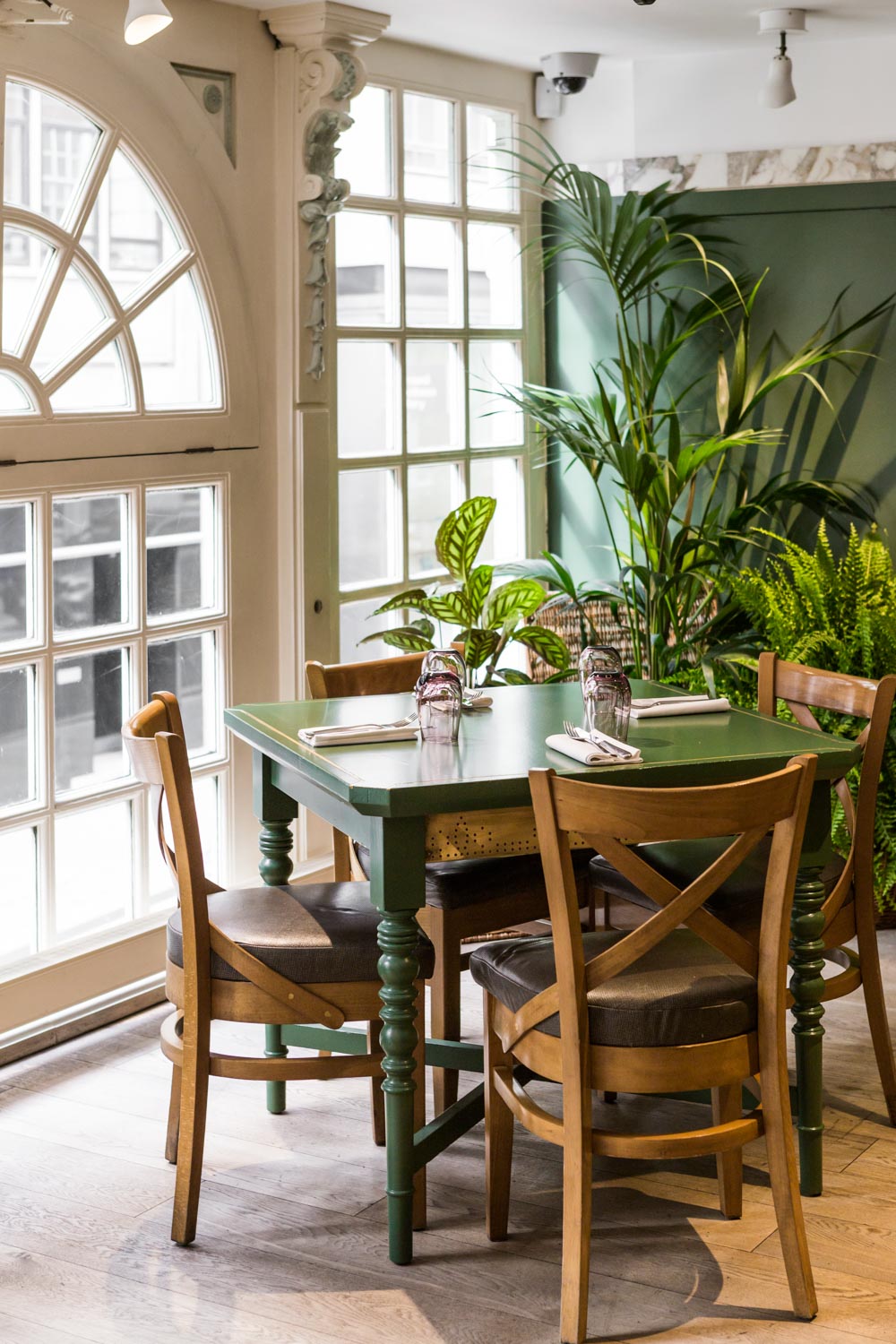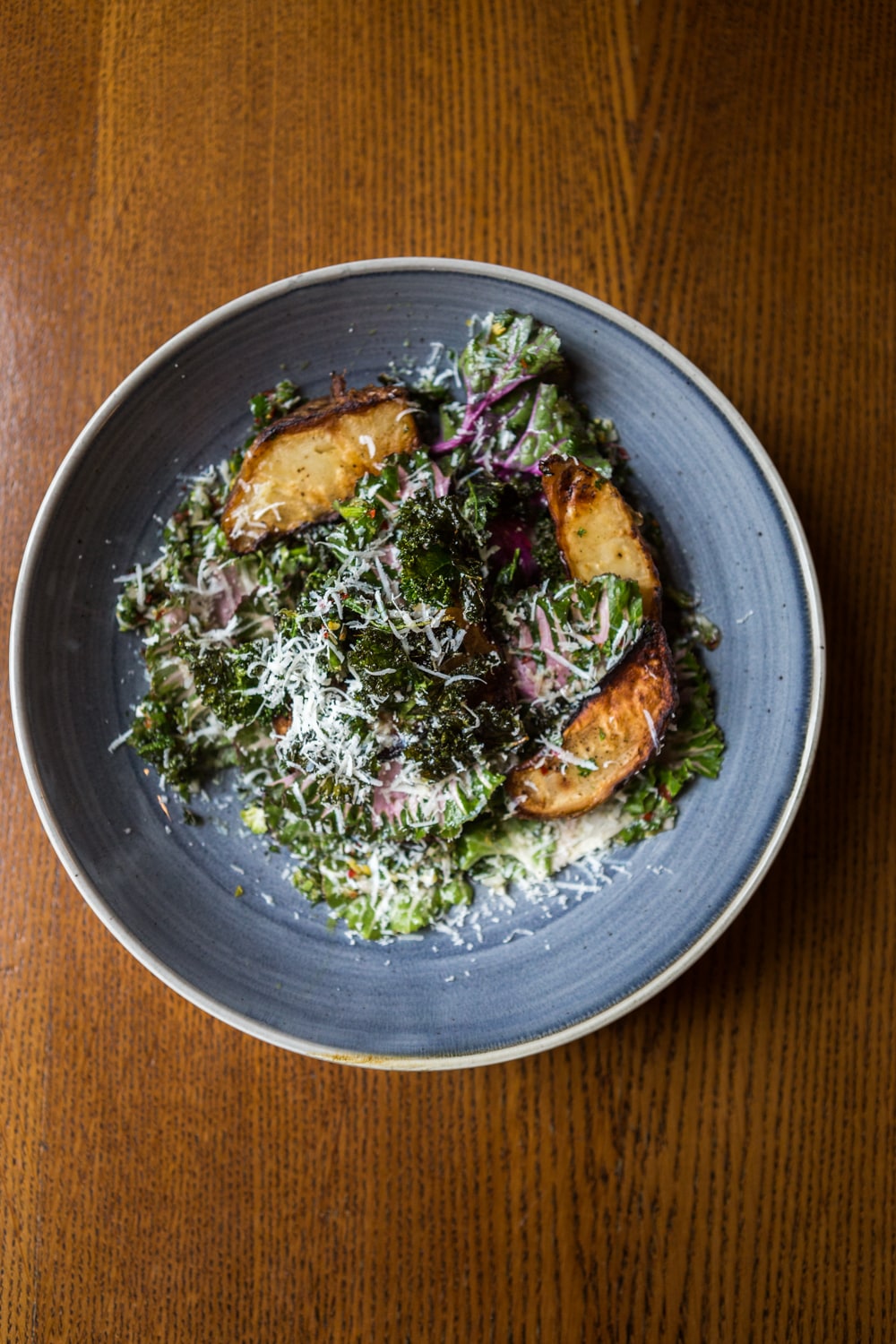 Yeotown, Inhabit Hotel, Bayswater  
The award-winning, cult Devon health retreat has brought its culinary skills to London's first mindfulness hotel, Inhabit, in Bayswater. Carefully curated art adorns the space, including bespoke ceramics inspired by British landscapes by North London ceramicist Freya Bramble-Carter, and contemporary knotted-textile pieces by Leeds-based Knottinger. Natural light is a big thing here, in keeping with Yeotown's outdoorsy origins, with full-length windows and open-plan design. The Californian-style menu – totally free of meat, dairy and refined sugar, and mostly without gluten – is designed to be restorative and encourage mindful eating. And who could not feel restored by blue spirulina pancakes, rice-paper vegetable wraps, and avocado and date tart? Even the bar adheres to the healthy-eating ethos, whipping up a tasty drinks list of Conscious Cocktails and Mindful Mocktails and protein smoothies, as well as  organic biodynamic and natural wines.
Eco credentials: furniture is from social enterprise Goldfinger; they serve organic, biodynamic and natural wines, support small spirit producers, and partner with food-wastage apps Karma and Too Good To Go.
1-2 Queens Gardens, London, W2 3 BA, queensgardens.inhabithotels.com,  
@inhabit_hotels
@yeotownlondon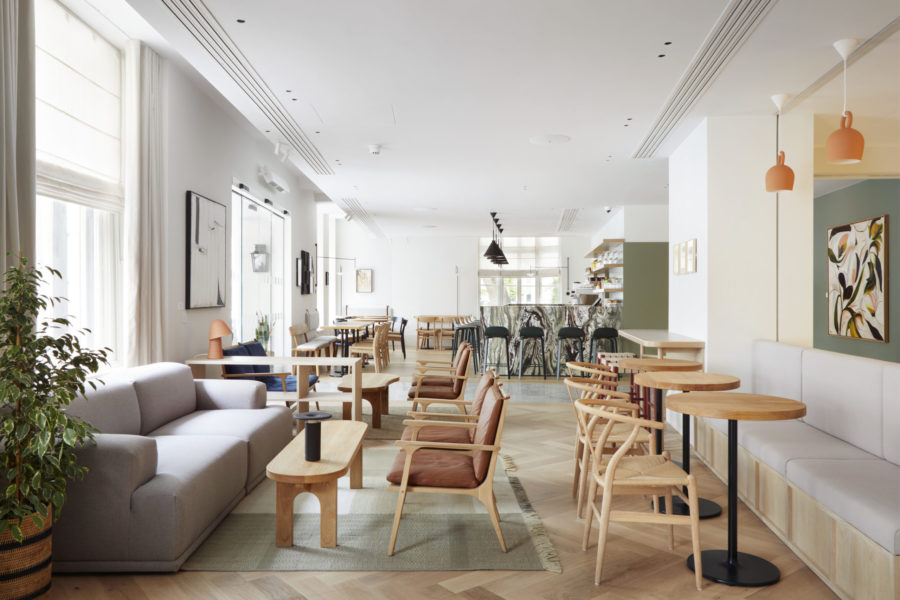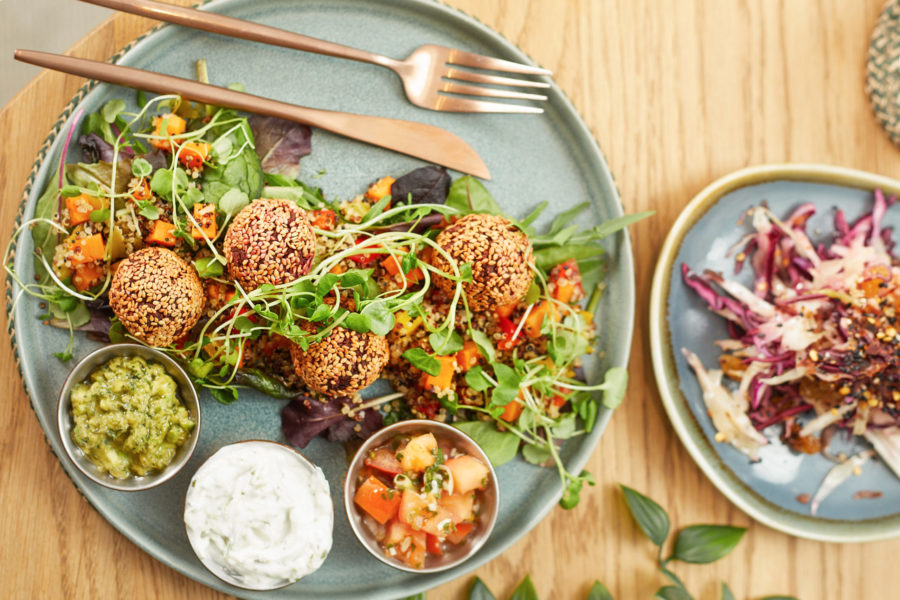 Native at Browns, Brook Street, Mayfair 
Another duo on a zero-waste mission, Native founders Ivan Tisdall-Downes (who did a stint with master forager Hugh Fearnley-Whittingstall) and Imogen Davis aim to create 'sustainable conscious food served up in a playful way.' They launched Native as a series of pop-ups in London and on Osea Island before finding a permanent home in Browns last year, where award-winning Red Design Studio brought their vision to life.
Have a glass of natural wine or a Sapling G&T with cucumber juice under the courtyard's cherry trees before launching into the main menu, where the English pea tart, Lincolnshire Poacher, Black Collar pork and wild mushroom, and Braeburn apple tart with seaweed caramel and whisky ice cream definitely get our vote. 
Eco credentials: they favour British wild produce and regenerative farming, using hand-picked suppliers and foraged ingredients, and are striving for zero waste. Cocktails are from sustainable distillers Discarded Spirits Co, interiors are fashioned from sustainably sourced or repurposed waste materials, and herbs and plants are grown in the garden for use in the kitchen. 
 39 Brook St, London W1K 4JE, nativerestaurant.co.uk, @eatnative