April | Travel
The Eco City Break Guide
How to pick a planet-friendly urban stay
Susan Ward Davies
An off-grid, rural glamping pod is much more obviously sustainable than a high-rise city hotel- but don't be swayed by appearances.  We have come a long way from the days when hotels could claim to be green just by having guests opt in to or out of daily towel laundering.  Often it's what goes on behind the scenes that counts. You might find  photovoltaics converting sunlight into electricity,  biogas fuelling kitchens, natural water filtration systems,  solar panels, and hydroponic rooftop gardens supplying organic restaurants. But until all hotels put their eco credentials on their websites as standard, booking a bona fide planet-friendly stay can involve a bit of digging.  When on the hunt for an eco city break, look for accreditations: was it built in compliance with  BREAAM , which assesses the sustainability performance of buildings, or  LEED  (Leadership in Energy and Environmental Design), another green construction rating system?  Is it endorsed by  Earth Check, which advises on and assesses social, economic and environmental best practice?  Or Green Key, which has a set of environmental criteria to comply with, or, best of all, B Corp, the eco gold standard?
These are a start, and recommendations from those in the know are another, so to save you hours of research, we have rounded up some of the most stylishly sustainable urban hotels for a low-carbon stay.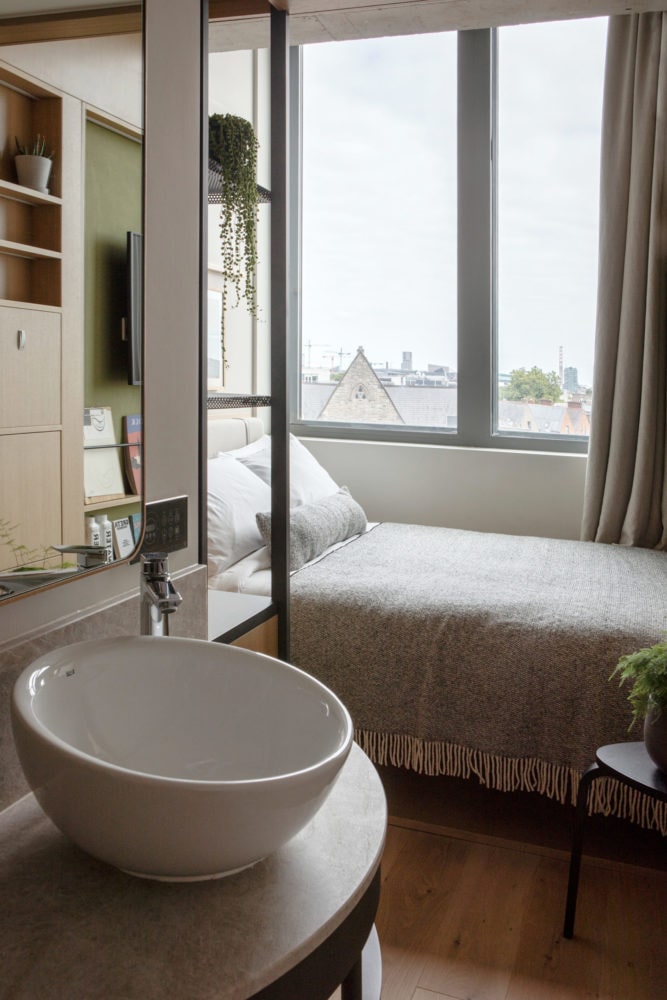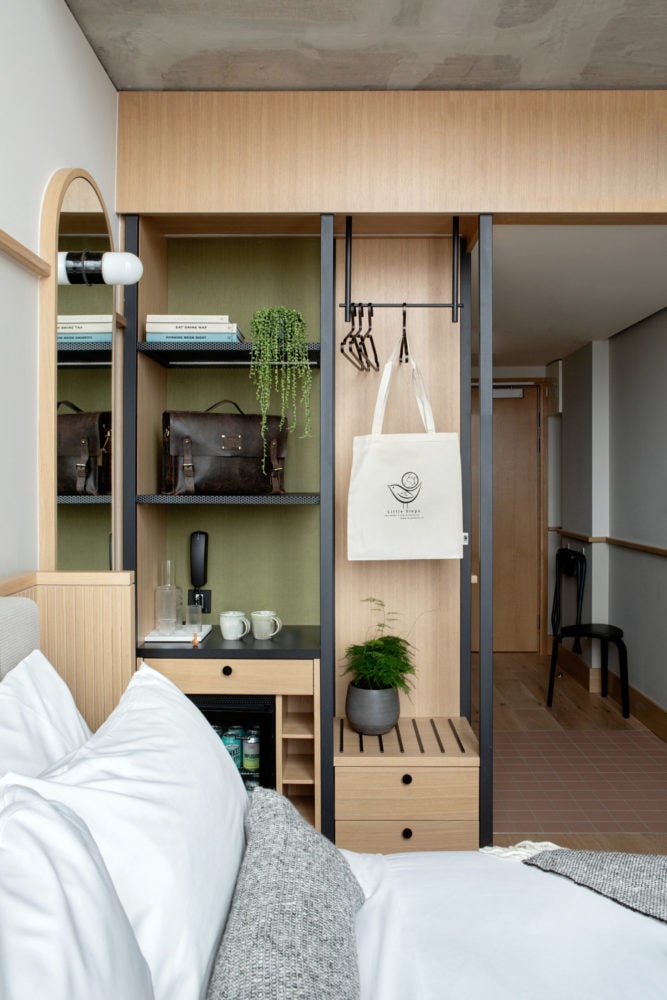 Images courtesy of Wren Urban Nest
Billed as Dublin's most sustainable hotel, the Wren has 137 rooms divided into 'Snug' and 'Cosy' categories –  but who needs a massive room when you've got all the craic of Dublin's bars, cafes and restaurants on the doorstep?  The Wren's design cleverly fits a lot into a small space (hello nifty pull-out desks), and interiors are all clean lines, soft textures and lots of light, so it never feels cramped.   The rustic-looking restaurant serves up organic – mostly local – produce, you'll find artisanal coffee in the mini bar, and the Irish Hand Made Soap Company's 100% natural products in the bathrooms. They run on renewable energy and a unique sustainable heating system,  and have no single use plastics. And with double rooms from £118, you have financial as well as eco reasons for staying here.
 wrenhotel.ie, Dublin 2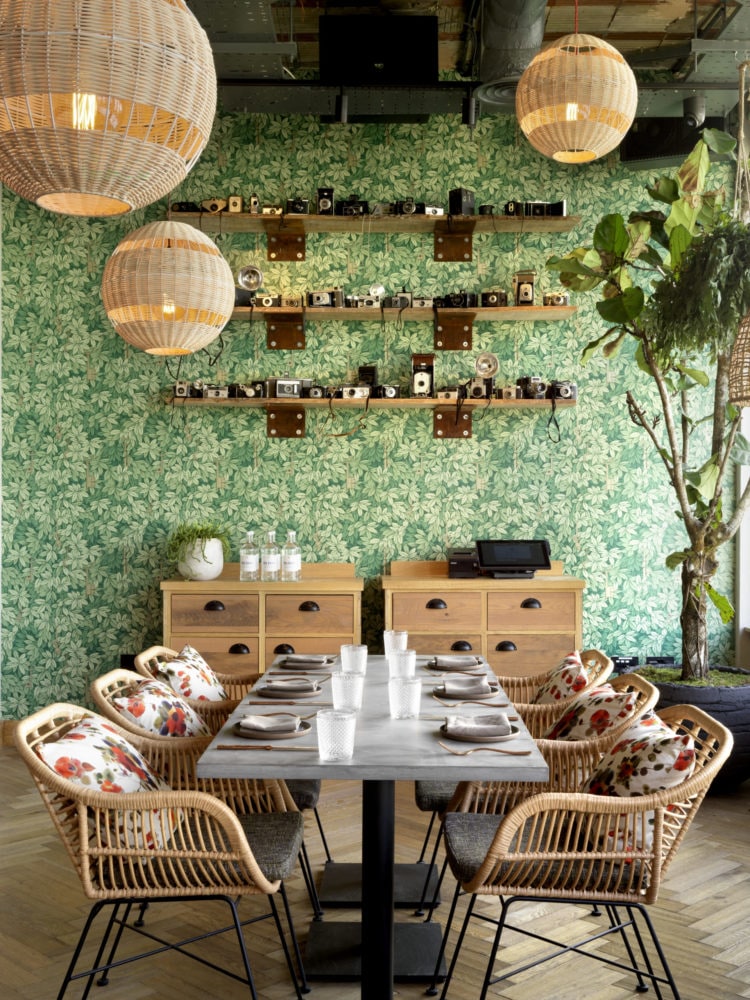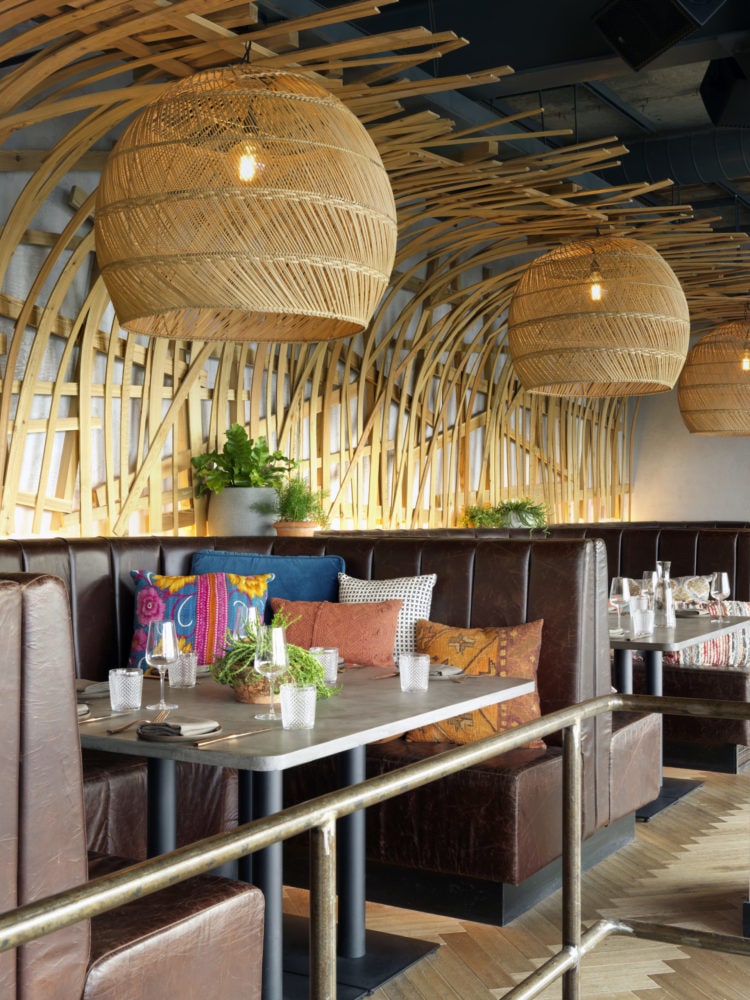 Images courtesy of Treehouse
From the name to the leafy interiors, the Treehouse hotel, near Oxford Circus,  has eco-chic stamped all over it. Belonging to the same group as US environmental champions 1 Hotels, they have really gone the extra mile on the sustainability front.  Filtered water for refillable bottles is stationed in the hallways, linens are ecologically sourced, delivery crates are upcycled as wall decoration, most furniture is vintage, and there is a food digester for composting.   Energy consumption is monitored monthly, and they are introducing water leak detectors to reduce wastage, and to turn off heating, cooling and ventilation systems when not required. They liaise with the Foodprint Group  on green purchasing, substituting single use items with recyclable, reusable and compostable options. But in all this planet-saving work they haven't forgotten style and fun, and this is quite the party hotel with its buzzy rooftop bar and haute-Mexican restaurant. You'll find Paddington Bear and other vintage toys in the bedrooms, which have mid- Century furniture, concrete ceilings and big windows showcasing London's skyline. 
Treehouse London, doubles from £229, room only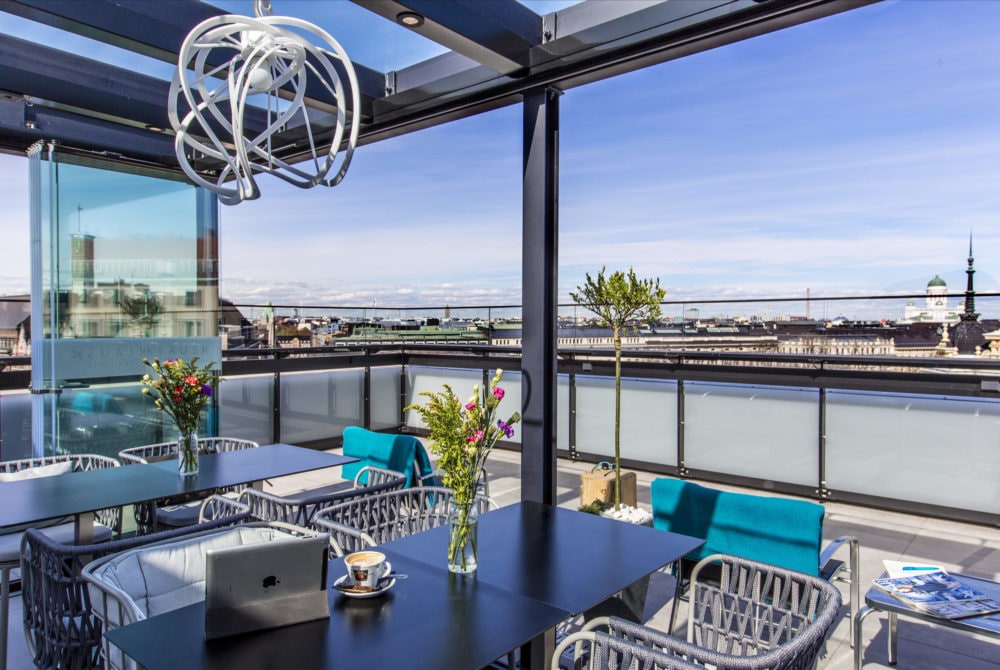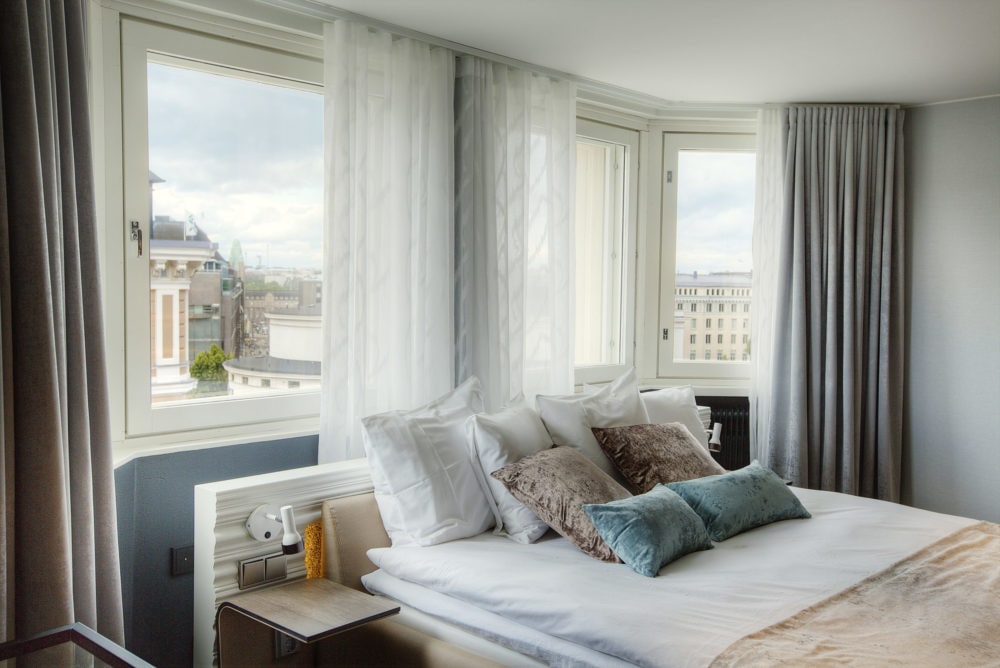 Images courtesy of Klaus K
Helsinki is designated a UNESCO City of Design, so fans of Nordic style will love the fact that Klaus K is perfectly positioned for the Design District (don't miss the Design District Guided Walk). It's Green Key accredited, too, so you know you're in good eco hands, as to achieve this they have to conform to around 100 sustainability criteria, are audited every year to maintain the status, and every employee commits to working to achieve the eco targets.
Interiors are bright and quirky (check out the egg-shaped bed in one of the three Sky Loft suites) with plenty of colour and patterns, many of them references (possibly lost on non-Finns) to the national 19th century epic poem Kalevala (Land of Heroes), as are the room category names: Passion, Mythical, Desire and Envy.  Their stated values of humanity, bravery and open-mindedness, added to the environmental Green Dream (to enhance awareness) policies, give you an idea of the general wholesome ethos. And, naturally they are LGBTQ friendly too. 
klauskhotel.com Doubles from £125, B&B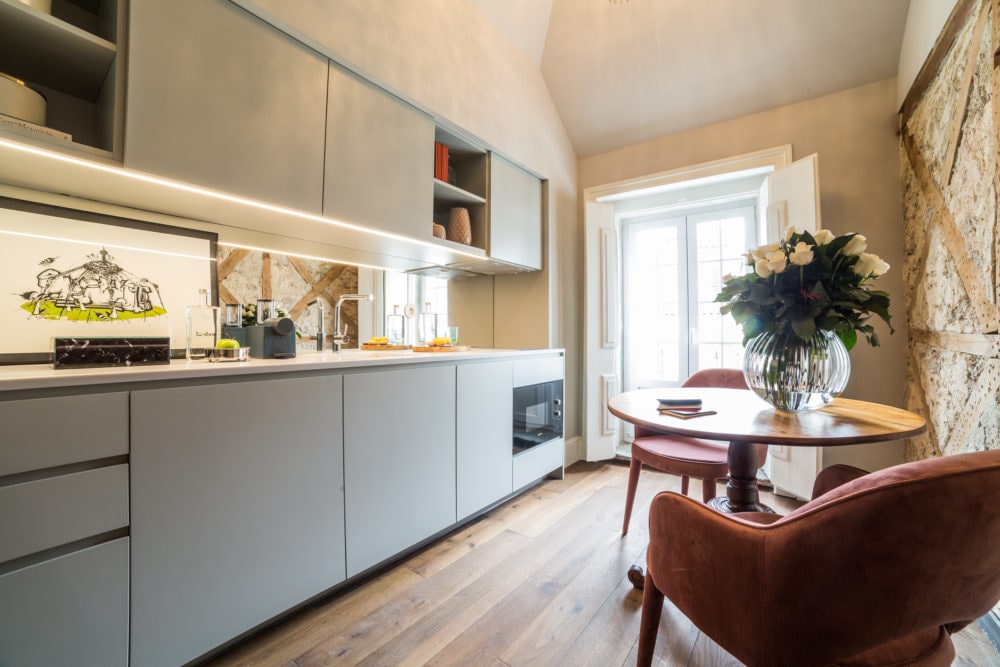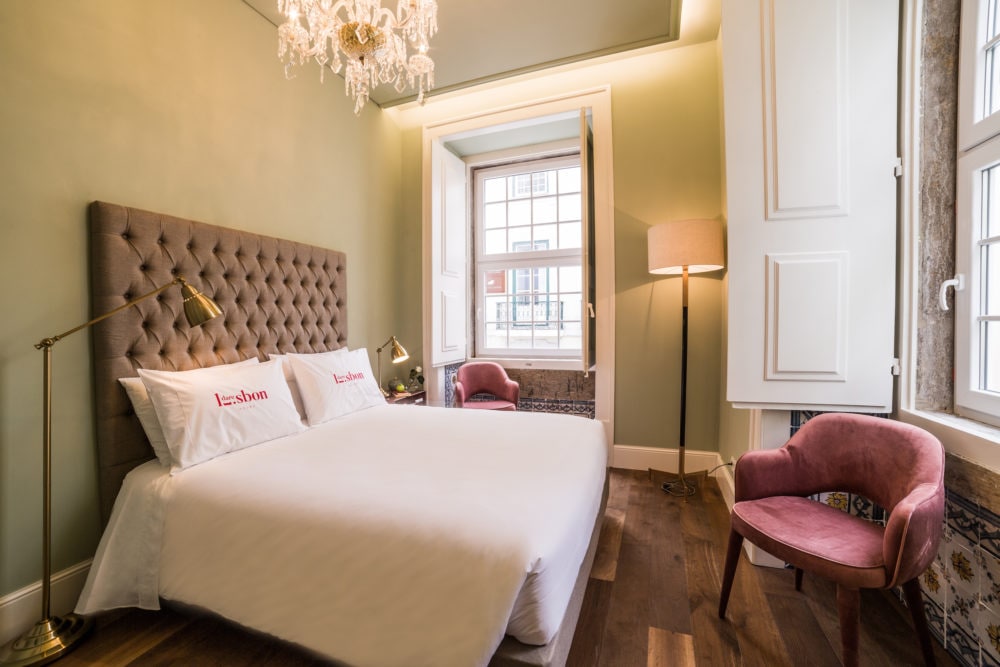 Images courtesy of Klaus K
This beautiful 18th century building, in the heart of Lisbon's historic Baixa quarter, has been sensitively reworked into 23 stylish apartments. Interiors are done in a palette of cool neutrals and touches of plum and olive, with gleaming floorboards, and vintage furniture restored by local artisans. You're more independent than in a traditional hotel, whipping up your own breakfasts from the organic granolas, yoghurts and fruit stocked in your little kitchen, but these are supplemented by morning deliveries of fresh bread and pastries, and there is a 24 hour concierge on hand for whatever else you might need. Personalised, refillable glass bottles are supplied for each apartment, and you only get 20 mins of hot water every two hours – so time those showers.  Too draconian for you? Well every apartment has a back-up water heater – but it is a clever way to make you think about your water consumption. Windows are thermally insulated, appliances are energy efficient, lighting is LED, cleaning products are eco-friendly, amenities all 100% naturally sourced,  and you can control your  own A/C / heating. What's not to love?
Dare Lisbon, Doubles from around £133, B&B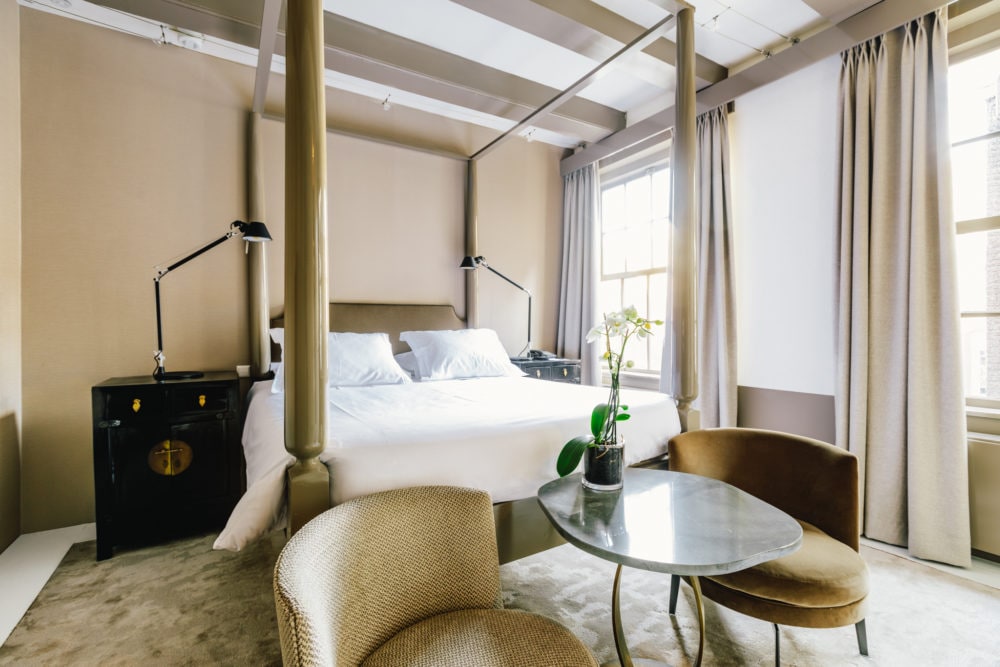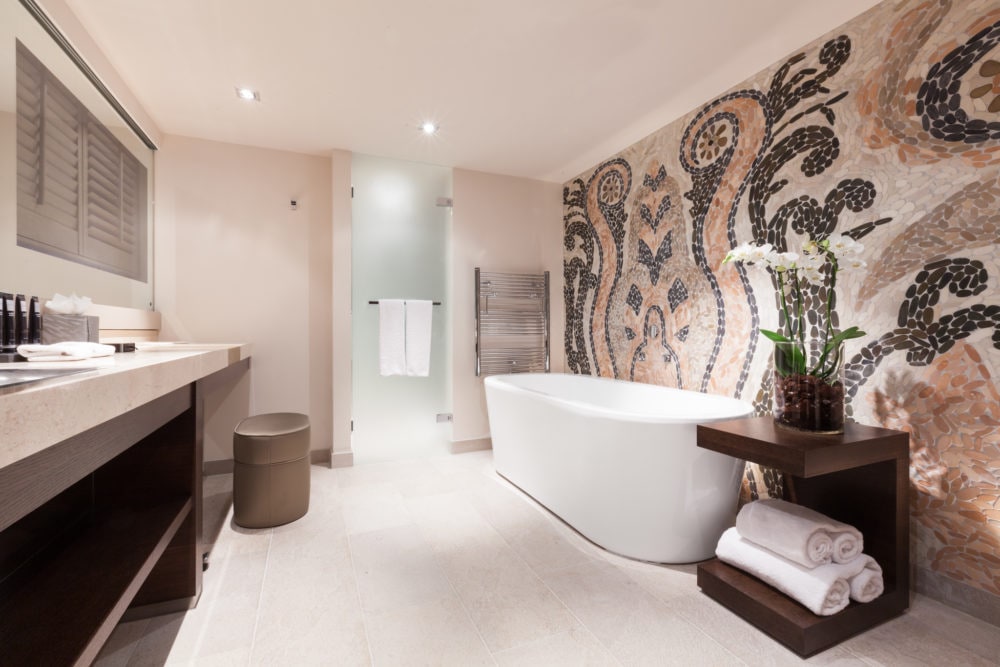 Images courtesy of The Dylan
You can't go to Amsterdam and not stay on a canal, and The Dylan has prime position overlooking pretty Keizersgracht, with its 40 rooms spread over two 17th century waterside buildings.  Here you're in the heart of the Nine Streets area, which is all narrow cobbled lanes full of independent boutiques, vintage shops, cafes and restaurants. The Dylan's interiors are exquisitely done by Anouska Hempel, resulting in an arty mix of rich fabrics, mother-of-pearl inlays, leather headboards, herringbone brick floors and beamed ceilings.   Recently Green Globe certified, The Dylan works on reducing energy and waste, and collaborates with Earth Water, which donates 100% of its profits to finance sustainable water projects. Food is mostly local – with delicious cheeses, seafood and seaweed all from nearby, and,  as a perfect Amsterdam touch, guests can borrow sustainable, handmade Roetz bikes to pootle around town.      
The Dylan Amsterdam,  Doubles from £290, B&B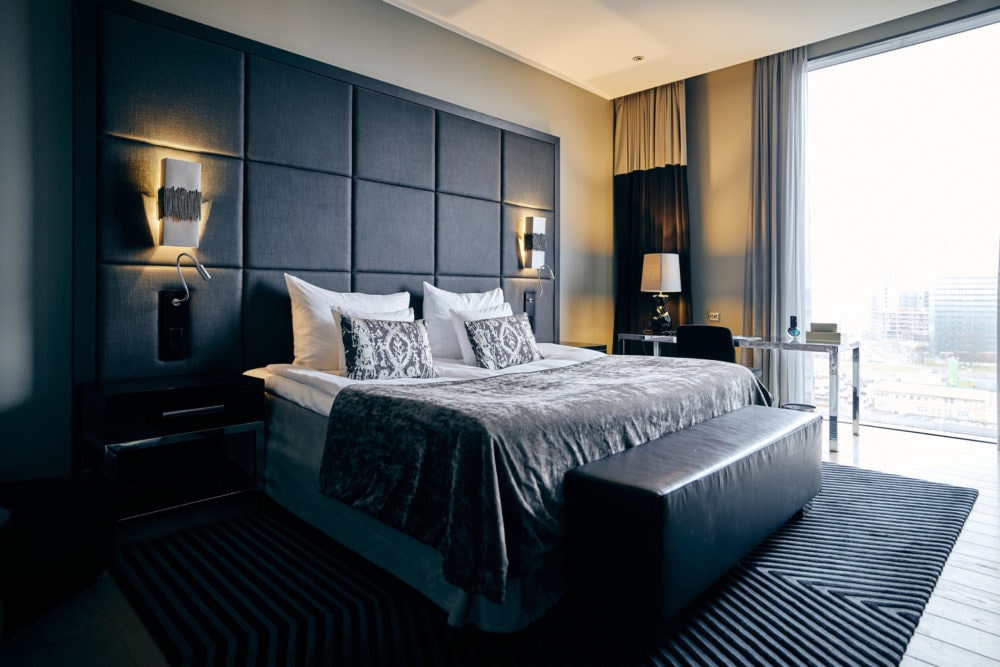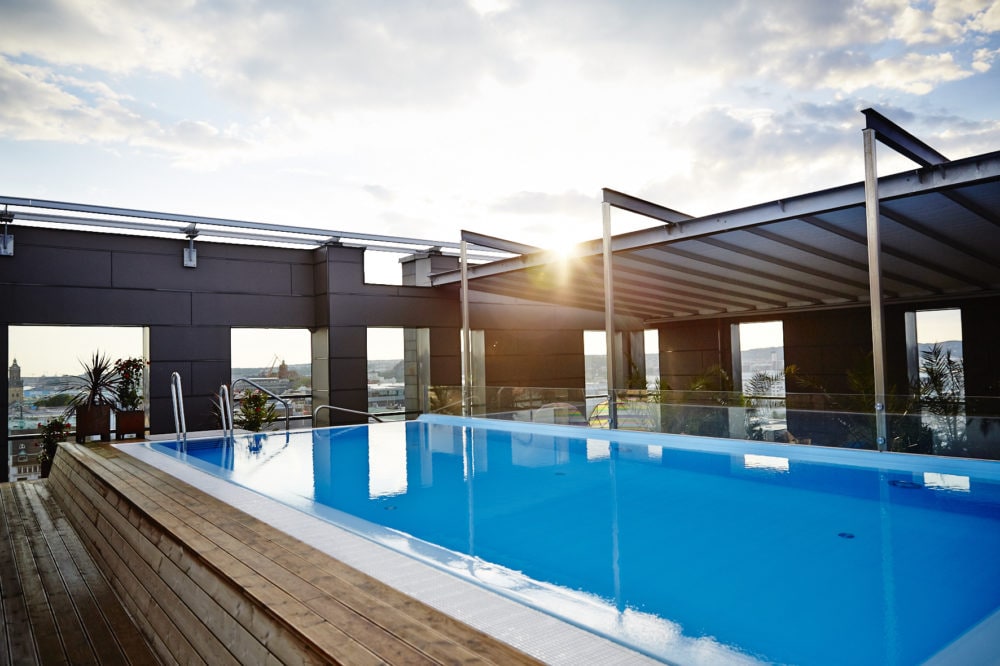 Images courtesy Clarion Hotel
Clarion Hotel Post, Gothenburg
Regularly voted the Most Sustainable City in the World, Gothenburg should be at the top of any green traveller's hit list. And once you're there, you need a suitably eco hotel to stay in.  The Clarion Hotel Post, handily right by the train station, doesn't do things by halves and proudly declares its environmental and ethical goals on the website (why don't all hotels do this?) They run on 100% renewable energy, with biogas in the kitchen instead of natural gas, and use Ultra H2O microfiltration to ionize tap water instead of chemicals.   Special showers and taps reduce water usage (drawing 1.3 litres a minute instead of the usual 10 litres), and lighting is on an energy-saving time loop.  The flattened shell of an old mail van in the lobby references the hotel's former life as a post office, and the contemporary design sits well in this grand 1920s neo-classical  landmark. Rooms are divided between the new wing (bigger windows) and the original building (higher ceilings), and the rooftop pool and outdoor terraces are a treat on sunny summer days. 
Clarion Hotel Post,  doubles from £136, B&B
Trains with Rail Europe or Eurostar
Flights – carbon offsetting with ecologi