October | Travel
The Morocco Eco Hotels Guide
Make every trip count: your holiday spend will help post-earthquake Morocco build back better
Susan Ward Davies
After the devastating earthquake in September, Morocco is getting back on its feet. The areas which were worst affected are being rebuilt and the rest of the country is trying to go back to 'business as usual', hampered by cancellations from tourists who mistakenly think that it is the right thing to do. In a land dependent on tourism, the best way we can help is to book a trip, spend money, shop and eat locally and bring in some much-needed revenue to help the relief effort.
Please donate to Education for All and Intrepid Travel Foundation who are raising money for the relief effort.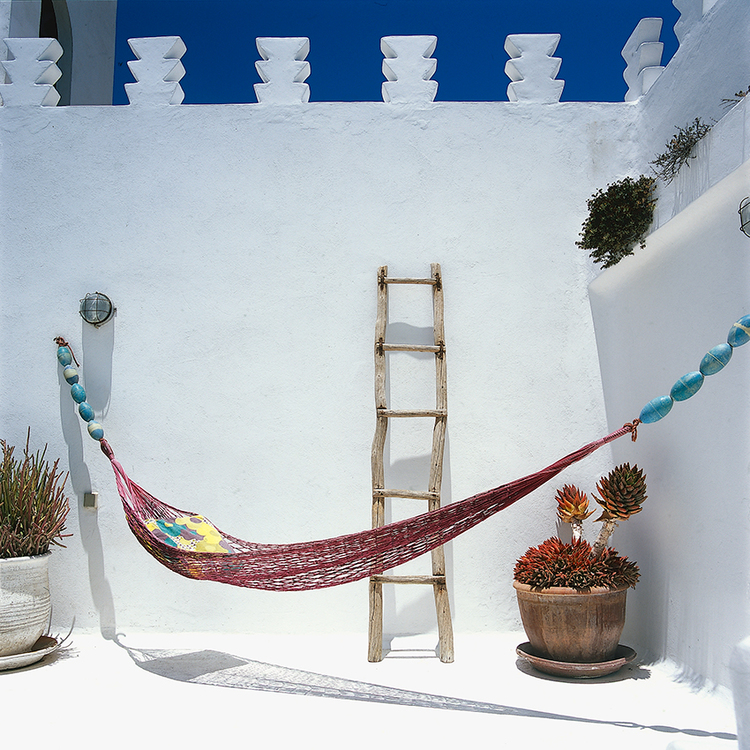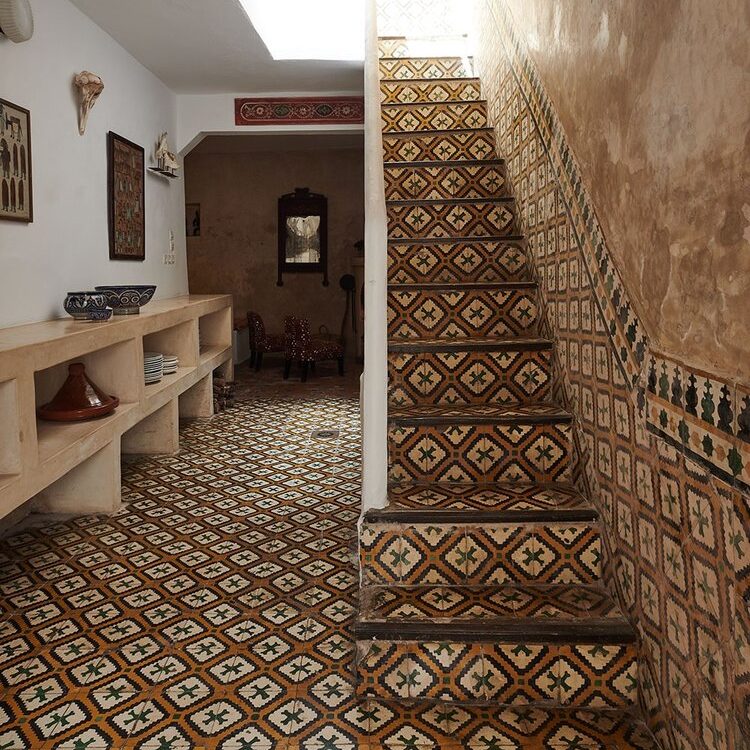 Images Courtesy of Castles in The Sand
Castles in the Sand, Essaouira
British interior designer Emma Wilson has been managing her boutique rental company, Castles in the Sand (named after a legendary Hendrix track), in Essaouira, for 25 years.  Her stylish self-catering guest houses include two 18th-century stone houses, Dar Beida, with four bedrooms, whitewashed walls and retro furniture, and Dar Emma, a cute two-bedroom home done out in a mix of traditional Moorish and 60s interiors. Just two minutes from the medina's main square, and ten minutes' walk from Essaouira's expansive beach (for kite-surfing heaven), both have roof terraces and open fires and are often used as shoot locations.
And if you want to go completely off-grid, they also have a peaceful yurt, Petit à Petit, for fully-catered glamping right on the beach, 40 minutes from Essaouira. Here you can go camel trekking, horse or donkey riding, or just chill out in front of what feels like your own private beach.
Eco credentials:
Castles in the Sand supports local charity Jarjeer Mule and Donkey Refuge with 5% of their takings, and works with Khalid, who has an organic farm and supplies organic baskets to clients.
The houses have organic cotton bed linen, organic hand soaps and shower gels, and they use no plastic.  Recycling goes to the locals, stale bread to the animals, and there is a box in the shop opposite for empty jars and water bottles to be reused for olive oil, milk and other produce. The Yurt is solar powered and completely off-grid.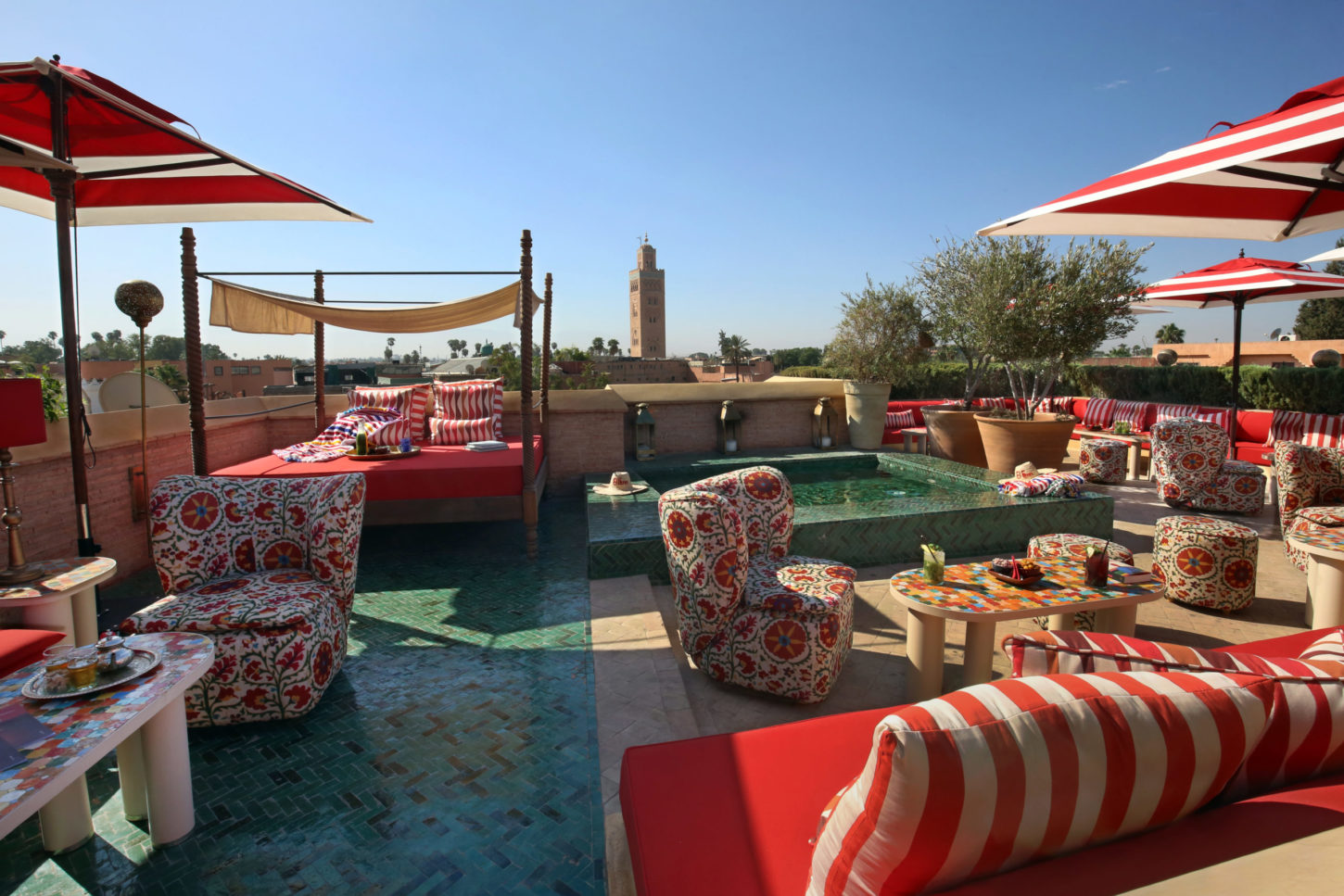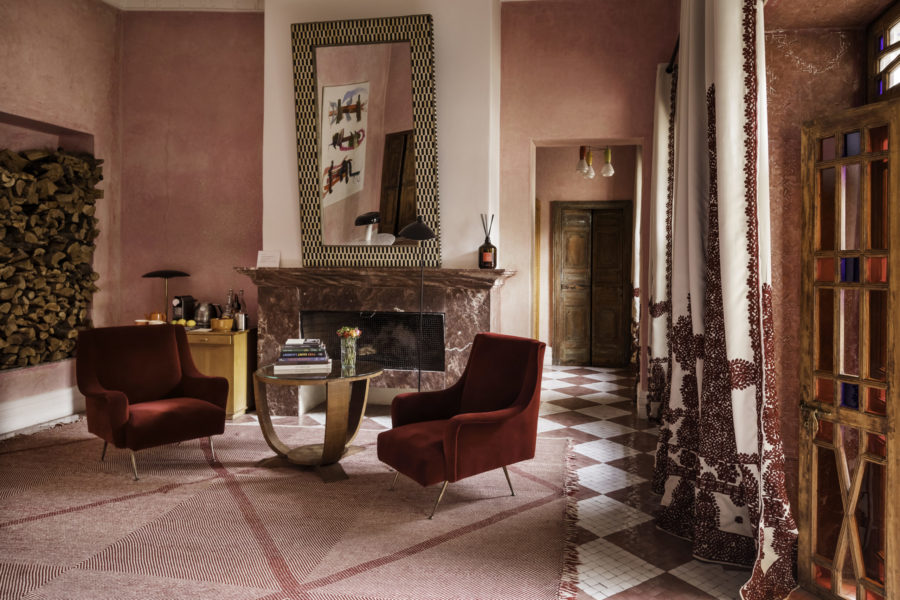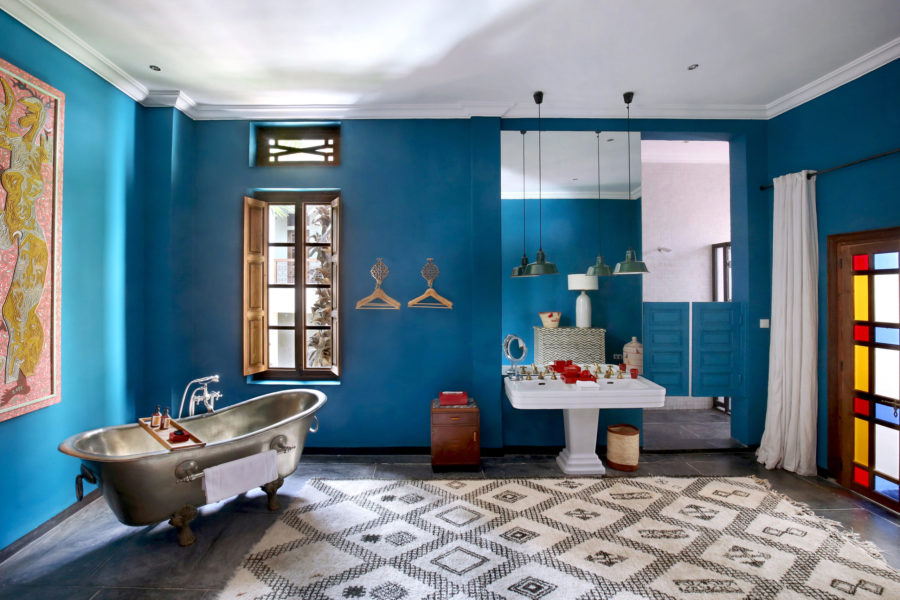 El Fenn © Cecile Treal
El Fenn, Marrakech
Expanded in 2022, this boutique hotel, converted from five traditional riads, now has 41 rooms, three pools, two bars, two restaurants, and even a resident family of tortoises. Just five minutes from Marrakech's main square, the Jemaa el Fna, El Fenn is a stylish oasis in the heart of the action. Interiors are an arty contemporary spin on traditional riad living, with co-owner Vanessa Branson's personal art collection on the walls (David Shrigley, Terence Donovan, Antony Gormley) and lots of warm bright colours in the rooms: shiny flame red tiles here, rich teal walls there. Our favourite? The gorgeous pink tadelakt-walled bedroom on the first floor with its twisted wooden bedposts, beamed ceiling and egg-shaped ceiling light.
And for possibly the best sunsets in town, order a date martini on the roof terrace, and enjoy the views of the Marrakech skyline and the distinctive Koutoubia mosque.
Eco credentials:
Staff come from the local area; no food is flown in, water filtrations system, reusable glass bottles rather than plastic; local ingredients in bathroom amenities; kitchen waste minimised, and they support the Eve Branson Foundation, which creates opportunities for the communities in the High Atlas mountains.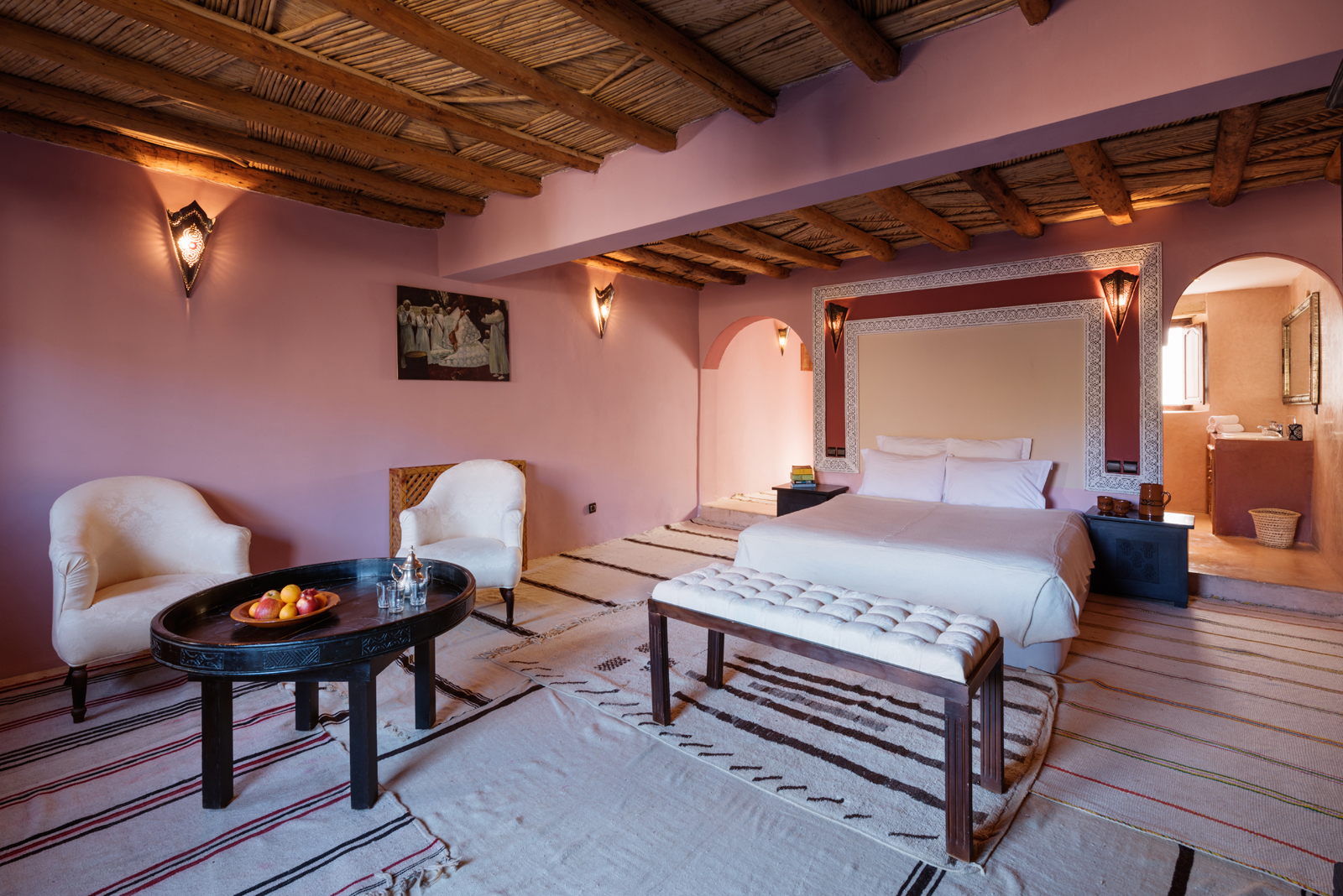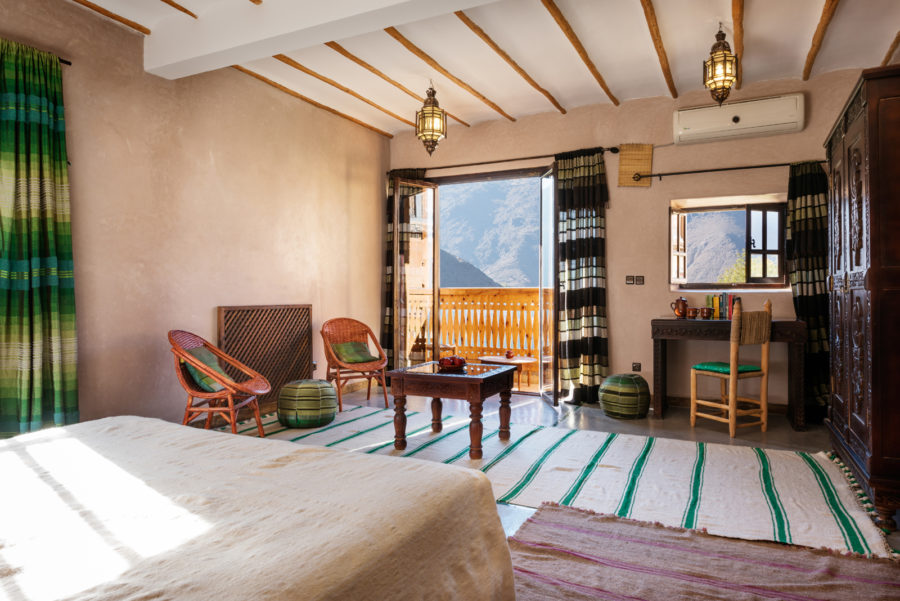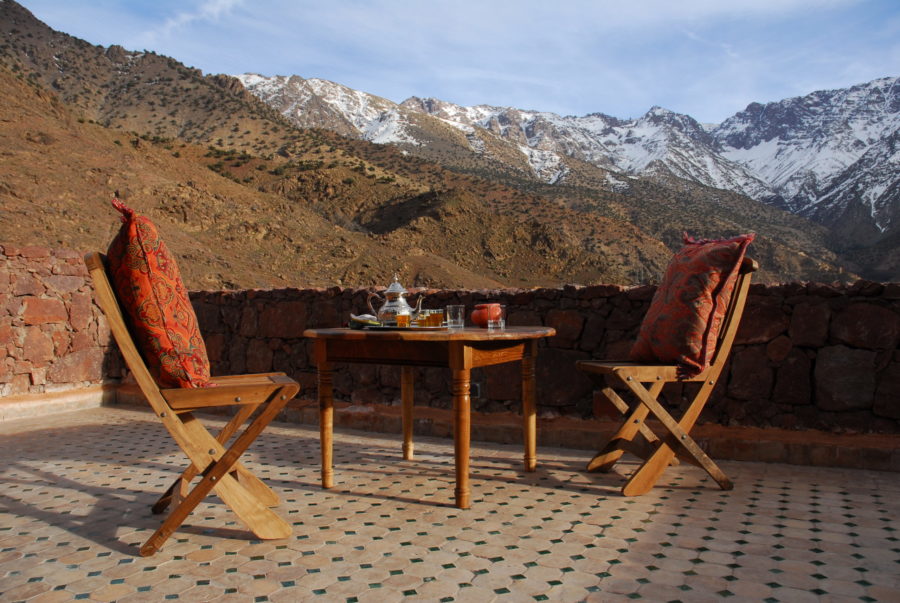 Images courtesy of Kasbah du Toubkal
Kasbah du Toubkal, Imlil
Perched in the High Atlas mountains, overlooking three dramatic valleys, cherry, apple and walnut orchards and the (often) snow-capped peaks of Jbel Toubkal, this well-loved Morocco institution was renovated by Brits Chris and Mike McHugo back in the mid 1990s, and they have run it as a guest house, in collaboration with the local Berber community, ever since. The Kasbah has 14 rooms, some with balconies, including a three-bedroomed house, gardens of flowers and herbs, and terraces, and is something of a trekker's paradise. The style is local rustic, with handwoven carpets and oleander branch-pannelled ceilings. Expect djellabas and babouches (slippers) in your room, and tagines, soups and fresh mint tea on the terrace to warm you on chilly nights.
The Kasbah was affected a little by earthquake, and the damaged parts are now being demolished by hand, so keep an eye on the website for updates.  If you want to go straight away – and you should  – they can book you a room in the four-bedroom Azzeden Trekking Lodge, a cosy mountain refuge and sister property to the Kasbah,  and which you can walk to in 4 – 6 hours.
Eco credentials:
The Kasbah has won multiple green awards: it was built and is staffed by locals, they give work to around 100 muleteers who carry guests' luggage and bring in food and supplies, they help fund the Association Bassins d'Imlil, which helps pay for an ambulance service, rubbish disposal, provision of safe water to outlying villages, and accommodation for school children. In 2007 the McHugos founded Education for All, which built and runs dormitory accommodation for village girls who live too far from secondary school to attend daily. All except one of these dorm horses were destroyed in the earthquake and they are fundraising to rebuild.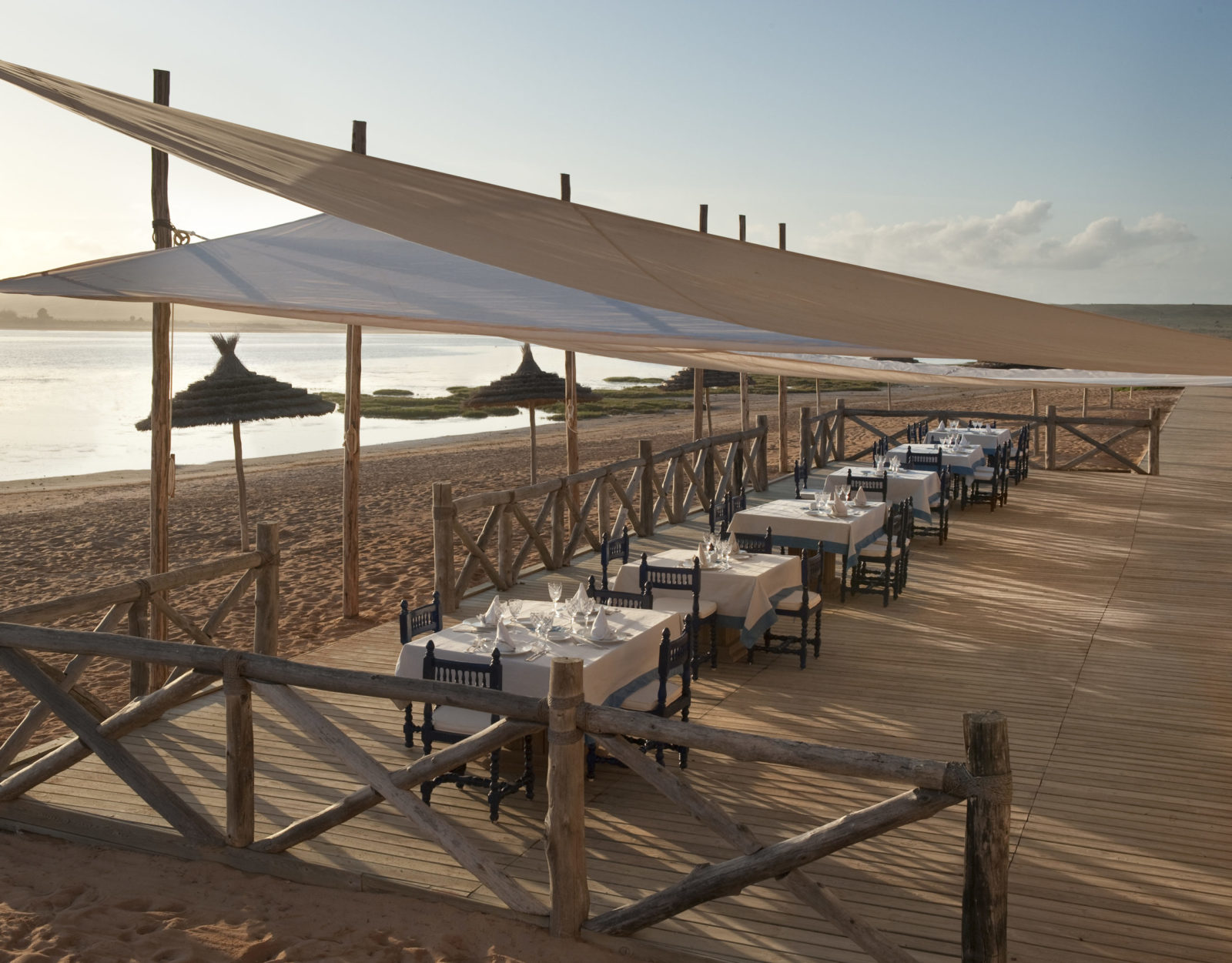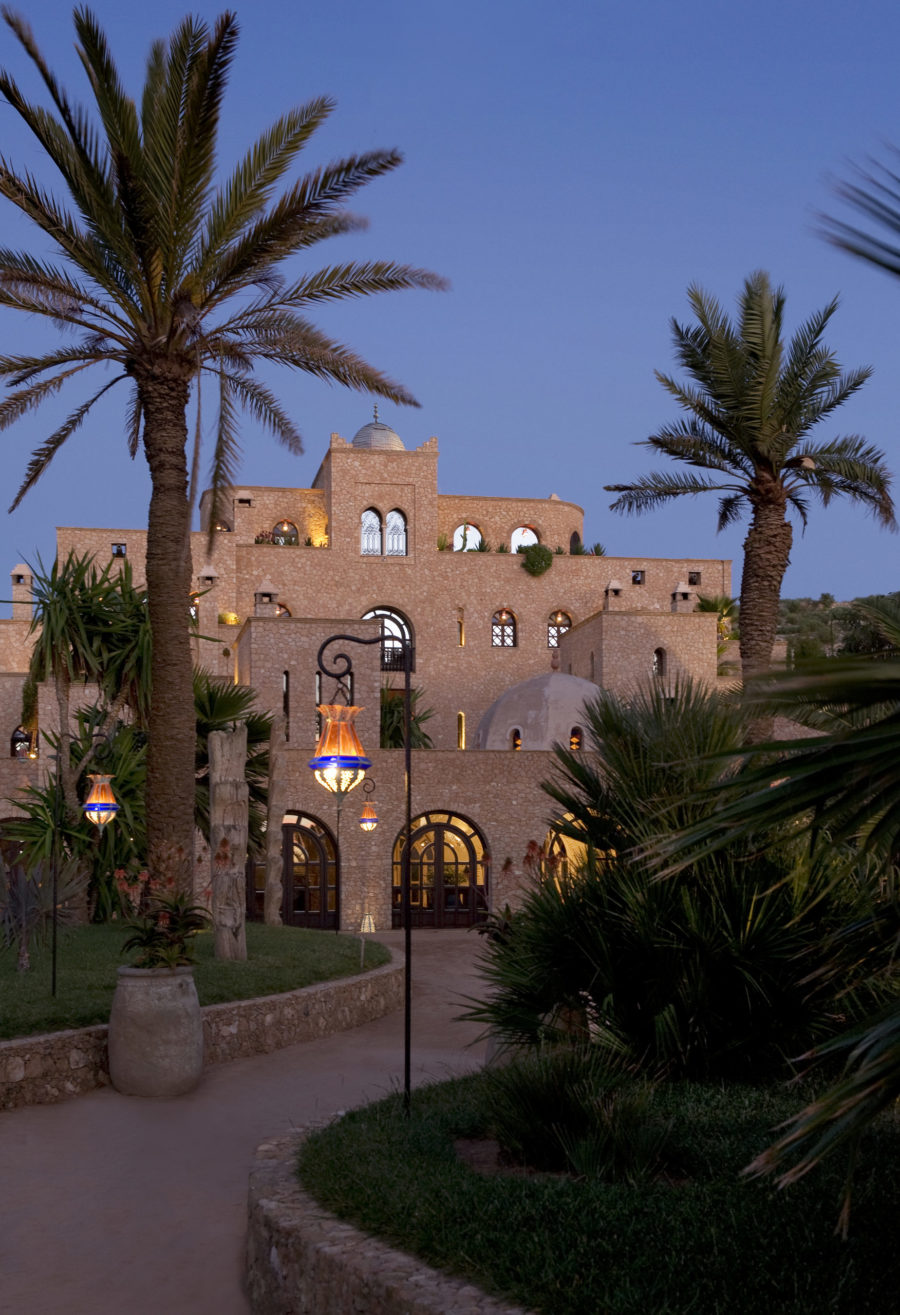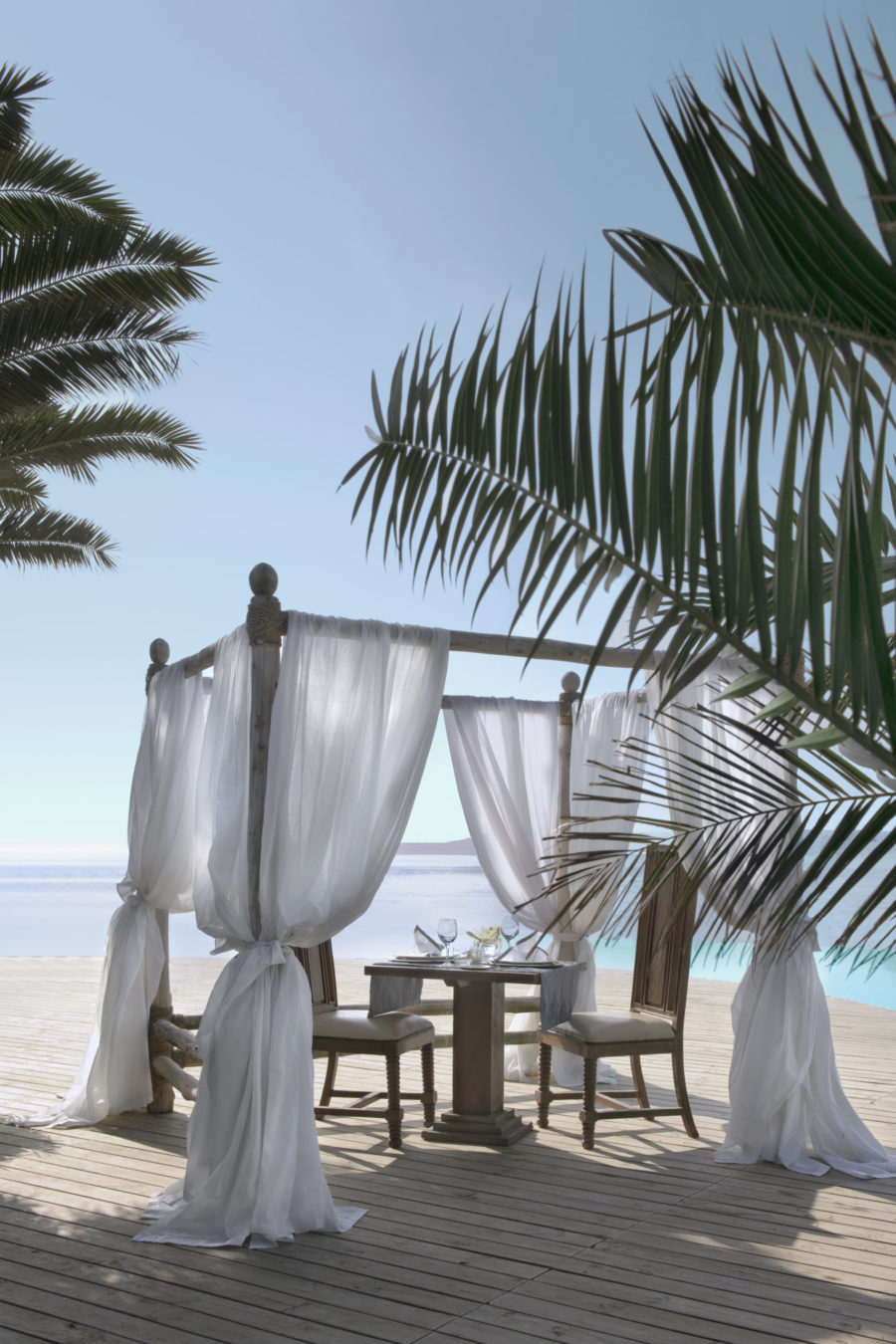 Images courtesy of La Sultana
La Sultana, Oualidia
Known as the oyster capital of Morocco for the shellfish that thrive in its almost seven-mile-long lagoon, Oualidia is a small fishing village on the Atlantic coast, between Casablanca and Essaouira, once the site of a royal summer residence. Fronting the lagoon, you'll find La Sultana, a peaceful kasbah-style beach hotel with just 12 rooms, a treehouse straight out of a fairy tale, and gardens full of palms, oleander, cacti, orange trees and bougainvillaea and a temple-like spa.
Rooms have tadelakt (polished plaster) walls and zellig-tiled floors, and are warmed with wood-burning stoves, as nights can be chilly despite the daytime 20s temperatures in spring/autumn, which shoot up into the 30s in summer.  The lagoon makes for lovely views, calm swimming, and, sheltered from the fierce Atlantic waves, is kind to surfing newbies. Sandbars come and go with the tides, endlessly changing the seascape. It is also one of the most important coastal wetlands in Morocco, and a major stopover for migrating birds in spring and summer. You'll see flocks of pink flamingos, white egrets, grey herons, cormorants and storks, and can learn more about them on the hotel's boat safaris.
Eco credentials:
With their proximity to the lagoon, La Sultana is passionate about conservation and the environment. They are totally self-sufficient with water, their organic garden uses nettle fertiliser, and produces most of the hotel's fresh produce, with other ingredients coming from selected 'slow food' producers. Seafood comes straight from the lagoon, and breakfast is now 50% organic. Waste water is used for irrigation and staff – and volunteering guests – take part in regular litter clearing.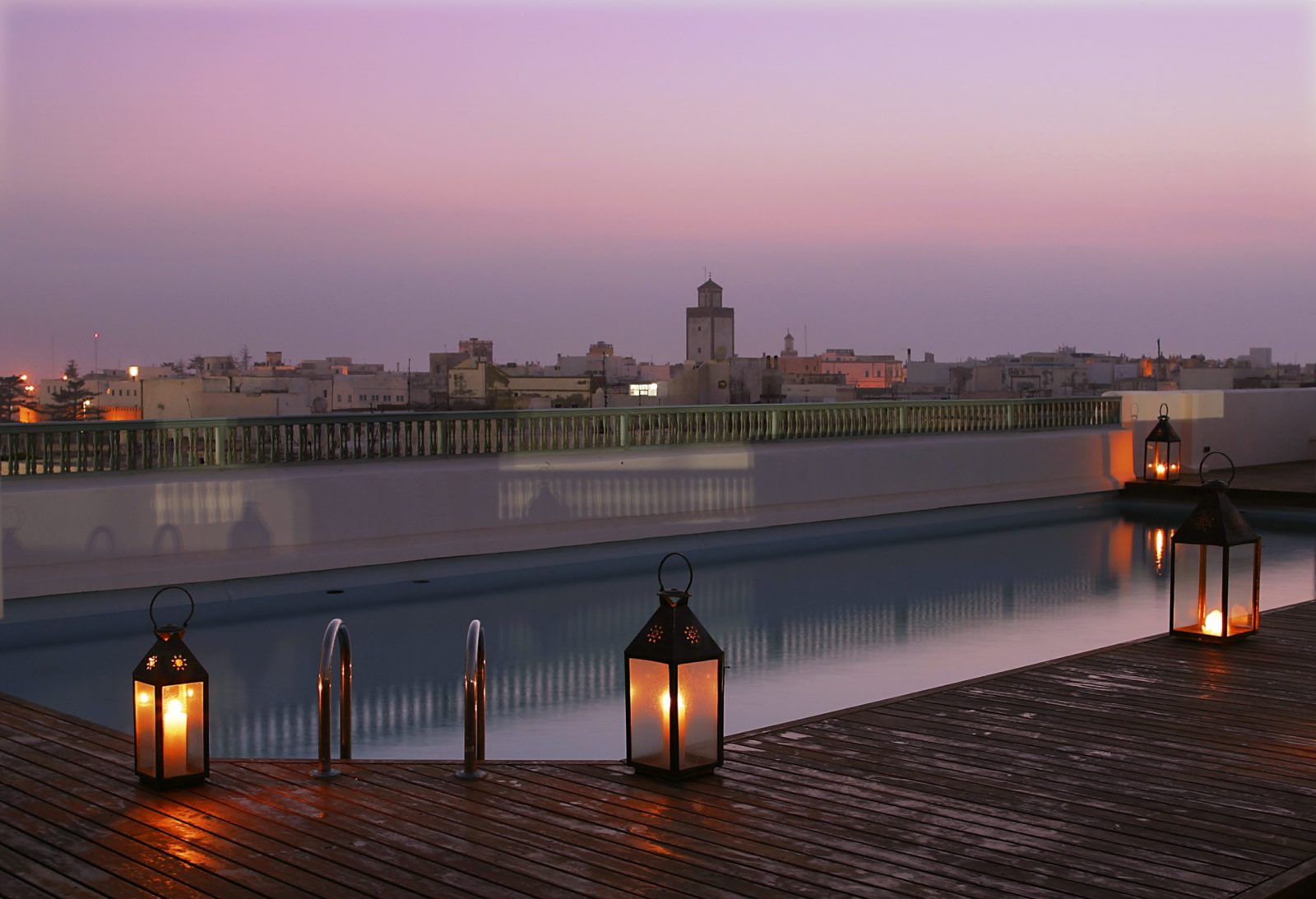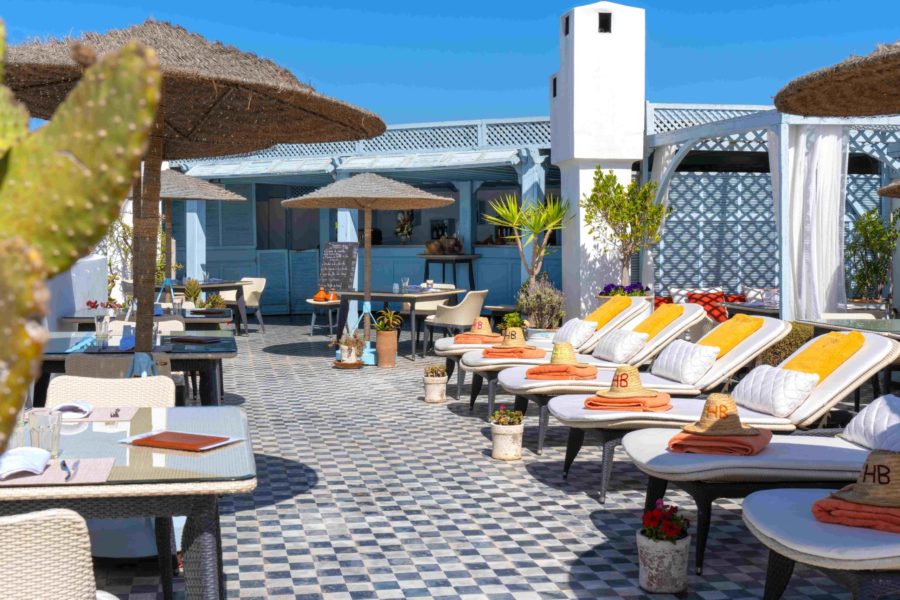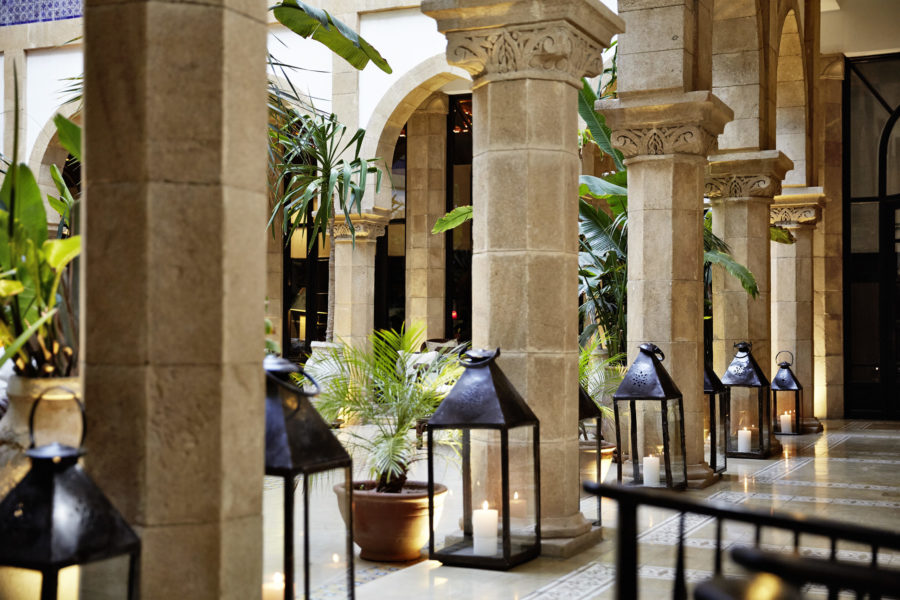 Images courtesy of Heure Bleue Palais
Heure Bleue Palais, Essaouira
This elegant 19th century riad, once the governor of Essaouira's palace, is now a peaceful boutique retreat from the hubbub of the small lively port city of Essaouira. Walk through the heavy cedar wood entrance doors and you'll find a palm-shaded courtyard, 35 rooms and suites, stained glass windows, traditional hammam, a small spa and even a billiards room.
The bar and lounges have a gentlemen's club feel with their jewel colours, rich velvets and rattan and leather chairs, rooms have shuttered windows, and African and oriental- influenced interiors, and the gorgeous rooftop pool  – the only one in town – has spectacular views over the harbour and the UNESCO protected city. You're just 10 minutes walk from the old town with its ramparts, souks and 18th century cannons.
Eco credentials
Green Key accredited for many years, the hotel has replaced bathtubs for showers in Deluxe rooms, installed flow regulators on taps and showers, and dual flushes to minimise water consumption. They support local cooperatives and use mostly local suppliers for the restaurants.
The hotel supports the EL KHIR Association, which offers women in vulnerable situations internships in different hotel services, with the aim of giving them jobs that to enable personal and financial autonomy.