February | Travel
The Eco Dog-Friendly Guide
Travel in style with four-legged friends in tow
Susan Ward Davies
Travel is back (praise be), and if you're one of the many people who welcomed a puppy into their family during lockdown, you're probably now wondering how to plan a holiday with a four-legged friend in tow. But be warned, dogs and designer interiors do not a restful weekend make, and if the words 'well-behaved pets welcome', on the website give you a twinge of foreboding, you might want to take preventative measures. With a little preparation you can avoid potential pitfalls, no matter how naughty your four-legged friend might be…
Mrs Higgs' Lodge, Herefordshire
How cosy is this cottage? Built in 1835 as a hunting lodge, it was lived in for many years by a Mrs Higgs. When she died, the house was abandoned and slowly reclaimed by the forest, like Sleeping Beauty's castle. Now restored to more than its former glory, it sits in a 3000-acre private estate, still surrounded by trees and wildlife – you may spot deer, owls and badgers  – with two bedrooms, a wood-burning stove, flagstone floors,  an outdoor, log-fired hot tub, plus flushing loo and shower in the outhouse.  There is no wifi, you are totally off-grid, and it is seriously remote – but if you want to escape the world, or hole up to write your novel, you're in the right place.
Eco cred: solar panels for electricity, water is pumped up from the original spring well, heating comes from wood burners.  The only concessions to modernity are a gas stove, a hot shower and a flushing loo.
Pet-pleasers: Two dogs are welcome free of charge, and there are 3000 acres to roam .
Quality Unearthed offer stays from £235 per night for up to four sharing.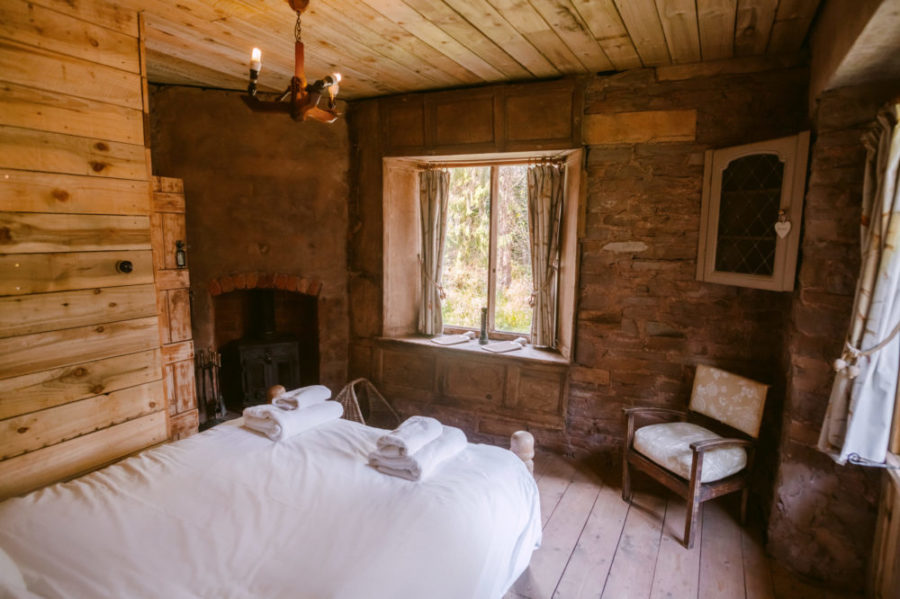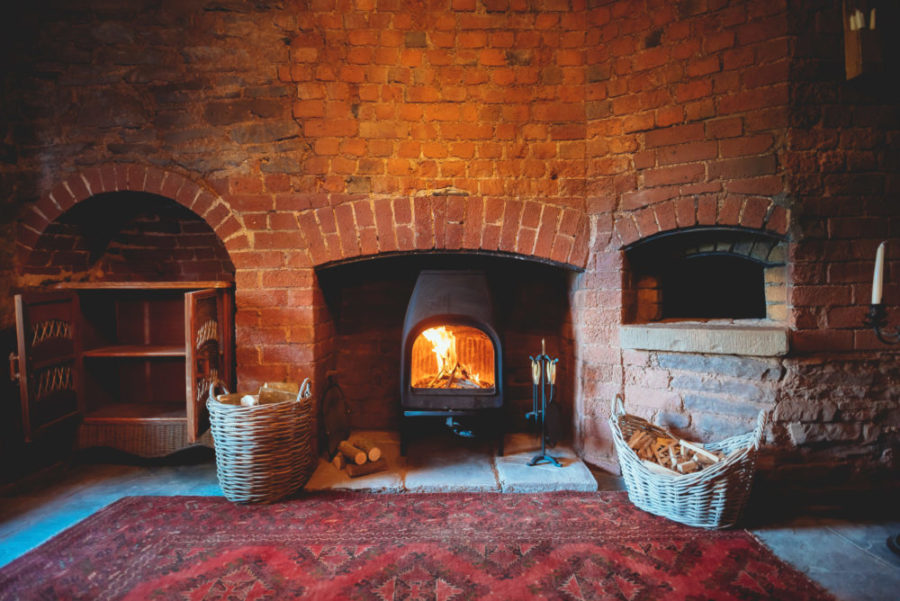 images of Mrs Higgs' Lodge, Herefordshire
Ukiyo, Coverack, Cornwall
Ukiyo means 'the floating world' in Japanese, or 'detachment from everyday life', which sounds like definite weekend-away goals to us. Set high above the sea, this two-bedroom, Japandi-style beach house, on the east of Cornwall's Lizard Peninsula, lives up to its name, with a log-burner for cosy evenings, and large picture windows showcasing Coverack Bay below. The master bedroom even has freestanding bath positioned so you can watch the windsurfers as you soak. Outside is clad in sustainable Siberian larch, while inside the bleached wood, dove- grey concrete walls and a floating staircase create a restful, airy feel. 
Eco-cred: underfloor heating is generated by an air source pump, which produces around 75% of the heating and hot water, and recycled materials were used in the design. 
Pet pleasers: One well-behaved dog is allowed – possibly two, if you ask in advance. You can walk the dogs on the beach on a lead, and there are plenty of bracing coastal hikes.
Sleeps four, from £2650 a week, £1995 for a short break (three-night weekend, or Mon – Friday stays). Pets £60 per week.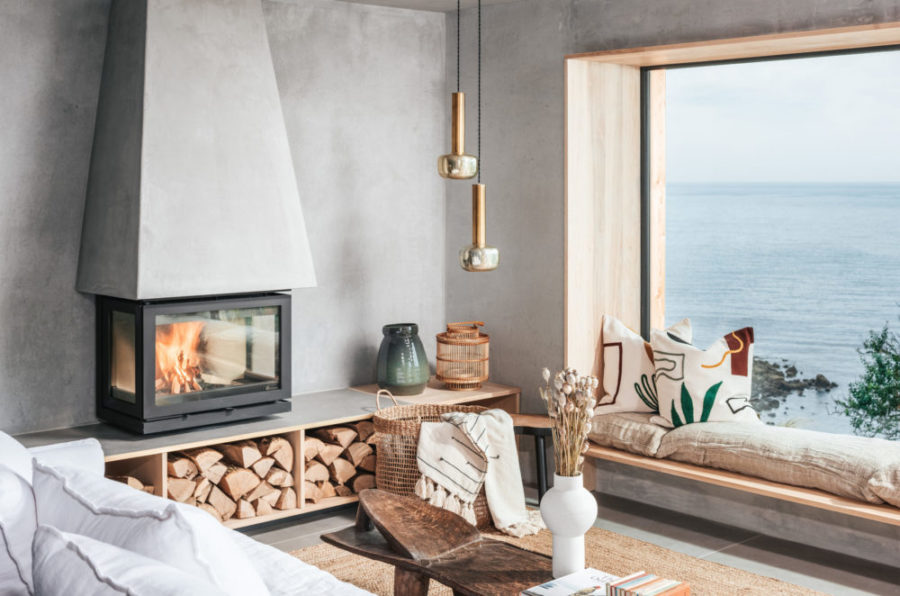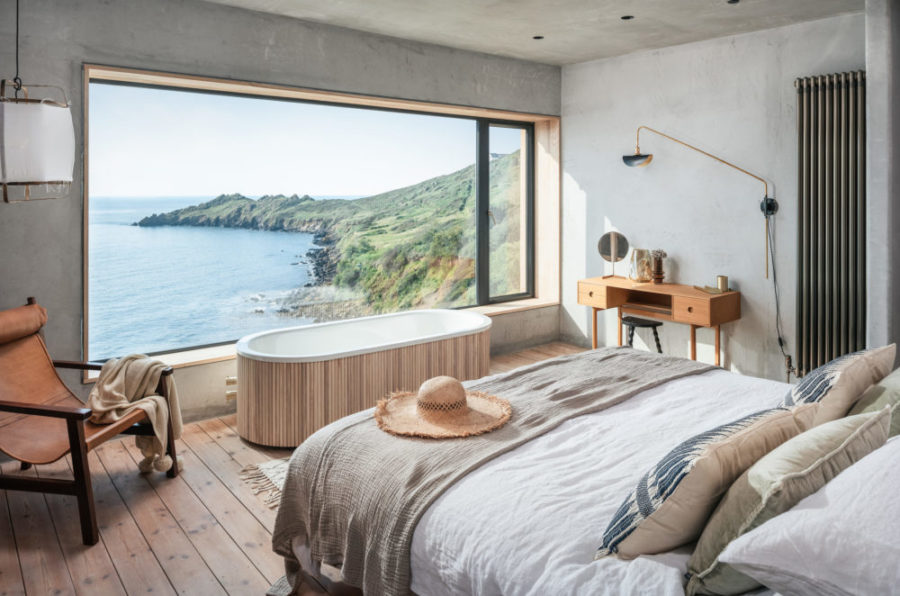 Images © Unique Homestays
Alpnhaus, Singdean, Scottish Borders
You might think Scotland would be way too nippy for a cabin stay but this architecturally award-winning bolthole is a snug as a ski lodge, which it is designed to resemble.  350 metres above sea level, in the Cheviot Hills, and totally off -grid, Alpnhaus is in the grounds of Singdean, dating back to the 14th century.  Inside the cabin is all exposed wood, leather sofas, and thick rugs, and although it is self -catering,  the owners, Christa and Del, who live in the main house with their two dogs, will make you a fabulous traditional Alpine breakfast.
Near the Kielder observatory, and accessed by a very scenic B road, there is so little light pollution here it is perfect for star gazing.  By day there are long walks in every direction, wildlife to watch and the wood- fired hot tub to wallow in, which Del will heat up to toasty 37 degrees. 
Eco cred: totally off -grid, with a biomass boiler, its own electricity from solar panels, and the hot tub filled with chemical- free Scottish water, Singdean was one of four finalists for the i Staycation Awards 2019 for sustainable tourism.  
Pet-pleasers: up to two dogs free of charge, with prior arrangement, and lovely walks.
Alpnhaus costs from £450 for two nights (minimum stay)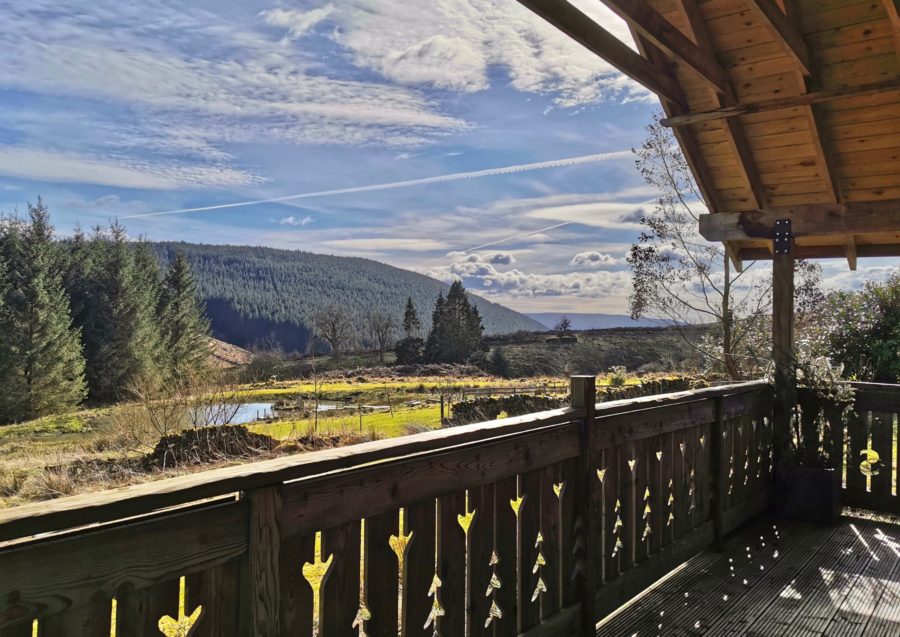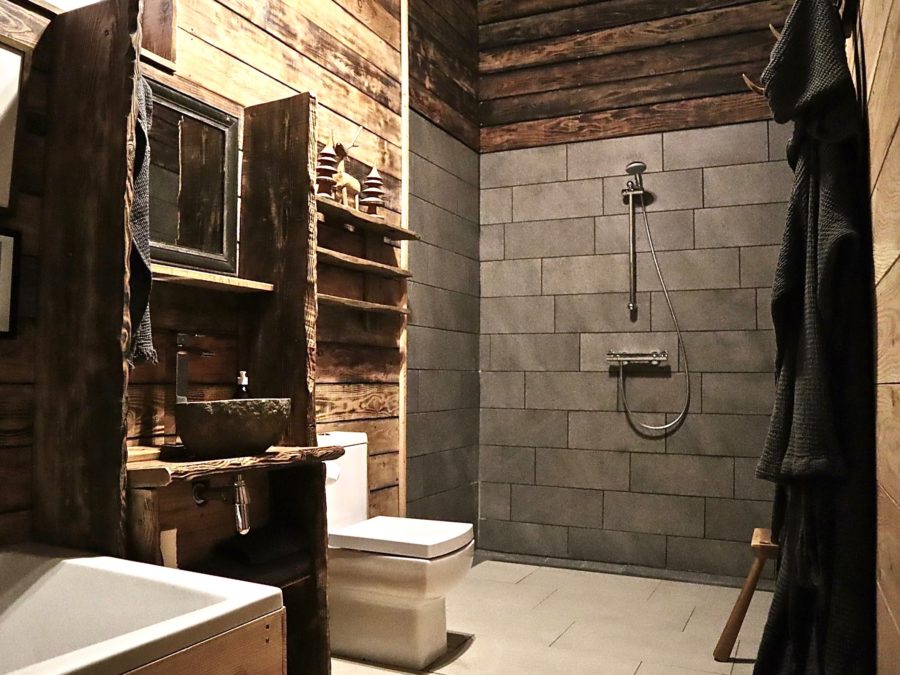 Images courtesy of Alpnhaus, Singdean, Scottish Borders
Top Lodge Cottage, Netherby Estate, Cumbria 
The brilliant B Corp-certified  Sawdays, one of the best companies for handpicked, extra special places to stay in the UK and Europe, have come up with the equally brilliant Paws & Stay collection for dogs. One of these, Top Lodge, is a dinky, Hansel-and-Gretel-esque, turquoise-and-white cottage on Netherby Estate, a working farm in a remote part of Cumbria, just four miles east of Gretna Green (if you're feeling romantic). With the river Esk nearby and long scenic walks from the doorstop, and completely private apart from the sheep, cows and pheasants, it's the perfect rural hideaway for two. You'll find a fire-warmed living room, cosy, under-the- eaves bedroom, an enclosed garden, barbecue, and even an outdoor bath for a spot of wild bathing.
Eco cred: you can pick your own produce from the garden and collect eggs from the chicken.  Netherby's owners have an innovative treeplanting forestry project, and guests are given maps of the estate to show the best routes through the woods.
Pet-pleasers: two dogs are permitted free of charge but you're on a working farm, so you need to put them on the lead on the estate
Book through Sawday's Paws & Stay,  from £105 a night, sleeping two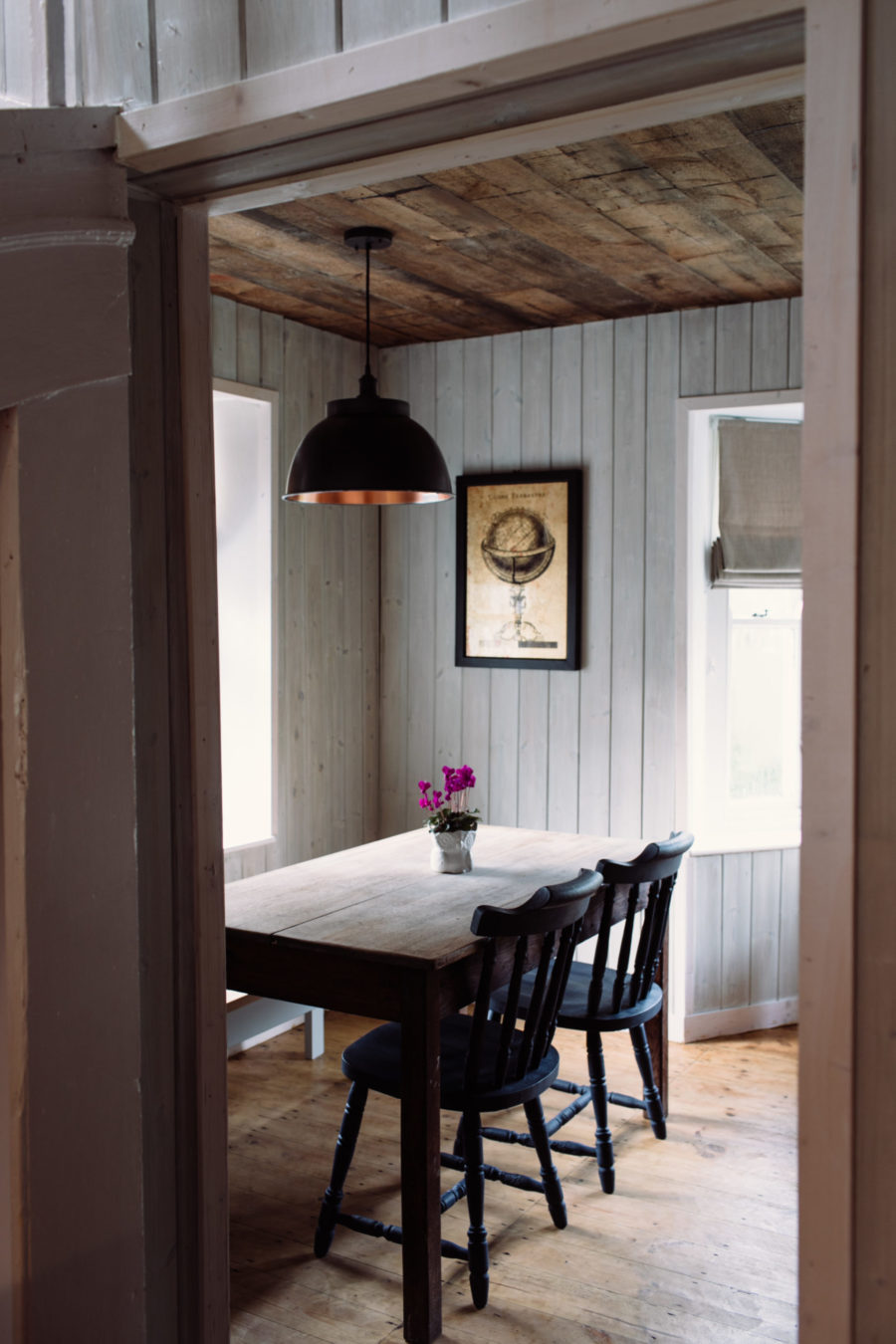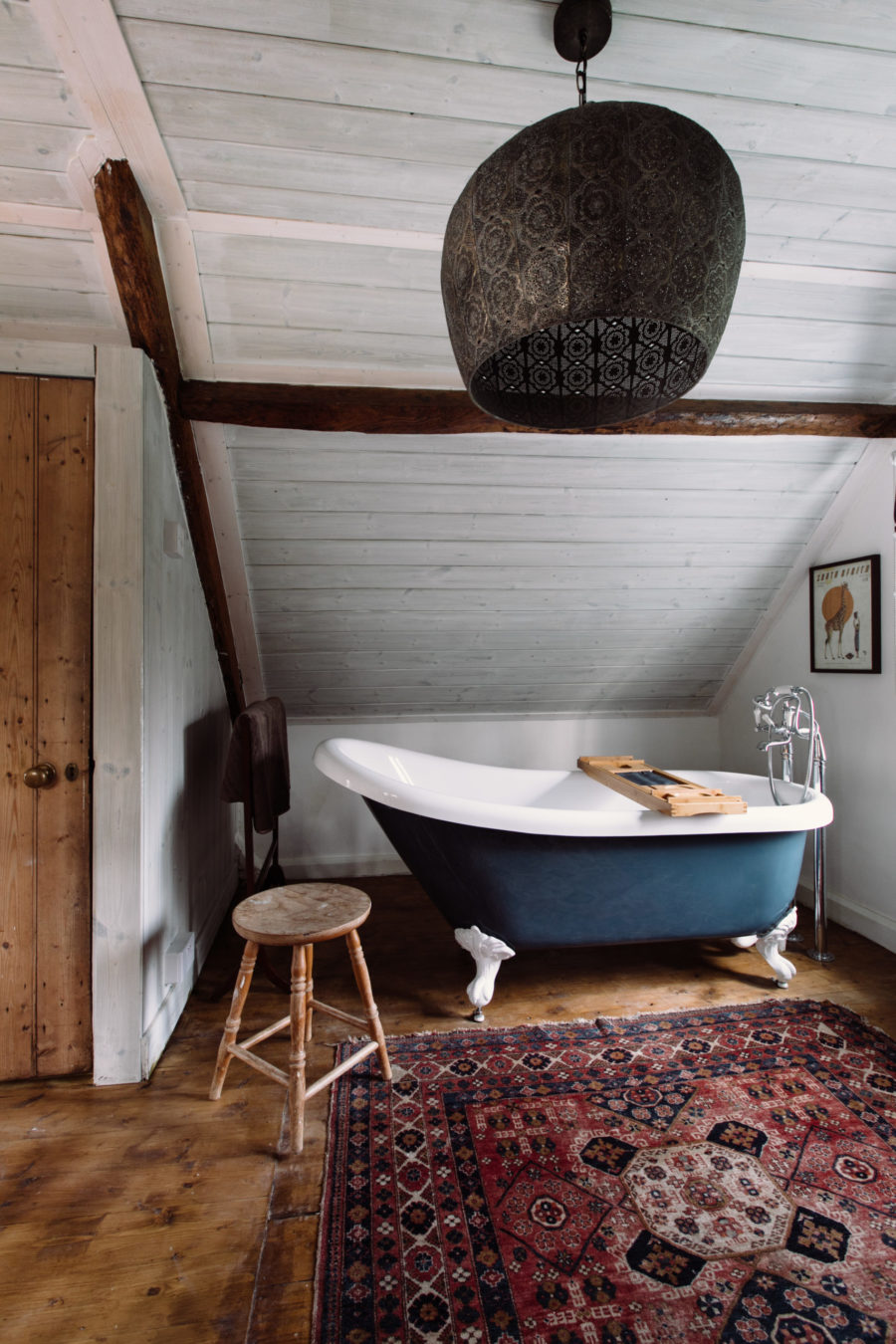 Images courtesy of Top Lodge Cottage, Netherby Estate, Cumbria 
Only 30 minutes from Bath, but in the Mendip hills, in the heart of bucolic Somerset, The Holcombe is a 17th century restaurant with eight bedrooms and three garden lodges, two of which are dog-friendly. Interiors are a stylish mix of antique and contemporary, with the softest goose-down duvets and pillows, exposed stone and some wrought iron beds.  Owned by chefs Caroline Gardiner and Alan Lucas, who bought it just before covid hit, the food is a major focus. The kitchen garden and 42-foot polytunnel take over most of the grounds, raised beds have been installed to enable year-round growing, and to supplement what they grow, they source local, free-range produce for a sustainable and award-winning menu.
Eco cred: They aim to use everything they cultivate – if it's not on guests' plates it will be added into stocks. Home-made infusions for gins and vodkas are created from garden ingredients, and suppliers are encouraged to reduce plastic packaging and wrapped everything in paper.  
Pet-pleasers:  dogs are allowed in two of the lodges, and spoilt with treats, blankets and comfy beds, and can make friends with Truffle, the house dog.
The Holcombe, doubles from £170, B&B, (£20 per dog, per night)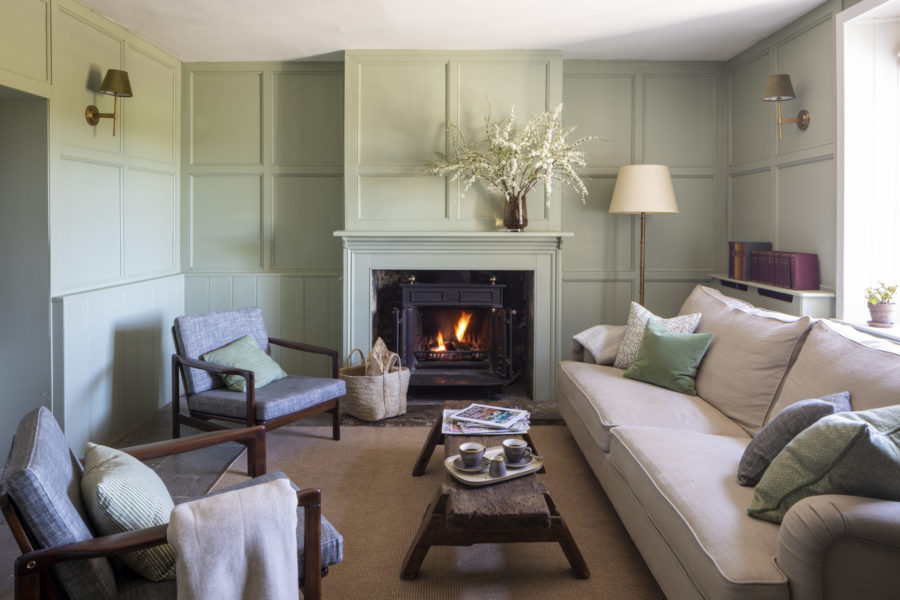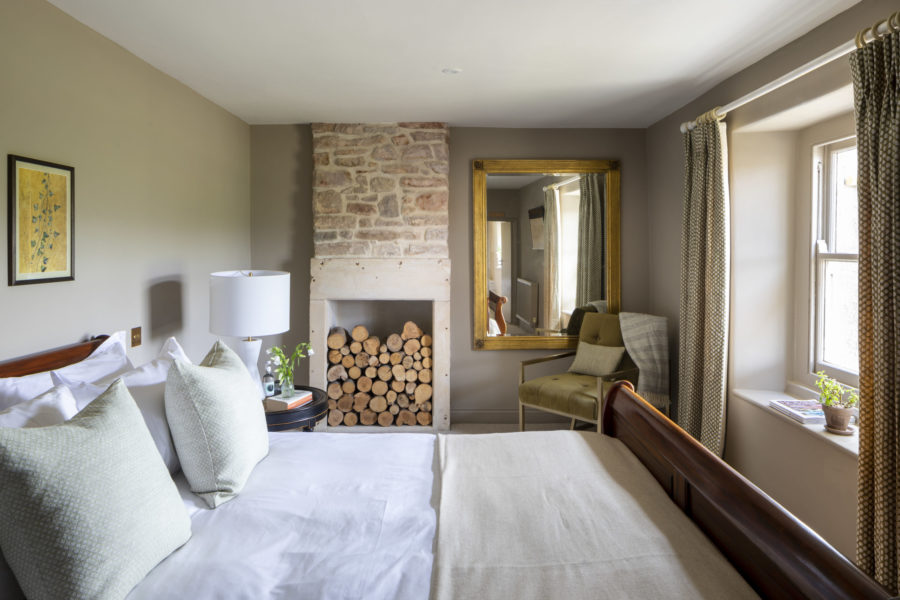 Images courtesy of The Holcombe, Somerset
The Fish, Farncombe Estate, Cotswolds 
On a private Cotswolds estate that is also home to dog-friendly siblings Dormy House and Foxhill Manor, The Fish is a dog's dream bolthole, with a canine agility course in the grounds and 400 acres to chase rabbits in. The Fish is part boutique hotel (with rooms in The Coach House and The Stables), and part glamping, with 15 shepherd's huts and three treehouses.  In the main lodge you'll find the restaurant, a screening room, and a boot room for welly borrowing. Farncombe Estate has just launched two new Hillside Hangouts, self-catering party houses: The Hoot (sleeping up to 15),  and The Nook, for up to eight. 
Eco cred: The Fish is powered by 100% green energy; all food waste goes directly to neighbouring Northwick Park's anaerobic digester, which uses micro-organisms to break down biodegradable material, and no waste goes to landfill. The estate plants trees, they rear their own pork and use low voltage LED lighting. 
Pet-pleasers: dogs are allowed in some rooms and one treehouse, and can try the special doggy afternoon tea. 
Doubles from £155, B&B; £30 extra per dog, or book through PetsPyjamas,  who offer dog-friendly packages where dogs stay free. With their first booking, customers become members of PetsPyjamas' Priority Paws membership club, which gives access to the VIP pet concierge, complimentary 24/7 vet line access for the duration of their trip, VIP discounts and exclusive deals.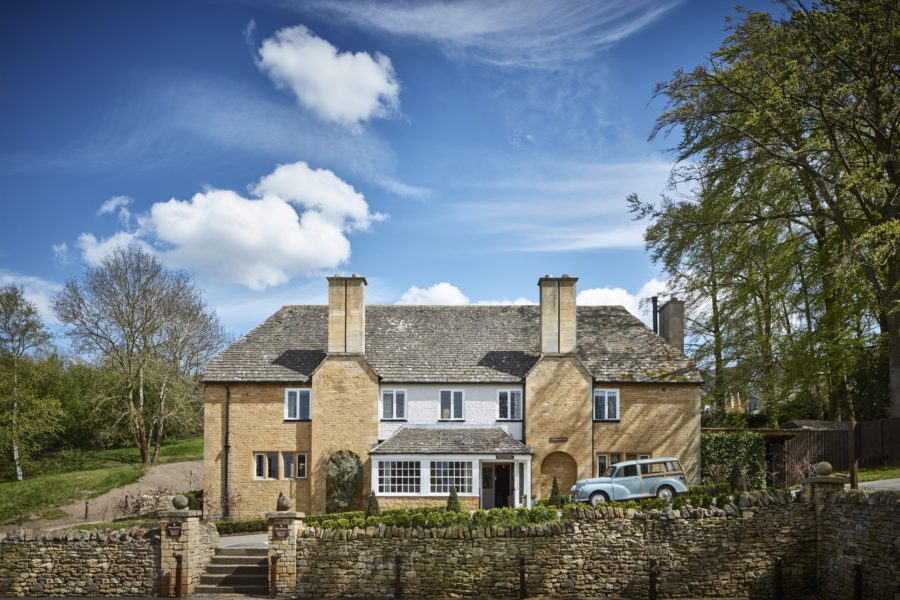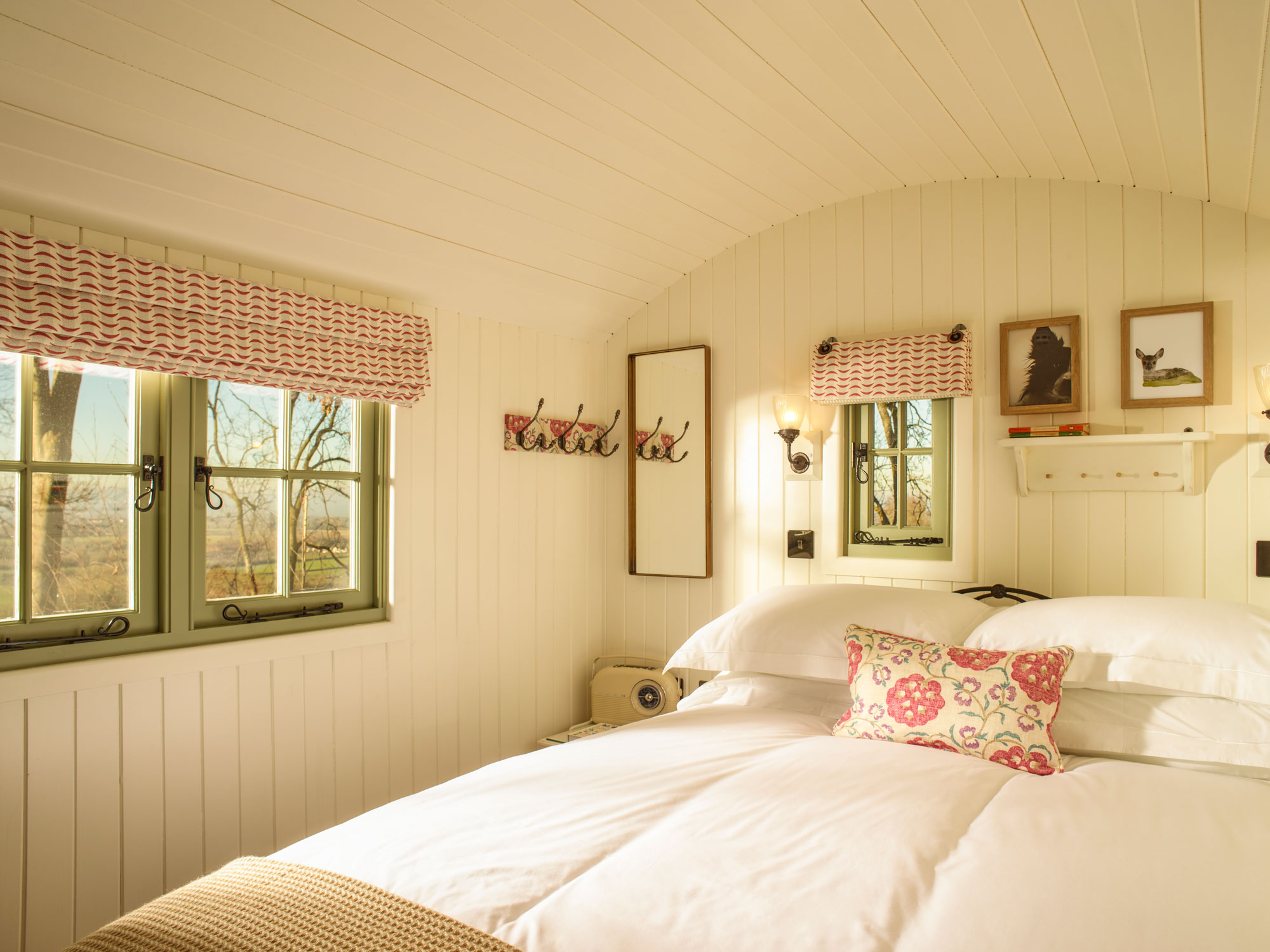 Images courtesy of The Fish, Farncombe Estate, Cotswolds 
The Alice Hawthorn, Yorkshire 
Named after a famous winning racehorse, The Alice Hawthorne is a Grade 11 listed pub between Harrogate and York,  in the pretty village of Nun Monckton,  with its weeping willow shaded duck pond and the tallest maypole in the  country. The pub was thoroughly renovated (in consultation with the locals) to make four rooms upstairs (exposed beams, freestanding baths),  and eight new ones in the grounds, sustainably built and beautifully designed to blend in with the surroundings with homegrown, white-oiled Douglas Fir, and with sliding glass doors to make the most of the garden views.
Eco cred: the buildings are rated A grade for low energy, with their high-level insulation and use of clerestory (above eye level) windows  for natural ventilation. The newly built parts are lined with sustainable larch boarding and poplar plywood instead of plaster. Planting and habitat creation has improved bio-diversity. 
Pet-pleasers: two dog-friendly rooms, £20 per dog, and they are allowed in the bar.
The Alice Hawthorn, Doubles from £140, B&B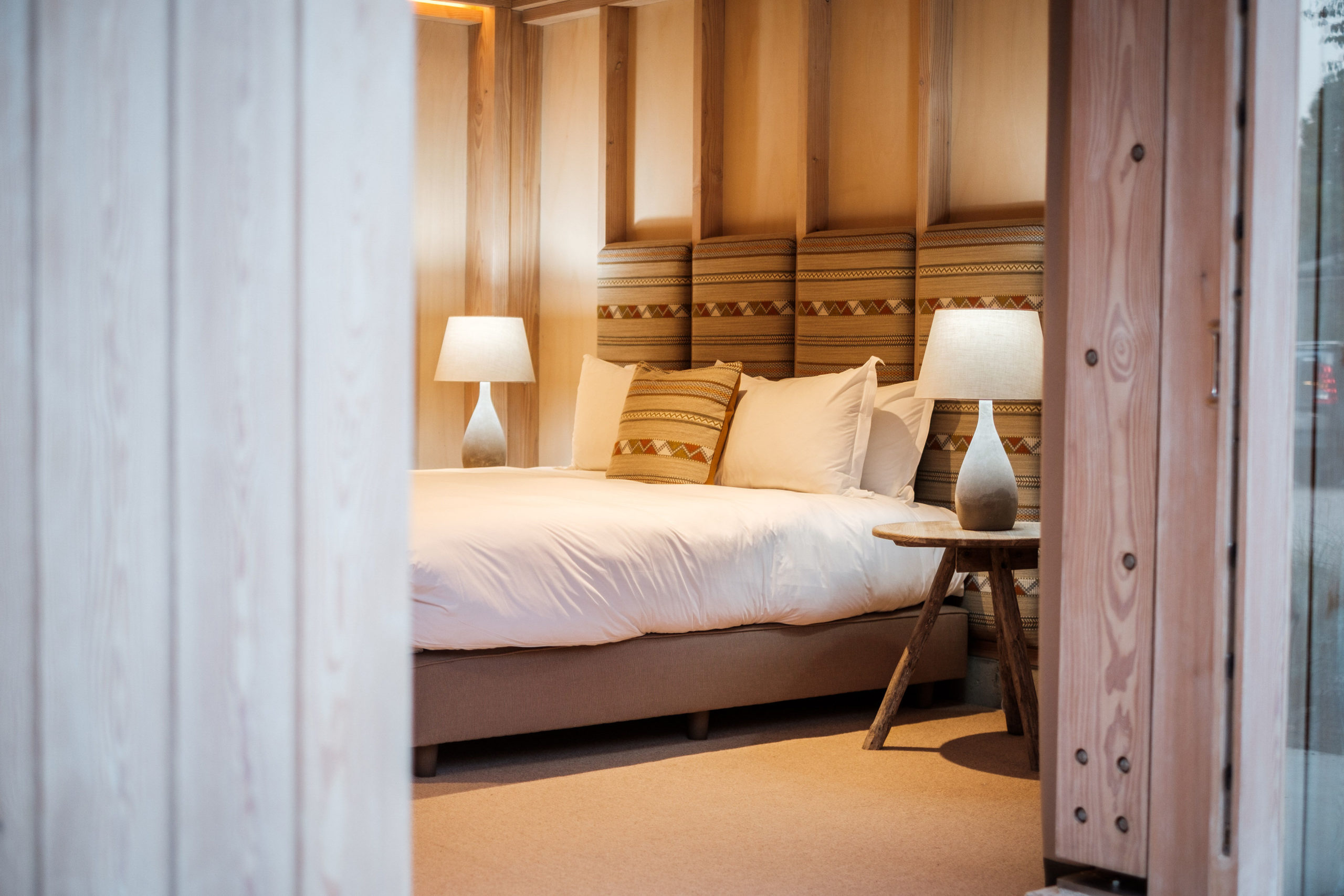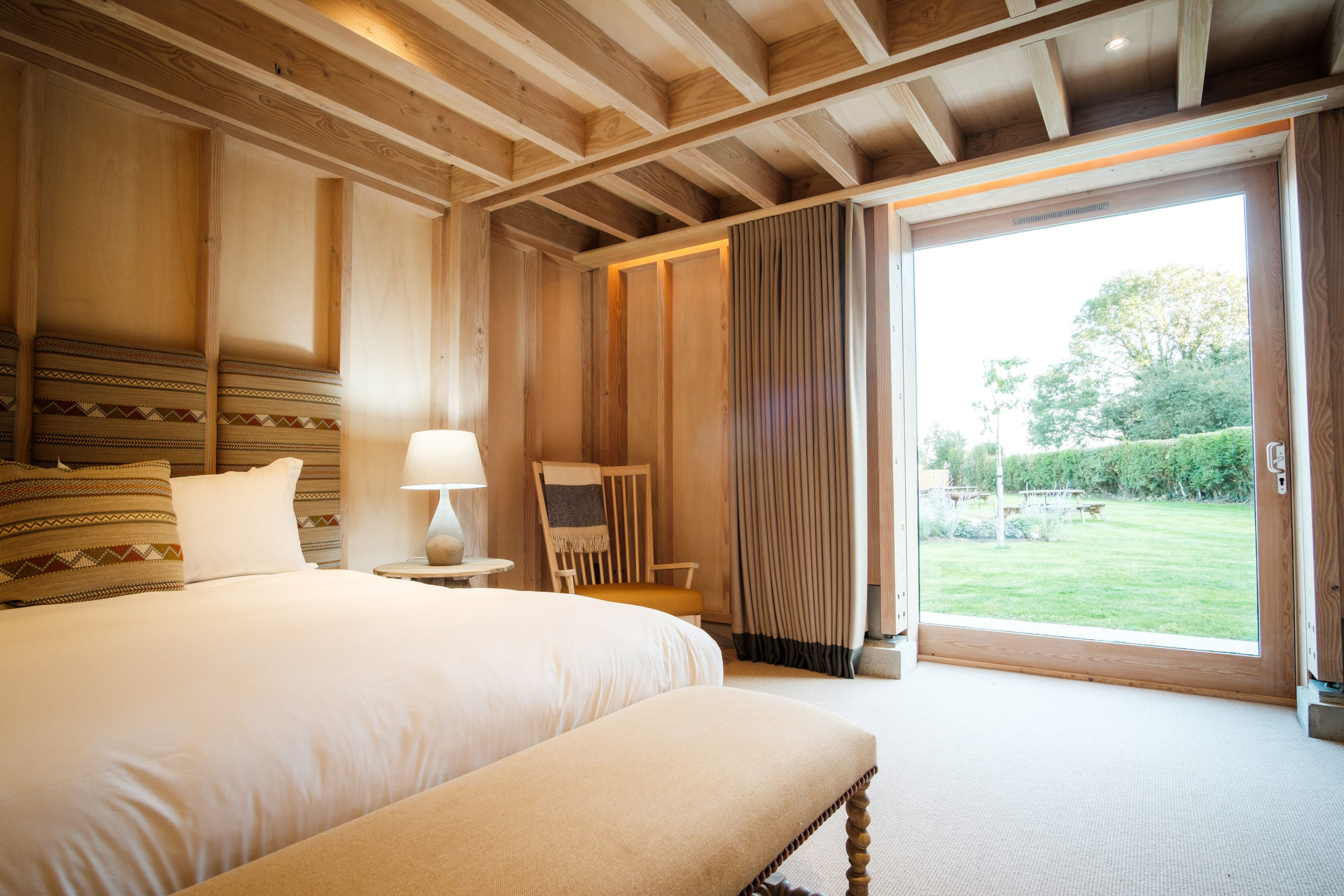 Image courtesy of Jim Poyner