June | Travel
The Eco Treehouse Guide
As the summer heat kicks in, escape the city for rolling meadows and tree-top living
Susan Ward Davies
When I was little, my father built a rudimentary treehouse in an old oak tree in the garden, with an old door wedged and lashed between the branches as the floor, a sturdy rope ladder to clamber up on to it and some kind of tarpaulin roof covering. We would spend hours up there – somehow playing above ground was just so much more fun than being at ground level. I still think there is something magical about this kind of lofty hideaway, and I'm in luck, because this summer seems to be all about treehouses – with brand new ones in Scotland, West Sussex and Gloucestershire, as well as old favourites or new finds around the country.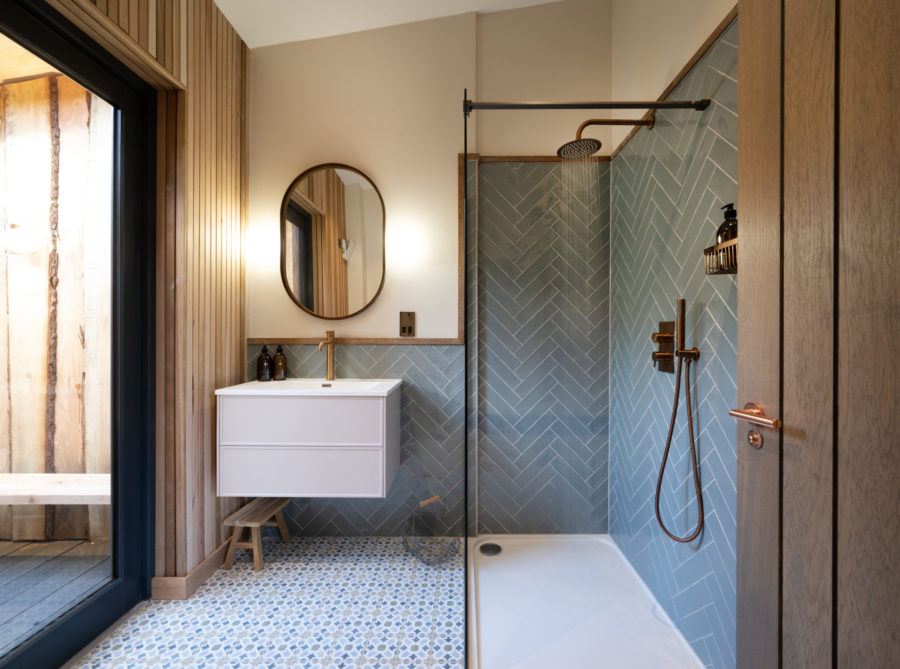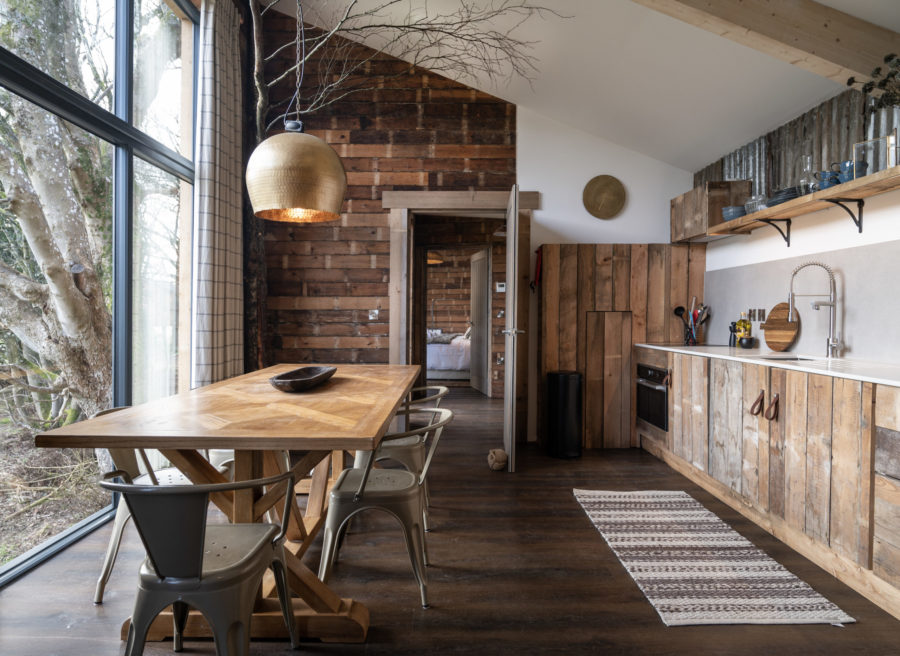 Images Courtesy of The Treehouse at Leckie
The Treehouses at Leckie, Stirling, Scotland
Just opened in spring 2023, the two one-bedroom (sleeping 4) and two two-bedroom (sleeping 5) treehouses are hidden away among the ancient oaks and sycamore trees in beautiful Stirlingshire, 31 miles north of Glasgow. Cosy and luxurious, as well as laudably eco, they have underfloor heating (courtesy of air source heat pumps), woodburning stoves, copper bathtubs and private decking areas with electric barbecues. Self-catering is a cinch with everything from grass-fed beef to free-range eggs (and a welcome hamper) delivered from nearby Old Leckie Farm, and if you can't be bothered to cook, it's just a 10-minute scenic walk to award-winning Gargunnock Inn for the likes of venison burgers, roast chicken and cauliflower fritters.
Eco Credentials:
Part of a grand diversification project for the Leckie estate, whose aim is to restore biodiversity and sequester carbon, the treehouses were built to Passivhaus standard (strict adherence to energy-efficient design), mostly from Leckie's own timber, and designed to minimise their impact on the landscape.  Other plans for the estate include planting native tree species, regenerating the land; adding owl boxes and beehives, and using pigs and Galloway cows to break down the wetland and woodlands.
From £290 a night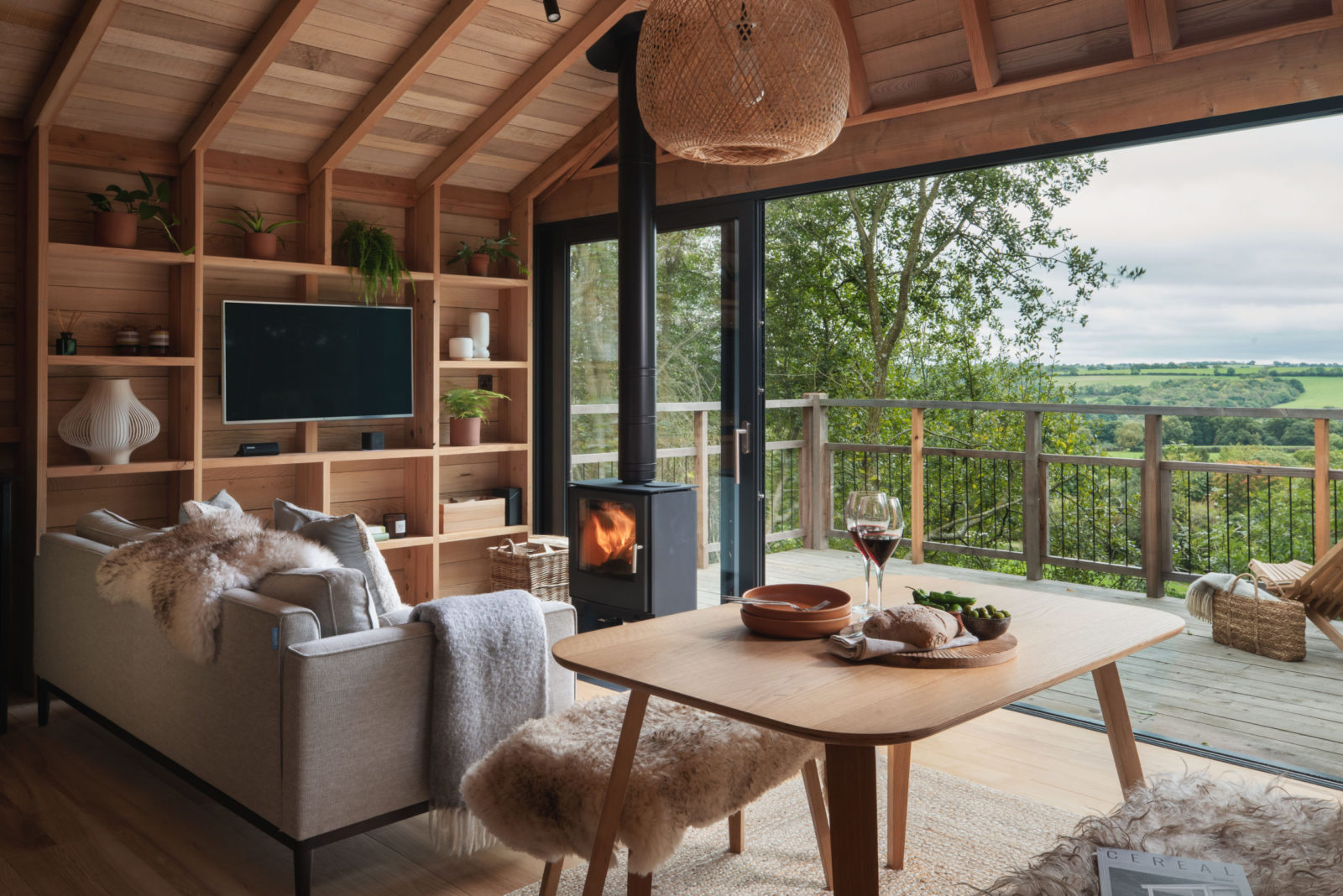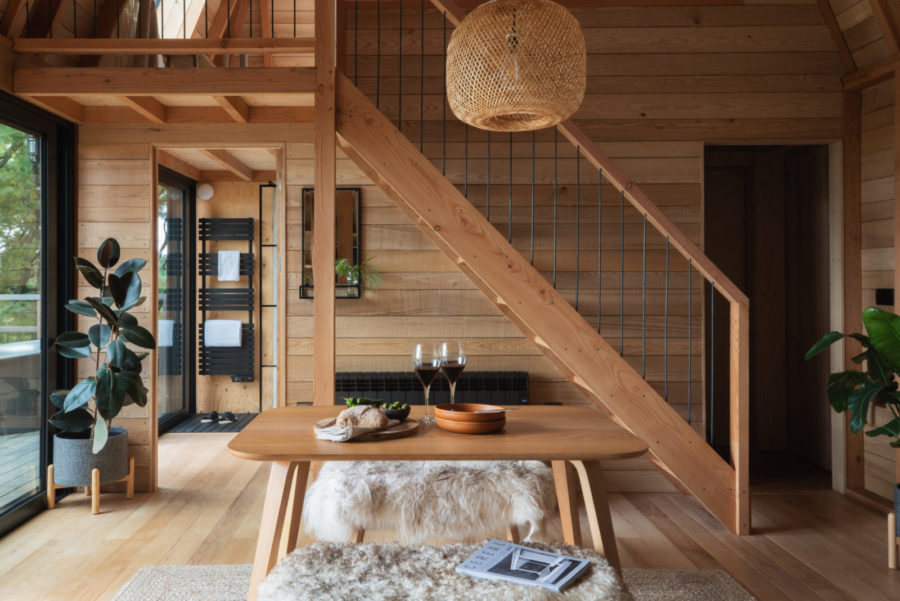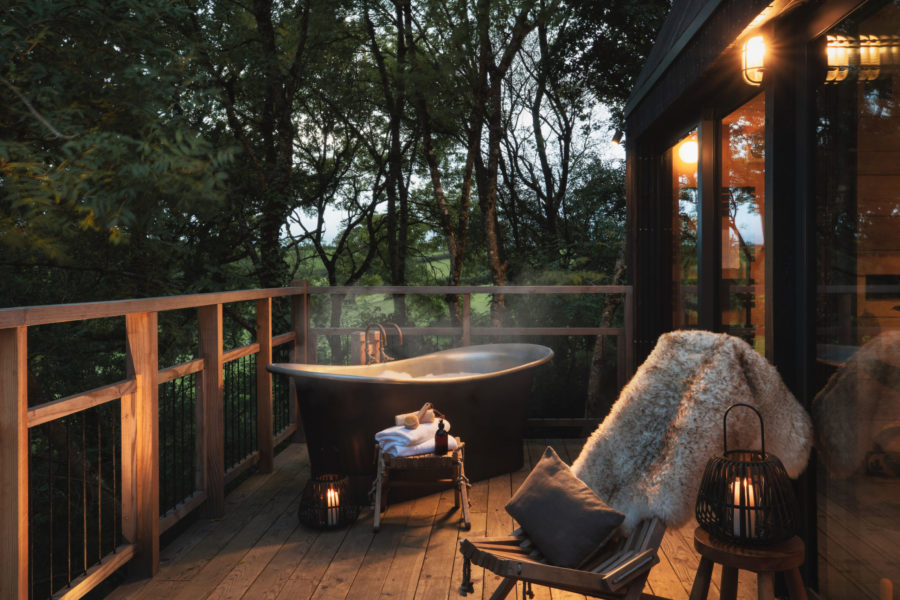 Images Courtesy of Nymetwood
Nymetwood, Crediton, Devon
About 30 minutes drive from Dartmoor National Park, and 15 miles west of Exeter, Black Cap and Starling are two beautifully designed, Scandi-style, luxury treehouses peeking out from the tree canopy in Nymetwood's 20 acres of fields, orchards and woodlands.  Glass doors slide right back to give access to the decks – with their al fresco copper bathtubs – and peaceful views over the lush Devon countryside. Kitchens are high spec and interiors uncluttered and stylish. Log-burning stoves, soft wool throws and sheepskin rugs keep things cosy on chilly evenings, while the leafy branches offer shade from the summer sun.
Eco credentials:
Low-impact build by local timber framers Emmanuel Hendry, using local, sustainable wood and zero plastic.  They use 100% green energy, compost all food waste, collect grey water, have motion-sensor lights, high levels of wood-fibre insulation, and EV charging points. Cleaning products and toiletries are all organic, and welcome hampers are locally sourced. Owners James and Cherie Moore have planted hundreds of new trees to encourage wildlife, bees and butterflies, and installed owl boxes, hedgehog houses and bat boxes.
From £250 for two adults (+ up to two children on request)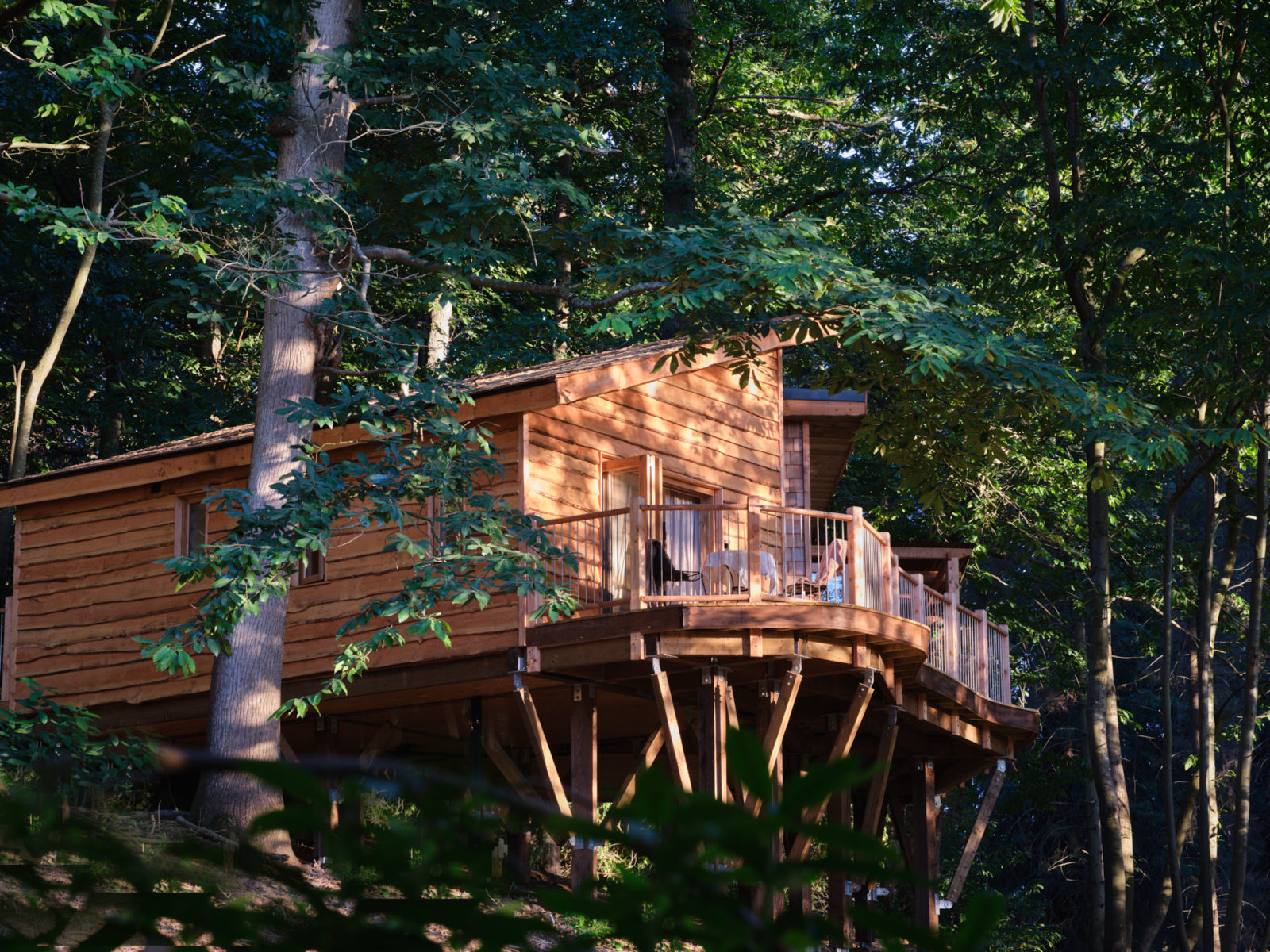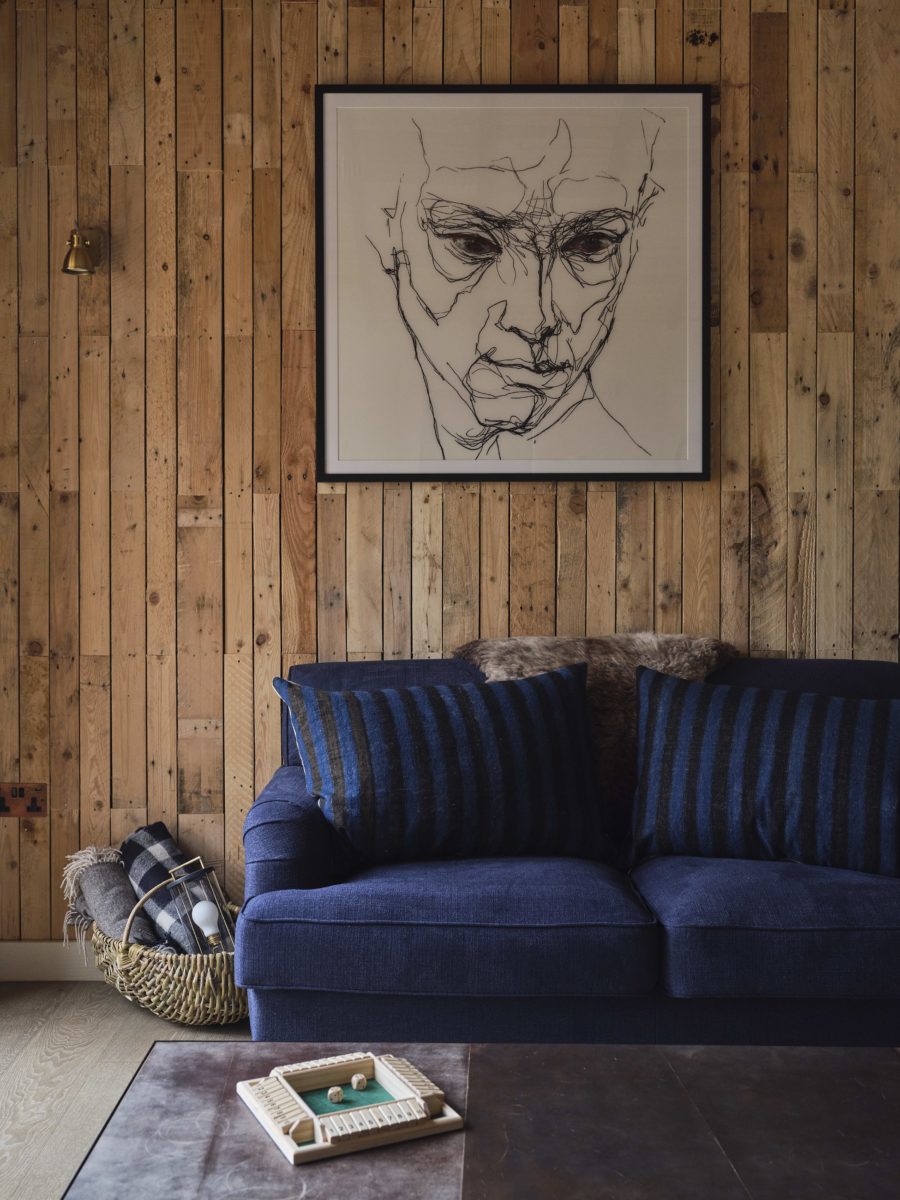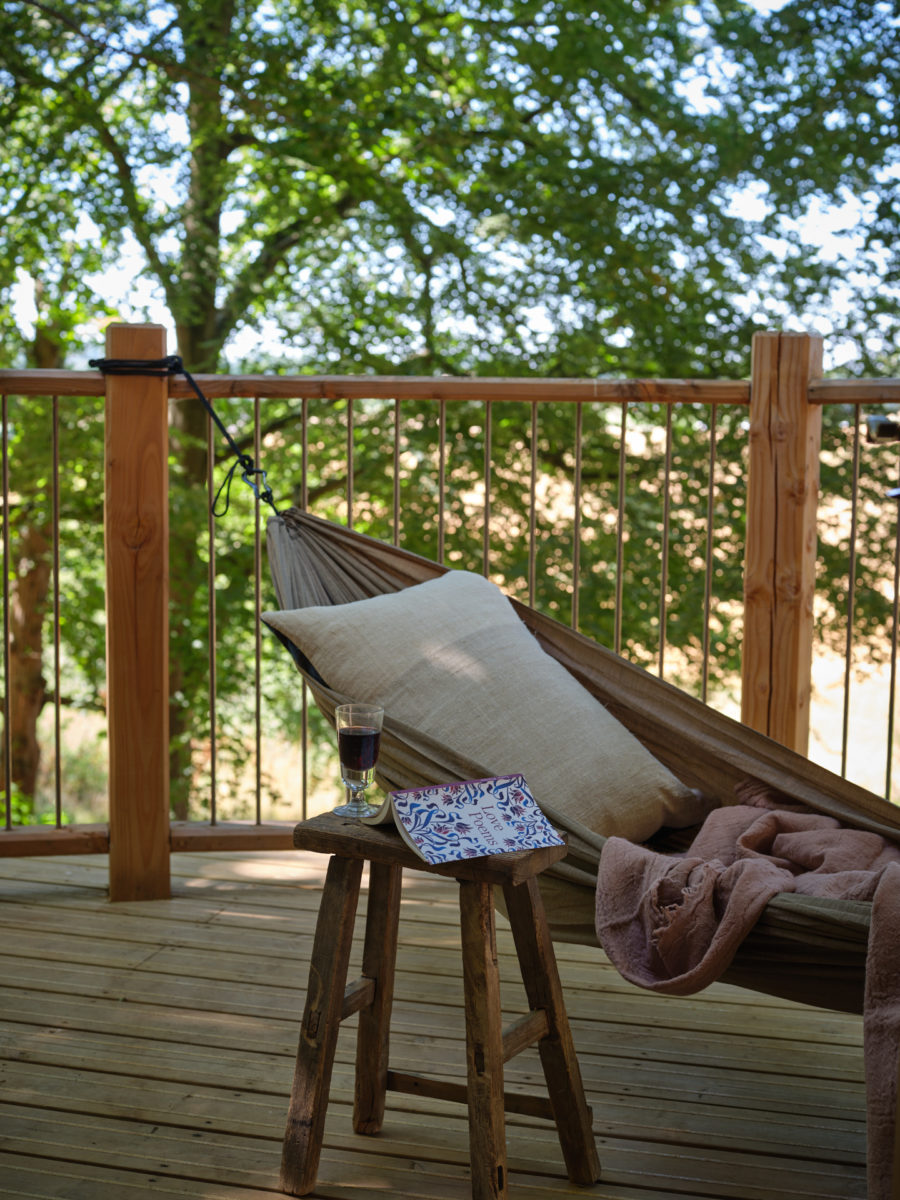 Images courtesy of Cowdray
Cowdray, Midhurst, West Sussex
A collaboration between the polo landmark Cowdray Estate and Treehouse Retreats has resulted in four high end, luxury treehouses edged along a private woodland in Cowdray's 16,000 acres. Mostly self-catering, you get a breakfast hamper delivery every morning with farm-fresh treats, and are near enough to Cowdray Farm Shop & Café for all your gourmet needs.
Wrap-around balconies, open-plan living areas and the chance of spotting deers from your balcony are all a big draw, as are the arty interiors (handmade vintage furniture, contemporary art, antlers on the wall) and underfloor heating. Of the four treehouses, Buzzard is the most private, being furthest from the entrance, Chukka has the best views of the distant polo fields, Griffin is the cooks' choice with its bigger kitchen, and Muntjac for bath-lovers, as it has one inside and one out. And in consideration of the unpredictable British weather, you'll find yoga mats, books and board games for staying in, and wellies and picnic blankets for heading out.
Eco credentials:
The treehouses were built to Passivhaus standards, using FSC (Forest Stewardship Certified) timber from Cowdray and local sustainable forests. The forest/ treehouse area is car-free, so you get an electric buggy to whizz around in.  The Treehouse Retreats have a commitment to minimise impact and work with nature, as well as supporting local businesses. Migrate Art, who raise money for displaced and homeless communities, helped source the art.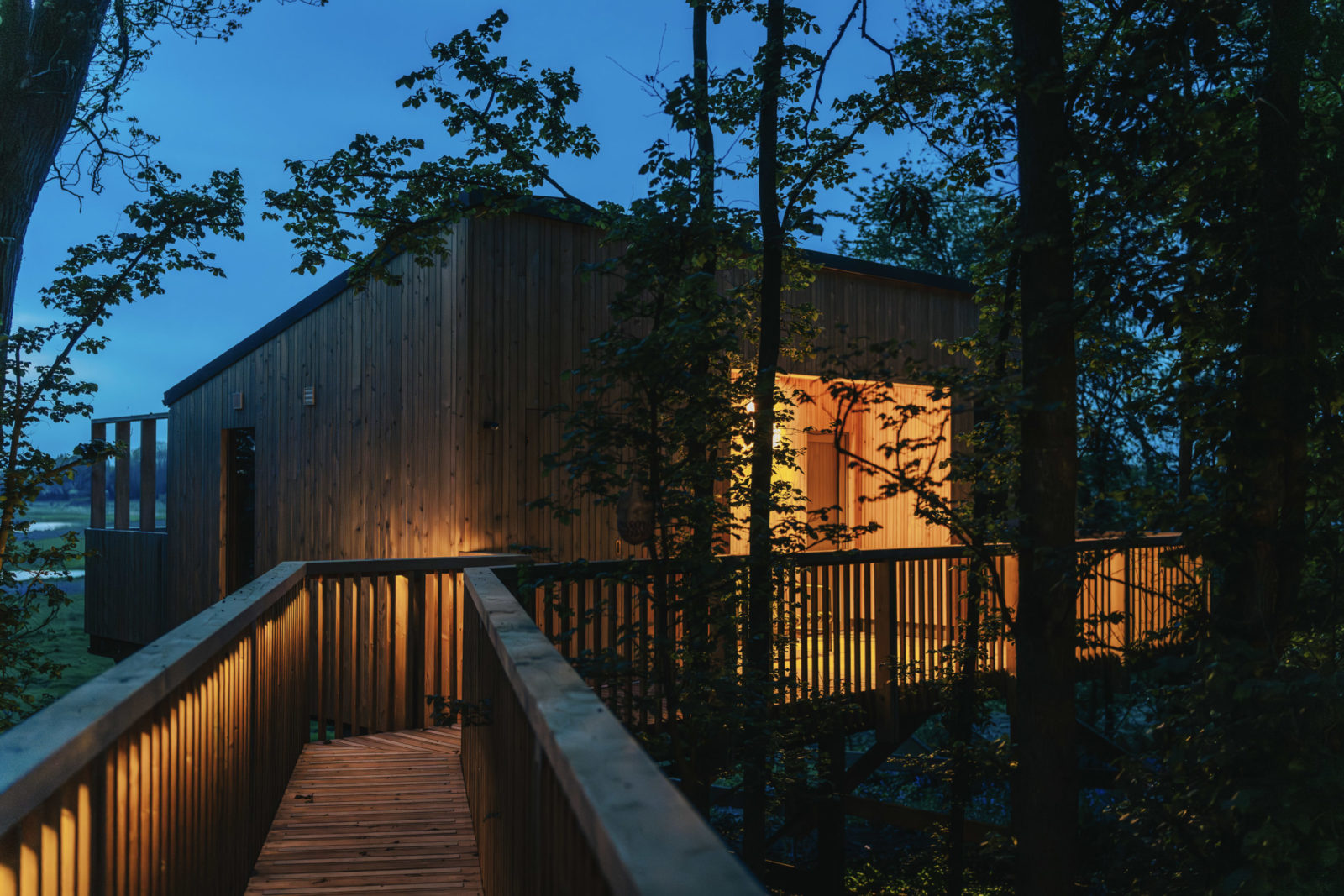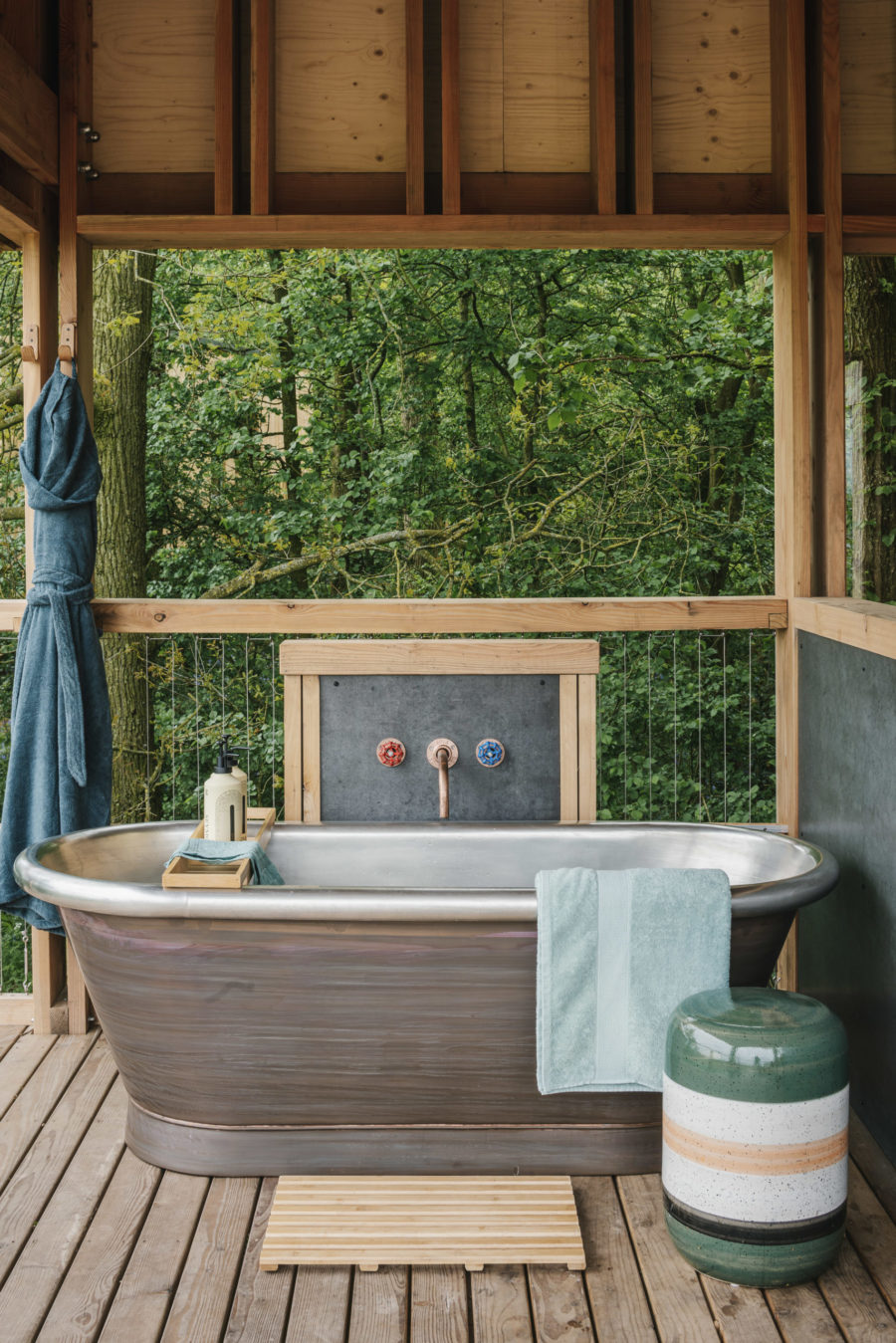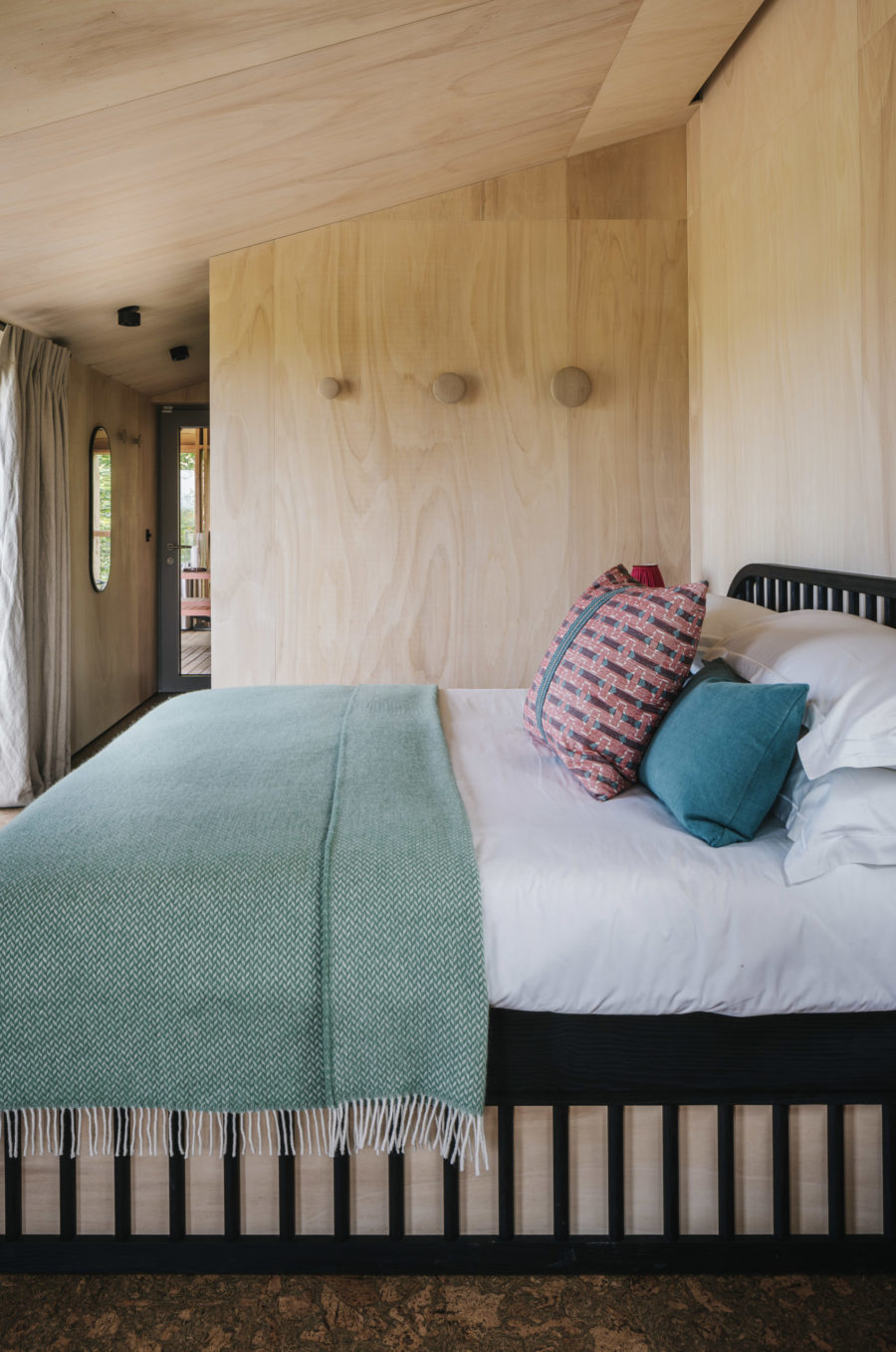 Images courtesy of Rewild Things
Rewild Things, Elmore Court Estate, Gloucestershire
Set on the banks of the River Severn, the 13th century Elmore Court Estate is undergoing a rewilding and recovery programme, and has just opened six new luxury treehouses, built to the highest sustainable standards.
Evocatively named Wren, Adder, Wild Cat, Sky, Earth and Kite, after guiding spirits, the treehouses, sleeping two to four people, have cedar wood cladding and cork flooring to aid insulation, fancy bathrooms with rain-head showers, and fire pits and panoramic decks for wildlife and sunset-watching. The slick interiors were left in the artistic hands of fashion designer (and cousin of the owner, Anselm Guise), Tracey Boyd, with lots of warm colours and textures.
Pre-order food from the Rewild Kitchen (dandelion cordial, anyone?), book a foraging experience or a swim, in the spring-fed Madam's pond, or lose yourself in the 1000-acre estate.
Eco credentials:
Allowing the land to go back to nature, no chemicals have been used on the land for two years in order to encourage the return of wildlife, and to sequester carbon. They have introduced rare breeds such as Tamworth pigs and Exmoor ponies, and have planted 25 acres of woodland. They are trialling a regenerative farming pilot with WildFarmed, producing their own flour, and organic food is grown in the walled garden and greenhouses. Built using sustainable materials, the treehouses were designed to be as energy efficient and low impact as possible, and have EV charging points.
From £250 per night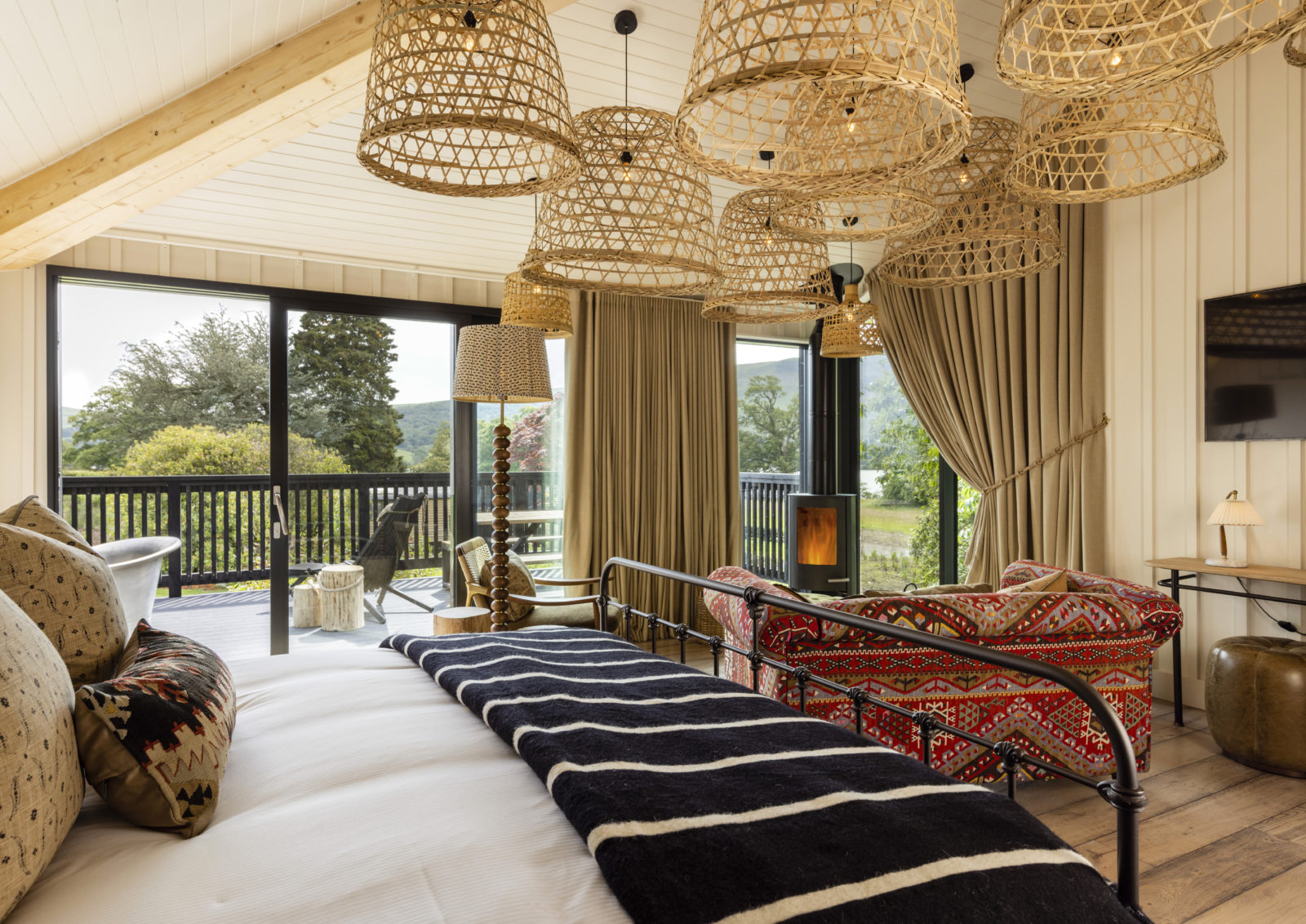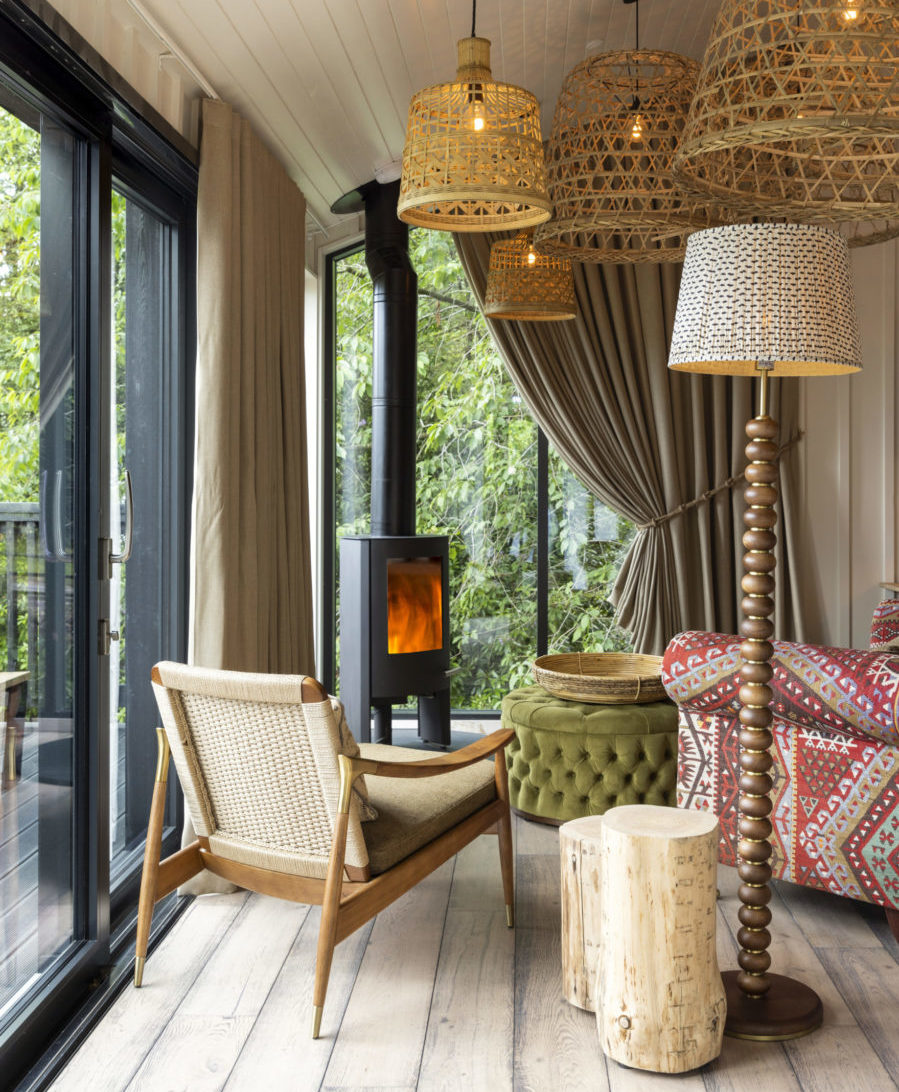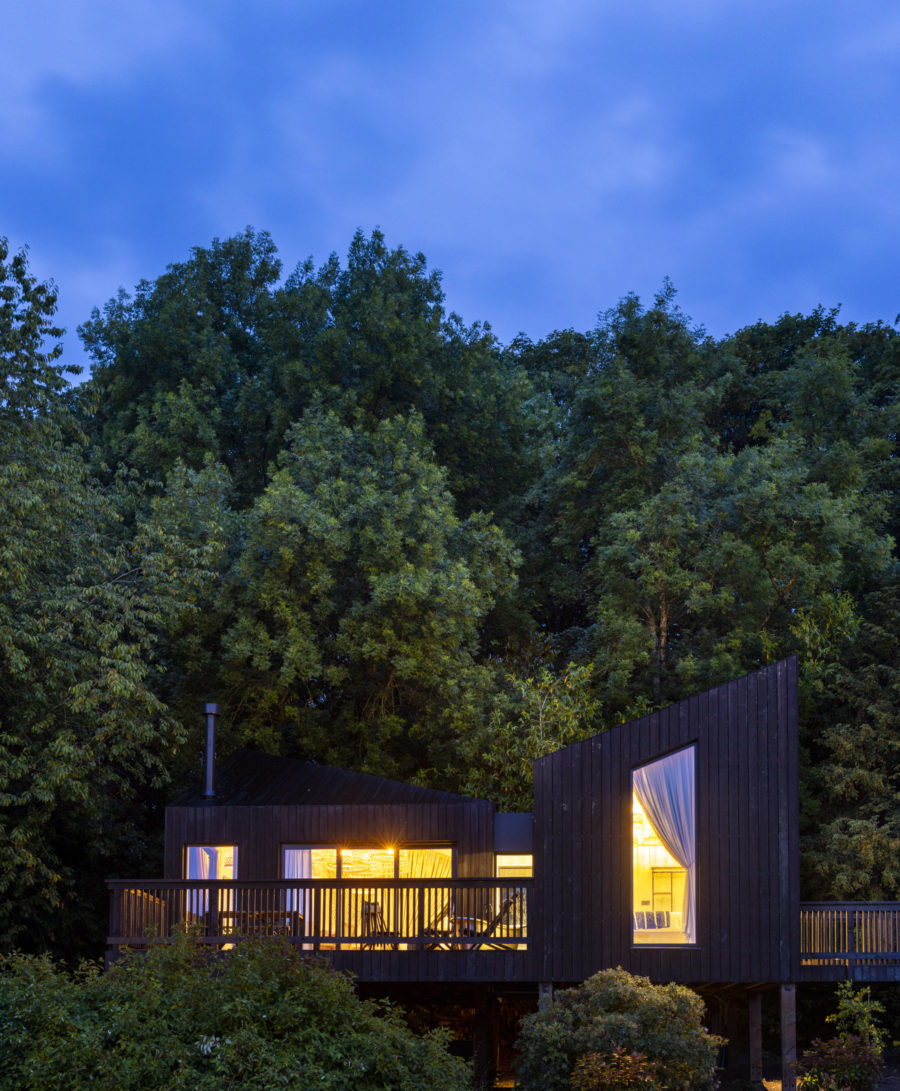 Images courtesy of Another Place
 Another Place, Ullswater, Lake District
Right on the shores of beautiful Ullswater, Another Place is a clubby, contemporary country hotel with 40 rooms in the main house, and six shepherd's huts and one stylish treehouse in the lakeside grounds. In these you get all the benefits of hotel life but with more seclusion. Book the two-bedroom treehouse for plenty of your own scenic space, with views of the silvery lake from your floor- to- ceiling windows or private deck.
Walk around the lake, or cross it in a steamer, do a few laps in the indoor infinity pool, or make the most of all the watersports and hiking right on the doorstep.
Eco Credentials:
In the process of becoming B Corp certified (the Gold Standard of sustainability), which means they will have to report their environmental impact every year, they use 100% green energy supplied by Brook Green Energy, have a bio-mass boiler which provides all heating and hot water, use energy- efficient induction hobs in the kitchen, and mostly LED lighting.
Restaurant ingredients are as locally sourced as possible, and kitchen deliveries come in re-usable crates or recyclable cardboard. They use biodegradable cleaning products, offer toiletries in recycled and refillable bottles,  and pool chlorine is minimal because of the UV water system.
Doubles from £240, Treehouse from £760, B&B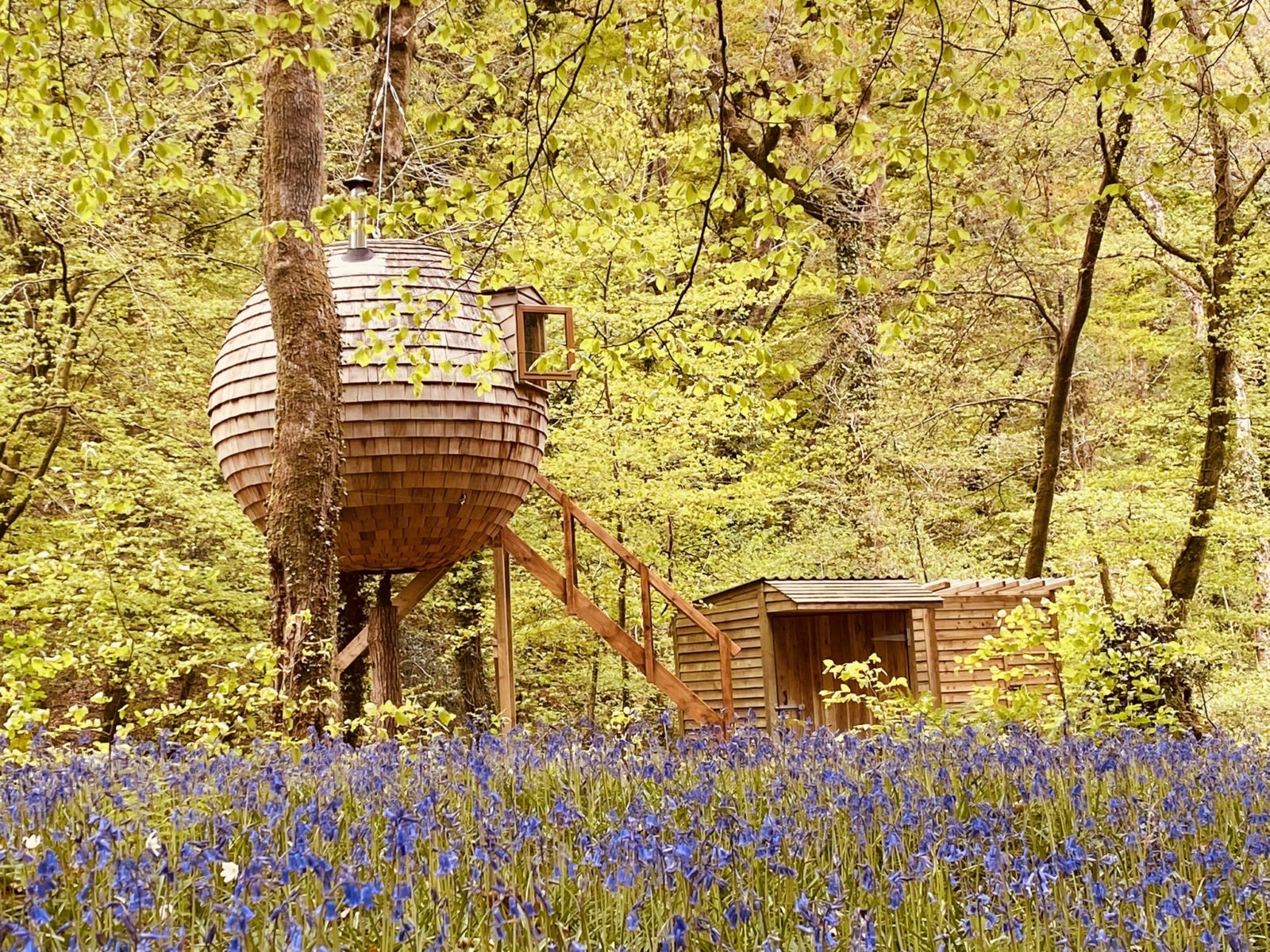 Image courtesy of Lost Meadow
Lost Meadow,  Bodmin, Cornwall
Looking like some kind of alien egg suspended from a branch, among the forest wildlflowers, this spherical wooden room is raised on stilts with a wooden ladder you clamber up to bed. There are two other pods nearby but this one has its own area of woodland and is by far the most memorable. Cosy up for the night with the small log burner, and descend in the morning for riverside walks, or a quick swim. The outdoor (but covered) cooking station is fairly basic – luxury living this is not – but the wilderness location and the sheer novelty is all part of its charm. Loos, charging points, library, washing machine and freezer are housed in a communal shipping container a short walk away.
Eco Credentials:
The tree structure was designed using sustainable, recyclable, recycled and natural materials, with no permanent impact on the woodland. The cables are very carefully attached to the trees with minimal damage to the tree's cambium layer (the growing part of the trunk), and the pod causes no damage to the woodland floor. The battery power for the tree pod and the electricity for the shower block both come from a Solar PV array on the main farmhouse.
From £115, pod only