November | Travel
Winter Beach Retreats
Pounding waves, sweeping stretches of empty sands, bracing walks …British beaches really come into their own out of season. Recharge in these eco coastal hideaways
Susan Ward Davies
Despite the alarming October mini heat wave, summer has now well and truly departed. On the plus side, so have the heaving beach crowds, so now is the time to pack your parka and chunky boots and head for the coast. We love a winter beach – pounding waves, blustery wind, air so fresh and invigorating you can taste it, all best enjoyed with a cosy pub or hygge hotel room to warm up in afterwards.
Who says the seaside is just for summer? Not us. See the link in bio for a few of our favourite coastal retreats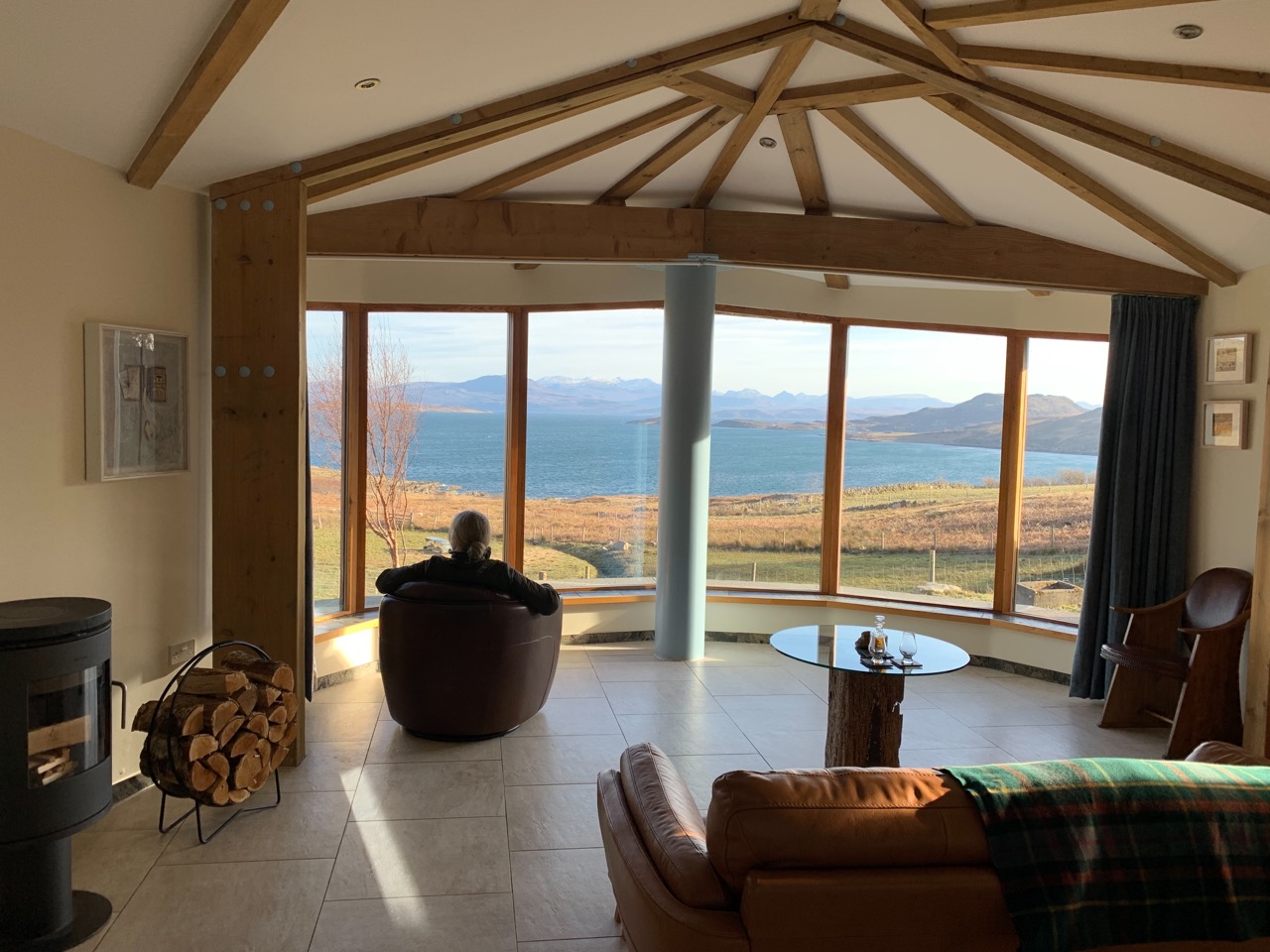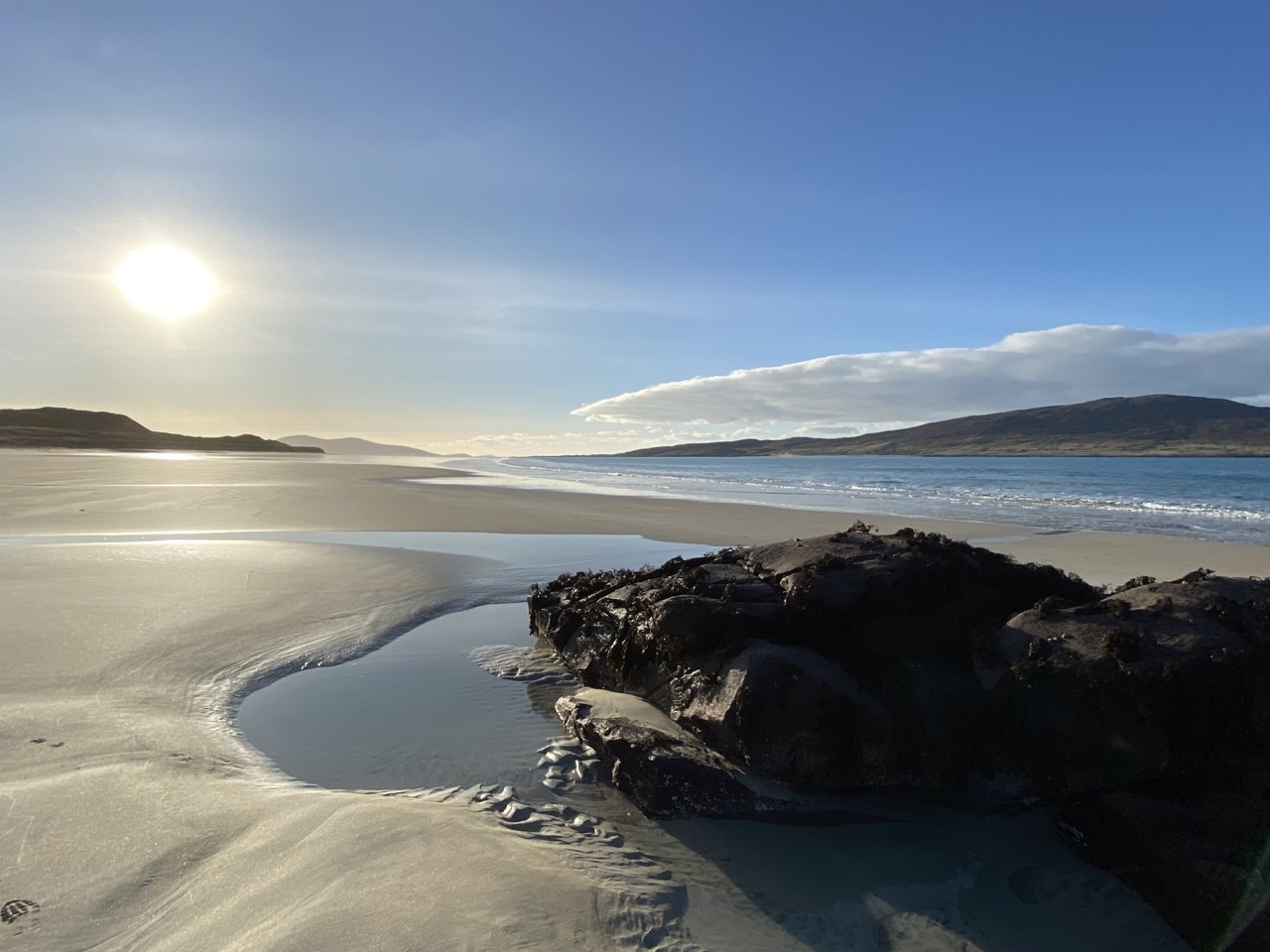 The Brochs of Coigach, Achiltbuie, Ross-shire
Ever heard of a broch?  The originals were Iron Age roundhouse dwellings, unique to Scotland, but Reiner and Sheileagh Luykens have created two of their own versions in a remote part of Ross-shire, 24 miles north of Ullapool on Scotland's north-west coast (and, road trip fans, just a short detour from the famed North Coast 500).  Authentic on the outside, they have stone walls and living, grass-turfed roofs, and are built Hobbit- like, right into the hillside, at the end of a farm track, overlooking the sea and the Summer Isles.  Inside you'll find super-stylish interiors with strikingly coloured bathroom tiles, underfloor heating, wood-burning stoves, high spec kitchens, oil paintings, boat-shaped bookcases, and leather sofas positioned strategically in front of the large curved living room windows, designed to optimise the dramatic views.
There are plenty of scenic walks on the doorstep but it's only a five-mile drive across the peninsular to the spectacular Achnabaird beach (one of Scotland's finest). Wim Hof fans will find it exhilarating (read bloody freezing) for swimming but walking and whale-spotting is just as life-enhancing.  Either way, there is nothing quite like getting buffeted by wind and chilled to the bone before hunkering down with a wee dram in your broch, watching for eagles soaring overhead before the light fades.
Eco credentials
Winner of a Gold Green Tourism Award, the brochs were built to exist in harmony with the landscape, with living grass roofs (where their sheep graze), and a void designed for sea birds and bats to fly through. Recycled and upcycled materials were used in the construction, including wood from a ruined Victorian pier (coincidentally built by the grandfather of one of the owners), reclaimed pitch pine boards from an old warehouse redeployed as window frames, and stones upcycled from collapsed walls on their and neighbouring properties.
They have a unique art collection and support local artists as well as Scottish Opera's Emerging Artists Scheme.
The Brochs of Coigach, one sleeps two and the other five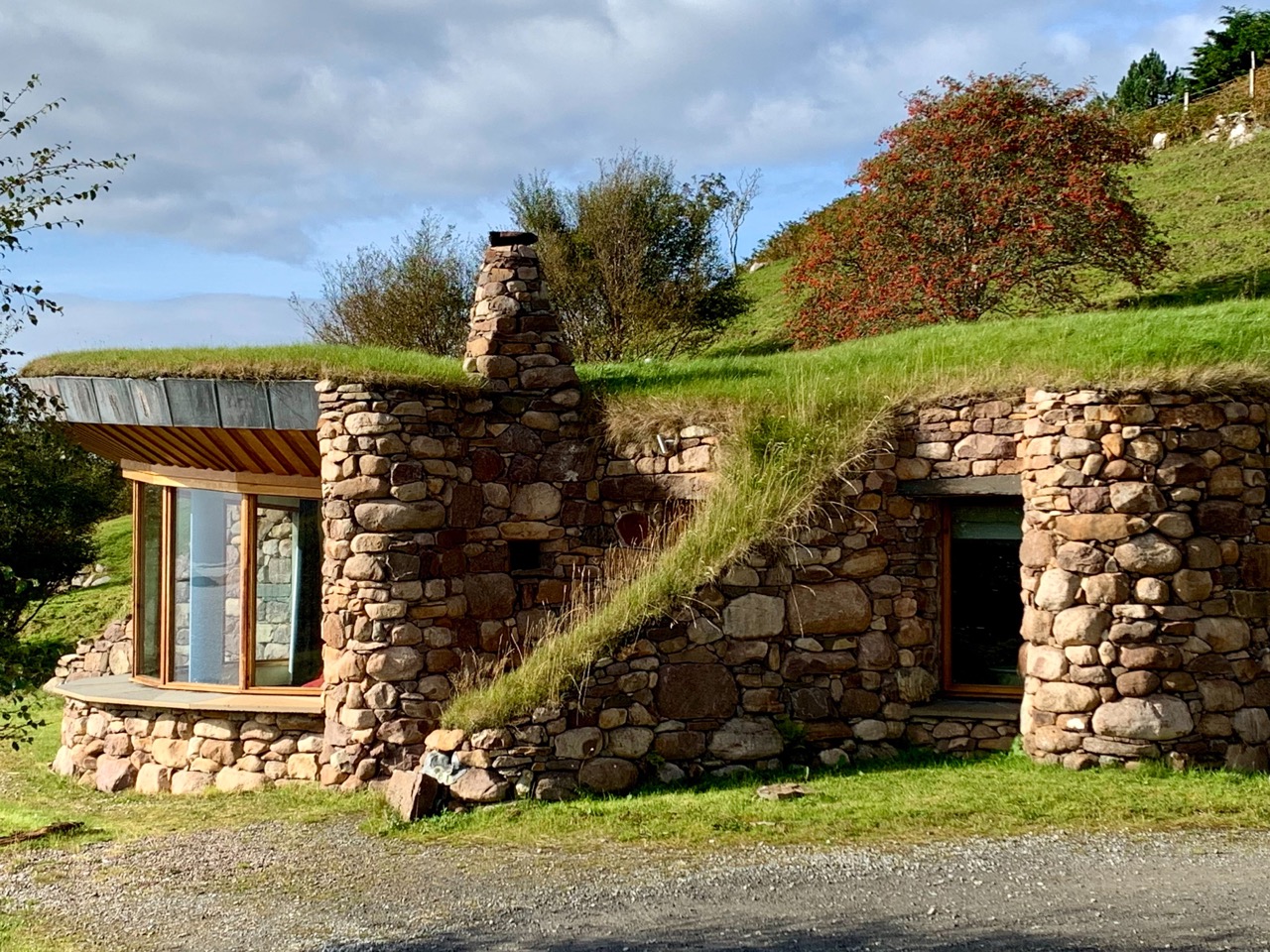 2. Sandy Feet, Anderby Creek, Lincolnshire
If wild and windswept is what you are after, Anderby Creek ticks all the right boxes,  a beautifully empty stretch of beach in a Lincolnshire AONB (Area of Outstanding Natural Beauty) coastal nature reserve, where horses gallop along the water's edge and porpoises frolic in the waves. Sandy Feet is an ultra-modern, off-grid house designed by award-winning Jonathan Hendry architects, making the most of the seaside setting with lots of pale wood and huge windows to showcase the ocean views and big skies. Expect leather sofas, log-burning stoves and three bedrooms,  including a truly wow master bedroom with a hanging Eero Aarnio Bubble Chair. Attention to detail is king,  with everything from the coat hangers to the cutlery handpicked by the architects.
Outside you have a fire pit, sandy garden, patio, decking area, and a little wooden gate leading to the beach. The sun rises in front of you, and sets behind, so take advantage of the magnificent sunsets with dusk barbecues.
There are paddleboards, surf boards and kayaks to borrow in the boathouse, and don't miss the world's first official Cloud Spotting area (who knew?), The Cloud Bar, just a few hundred metres from the house.
 Eco credentials:  almost too many to mention, as they are brilliant on the sustainability front. The house is off-grid: with recycled materials and sustainable wood and clay used in the building and recycled glass mixed into the rendering, which reduced the need for sand.
They use air-source heating, sustainable kiln-dried wood for the stoves; they monitor waste and energy use, have a wormery-based composting bin and nesting boxes in the garden. Full green marks from us.
Sandy Feet, Lincolnshire  Sleeps 4 – 6/7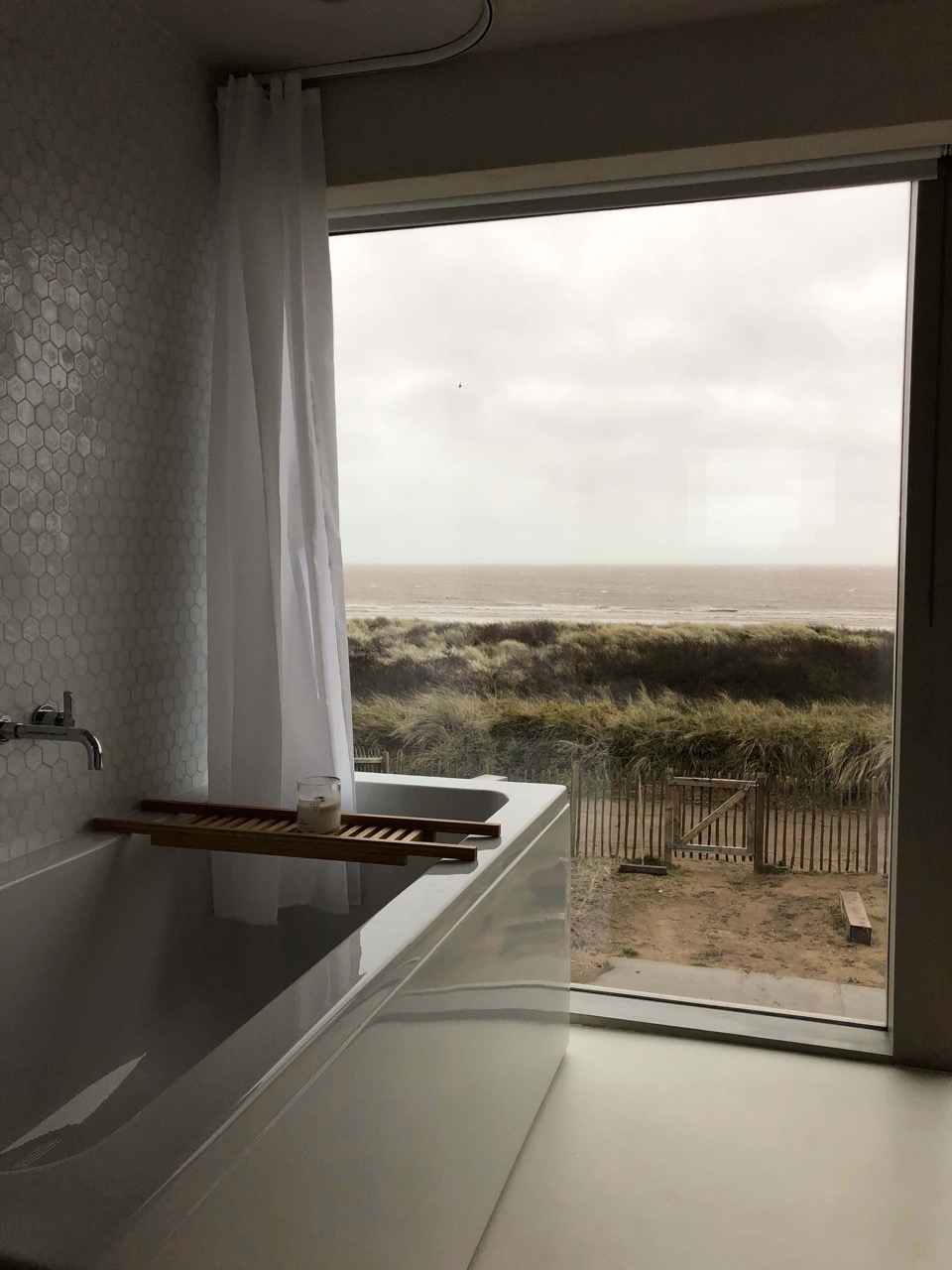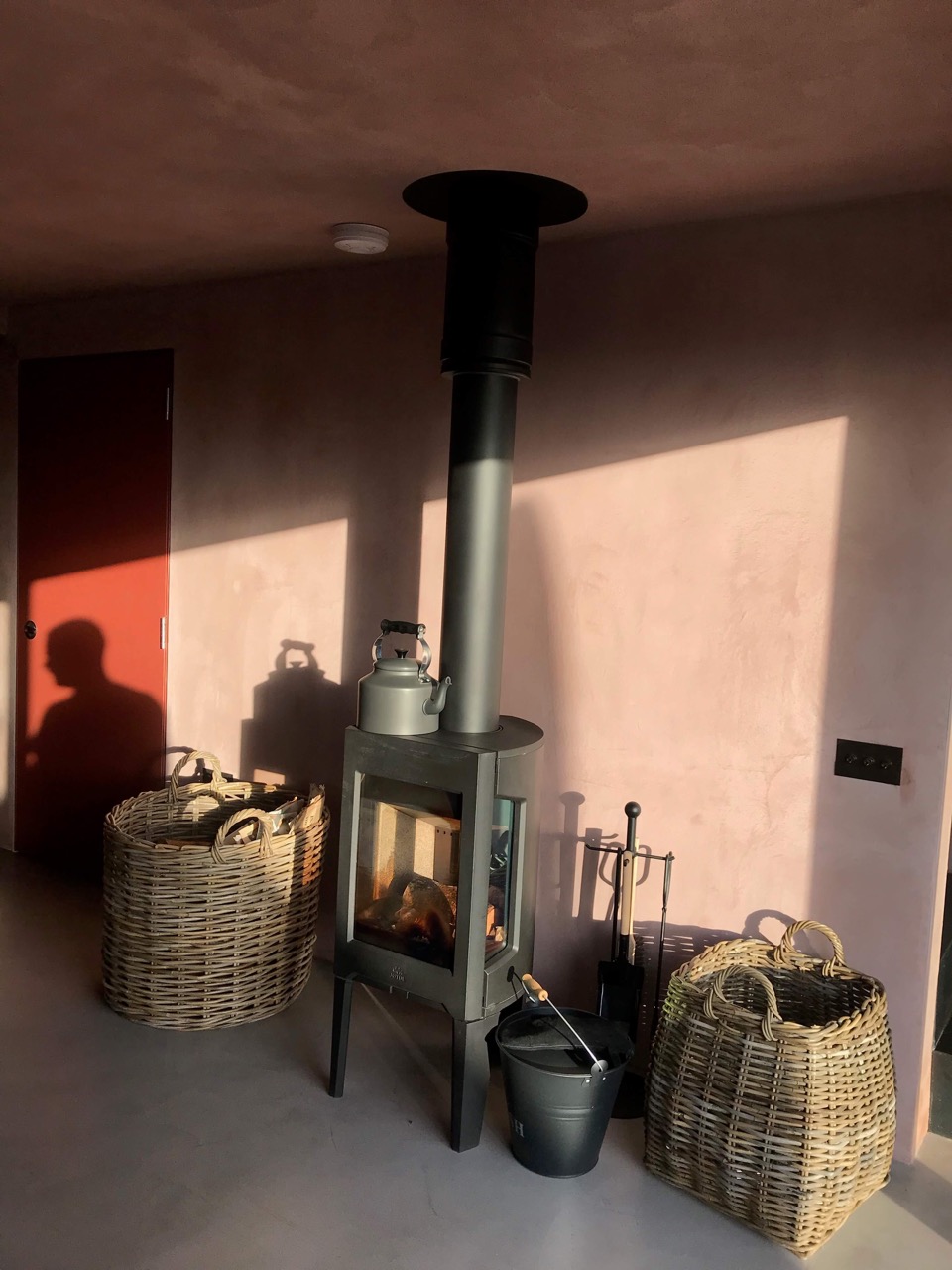 3. The Port Hotel Eastbourne    
If you fancy a bit of culture with your coastal retreat, check into The Port hotel in arty Eastbourne. The black- fronted exterior of this restored Victorian townhouse belies the restful taupes, creams and dusky pinks inside, with its cool cocktail bar and retro but modern vibe.  Set right on the waterfront (you can walk straight from the hotel to the pebbly beach), six of the 19 rooms have a sea view (binoculars are provided), and all have polished corked flooring, poured concrete sinks, Hypnos beds and Scandi lighting. Book the Studio Apartment and you get extra treats such as an egg-shaped bath and a Crossley record player with a curated stash of vinyl.
It's probably too nippy to eat outside in the winter but you can still enjoy views of the English Channel as you tuck into Wild Mushroom and Thyme Broth or Warm Figs and Home-made Cheese Curds. And you must order at least a glass or two of Chapel Down NV sparkling wine (one of our favourites) from the Kent Estate, just an hour's drive east.
You've got the prom and the Victorian pier for sea breezes but for a truly bracing walk take the five-mile circular hike from Eastbourne to Beachy Head, Britain's highest chalk cliff. And if all the local art adorning The Port's walls has inspired you, save at least an hour for Eastbourne's acclaimed Towner Gallery.
Eco credentials:
They use ethical toiletries, including paraben free shampoo, they have a 30-mile radius menu policy, using mostly locally sourced food; they champion wine from English vineyards, and all fish purchased is approved by the Marine Conservation Society
They use LED lightbulbs, recycle coffee capsules, menus and cooking oil, as well as all the usual glass and packaging, and are gradually removing all single-use plastic.
The Port Hotel, Eastbourne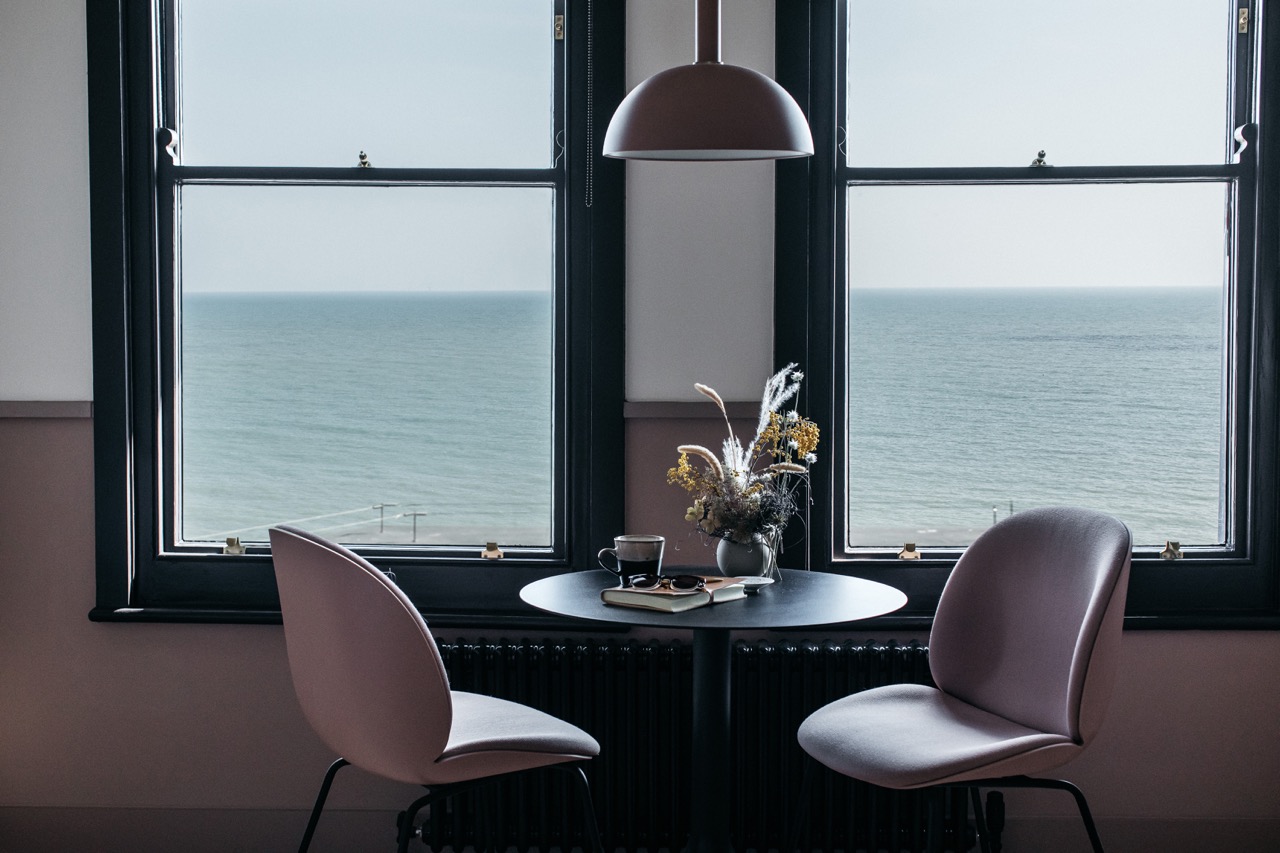 4.  The Sheep Station, Harris, Outer Hebrides
Hebridean beaches are some of the most beautiful in the world – the sea an unexpected Caribbean blue, the sands sweeping stretches of pale gold. The islands of Lewis and Harris are no exception, and the most stylish place to stay here is at the south western tip, in the tiny coastal hamlet of Scaristavore, where you'll find The Sheep Station. These two cosy but contemporary, one-bedroom cottages have been beautifully designed by Scottish architects Dualchas, with hardwood floors, marble bathrooms (with Bamford toiletries), slick, high-tech kitchens, underfloor heating, and huge windows for scenic views of the stormy Atlantic.
To make the most of all that pure ocean air, take a short (but muddy) walk across the fields to the grassy dunes and curving sandy bay of Traigh Mhor,  or drive just 20 minutes north to the spectacular Luskentyre, with its impossibly blue water, pale golden beach and low-tide sandbanks.
Eco credentials:
The houses are powered by an air source heat pump, they discourage single use plastics (reusable water bottles provided for the guests), use local produce in the welcome hampers and eco cleaning products.
The houses are triple-glazed to retain heat, they have an air source heat pump for energy, supply Ishga(organic seaweed skincare), and sustainable Harris-based  AS Apothecary products in the houses. They offer craft beers from the local Isle of Harris Brewery,  and chutneys and marmalades from Temple Harris, who are based a few miles away in Northton.
The Sheep Station, Harris, Hebrides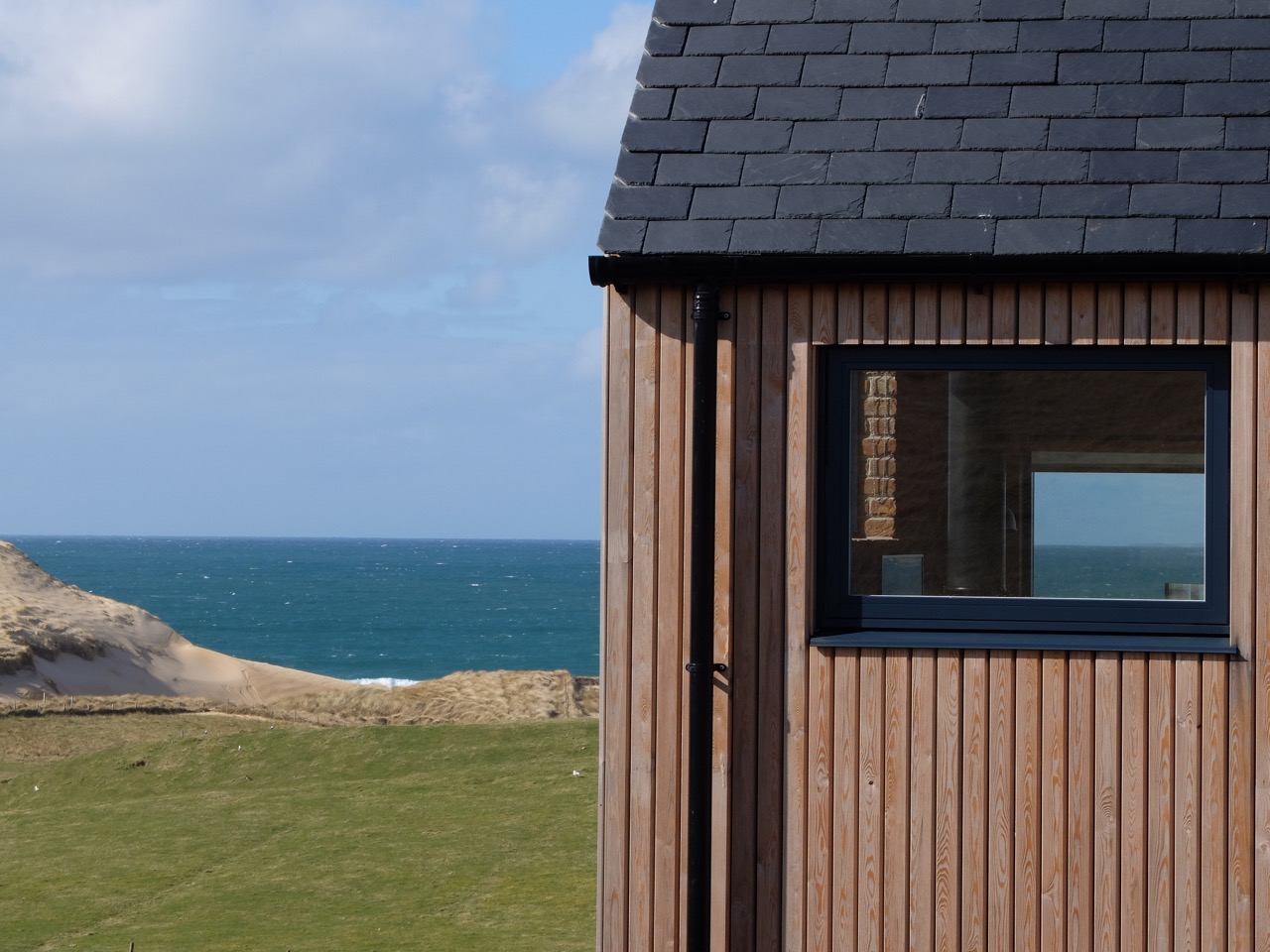 5. The Victoria, Holkham, Norfolk
This former 19th century inn is part of the 25,000 acre Holkham Estate, which is on a mission to be the UK's most sustainable, aiming for carbon neutrality by 2040.
Twenty bedrooms (some dog-friendly), are split equally between the original Victoria Inn and the Ancient House (which you can book out en masse for weddings or birthdays).  Bordered by the Estate's mix of parkland, woodland and saltmarsh, The Vic's style is cosy hunting lodge chic: think antlers, antiques, deep armchairs, exposed beams and warming fires. Dine in the conservatory, overlooking the nature reserve, on venison, beef and lamb from the Estate; fish and samphire from the seas off the North Norfolk coast, and vegetables from the walled garden.  The inn lies between the Estate's 3000 acres of parkland and the spectacular Holkham Beach (where the late Queen used to exercise her corgis), a wonderful two-mile stretch from Burnham Overy Staithe to Wells-next- the-Sea.
When you're done with exhilarating walks and wildlife-watching (lapwings, geese and deer on land, seals and the occasional whale in the water), potter round the elegant 17th century village of Burnham market and the shops and cafes of buzzy Wells- next -the -Sea.  It is all madly busy in summer but come winter you feel you are in on a well-kept secret.
Eco credentials:
Holkham Estate have launched Wonder, an ambitious, estate-wide sustainability and conservation action plan, which includes aiming to reduce non-recyclable waste by 10% a year for the next 10 years.
The biomass boiler is fuelled by woodchip from the Estate; the menu features locally sourced food (50 mile radius), including from the Estate itself; they use compostable packaging and work with Countrystyle recycling and Envar to compost green waste. They maintain wildflower borders and have a restricted mowing policy to encourage wildlife.
The Estate is a member of Green Tourism