December | The Essay
Tonight, I'm going to be wearing… vintage
Writer and columnist Stacey Duguid explains how her identity and self-belief has been bolstered by rediscovering her personal style and passion for second-hand fashion
Stacey Duguid
This party season, I won't be panic-shopping my way through department stores in search of something shiny and new. No, I've spent too many years doing that. The sheer dopamine-induced joy once felt as I purchased a party outfit to be worn for one night only has long gone. So, this December, you'll find me floating around London's chicest bars and restaurants wearing a long, black, vintage velvet cape. Think Scottish Widows advertising campaign meets Blackadder. It's quite a look, don't you know…
I have my granny to thank. My favourite memories of being at my grandmother's house in Manchester always involve a party. One Christmas Day particularly stands out in my mind, when granny donned a black woollen cape not too dissimilar to this one. She refused to be talked out of wearing high heels and smart black trousers – all worn with the cape – just to go for a walk in the snow. As a result, we practically had to carry her as she slipped and slid on ice, her wheezing laugh making us double over even more. We were off to the pub – a Christmas Day tradition I remember so fondly. The women in my family would invariably blast too much hairspray, put in rollers, dab fragrance usually saved for best, pull on dresses and bright coats, and yet, despite having not spent a small fortune on designer clothes, my mother, grandmother and aunt looked always looked impeccable, especially at this time of year. I remember sneaking glances at them as they clinked G&Ts, taking in every tiny detail. The dressed-up tradition continues at my own home in London and come 25th December, well, until 5pm, at least, no one will be allowed entry wearing jeans.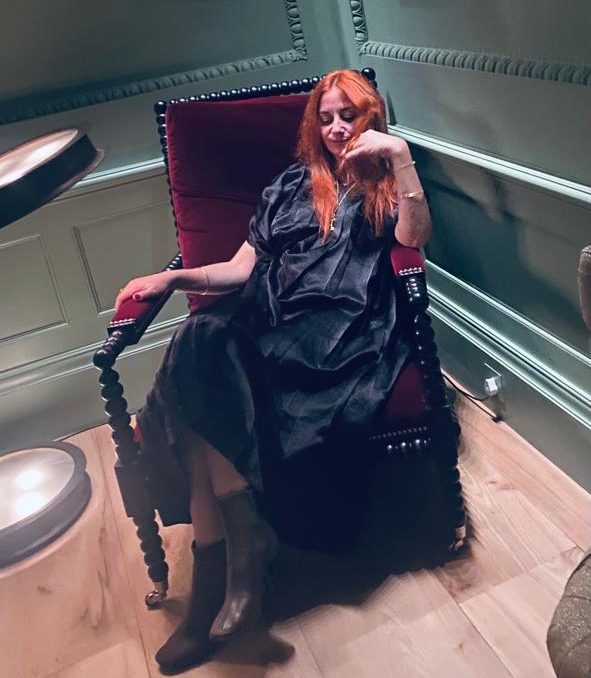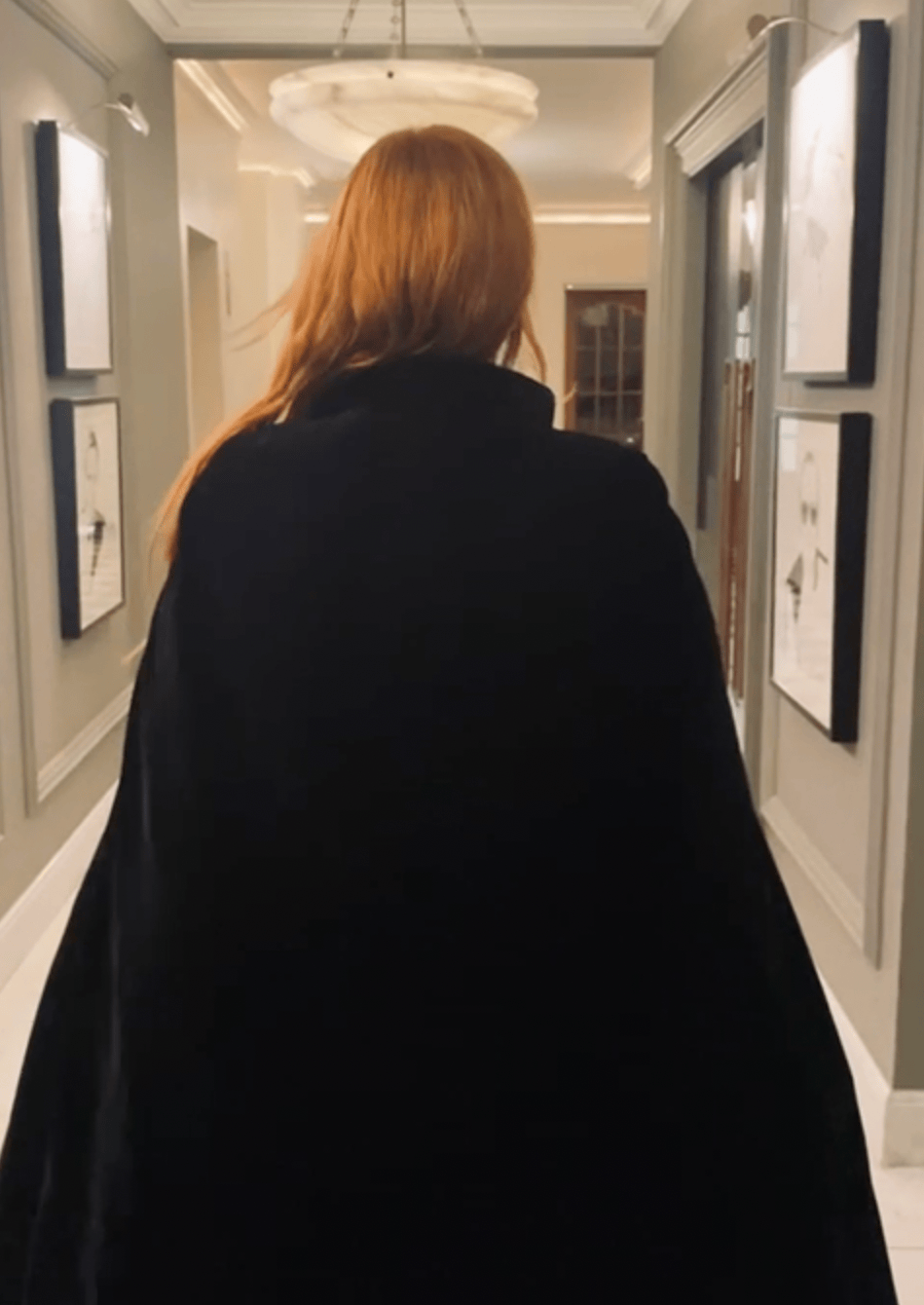 This might be the first year I've worn a vintage piece as partywear, but I remember the first time I entered a charity shop as if it were yesterday. I remember the smell, of course, but it's the warm glow of excitement that radiated in the pit of my stomach that I recall the most. Brought up in suburbia, I wasn't like the other kids at school, nor was I like anyone in my family. And so, around the age of 14, I developed an overwhelming desire to express myself through clothes, art and music – which, in turn, created a much-needed sense of identity. What I wore became an essential component to my wellbeing; to who I was as a person; to how I felt deep within my soul. It sounds dramatic. Well, of course it was.
As I swept along the black and white checkerboard tiled corridors of Claridge's, I felt transported to a gothic fairy tale. Fantasy and escapism – surely that's precisely what fashion new and old ought to provide?
Stacey Duguid
I left my first charity shop with a mountain of things, but it was a man's tweed coat that my cleanliness-obsessed mother insisted went straight to the dry cleaners that I loved most. I remember everything that happened the first day I wore it to school – shoulders too wide, body too baggy, length slightly too long, proportionally all 'off'. I loved how I felt hidden within its mannish, traditional fabric. This exact same feeling washed over me many years later, when at Paris Fashion Week, I pulled a Phoebe Philo for Céline blazer across my shoulders. That indescribable magic when something just feels 'right' – I reckon there are no words available to properly describe it. When it comes to self-expression through what we wear, the right formula is alchemy, a mysterious combination of unknowns: instinctive, supernatural, intuitive. The old tweed coat still smelled old, which was a bonus, and I wore it with black tights and suede ankle boots slung over my pale grey school uniform. The Cure on my cassette player, age 14 was a time of innocent discovery. Curious about art, music, literature, it was a passion for vintage that truly ignited my soul.
Recently, I've been trying to get that feeling back. I used to work in fashion and spent two decades obsessed with wearing trend-led clothes, by way of aligning myself with my work tribe. Looking back, somehow, somewhere along the line, I lost all sense of personal style and eschewed vintage for new. Over the years, I'd often think back to that girl who loved charity shops and dressing for herself, the young woman who collected stuff from junk shops just because. In the maelstrom of babies and marriage that followed in my thirties, I assumed I'd lost her for good. Now in my mid-to-late forties, and newly single, I'm delighted 'she' is back. I somehow remembered who I was.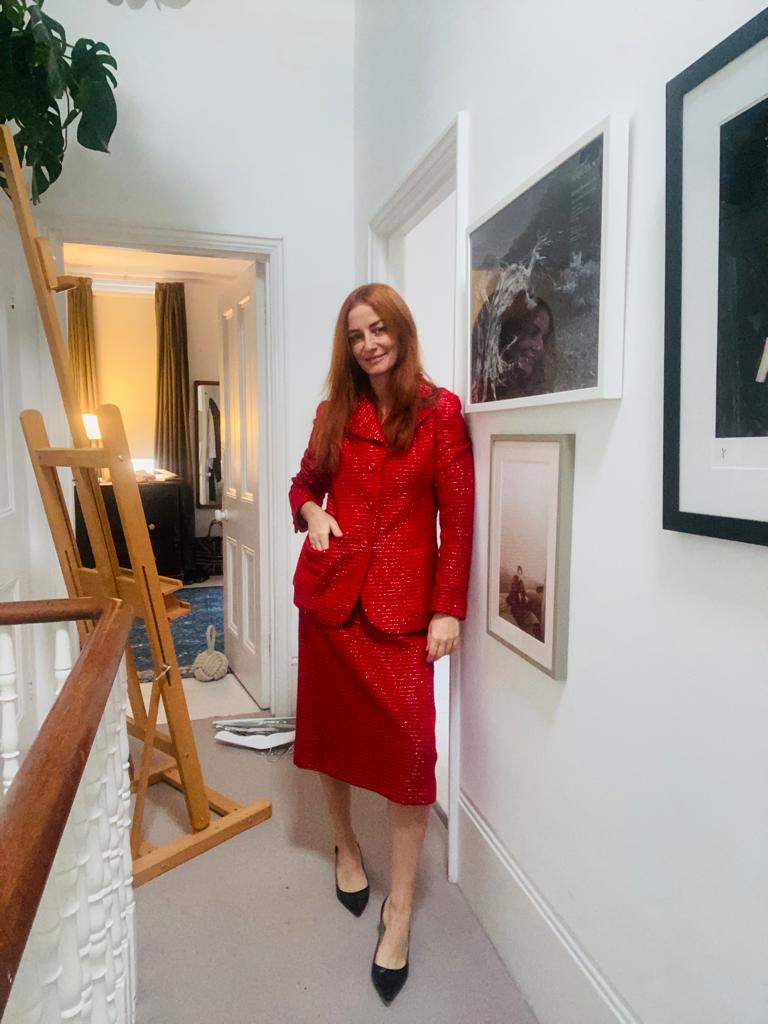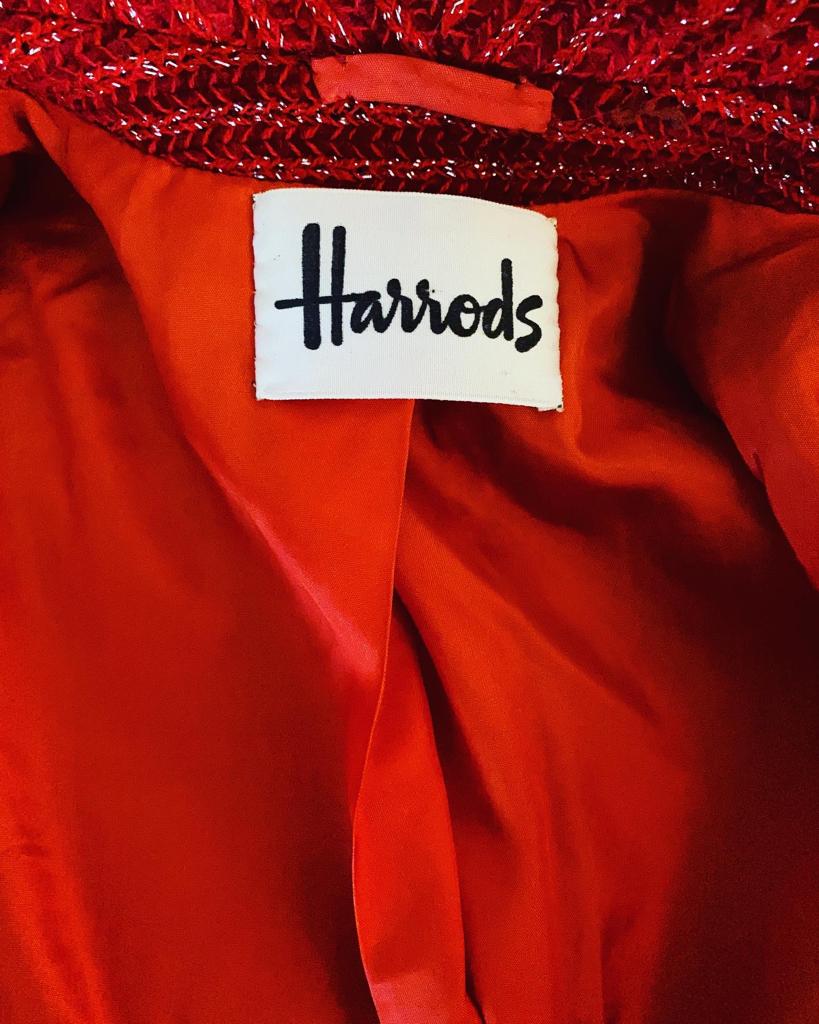 By reconnecting to my true self, or a new sense of self, my desire to shop the latest looks off the catwalk has completely gone. It could be down to age, a new-found happiness or even a job change – I no longer work in a 'fashion' office, so there's no need to perform in the daily style circus of yore – but I've started to shop for vintage again. A red 1980s bouclé skirt suit and a light beige Hermès leather skirt found at Portobello Market. A purple 1970s trouser suit found in a vintage store in Covent Garden. A pair of platform boots picked up in a scruffy old charity shop in the North East of England. A Commes de Garçons black pleated dress found in a shop in Somerset. Yes, I buy vintage because the disastrous effect the fashion industry is having on the climate is spine-chilling, but also so I can style the pieces in a way that feels unique to me. The new 'old' me.
For the past year, at least a couple of times per week, I typed 'long black cape' into eBay. Let me tell you, there are a lot of long black capes on eBay; mostly designed to wear at full moon ceremonies, they tend to have a gold pagan motif embroidered across the back. In the national Census I may have written 'Wiccan' when asked for my religion, but the Morgana fancy dress 'look' was not the vibe I was going for. Walking the dog one day, I had a witchy feeling that it might be the day. And there it was: the perfect black cape, lustrous velvet, mine for £240. I was drawn to the cross-stitched padding on the inside that gave it an air of equestrianism. Down to the floor, wide and roomy, the fabric appeared voluminous, and when the close-up shot of the label revealed a 1970s logo, I knew this was a fashion jackpot moment. When it arrived in the post four days later, both children gasped, 'Is it your Halloween outfit, Mum?' "No, darlings. It's Amanda Harlech sweeping through the shiny revolving doors of the Ritz Paris, arm in arm with Karl Lagerfeld". "Ok, Mum…"
Morticia Addams meets the Susie Cave, I debuted the cape of wonders at Claridge's worn over a micro black dress, 15-denier tights, sky-scraper heels and tons of chunky jewellery. As I swept along the black and white checkerboard tiled corridors of Claridge's, I felt transported to a gothic fairy tale. Fantasy and escapism – surely that's precisely what fashion new and old ought to provide? I'd ask my 14-year-old self, but there's no need. I already know the answer.