January | Travel
The Eco Spa Guide
Want to pamper yourself without harming the planet? Check out our pick of eco-friendly spa resorts
Susan Ward-Davies
Who else has a spa trip at the top of their January wish list? There is nothing quite like a new-year reboot to cheer up the grimmest month – but can you treat yourself without harming the environment? Spas are big energy consumers: all that water and heat needed for pools, steam rooms, rain showers and hot tubs, all those pristine towels and bathrobes that need constant washing, not to mention endless applications of lotions and potions that feel sooo good. But before eco-guilt stops you booking, the good news is that many spas are well aware of the need to be more environmentally savvy, and have made huge steps to reduce their carbon footprint. There are pools cleaned with natural reeds instead of harsh chlorine, lots of woodchip biomass heating (fun fact: burning a log releases only as much CO2 as it gives off when left to rot – albeit much faster), certified-organic beauty products, solar power, locally sourced spa menus,  and unbleached cotton robes and towels. If you do your research, choose well and check out eco-conscious spa operators such as Healing Holidays, you can detox without retoxifying the planet.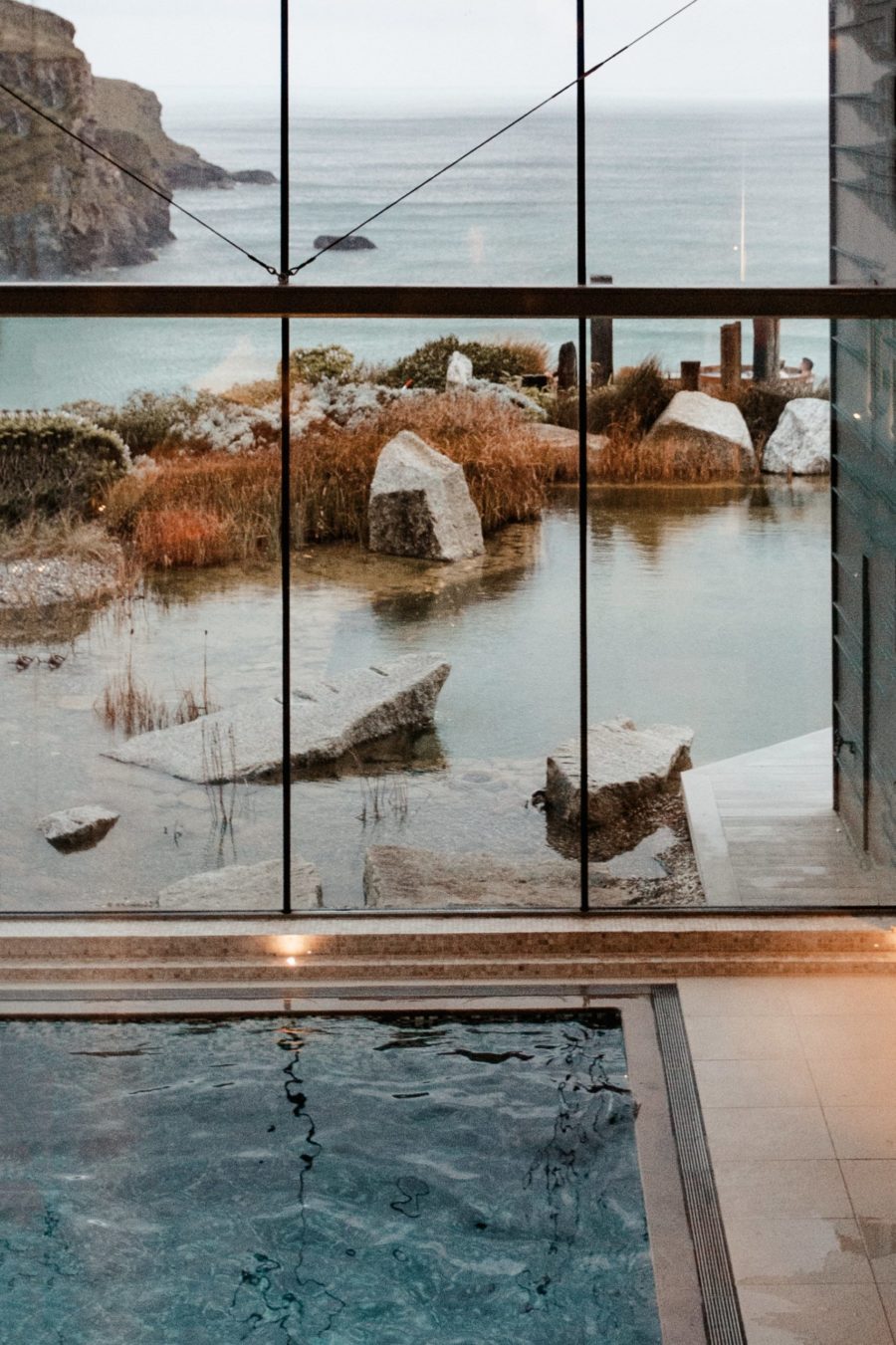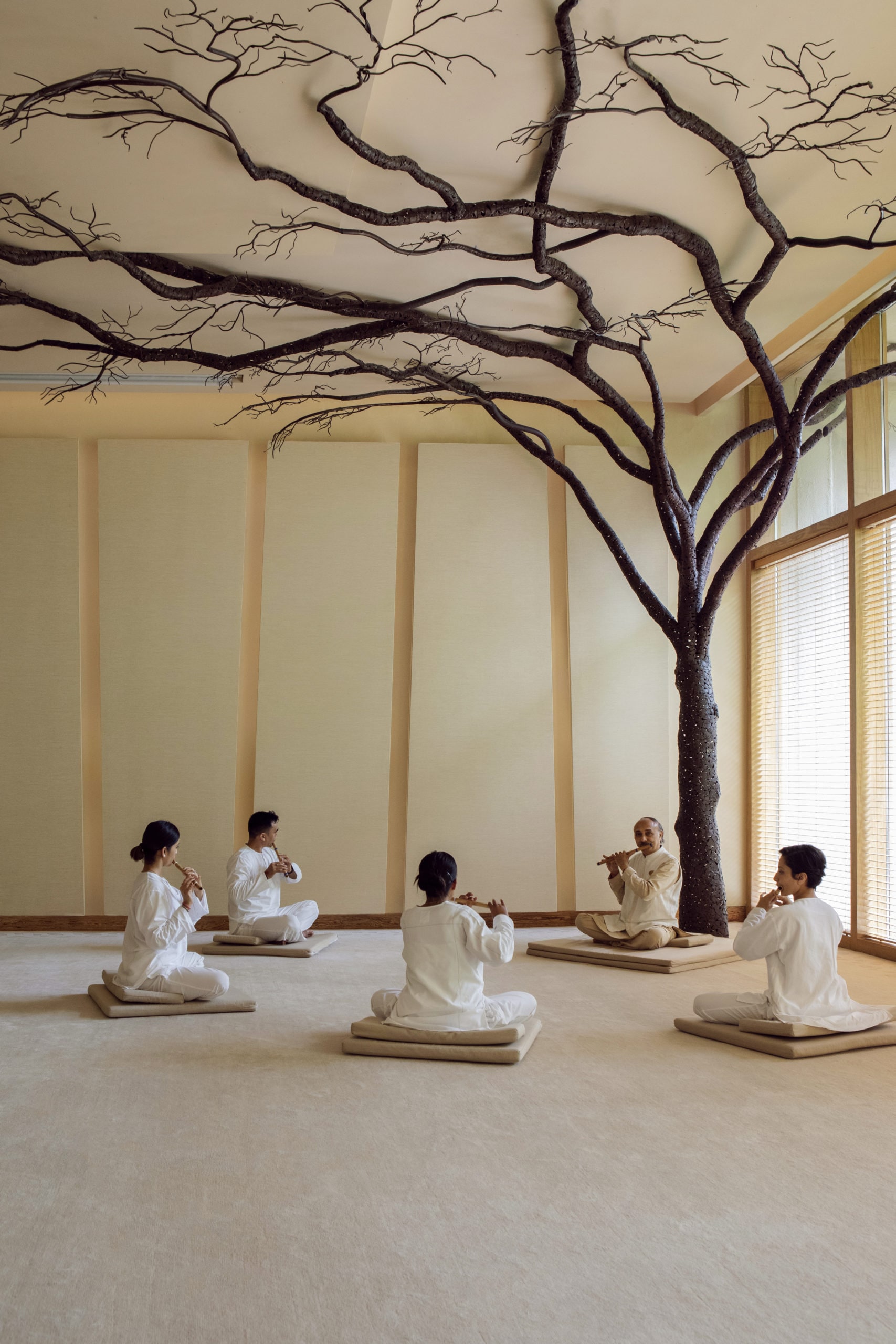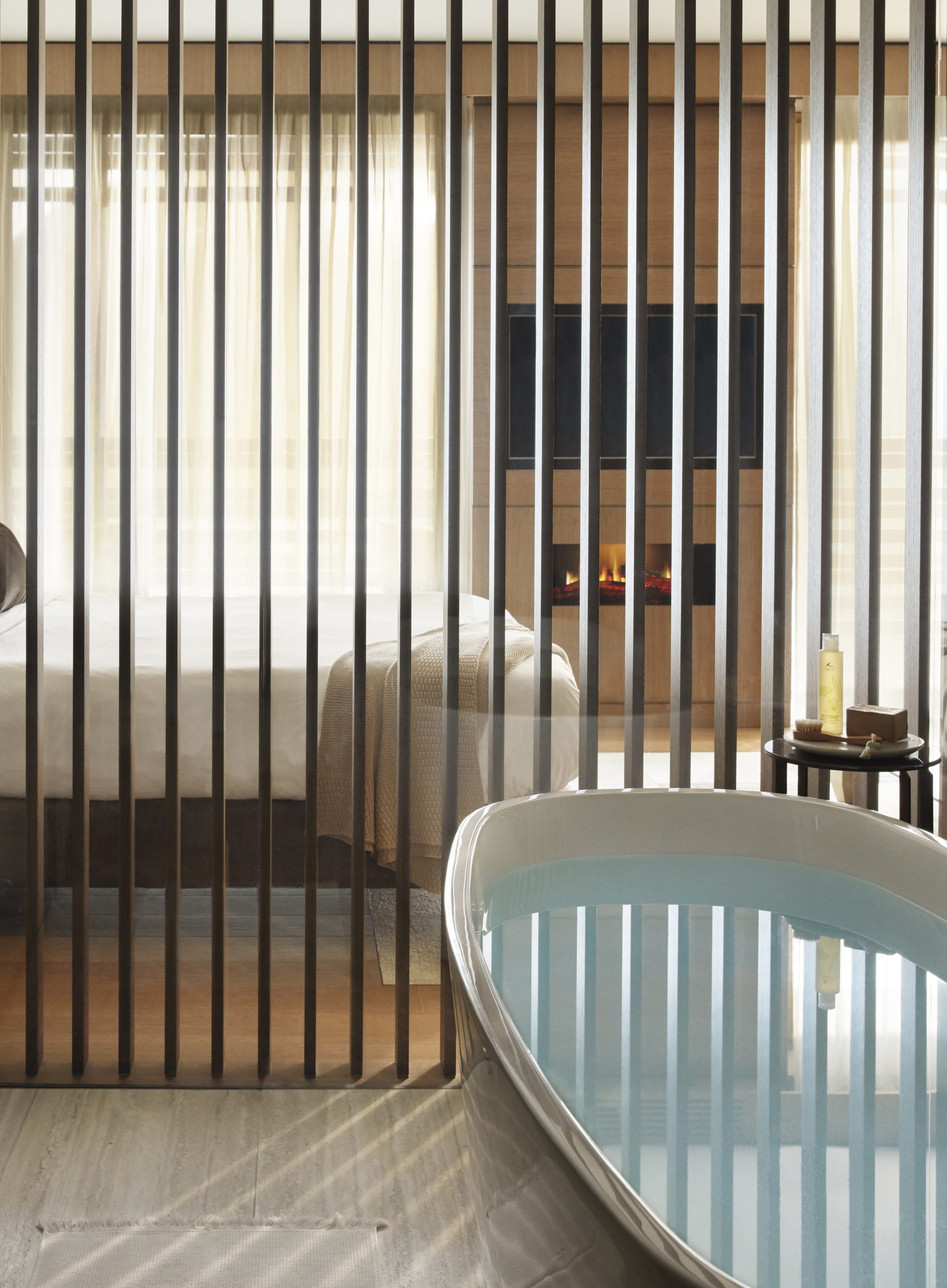 L to R: Scarlet, Mawgan Porth, Cornwall; Vana Retreat, India; Lefay Resort & Spa Dolomiti, Italy
Anantara New York Palace, Budapest
If your idea of self-care is more of the massage-by-day, mojitos-by-night variety, then a city spa is for you. Step up, the recently revamped Anantara New York Palace (in Budapest, not the Big Apple), whose Baroque frescoed ceilings and marble pillars have graced the Pest side of the city since the building arose in the early 19th century. The luxury Anantara brand recently took it under its wing, restoring it to its former lavish glory with 185 rooms, modern Hungarian food from head chef András Wolf, and a beautifully designed, cocoon-like spa. 
Anantara is known for its commitment to sustainability, and the Palace's eco credentials include being part of Clean the World, a social enterprise and health organisation; an extensive recycling programme; transitioning from plastic to glass throughout the hotel; and incorporating natural elements, such as local mud, honey and grapes, in the spa treatments.
The perfect detox/retox weekend? Try the cleansing Hungarian Mud Therapy or Revitalising Goddess treatment with grapeseed oil before a shot (or two) of palinka (fruit brandy) in the in-house Poets' Bar or opulent New York Café. 
Daily return flights from London with Wizz Air, voted Most Sustainable Low Cost Airline of 2022, start from under £40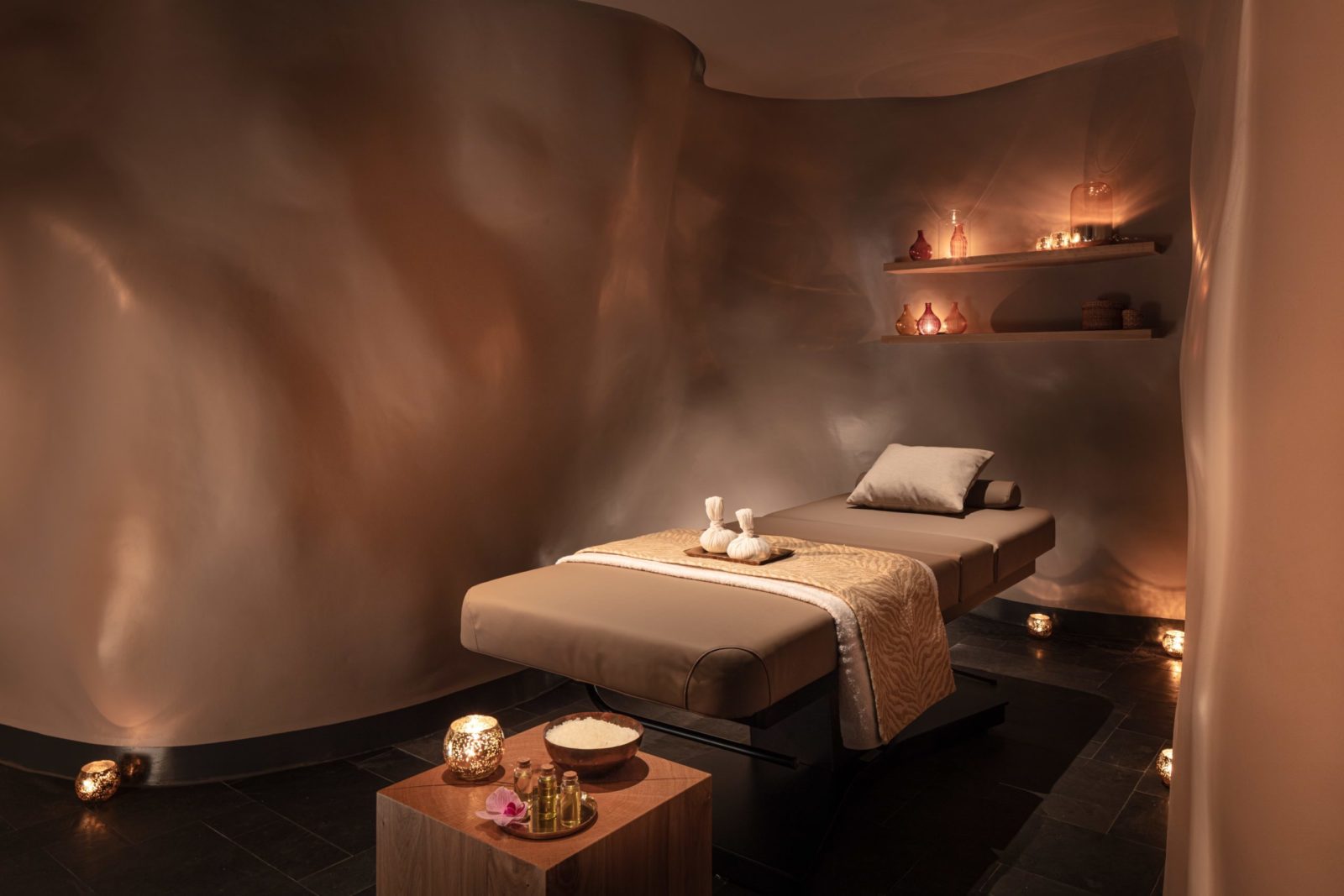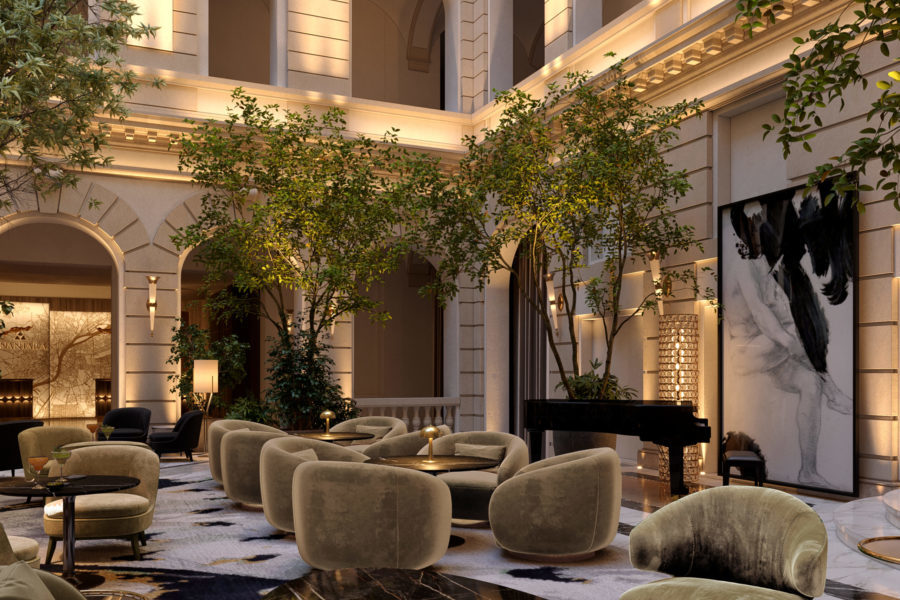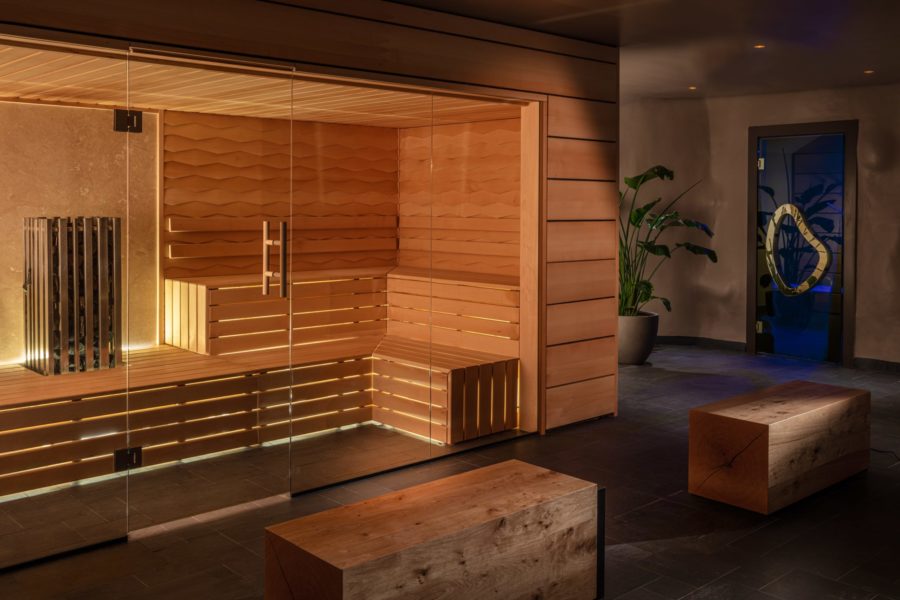 Anantara New York Palace, Budapest
Lefay Resort & Spa Dolomiti, Italy
Certified by ClimaHotel, and built in harmony with the surrounding woods and mountains, Lefay Spa, in the beautiful Dolomites, is 100% carbon neutral and one of my personal favourites. They use only renewable energy, and believe that the 'new luxury' is all about space, nature, sustainability and science. Eighty-eight contemporary suites, mostly with mountain-view balconies, are spread between buildings clad in larch and fir, and the whole resort – bars, restaurant, lobby – is full of huge windows to show off all the alpine eye-candy. 
The impressive 5,000m2 spa (salt grottoes, crushed-ice cascades, salt-water floating pools) uses vegan-friendly and cruelty-free products in a mix of medical and alternative therapies. The core concept is the Chinese medicine-influenced pathway based on five treatment areas named The Green Dragon, The Red Phoenix, The White Tiger, The Black Tortoise and The Centre. Each has a recommended sequence (aromatic bio-sauna then waterfall; Finnish sauna then ice pool), which you choose according to your needs: Black Tortoise for stress, or Red Phoenix for anxiety. 
The chef works only with vetted suppliers, and in Grual, the fanciest restaurant, the locally sourced, organic food is divided into categories according to altitude: valley floor, mountain pasture and high mountain – so expect rosehip ketchup, wild broccoli and dandelion buds. 
Most memorable of all? The spectacular inside/outside pool where you swim through a 'door' out into clouds of steam rising in the frosty dawn air. 
Doubles from £292, B&B. Lefay Resort & Spa Dolomiti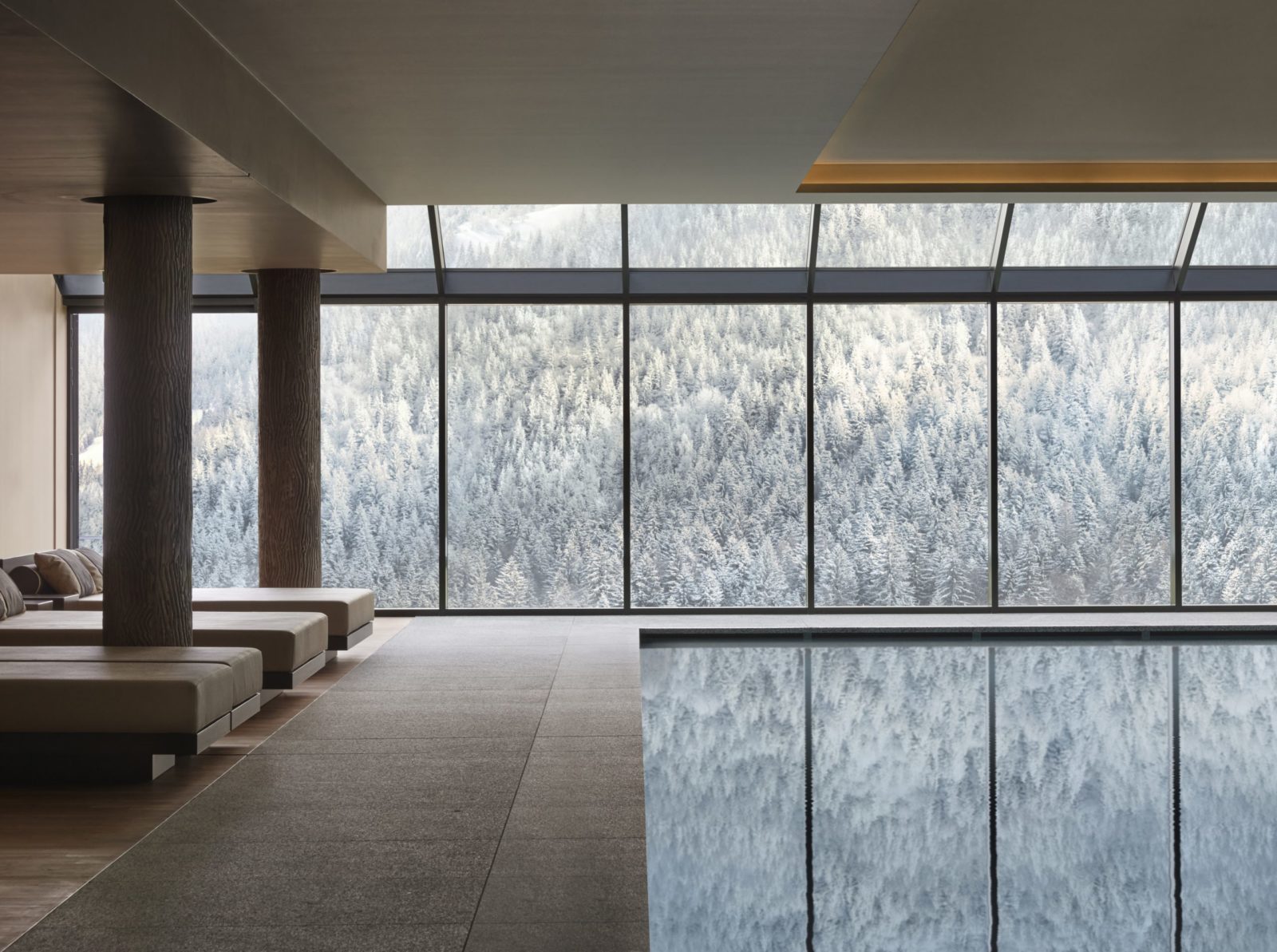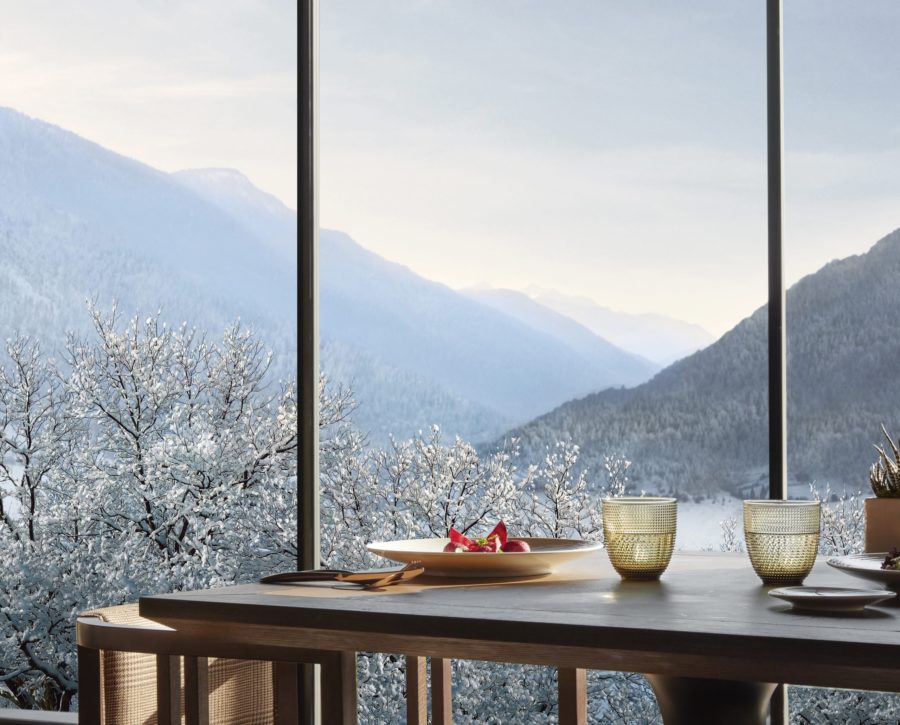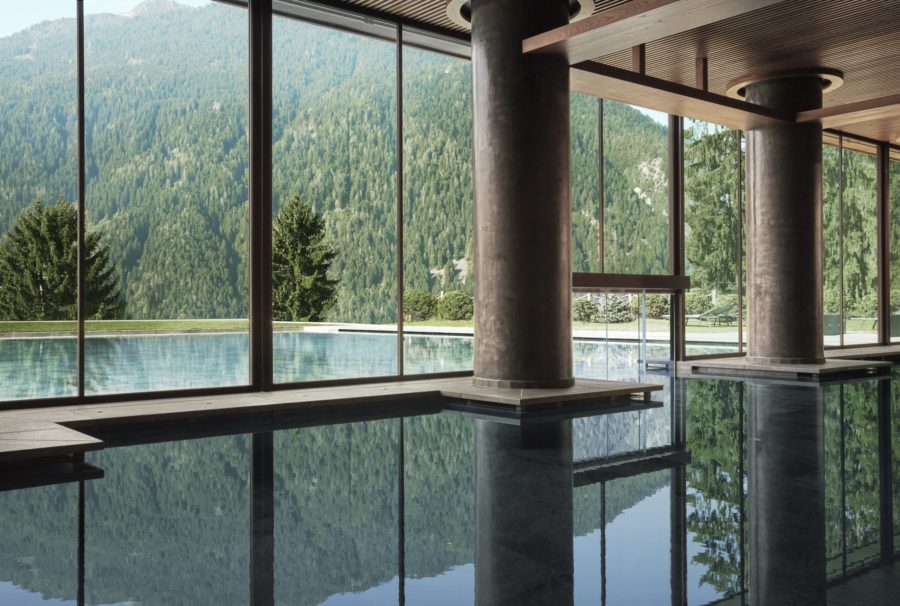 Lefay Resort & Spa Dolomiti, Italy
If you want a serious mind, body and spirit overhaul, this is the place to do it. Two hours north of Rishikesh, in northern India, this 83-room retreat is set in a lychee and mango plantation next to a forest of sal trees, believed to be holy. All about harmony with nature, Vana was India's first retreat to achieve LEED Platinum status (Leadership in Energy and Environmental Design), and the comprehensive eco measures here include energy monitoring, motion sensors to switch off power when rooms are vacated, rainwater reused for irrigating Vana's 21 acres, special taps to reduce water consumption, and their own water-bottling plant. Programmes are tailor-made after an in-depth spa consultation, and nutritious menus are tailored to your body type. The concept may be based on ancient Ayurvedic, Chinese and Tibetan healing practices but the style is contemporary and high end – no spartan ashram vibes here. And when you're not meditating, learning Sufi songs or being steamed, kneaded or anointed with oils, there are tennis courts, walking paths and two pools to play in.  
Doubles from £1,899 pp, full board, with Healing Holidays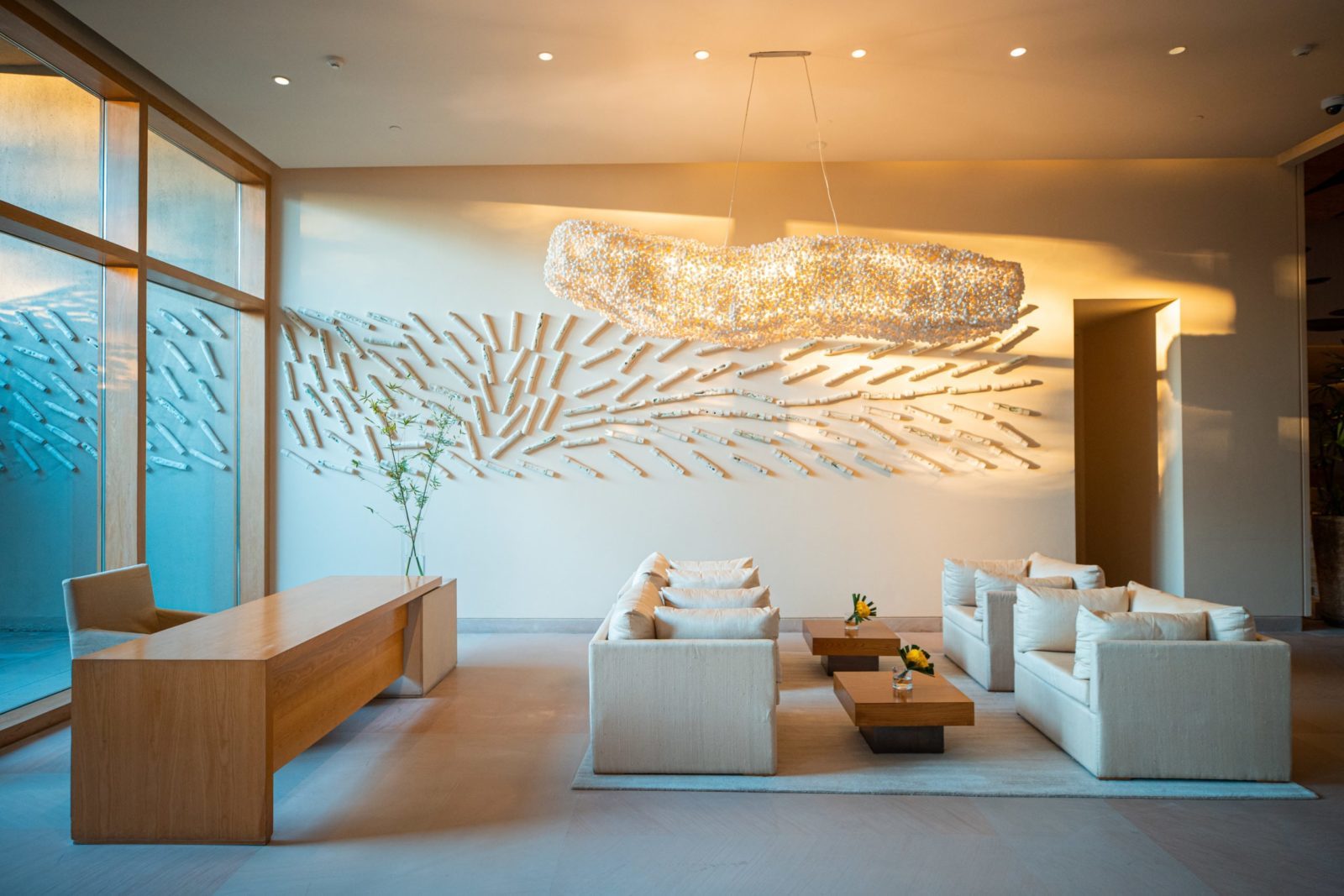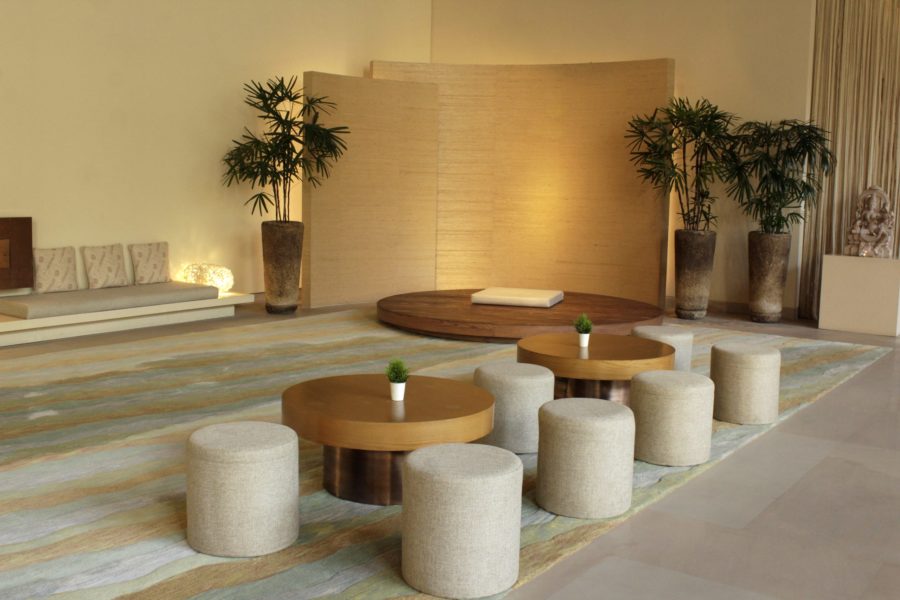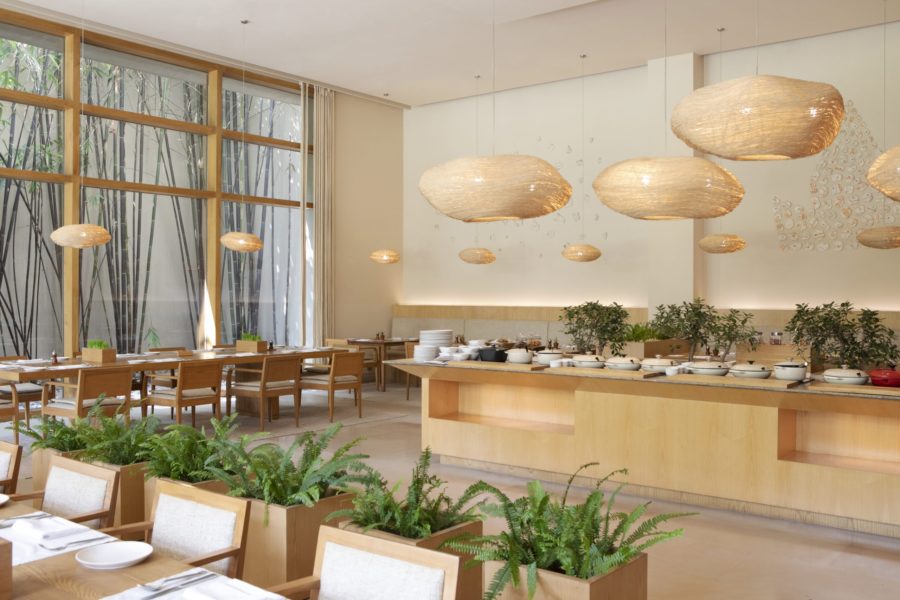 Vana Retreat, India
Scarlet, Mawgan Porth, Cornwall
One of the best eco spas in the UK, the Scarlet overlooks the sandy Mawgan Porth beach, 15 minutes north of Newquay. Built into the rock, and taking full advantage of the spirit-lifting ocean views, the Scarlet's 37 rooms range in size from Just Right (small) to Indulgent.
The design of the Scarlet was conceived with the coastal ecosystem in mind, and the entire building can be deconstructed and recycled.  Evergreen sea thrift plants line the roof, cooling sea breezes take the place of air con, and the outside pool looks like a natural pond, with reeds to filter the water instead of harsh chemicals. The hotel is run on 100% renewable energy: the indoor pool is solar-heated and bromine-filtered, log-fired hot tubs (with no bubbles to save energy) sit on the cliff top, a biomass boiler warms the water, greywater (waste washing water) flushes the loos, and you can charge your electric car outside. 
Spa treatments include four hour 'journeys' of massages and meditation, facials with 'wildcrafted' ingredients (grown, without pesticides, in their natural habitat), and Ayurvedic consultations.
Sustainable wines and seasonal food are all as local as possible: so, after a bracing swim, you can fill up on slow-aged steaks, freshly caught seafood and Cornish charcuterie.
Doubles from £260, B&B. Scarlet, Mawgan Porth, Cornwall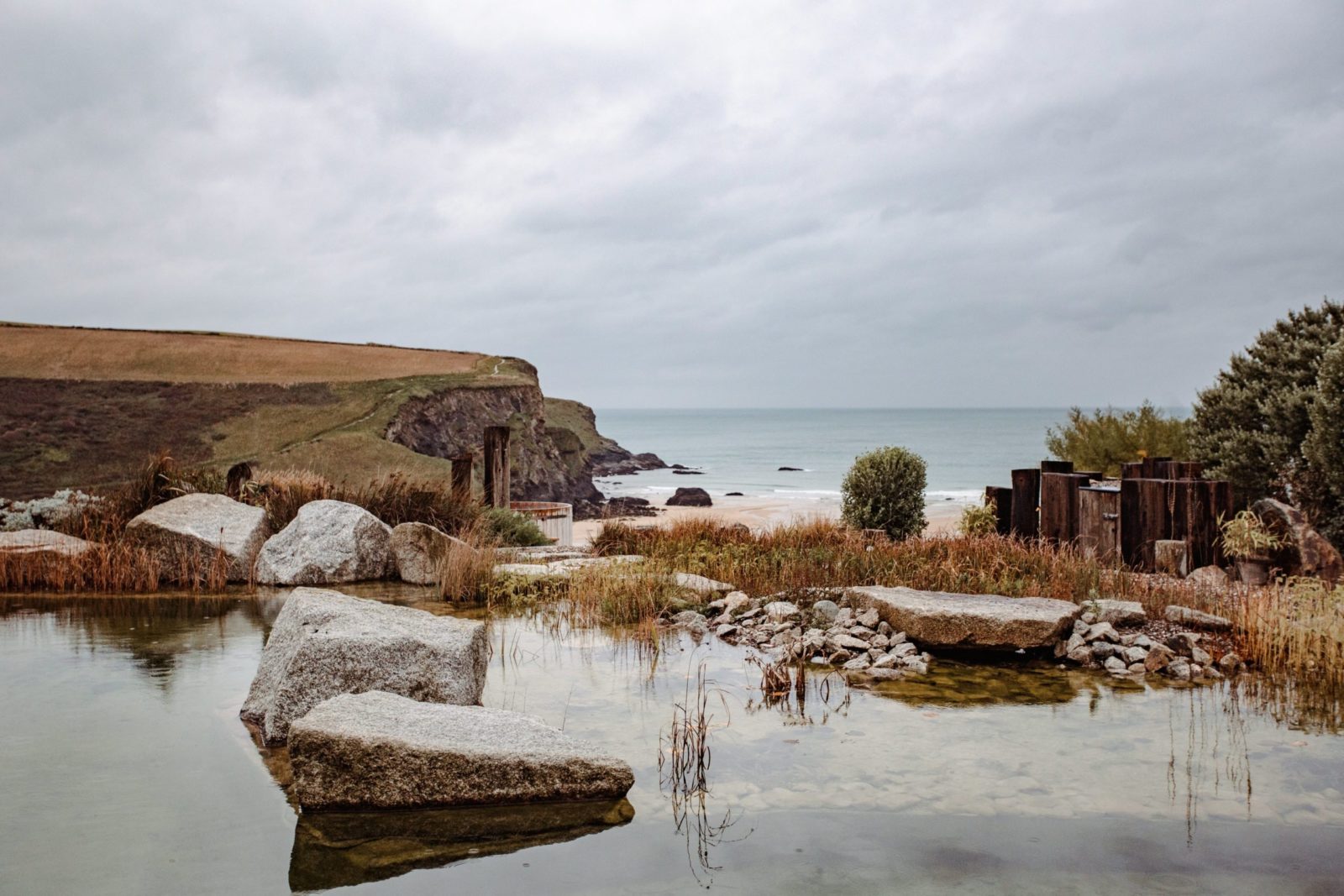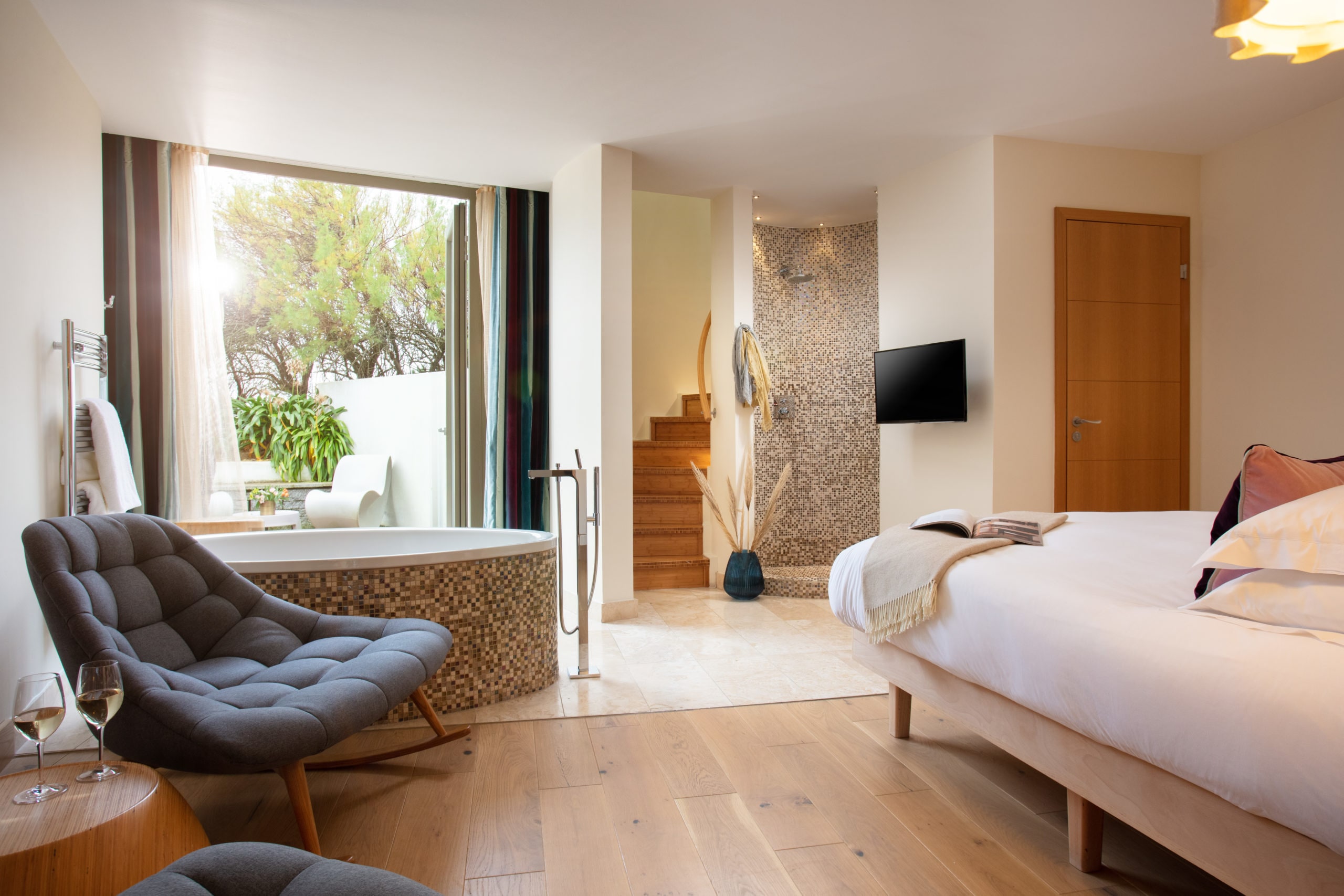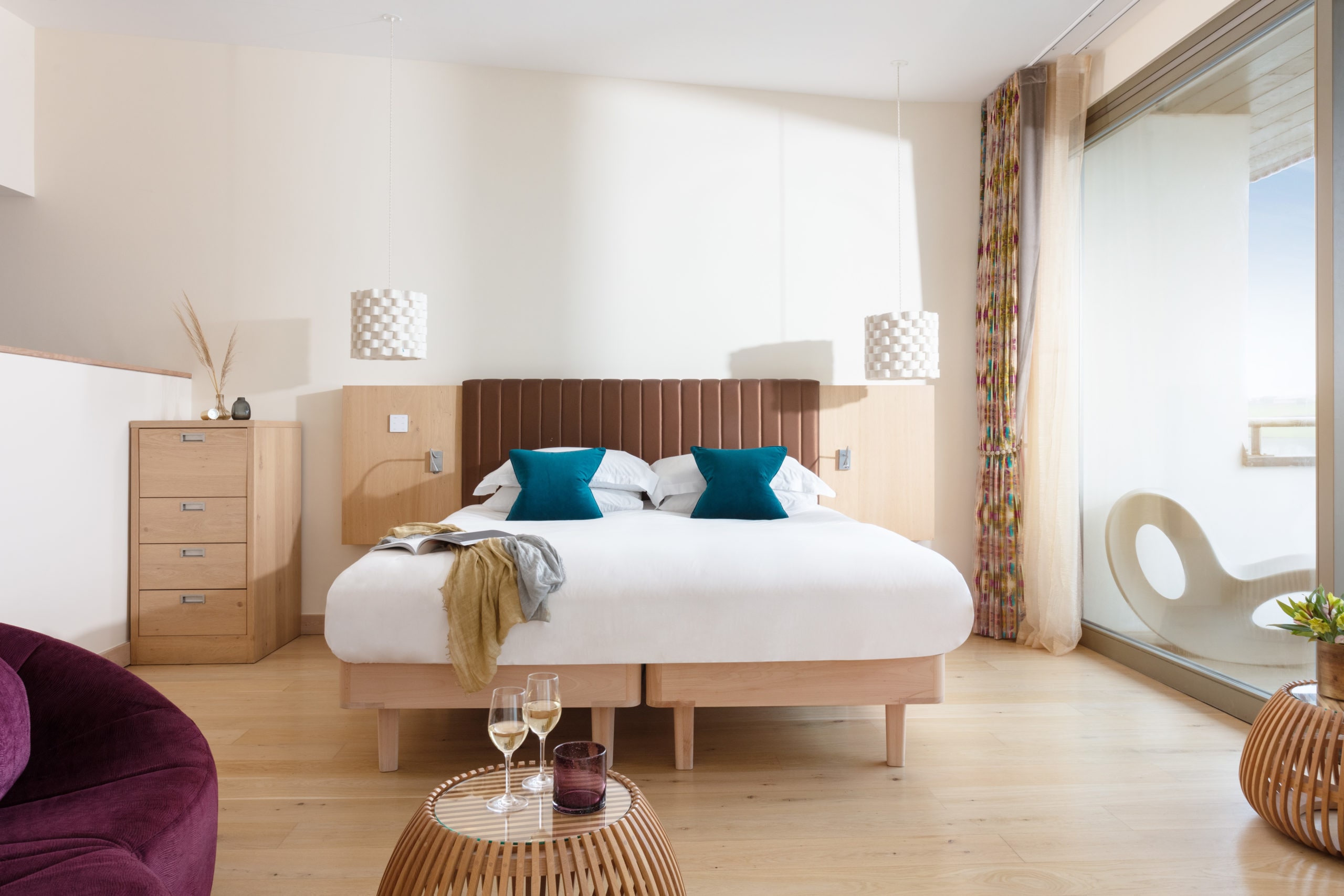 Scarlet, Mawgan Porth, Cornwall
Santani Wellness Resort & Spa, Sri Lanka
It's all about the views here – lush rainforests, rice fields and undulating hills – all showcased through the floor-to-ceiling windows of the ambalamas (places of rest), aka the resort's 20 luxury chalets.
Santani, meaning harmony, is set on a 48-acre former tea plantation, an hour's drive east of the island's spiritual capital, Kandy. The hilltop location was chosen for the 'purity of its setting', and the resort built to exacting eco standards, with minimal disruption to the surroundings, and is ventilated naturally, which saves around 70% of the energy needed for air conditioning. 
Most of the food is locally sourced and organic, some from Santani's own greenhouse, and the meal plan, eaten in the impossibly scenic glass-sided restaurant, is customised according to your individual health plan: ketogenic (low carbohydrate), Ayurvedic vegetarian, or detox.  Fitness programmes are tailor-made, too, and could include mountain biking, trekking and kayaking, as well as yoga, meditation and swimming in the outdoor infinity pool.
The rainy season (April and May, September–December) has its own special charm, but brings out the creepy crawlies, so if you don't fancy having to use the hotel-provided 'leech-socks' for jungle trekking, you might want to avoid those months.  
Prices from £619pp for a three day, full-board stay, with Healing Holidays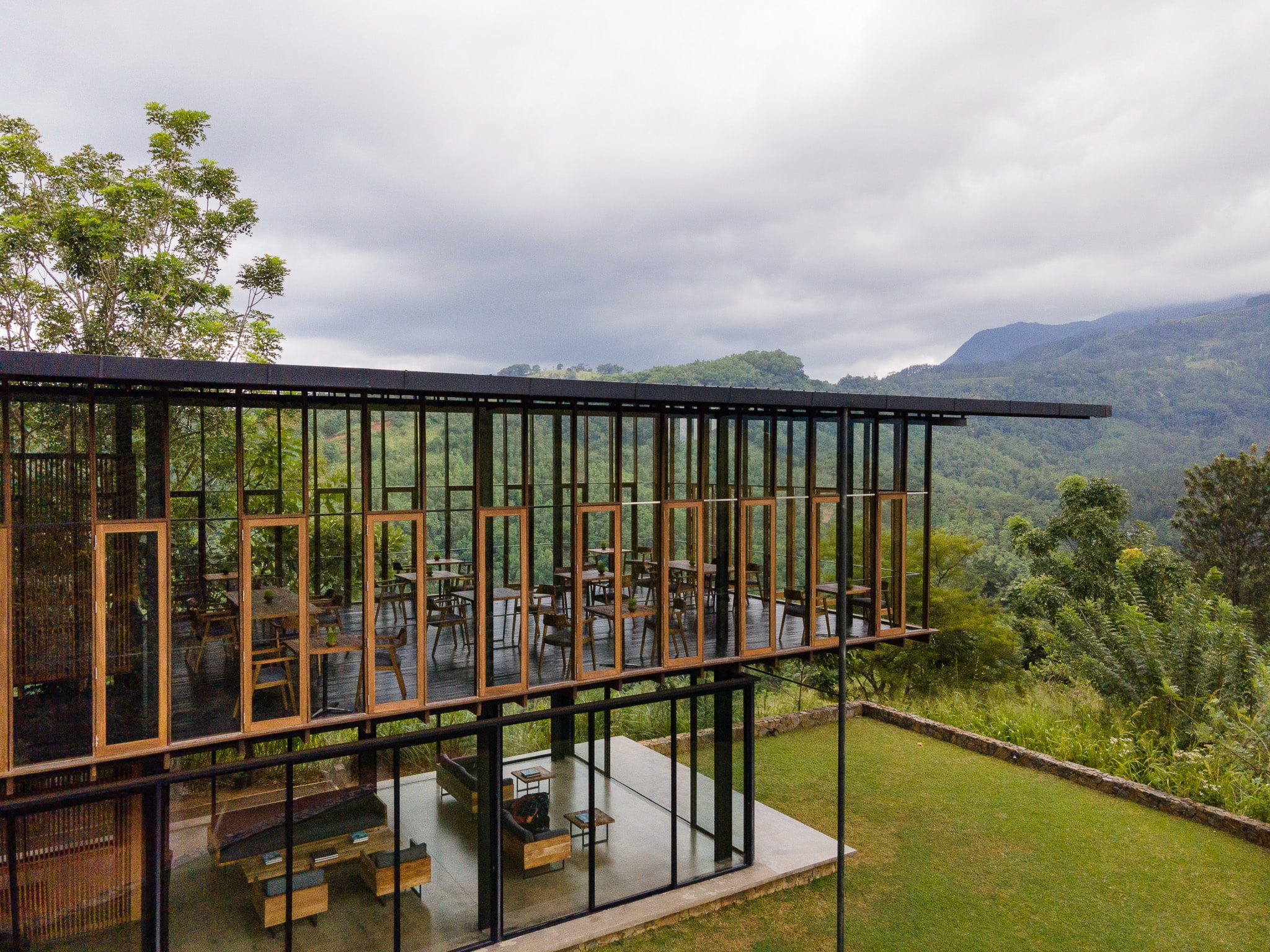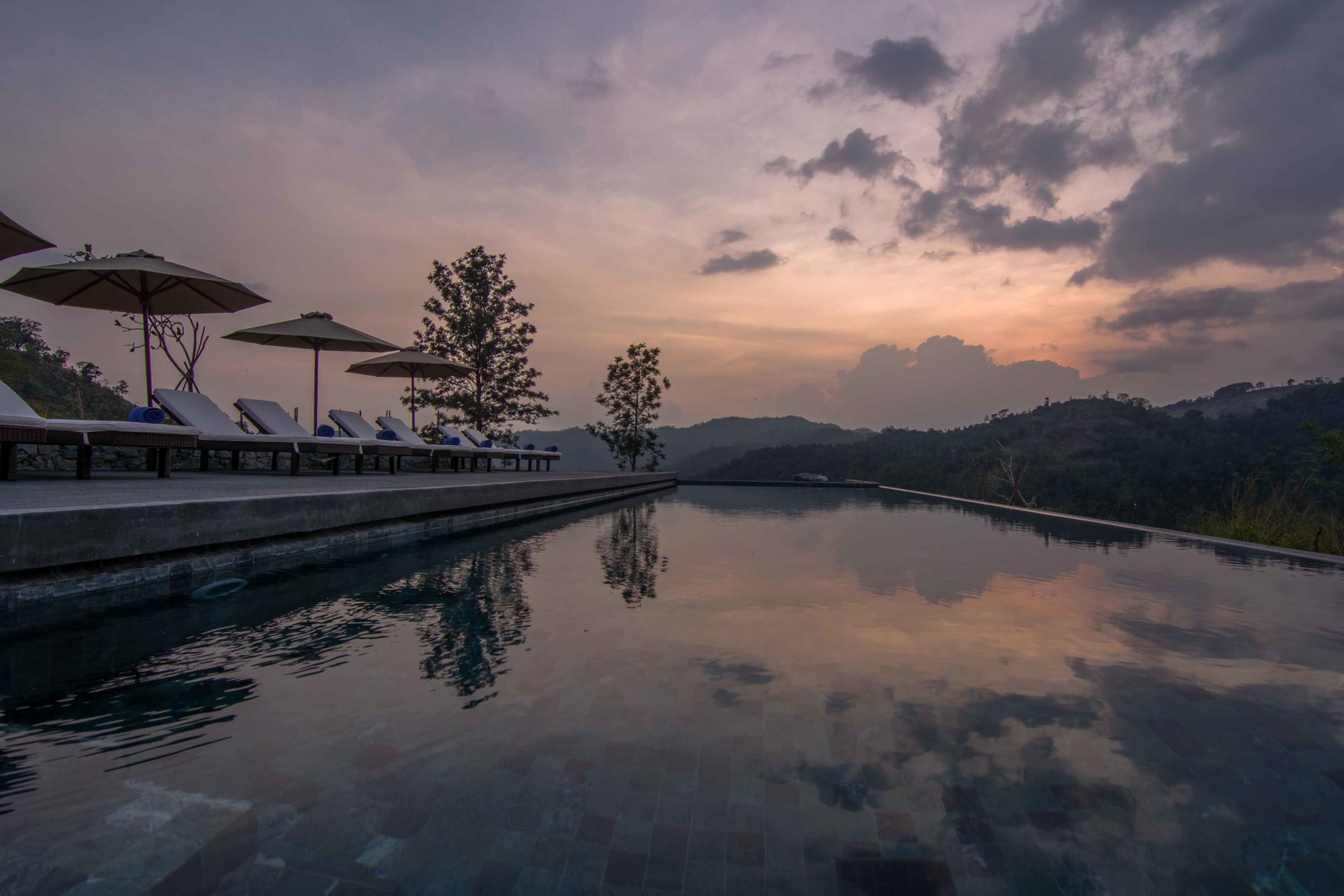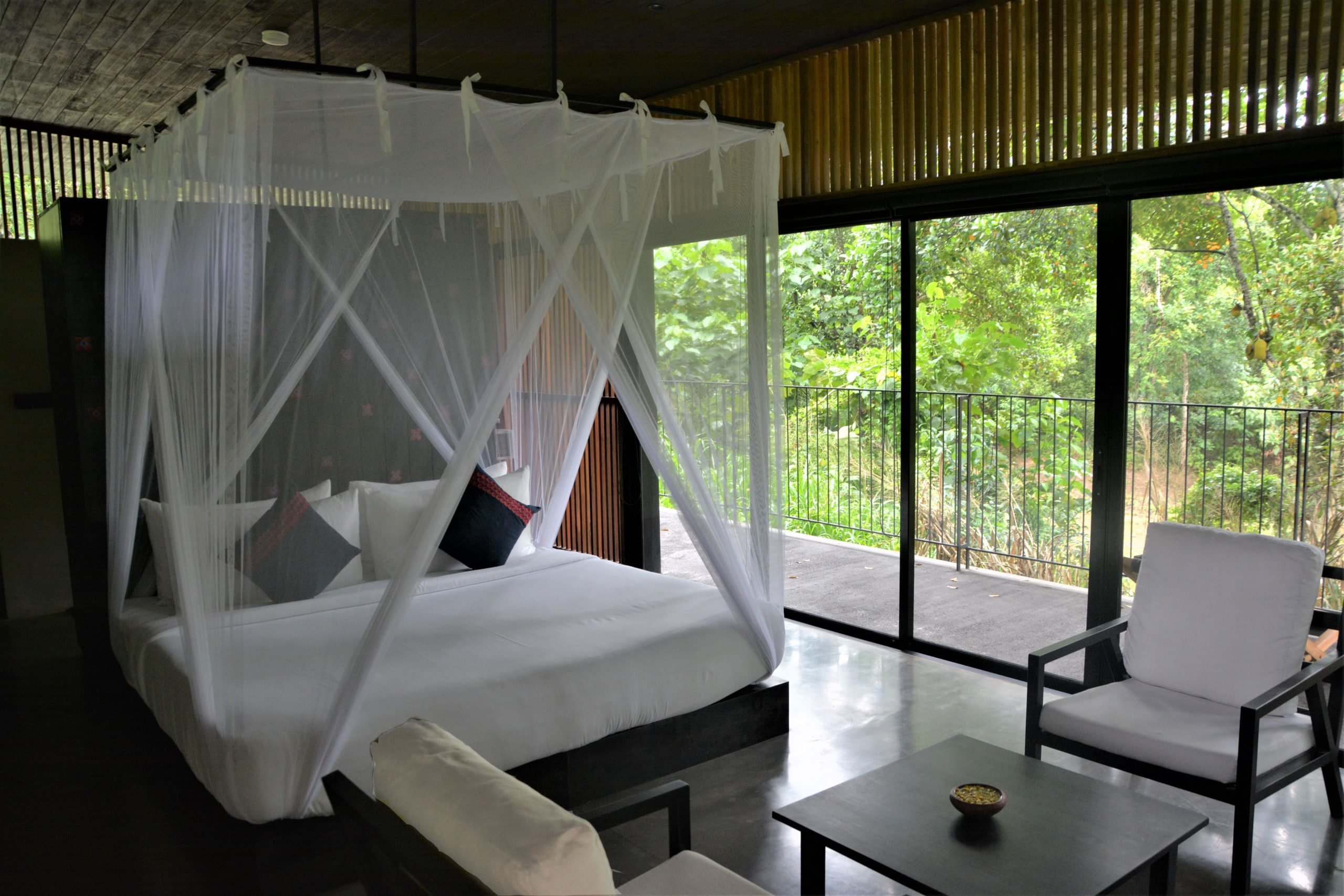 Santani Wellness Resort & Spa, Sri Lanka
Naturhotel Forsthofgut, Austria 
Just being in the mountains with all that pure, negative-ion-charged air dials down the stress levels before you have even slipped into your organic cotton spa robe. This stylish, award-winning hotel, 52 miles south of Salzburg, may be all about skiing in the winter but, once the snow melts, the 3,500m2 spa is the main attraction. Voted World's Best Wellness Spa in the 2021 Boutique Hotel Awards, for its 25 metre lap pool, natural bathing lake, forest-side sauna and comprehensive spa menu, this 400-year-old former farm has also won plenty of accolades for its environmental commitment. Cleaning products are all biodegradable, spa and laundry bags are fashioned from recycled paper, and bathroom toiletries, presented in glass jars, are made in-house with organic ingredients. It runs on 100% green electricity, with biomass heating and wood from their own forest. Ingredients for the Japanese, vegan and organic menus come from their own farm, or sourced within a 50km radius, and, in keeping with its farm heritage, drinking straws are made from actual organic straw. 
Rates around £159 pp, half board plus afternoon tea, including free daily childcare. Naturhotel Forsthofgut, Austria
Getting there: Train to Saalfelden and by road to resort (5 minutes).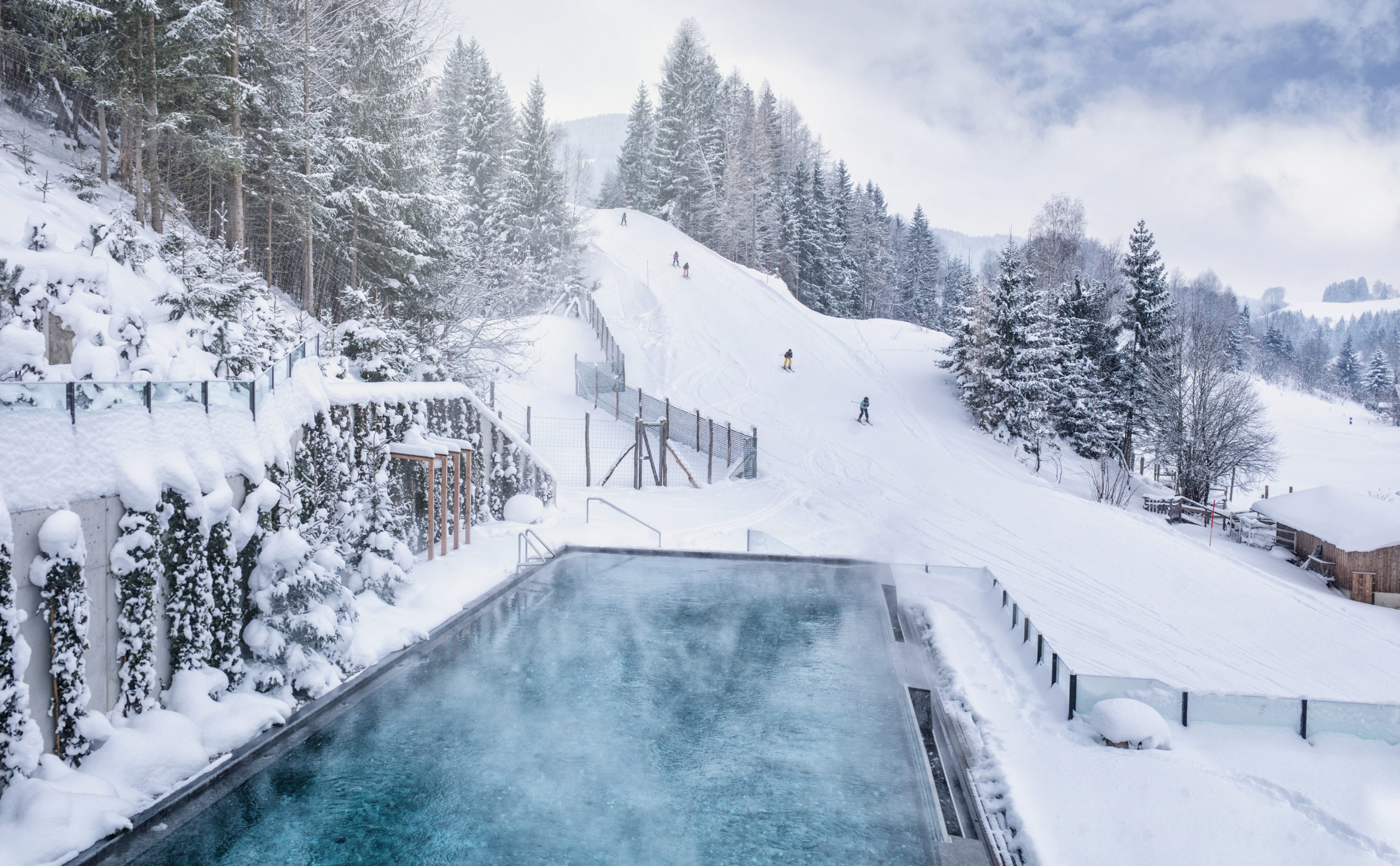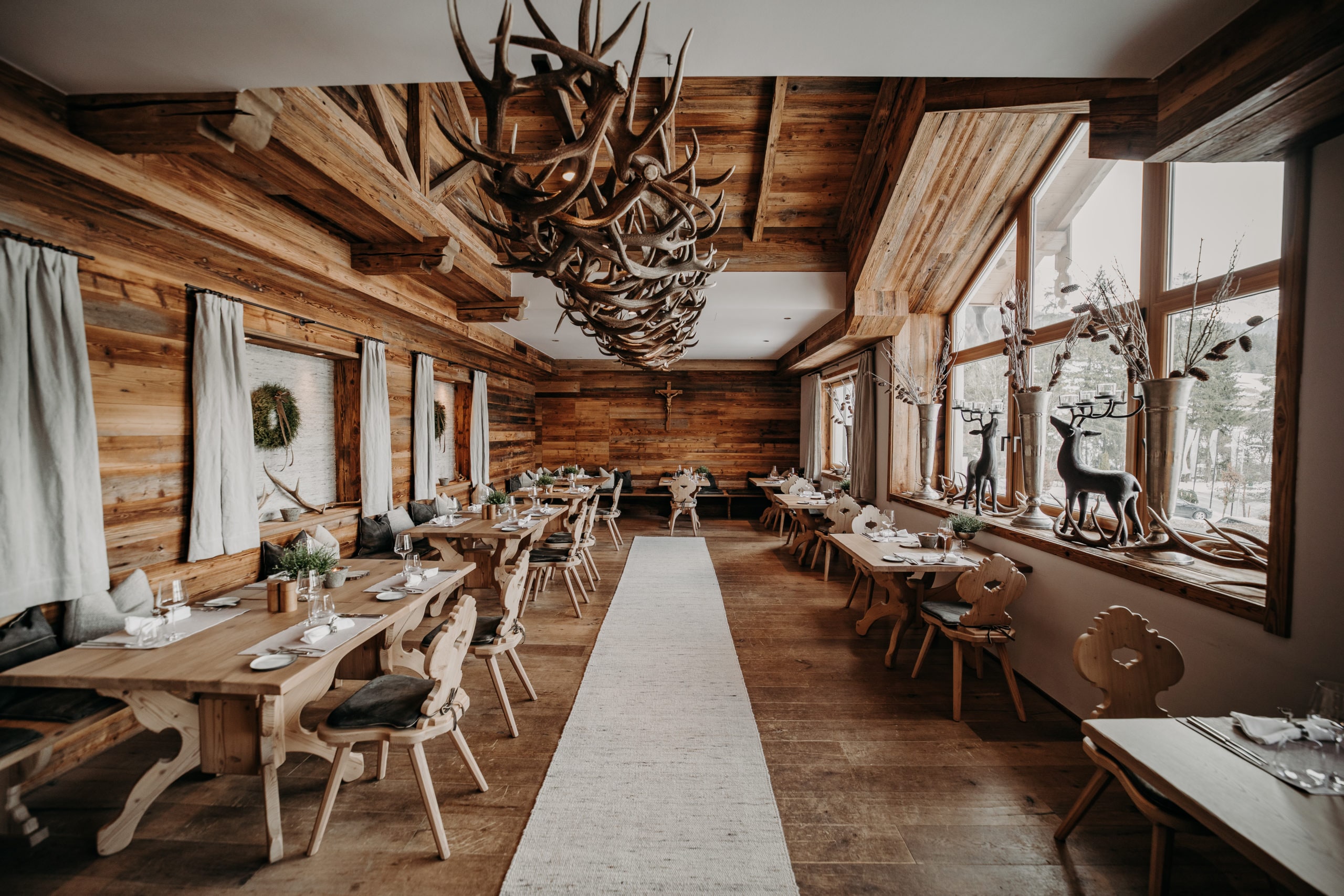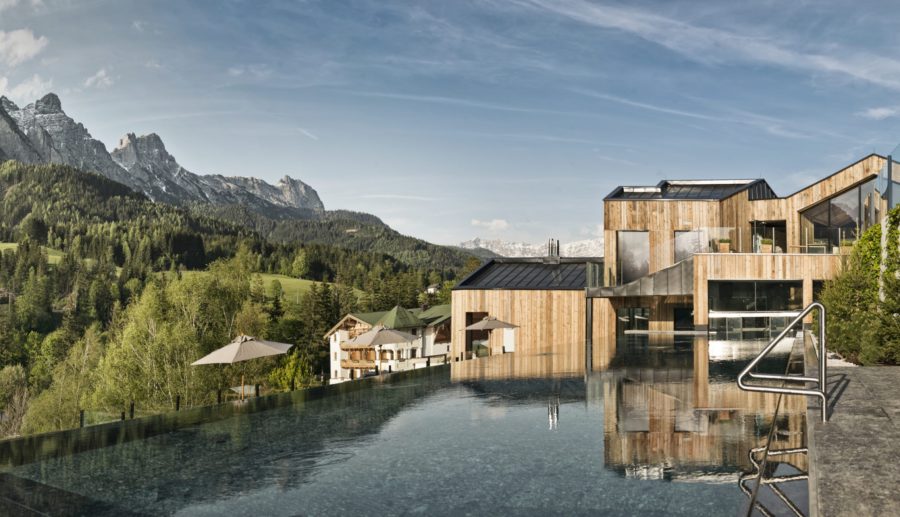 Naturhotel Forsthofgut, Austria