March
Fashion Forward: Nike x Calendar Sustainable Style
The Calendar Magazine partners with Nike to hero new advances in sustainable fashion
At Calendar, we are all about championing anyone who is making a positive change, whether an established global brand, a quirky start-up or just an individual with a passion. Nike has long been making significant strides on the sustainability front, and its Move to Zero campaign was born from the brand's mission to slash its carbon footprint and ultimately achieve both zero carbon and zero waste. The strategy includes switching to 100% renewable energy in the next two years, reducing the size of its shoe boxes, recycling plastics into fibres, and supporting carbon-offsetting projects. Determined to continue to 'create solutions, not wait for them', the brand developed Nike Forward apparel, its most sustainable collection to date. The clothing range is made of a futuristic material of ultra-thin, needle-punched layers, which is soft, warm, and, most importantly, racks up only 75% of the carbon footprint of traditional fleece fabric.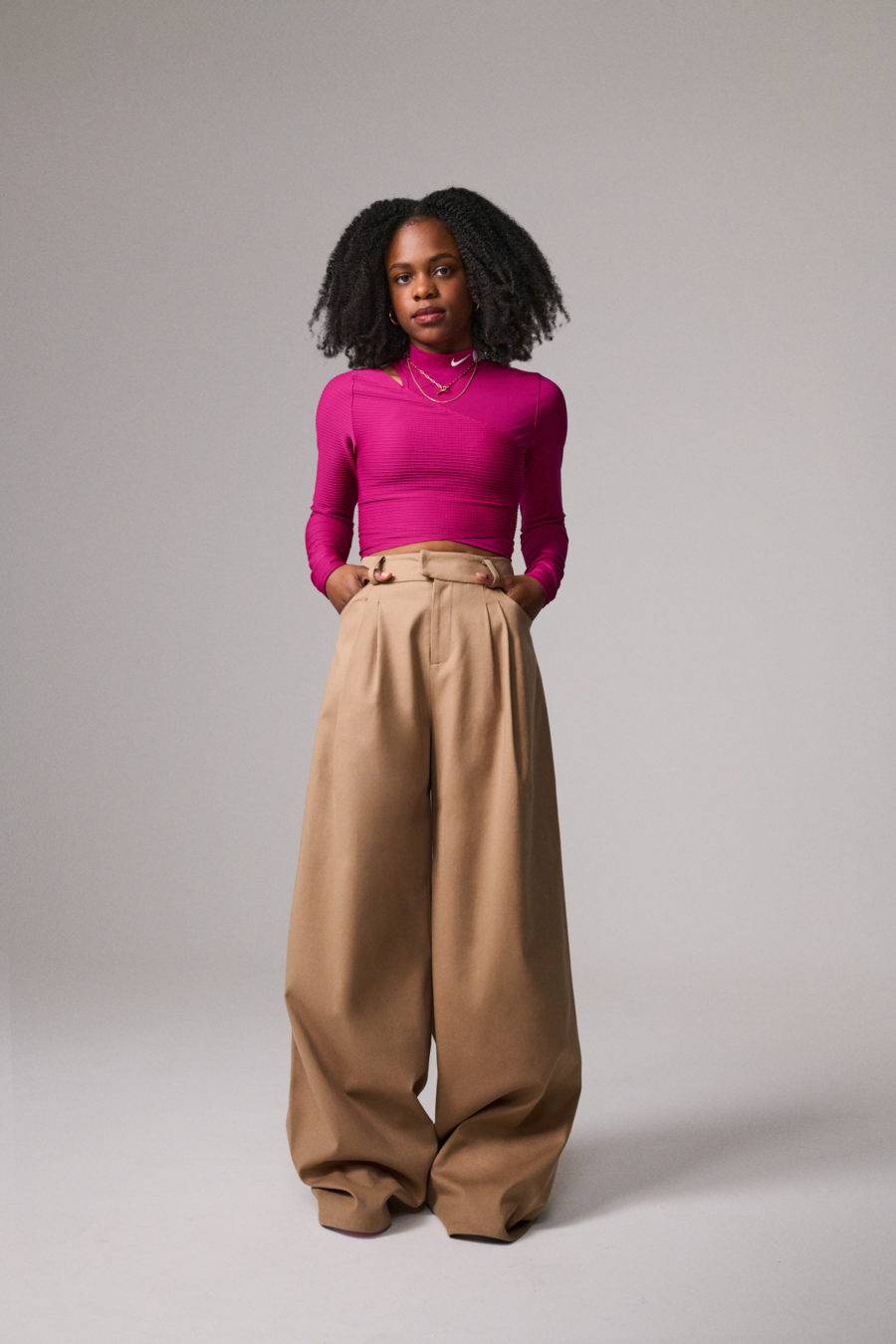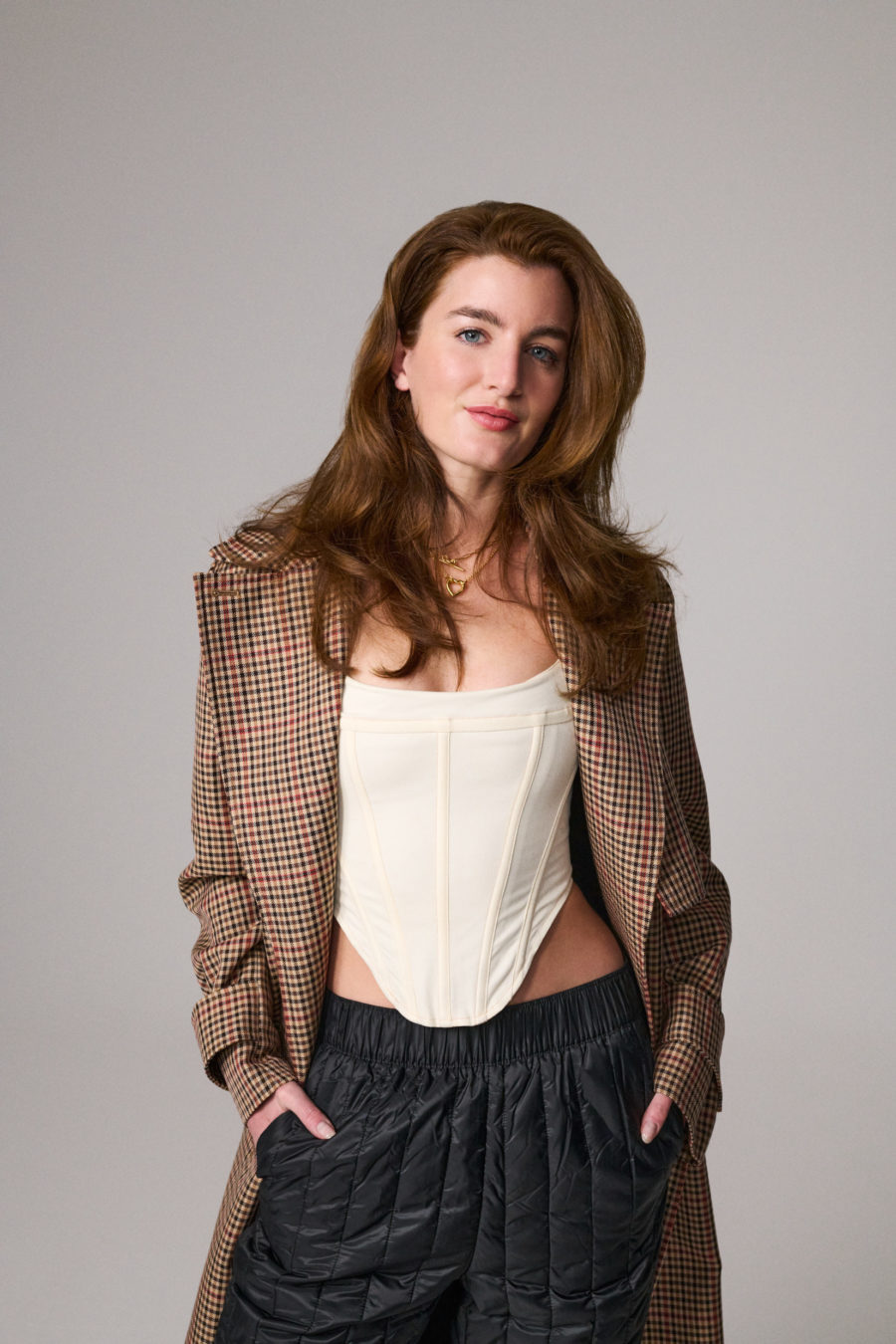 L: Tega wears Naomi Osaka Long-Sleeve Top, £69.95, by Nike; Trousers, £295, by Mother of Pearl R: Georgie Joseph Coat, £315 (RRP £995), from hardlyeverwornit.com; Corset top, talent's own; Sportswear Therma-FIT Tech Pack High Waisted Trousers, £129.95, by Nike. Photography: Jacob McFadden
In our first creative collaboration with Nike, and to encourage more people to join the 'Move to Zero', we have chosen three eco trailblazers to help showcase our celebration of sustainable fashion in a specially commissioned shoot.
First up, designer Tega Akinola has rapidly won a cult Insta following for upcycling faulty USB cables and pre-loved street and sportswear pieces (including those by Nike), into '90s-inspired mini bags and shoes.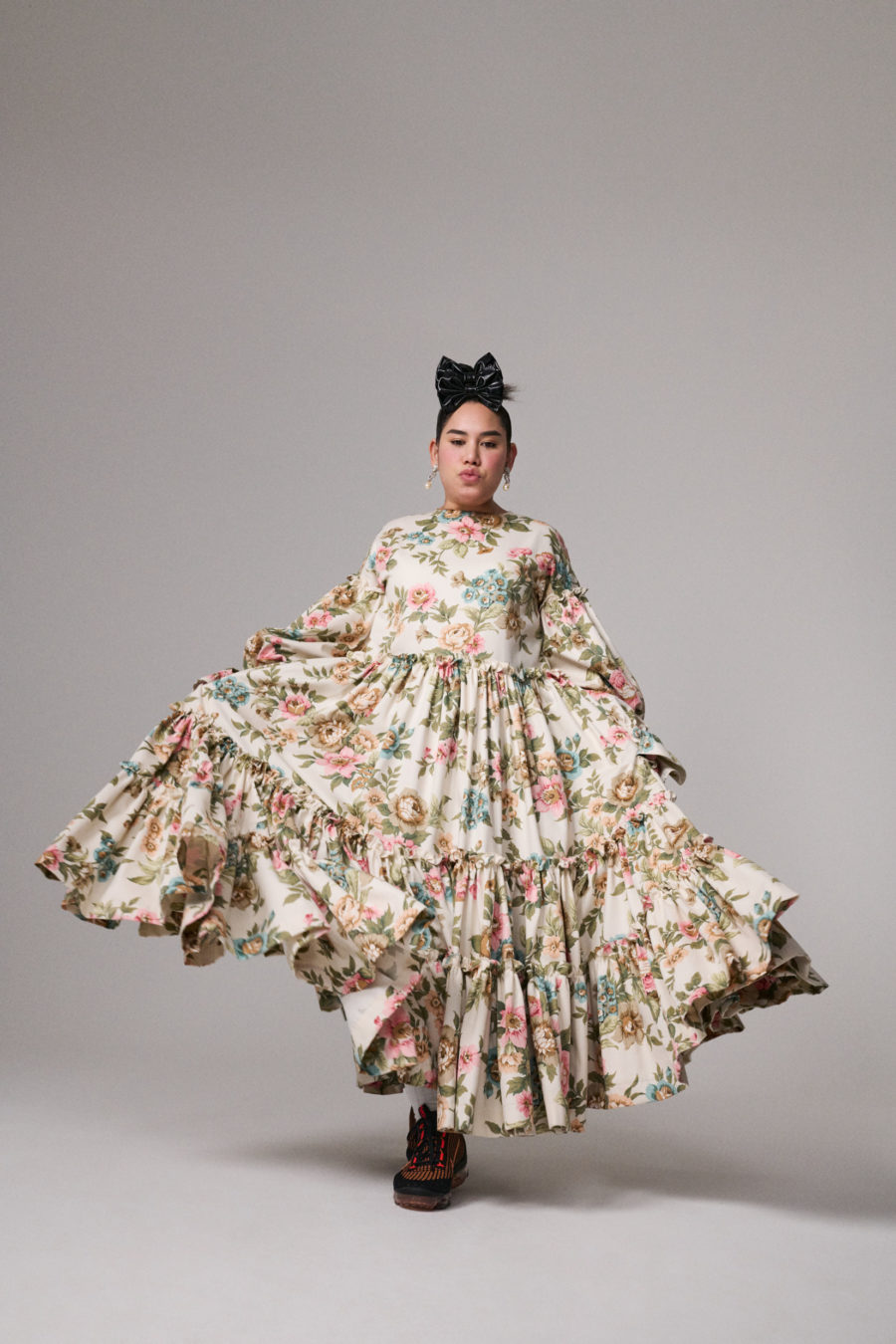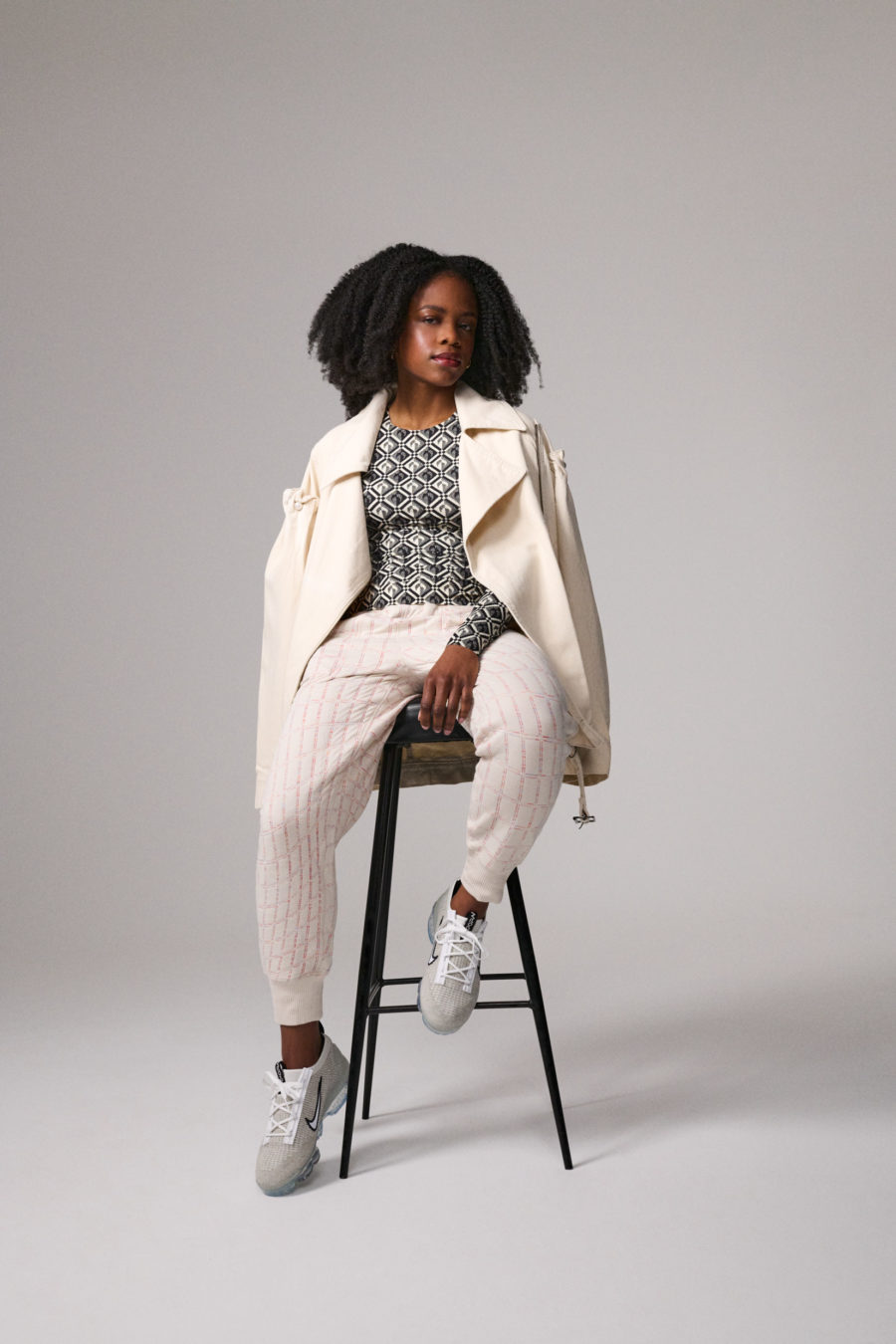 L: Katie wears Dress, £1750, by The Meaning Well; Nike Air VaporMax 2021 Flyknit Black/Bright Crimson, £199.95, by Nike R: Tega Wears Jacket, £295, by Mother of Pearl; Marine Serre Top, £235, available at Selfridges; Yoga Therma-FIT Luxe Trousers, £89.95, by Nike; Nike Air VaporMax 2021 FK, £199.95, by Nike. Photography: Jacob McFadden
One of Forbes' '30 Under 30', Georgie Hyatt is co-founder and CEO of Rotaro, one of the leading fashion rental platforms for luxury brands, which helped spearhead the current circular economy boom.
Creative director, stylist and front-row regular Katie Ruensumran (better known as @katieismonster) launched her label The Meaning Well in the first lockdown. As part of her personal war on textile waste and fast fashion, her clothes are all designed to be timeless, with no seasonal collections, and one-size-fits-all.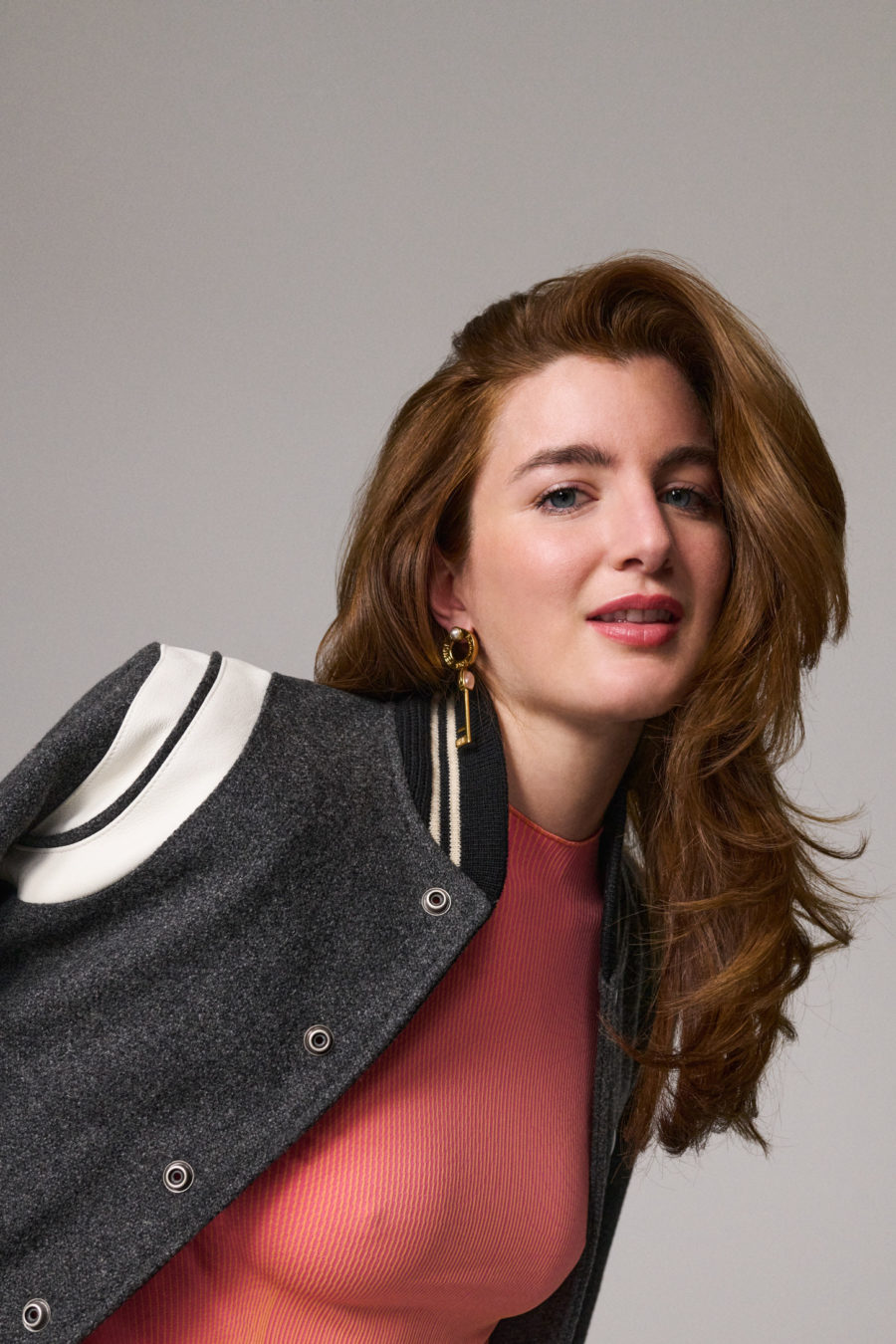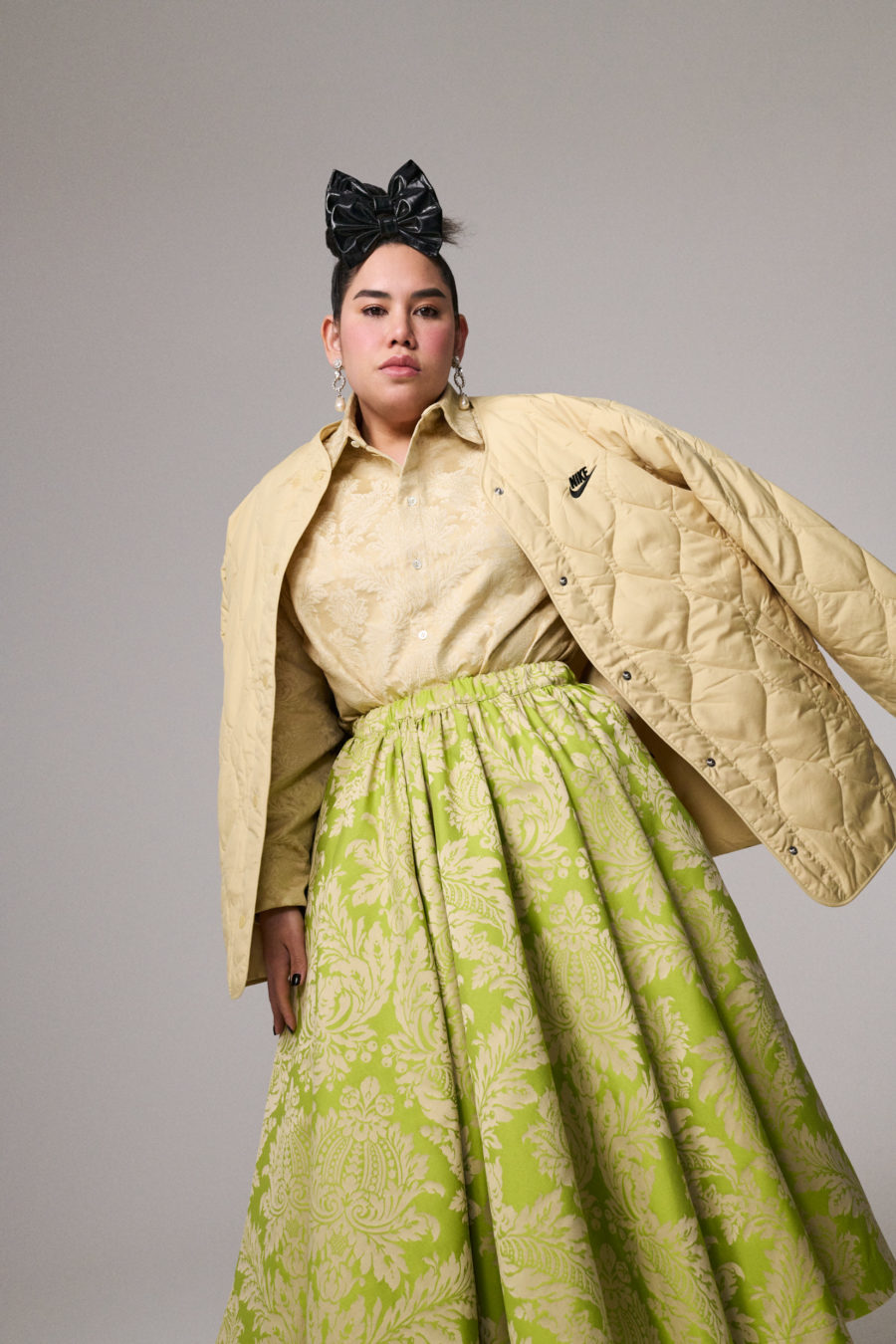 L: Georgie wears Saint Laurent Jacket, £530 (RRP £1850), from hardlyeverwornit.com; Yoga Dri-FIT ADV Long Sleeve Top, £72.95, by Nike; Fendi Earrings, £340 (RRP £520), from hardlyeverwornit.com R: Katie wears Bow, talent's own; Shirt, £440, by The Meaning Well; Skirt, £870, by The Meaning Well; Women's Sports Utility Jacket, £109.95, by Nike. Photography: Jacob McFadden
Styled by our founder, Anne-Marie Curtis, and modelled by Tega, Katie and Georgie, the shoot is a curated mix of some of our favourite pre-loved, rental and sustainably focused brands, such as Katie's The Meaning Well, Mother of Pearl, HEWI (Hardly Ever Worn It), My Wardrobe HQ, Selfridges Project Earth Edit, and jewellery brand Otiumberg. Look out for our video footage from the shoot and interviews with Tega, Georgie and Katie to hear about what inspires them and the change they are making in this space.
Shop well – and be part of the change we all want to see in fashion.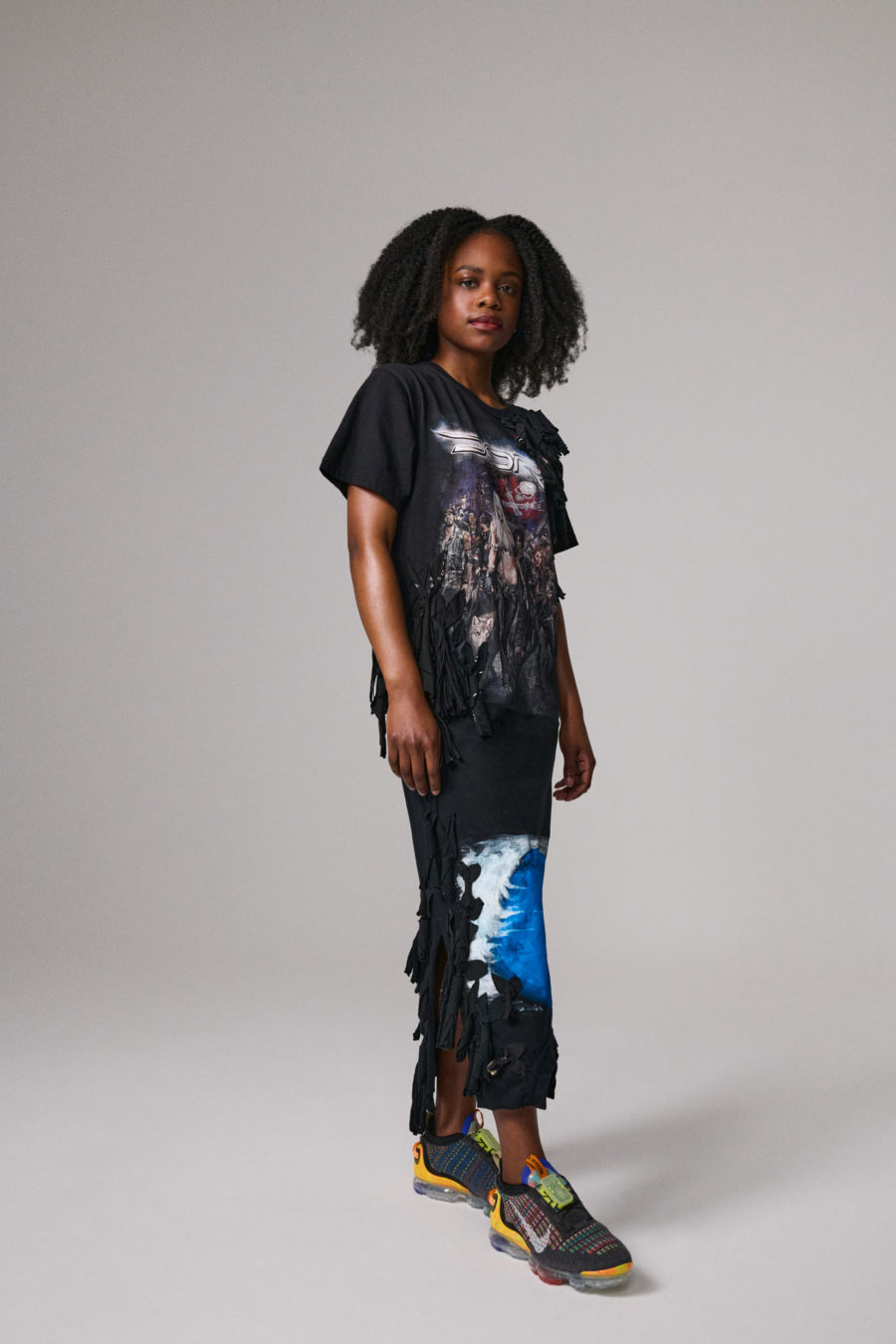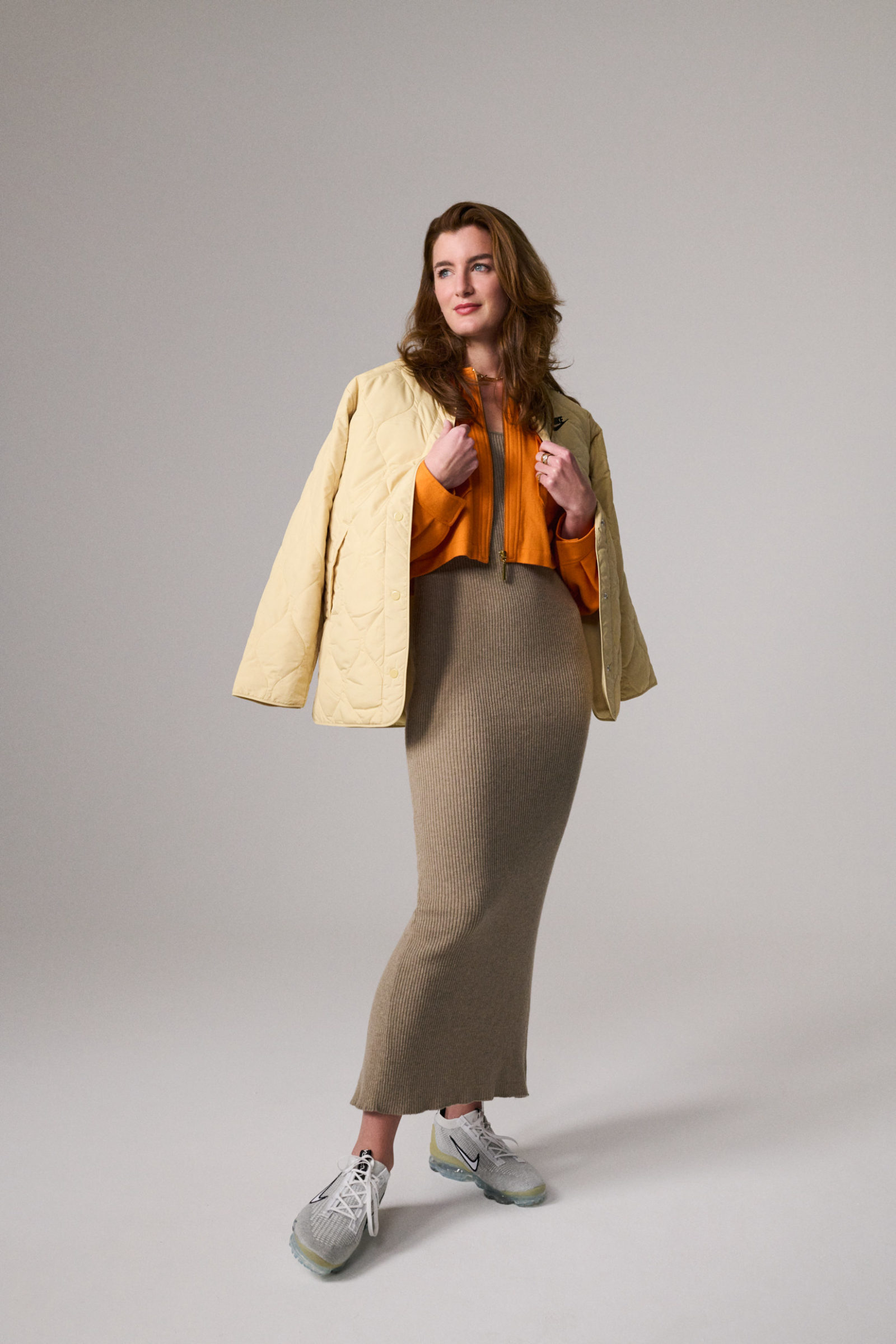 L: Tega wears Conner Ives Dress, £675, available at Selfridges.com; Nike Air Vapormax 2020 FlyKnit, $220, by Nike R: Georgie wears Jacket, Wolf & Badger, £527; Women's Sports Utility Jacket (underneath), £109.95, by Nike; Tove dress, rental from MyWardrobeHQ.com; Nike Air VaporMax 2021 FK, £199.95, by Nike. Photography: Jacob McFadden