June | Travel
The Eco Beach-Hotel Guide
Dreaming of sun, sea and sustainability? Look no further…
Susan Ward Davies
Just navigating the airport and actually managing to board a plane is quite a feat these days, so you deserve a real treat when you finally reach your destination. Nothing beats waking up in an ocean-facing room, just a short – ideally barefoot – walk to the beach, and the sound of the waves lulling you to sleep. Some people like their beaches pebbly, some sandy, but the important thing is being able to dive into that clear blue water the moment you're out of bed, because for sea-lovers, a pool – no matter how fabulous – just doesn't cut it. Here, we've rounded up some eco beachfront beauties that tick all the right boxes.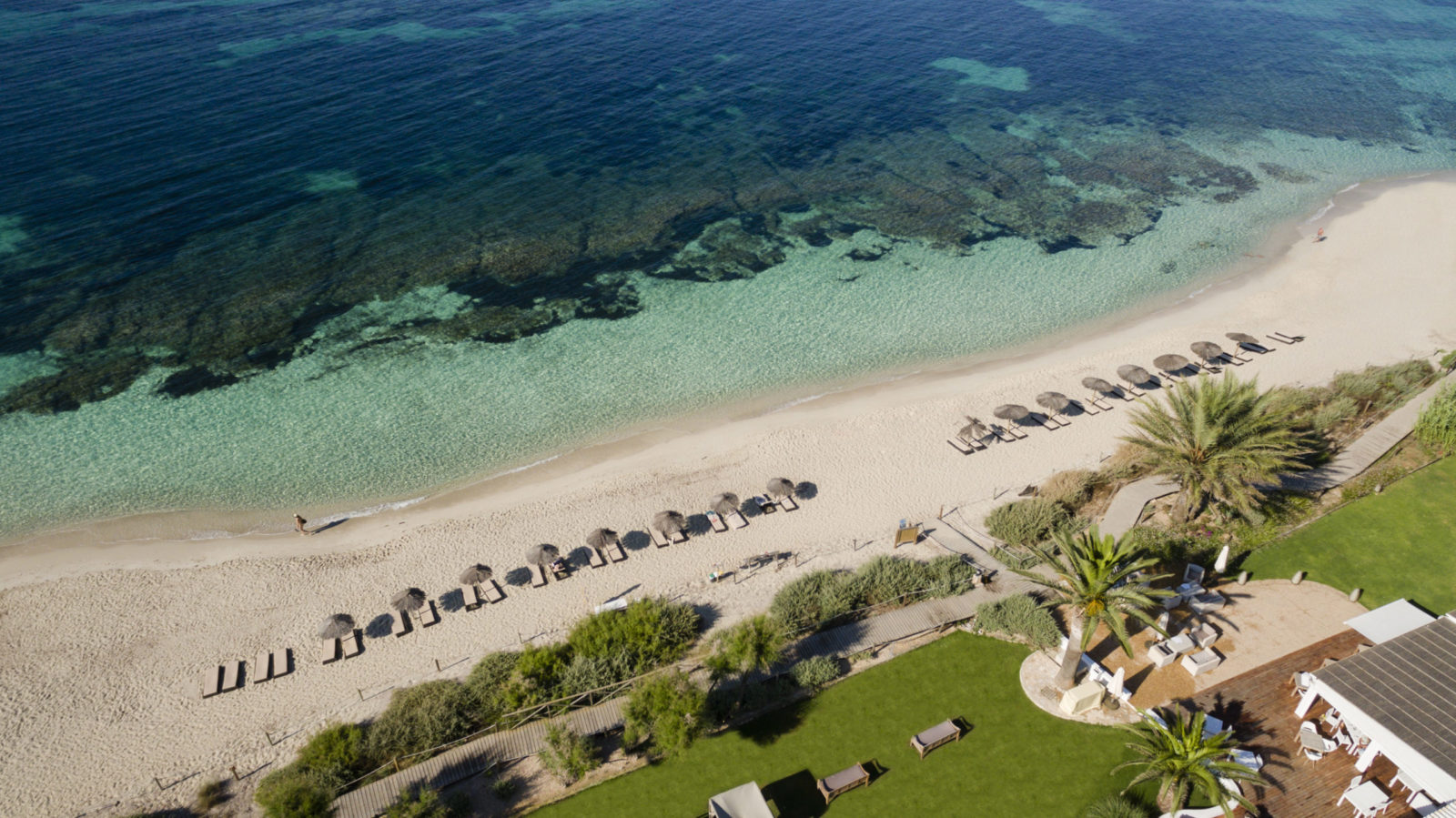 Noah Surf House, Portugal
The sea temperature in Portugal may be on the bracing side but that shouldn't bother anyone used to braving British waters, and the sheer size of the beaches here more than makes up for the lack of warmth. An hour north of Lisbon, Fisica beach, right below Noah Surf House, is a beauty – a long, wide stretch of golden sand from which to watch the surfers slaloming through the Atlantic waves. The House has a hippy, surf-shack vibe, with group sports, yoga, an outdoor pool and even a skate park, plus lots of upcycled and repurposed furniture in the eight rooms and 13 bungalows. You can self-cater in some of these, or treat yourselves to globally-inspired dishes made from locally-sourced ingredients in the hotel restaurant or Beach House. 
Paddle boarding, kayaking, kite surfing and bike rental will keep you busy, and downtime is taken care of at the spa at sister hotel Areias de Seixo (see below).
Eco credentials: solar panels, heat pumps, organic farm, on-site chickens, no single-use plastic, no a/c, and gardens are full of indigenous plants fed by rain or repurposed grey-water.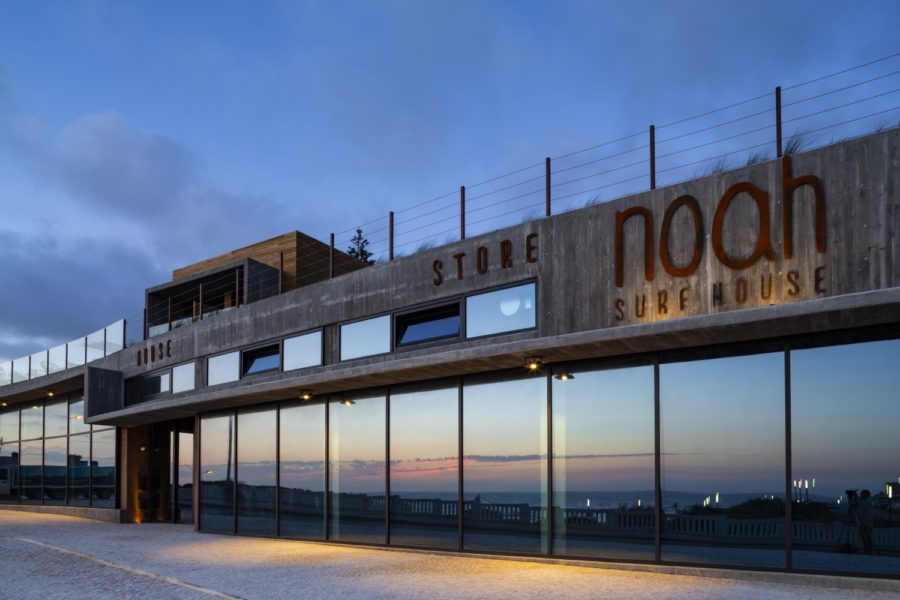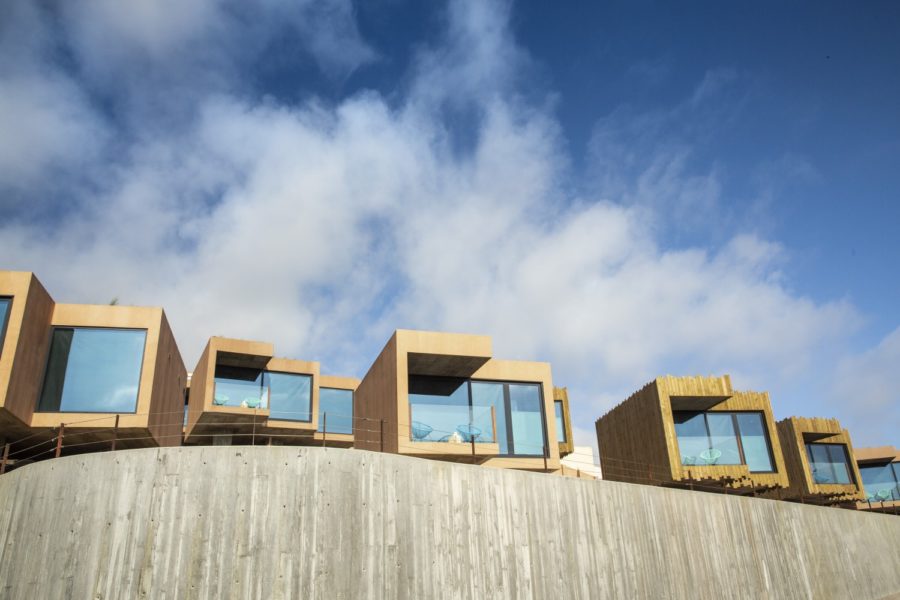 Noah Surf House
Areias do Seixo, Portugal 
Noah Surf House's swanky older sibling, Areias do Seixo is just a six-minute drive away up Portugal's silver coast. It has a similar boho vibe but with more luxury touches and a house-party feel encouraged by owners Marta and Gonçalo hanging out with the guests in evenings around the fire pit, and Marta playing guitar. The 15 rooms (all but one with a sea view) are divided by design themes named Love, Tree, Gold and Land, and are a riot of creativity – a copper bathtub here, elevated four poster there, pebbled walls, driftwood furniture, influences from Africa and India, and courtyards and lanterns giving a Moorish riad feel. The rustic-chic pool villas are more contemporary, with suspended fire pods, and there is even a pine shelter for romantic glamping under the stars, which has a tented deck set on a lake. Ocean views are wonderful and the beach is a short walk through the gardens and sand dunes.  
Eco credentials: Green Key certified, organic garden, an 'eco clock' on the hotel website so you can see how much energy is being used, LED lighting, furniture from repurposed local timber, no single-use plastics, farm-/sea-to-fork food (catch your own fish and the chef will cook it for you),  local cork used for insulation; geothermal a/c system, solar panels and chemical-free composting.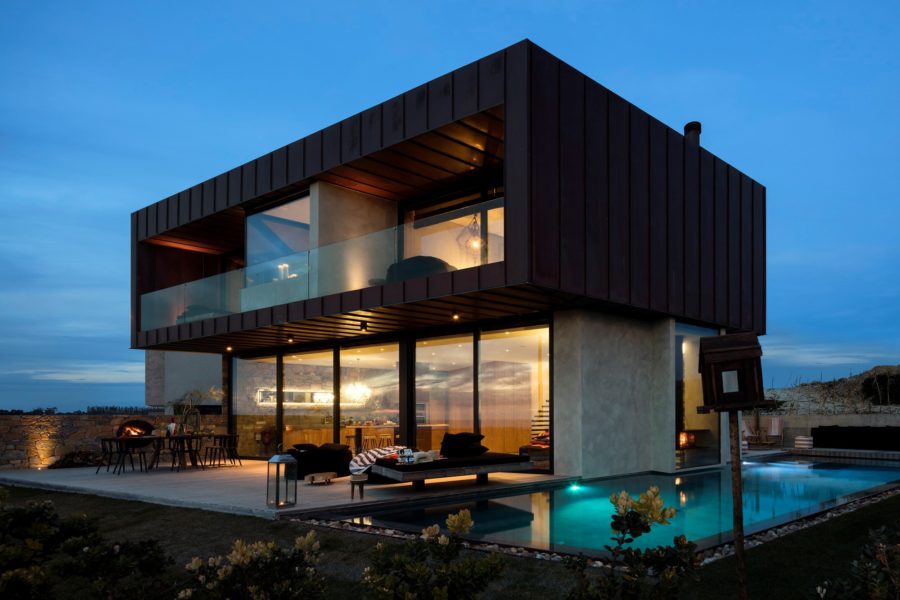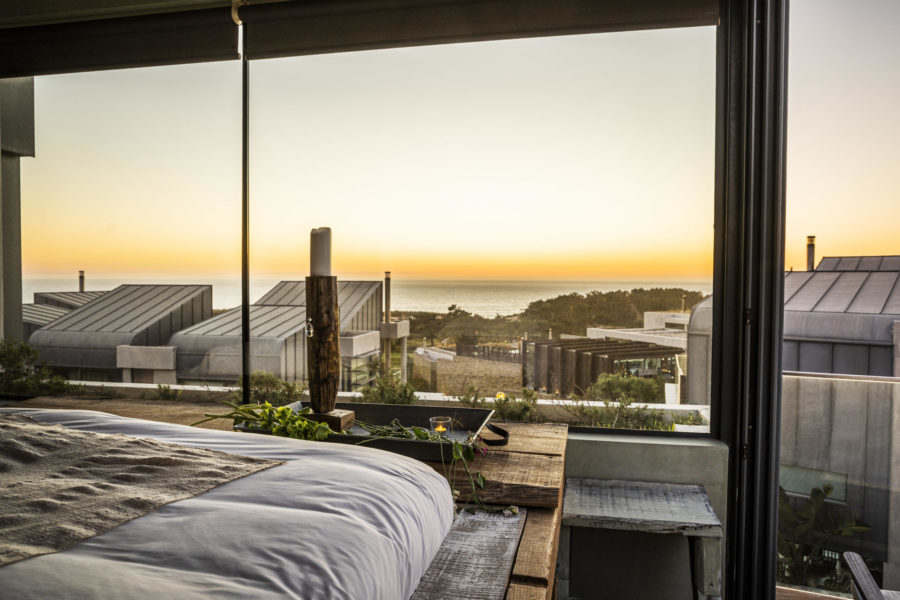 Maslina, Hvar, Croatia
On the peaceful northwest side of this party island, just 10 miles from the yachting crowds and cocktail bars of Hvar Town, this coastal hideaway has three sea-front villas, a Michelin-starred French chef, Serge Gouloumès, 50 sea-view rooms and a waterfront spa.
Created by Croatian architects Aalto, the wood-slatted pavilions that house the guest rooms blend discreetly into their surroundings with planted roofs and low-level, low-impact design. Set on its own bay among olive groves and pine trees, Maslina's beaches may be pebbly but the clear water and prime location more than compensates, with the Adriatic in front and the cobbled streets and Renaissance villas of beautiful Stari Grad, one of Europe's oldest towns, just a 25-minute walk or 10-minute bike ride away.  
Eco credentials: low-impact design with local oak and pine used in construction, LED lights and heat pumps. The organic garden supplies the restaurant and spa, and food waste is composted.   Mattresses are by responsibly sourced Coco Mat.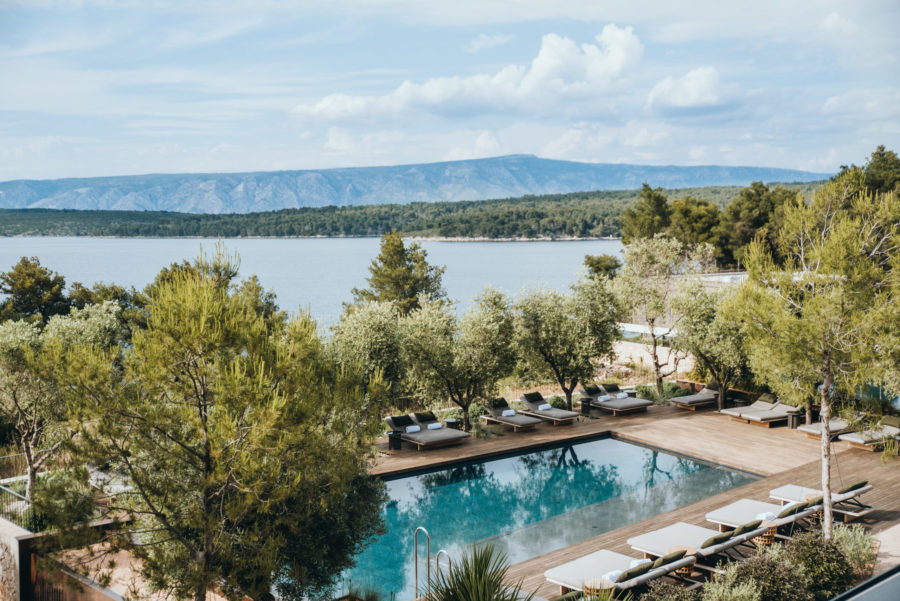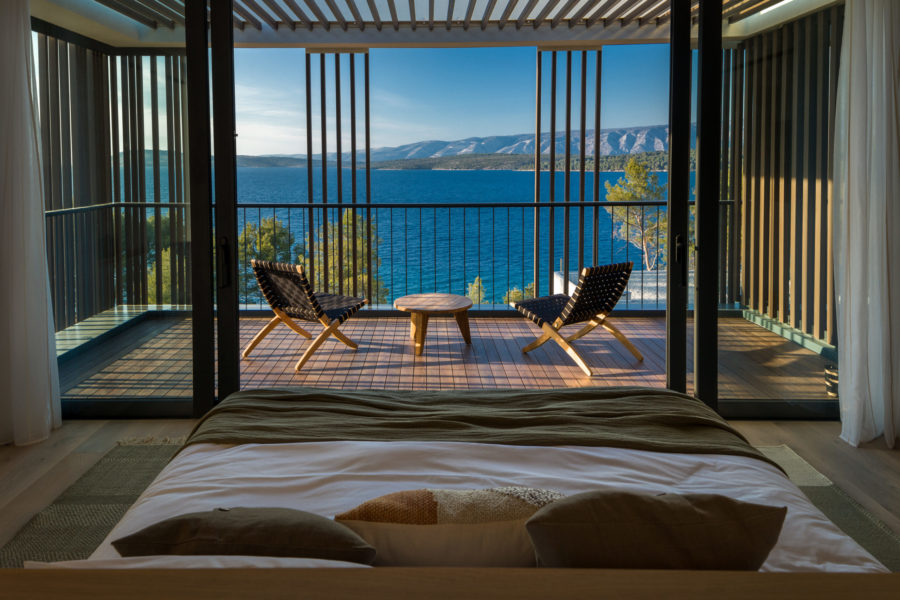 Panoptis Escape, Mykonos 
On the southern coast of the party island of Mykonos, this cluster of six luxury villas sits on a hilltop looking down on the Aegean and nudist-friendly Elia beach – the longest on the island. The look is a mix of traditional Cycladic white with lots of earth tones, splashes of cobalt blue, natural reclaimed woods and stone, and you can eat  farm-to-table food in the restaurant, thanks to longstanding ties with local fishermen and farmers. Five of the villas have between one and three bedrooms but if you can round up enough of a gang, the one to book is the 21-bedroom super-villa, with its 4,400 square feet of indoor and outdoor living, and 12 – yes, 12 – private pools.
Eco-credentials: they use sea water where possible, recycle water for trees and plants, use mostly locally sourced produce in the restaurant, and run local environmental initiatives. Their green hospitality strategy includes waste management, water conservation and recycling. They run local environmental conservation initiatives together with groups and authorities, to help preserve the island's natural wealth.
Book through Small Luxury Hotels
panoptisescapemykonos.com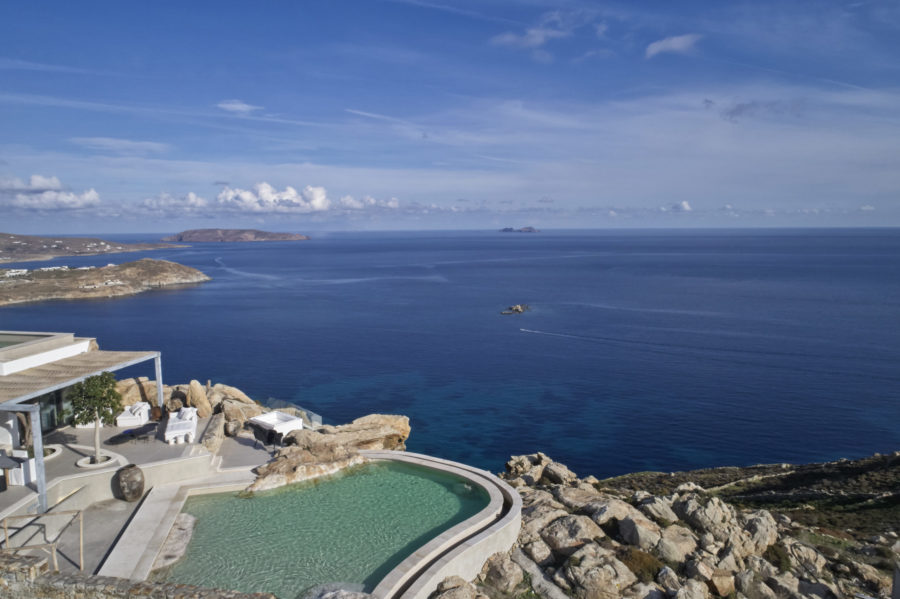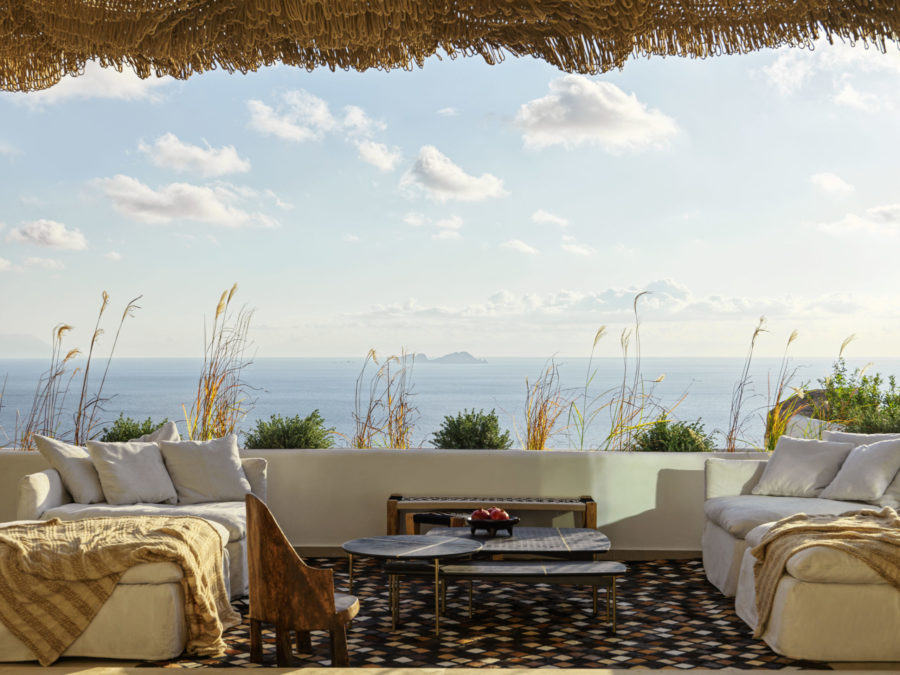 Gecko, Formentera 
Ibiza's quieter little sister, Formentera, is all about low-key, barefoot glamour, and Gecko has this in spades. Set on the south coast, on beautiful sandy Playa Migjorn (which, at over three miles, is the island's longest beach), it's just 10 mins to Sant Francesc Xavier, the main town. There are 30 rooms done in pared-back style with nautical accents and splashes of cobalt, some with pools, and most with idyllic sea views. 
When you're not chilling on the beach or cooling off in the impossibly blue Mediterranean, there are bikes, paddleboards and kayaks to borrow and e-bikes to hire. Formentera may be quieter than its party-centric neighbour but Gecko still has Ibizan touches like DJs by the pool and in the Beach Club, plus sunrise yoga (they have their own guru). Get the Formentera 'look' with kaftans and wafty dresses in the hotel's little boutique.
Eco credentials: The whole island has protected-environment status so sustainability is key here.   Gecko's zero-plastic policy aims to replace all plastic items with biodegradable versions, they support the Save Posidonia Project for the regeneration of sea beds, have electric car charging points in the hotel, electric car transfers for guests, and a zero-kilometre supplier policy.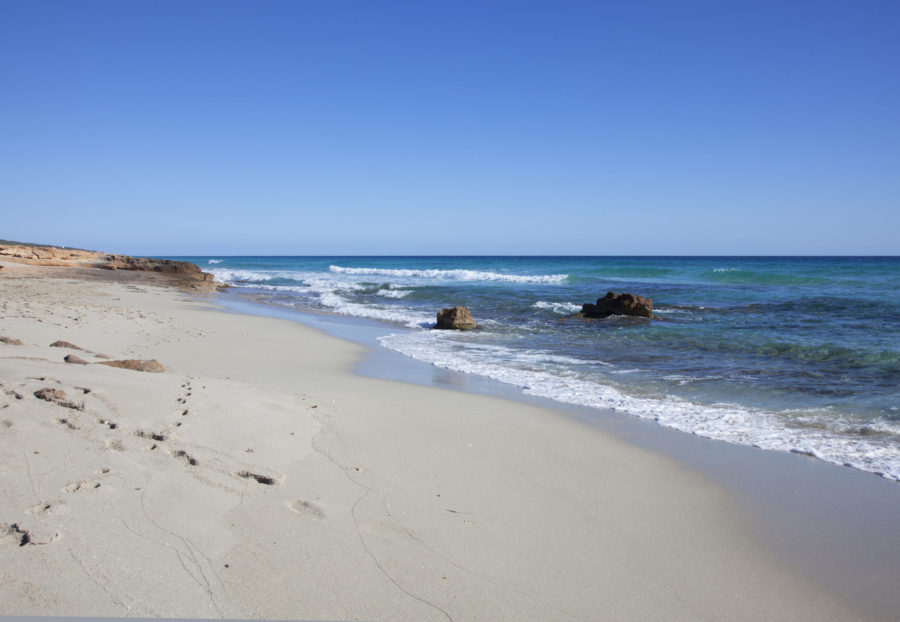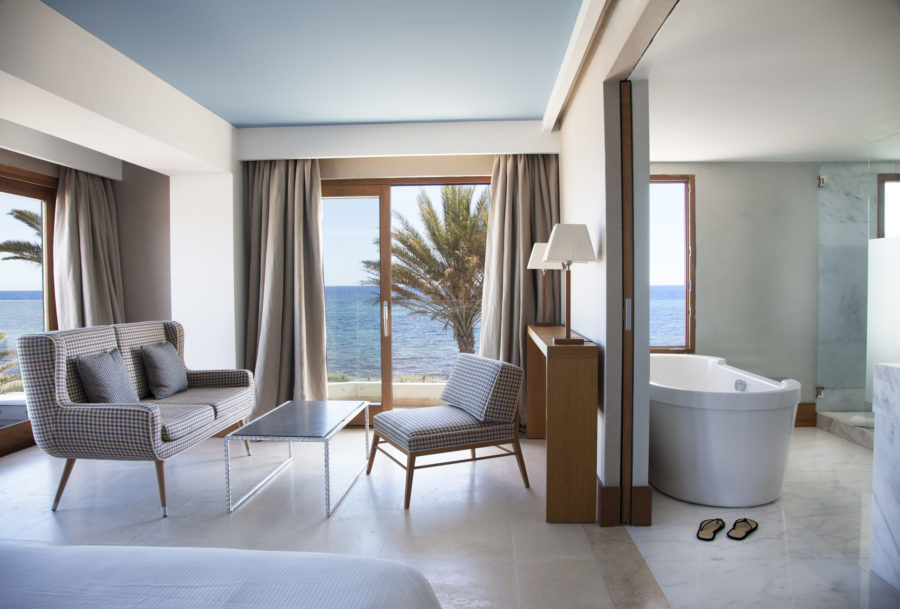 Ikos Dassia, Corfu
Award-winning Ikos Dassia may be big (411 rooms and villas) but it has totally upped the all- inclusive game. Usually a byword for uninspiring buffet food and corner-shop quality drinks, all- inclusive here means premium alcohol and top-notch cuisine (such as Greek, Asian, French and Italian) in the seven restaurants. They even have a dine-out scheme, which includes some meals off-property, so local restaurants don't lose out (one of the main criticisms of the all-inclusive concept). The whole resort is split between two buildings, so it doesn't feel overwhelming, with an Anne Semonin spa, seven heated pools and a 600-metre, Blue Flag, sandy beach. Rooms are light and calming, with a pale colour palette, many with sea views but, if you've got the cash, the beachfront pool suites are well worth the splurge. 
Eco credentials: Ikos resorts have developed their Ikos Green programme in line with the UN Sustainable Development Goals. This includes introducing LED lights, heat pumps, solar panels, aerated flow in taps and showers in all their resorts, and using locally sourced food wherever possible. Ikos Dassia's Green Zero-waste programme means managing and biodegrading waste, recycling packaging materials, and two mechanical digestion machines turn food waste to liquid.