August | UNIQLO
Layering It Forward
As the autumn season kicks off, UNIQLO focuses on the themes of layering, modernity and longevity, championing the mash-up of textures, patterns, colour, and wearing your pieces old and new for the long haul.
The Calendar Magazine
As part of our mission at The Calendar Magazine to drive positive change and fashion the future, we are supporting the launch of UNIQLO's FW23 Modern Layering product. This celebrates the idea of clothing longevity, the joy of re-wearing the pieces you love and the philosophy of personal style over trends. You can layer up new pieces and be playful with colours and textures, and by incorporating elements you already have, give them a new lease of life. The collection is perfect for this, with their innovative Heattech pieces ideal as a thin first layer, with your much-loved merino wool sweaters and Ultra Light Down jackets layered over the top.
UNIQLO has been a champion of the environment for many years, using RDS (Responsible Down Standard) sustainable, recyclable and cruelty-free down and feathers, and opening Re UNIQLO Studio, in selected locations, to repair, remake and resize your worn-out UNIQLO favourites, to keep more UNIQLO fashion in circulation. They also work with NGOs such as UNHCR and Goods for Good, to distribute used clothing for disaster victims and refugees, and use unwearable items to create new garments.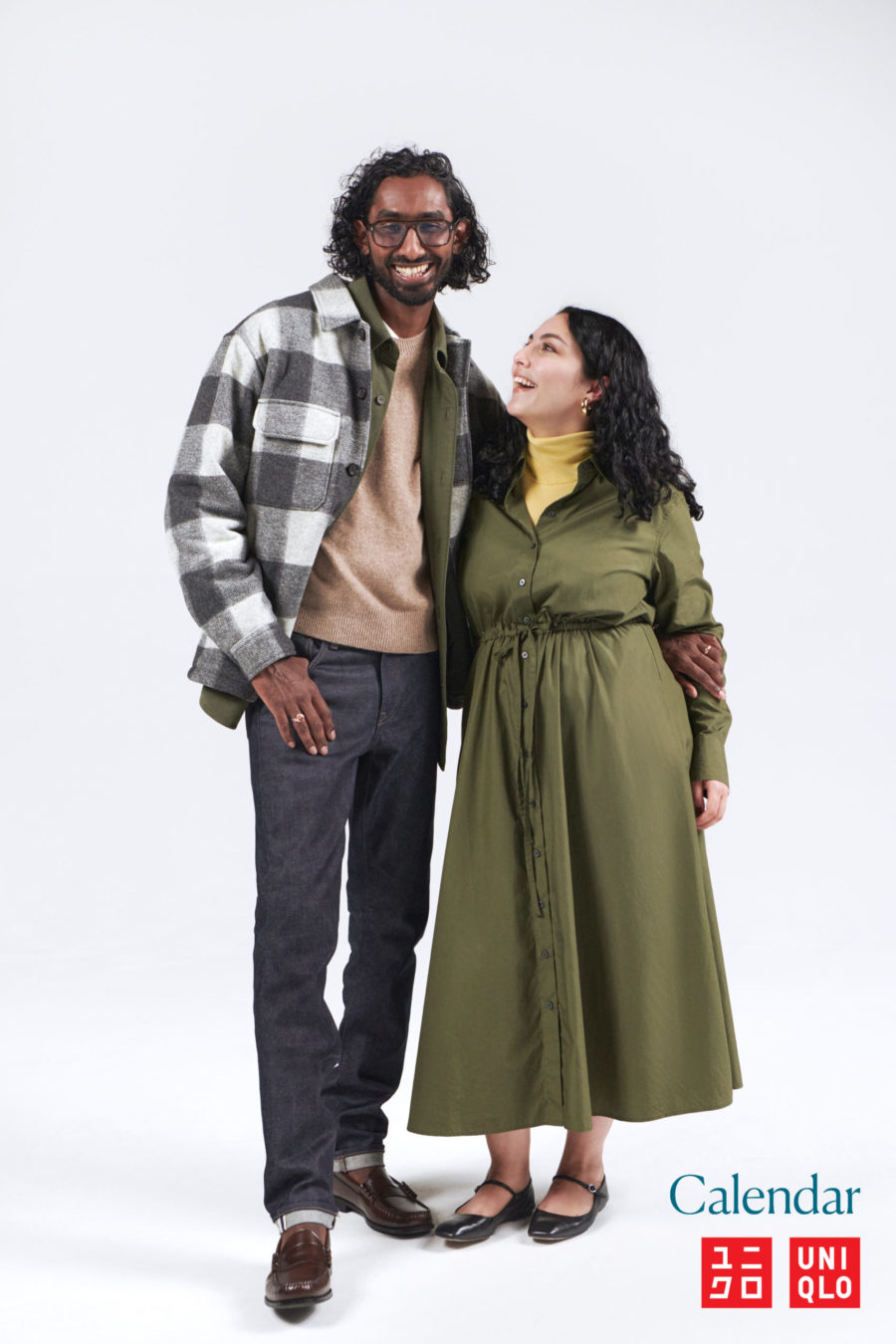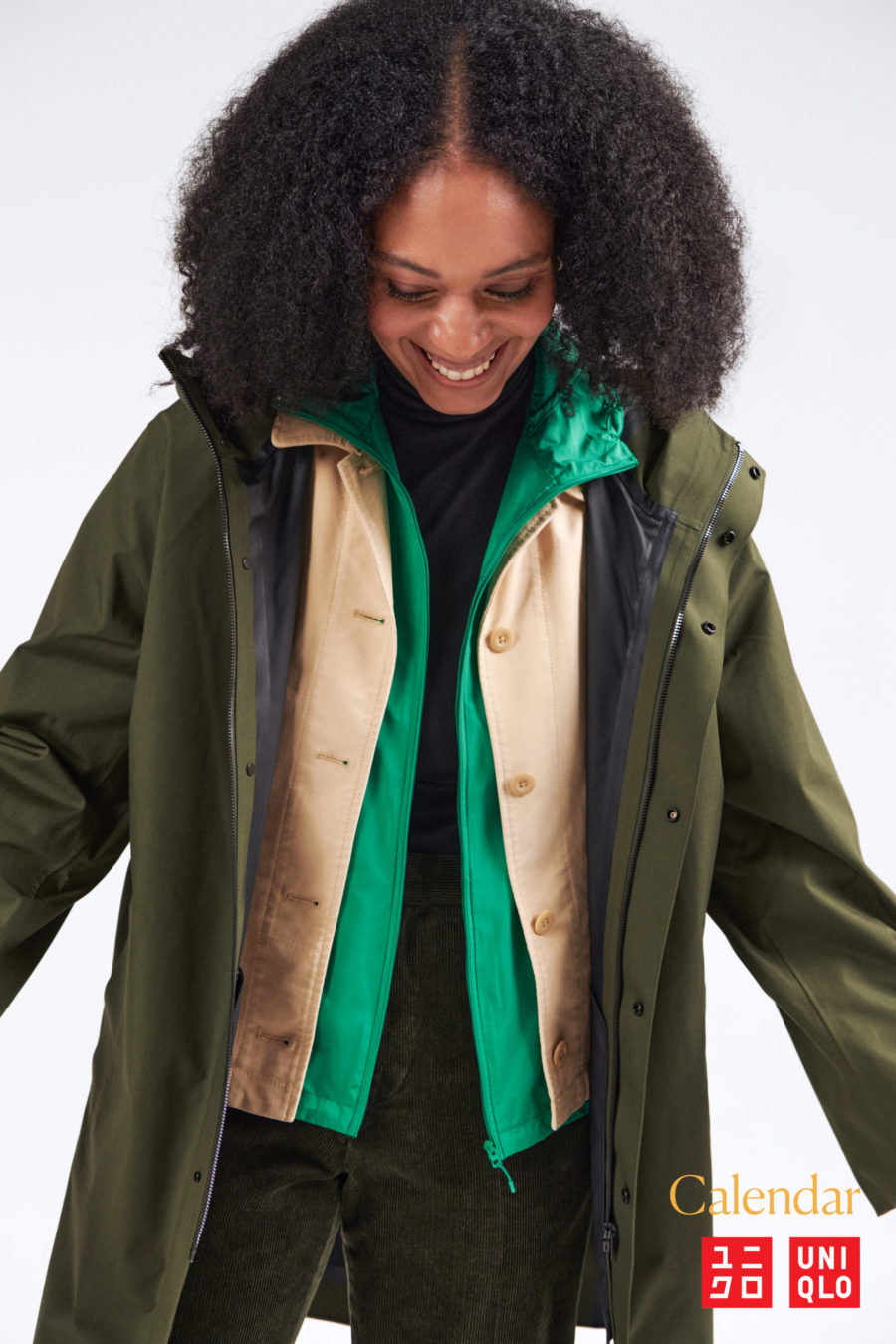 R: Aaron wears Overshirt Jacket, £59.90, by Uniqlo; Oversized Utility Shirt, £34.90, by Uniqlo; Lambswool Crew Neck Jumper, £34.90, by Uniqlo; Uniqlo U Crew Neck T-shirt, £14.90, by Uniqlo; Selvedge Stretch Slim Fit Jeans, £39.90, by Uniqlo; Iman wears Cotton Long Sleeved Shirt Dress, £39.90, by Uniqlo; Heattech Extra Warm Seamless Ribbed Turtleneck Top, £19.90, by Uniqlo R: Sophie wears Blocktech Half Coat, £99.90, by Uniqlo; Utility Jacket, Talent's Own; UV Protection Pocketable Parka £39.90, by Uniqlo; Heattech Ultra Light Turtleneck Top, £14.90, by Uniqlo; Corduroy Relaxed Fit Ankle Length Trousers, £19.90, by Uniqlo
All of this helps to extend the longevity of UNIQLO clothing and for this special collaboration we have invited seven creatives, well known for their sense of style, to choose UNIQLO items that have long been favourites in their own wardrobes. The Calendar Magazine Founder Anne-Marie Curtis, and Calendar's Editor-at-Large, Catherine Hayward, help them mix these cherished pieces with looks from the upcoming FW23 Modern Layering product.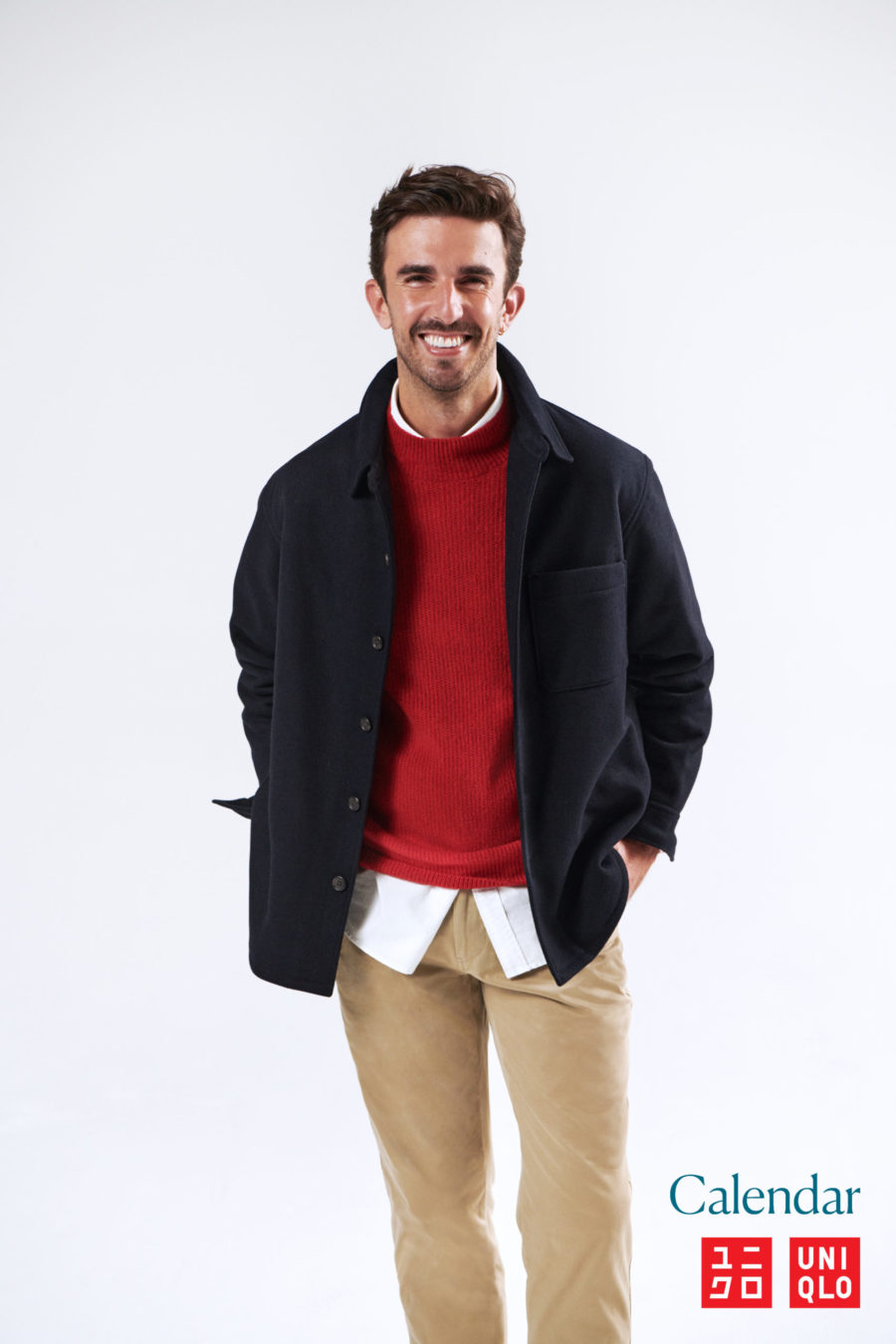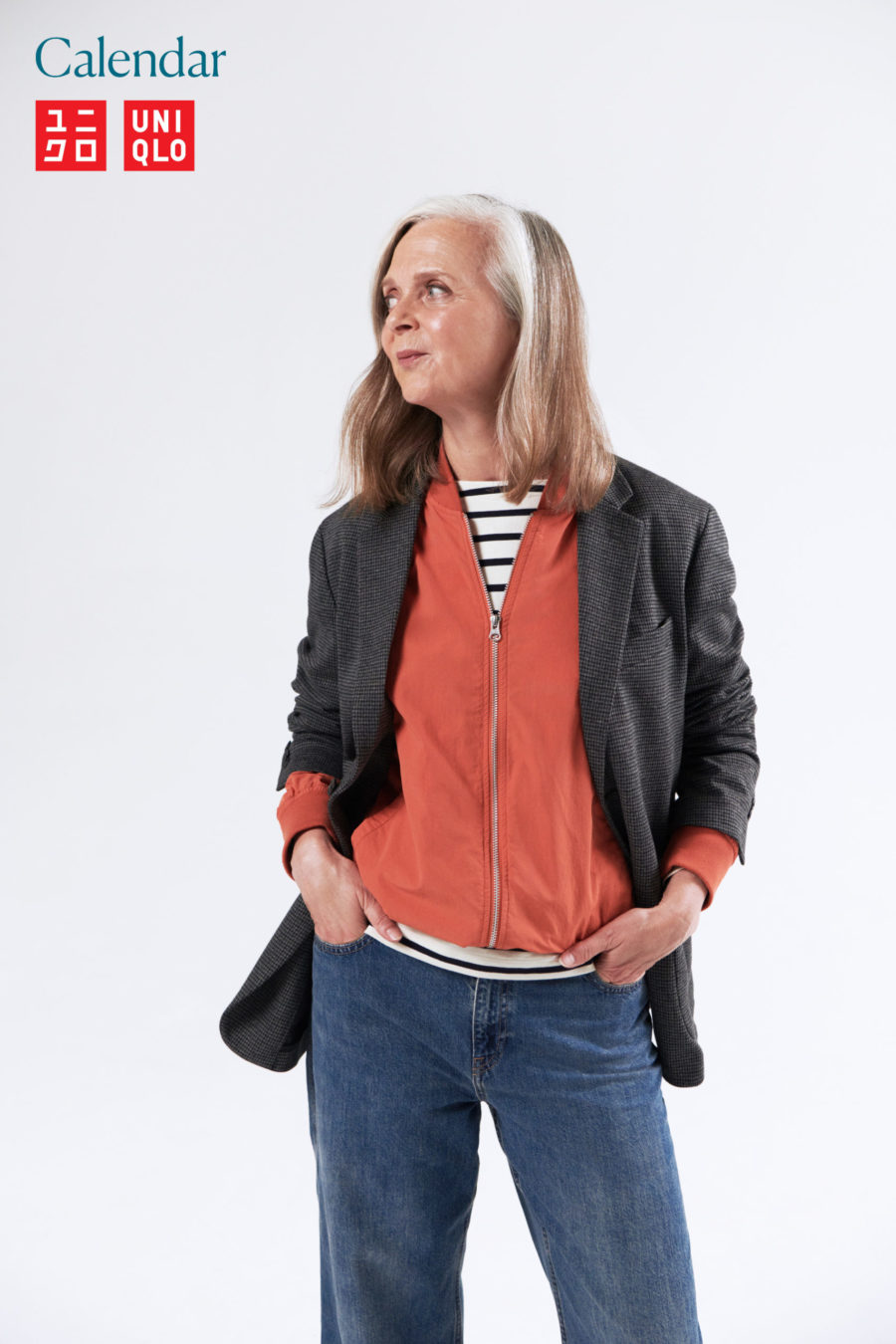 L: Teo wears Overshirt Jacket, £59.90, by Uniqlo; 3D Knit Seamless Soufflé Yarn Mock Neck Jumper, £34.90, by Uniqlo; Regular Fit Oxford Shirt, £34.90, by Uniqlo; Slim Fit Chinos, £34.90, by Uniqlo R: Alyson wears Comfort Patterned Blazer Jacket (Men's), £59.90, by Uniqlo; Bomber Jacket, Talent's Own; Striped Long Sleeved T-shirt, £19.90, by Uniqlo; Baggy Jeans, £34.90, by Uniqlo
Teo Van den Broeke is now Editorial Director at Soho House, after stints as Style and Grooming Director at GQ and Style Director at Esquire. He sums up his style philosophy as 'simplicity', and he is a long-time fan of layering: a jumper draped around his shoulders, or a jacket under a coat.
Alyson Walsh is a former magazine editor and the founder of That's Not My Age, a website that champions style for women of all ages, and whose mantra is 'It's not about age, it's about style.' She likes experimenting with a mash-up of old and new pieces.
An art graduate, Sophie Sellu hand-crafts beautiful, sustainable wooden utensils and bespoke pieces from 'storm-fallen' and reclaimed timber in her home studio, and sells her handiwork on her website, grainandknot.com. As her work is quite physical, she often damages her clothes, so finds the UNIQLO repair studio invaluable.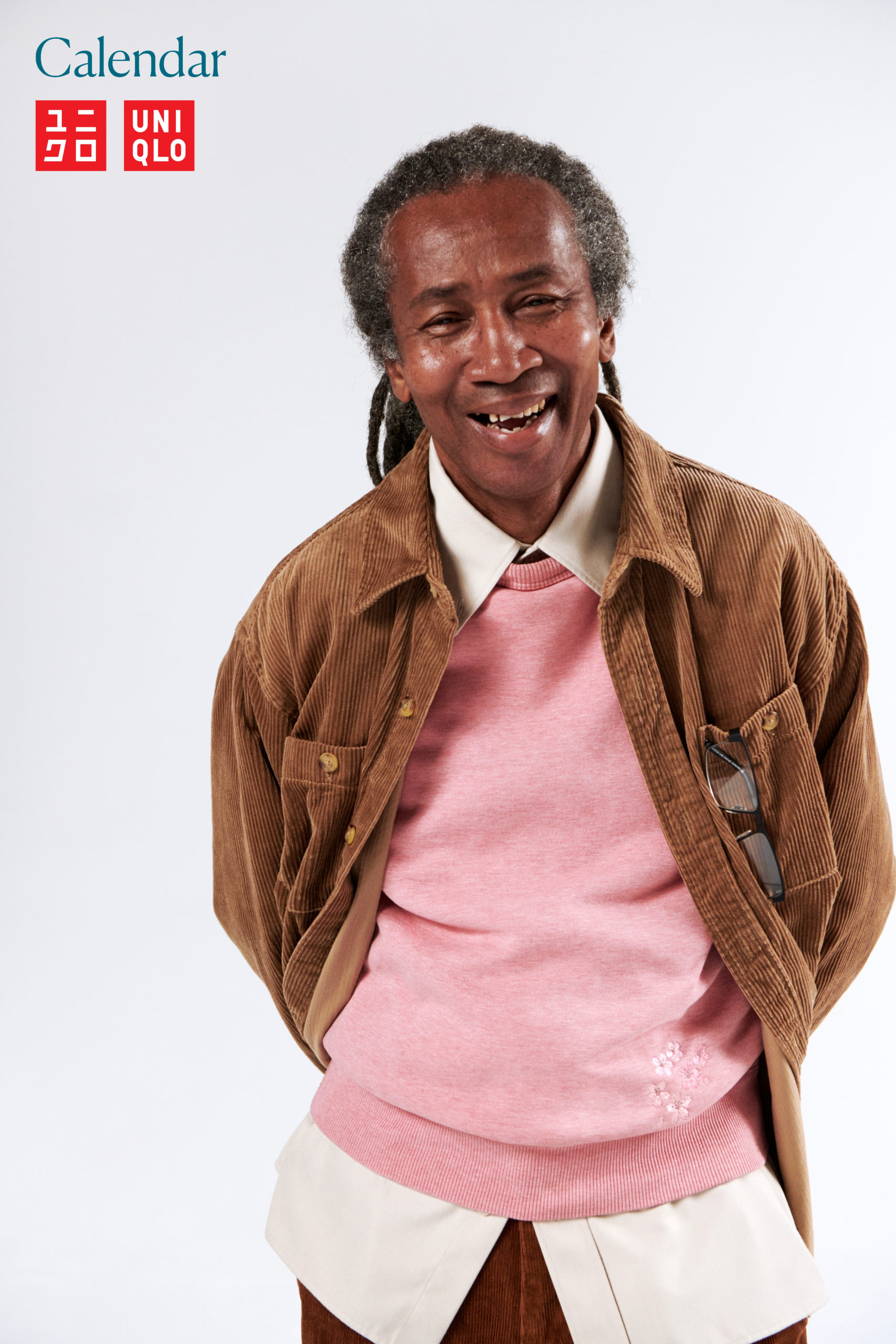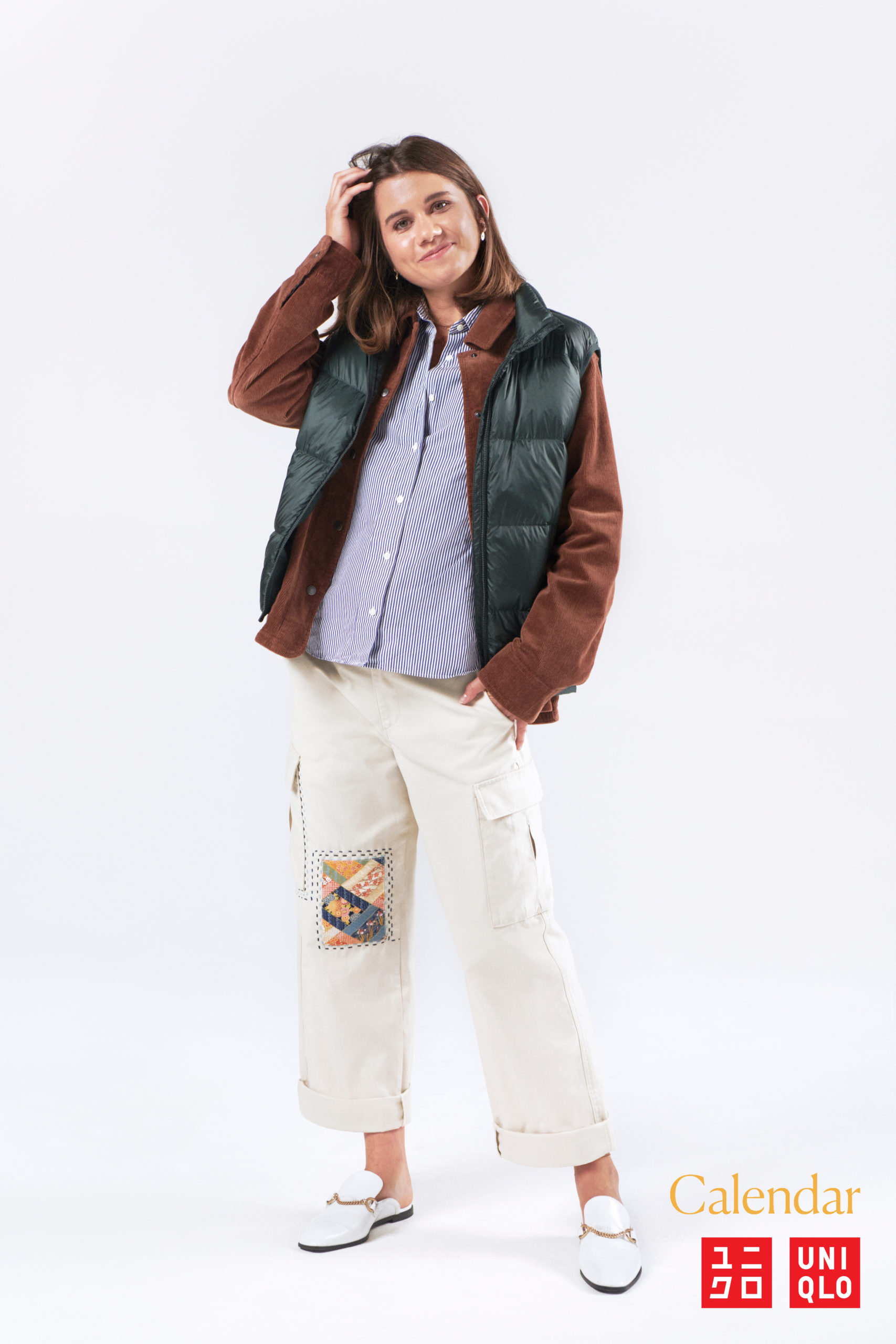 L: Corduroy Work Shirt, £34.90, by Uniqlo; Sweatshirt, Talent's Own; Super Non-Iron Slim Fit Shirt, £34.90, by Uniqlo; Corduroy Pleated Wide Leg Trousers, £39.90, by Uniqlo R: Morgane wears Corduroy Coverall, £49.90, by Uniqlo; Ultra Light Down Vest (Men's), £39.90, by Uniqlo; Shirt, Talent's own; Wide Straight Leg Cargo Trousers, £34.90, by Uniqlo
A film director and producer at AC Studios, Aaron Christian is also a podcast host, and his partner, Iman Alem, is a Senior Fashion Market Editor.  They often wear each other's clothes, and buy fashion with longevity in mind.
Herbie Mensah sells original clothing and textiles as well as upcycling parts of pre-loved garments to create his own designs. His wardrobe is 99.9% vintage and preserving it is very important to him. The embroidery patch he had done in the repair studio  adds customised flair to a much love UNIQLO sweatshirt originally purchased over 20 years ago in Tokyo.
As Fashion & Beauty Writer at The Calendar Magazine, Morgane Nyfeler gets plenty of style inspiration to combine with her own looks. She makes a lot of her own clothes, customises them herself, and swaps with friends, all with the environment – and individuality – in mind.
Photographer – Edward Bourmier
Styling – Anne-Marie Curtis
Hair – Josh Knight
Make Up – Liz Daxauer
Photography Assistants – Luke Stulinksi, Hayleigh Longman
Styling Assistant – Sophie Saunders
Production – Block Productions
DP – Buster Grey Jung
Sound – Ryan Beauchamp